Here are excerpts of my letters from Colombia to my Dad in Canada, and his responses; the catalyst for some unique conversations about life in Colombia!
This post was originally published in 2015. It has since been updated for accuracy of links and content.
Dear Nora,

Glad you arrived safely in Colombia. You realize of course that the previous sentence makes absolutely no sense whatsoever to a father.

Love, Dad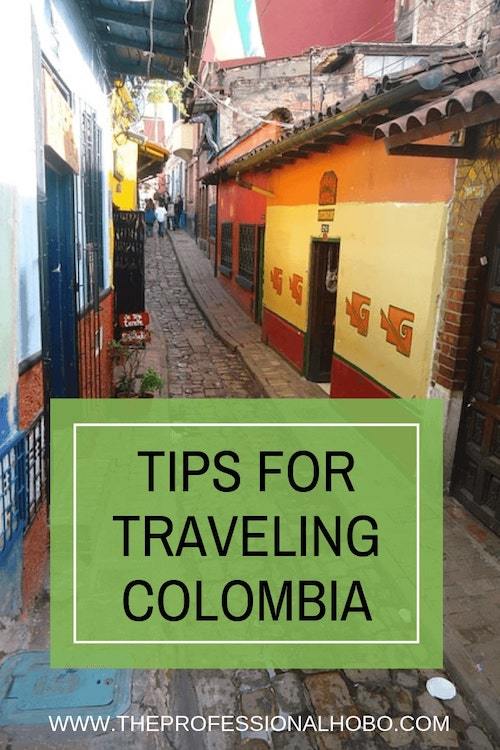 Colombia Safety: Is Bogota Safe?
It stands to reason that my dad was nervous of my trip to Colombia; for decades encompassing most of my upbringing, Colombia (and specifically Bogota) was a no-go-zone, with tales of drug cartels, guerrilla warfare, kidnappings, and random acts of violence that inspired a mass exodus of Colombians, not to mention an embargo of sorts on the part of tourists. "Bogota safety" was considered an oxymoron.
So not only he, but I as well, was a bit surprised by my own two-week trip to Colombia which wasn't spent in the more touristy destinations like Medellin or any of the cities on the Atlantic coast, but instead in Bogota. (I was hosted by a family friend originally from Colombia who spends half the year in and around this hectic Colombian city with her extended family.)
I didn't bother to tell my Dad that a travel blogging colleague of mine got stabbed in Bogota – because my Dad wouldn't have believed that despite his experience, he still loves Colombia.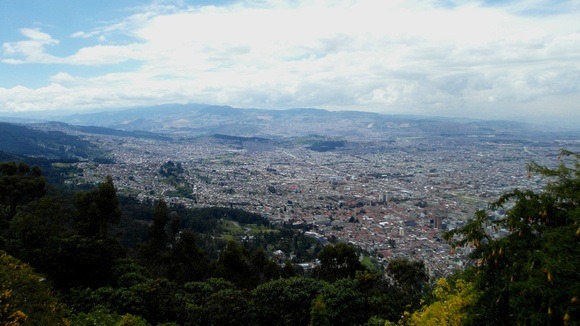 Dear Dad,

The Colombia of days gone by is just that – of days gone by. I've had numerous conversations with people who live in Colombia who are very matter-of-fact about how violent and troublesome things were here, but they seem to take it all in tremendous stride. Although we in the greater world were regaled with tales of how horrible life in Colombia was, apparently daily life in Colombia wasn't affected in the way you and I might think it was.

Bystanders were occasionally caught in the proverbial cross-fire, but for the most part it was targeted violence between drug cartels and guerrilla sects. So if you were an average person without too much wealth and you kept your head down, it was business as usual.

The other misnomer about safety in Colombia is that Bogota was the centre of all evil here. When times were bad, it wasn't limited to Bogota, and in fact, being within the city limits was a measure of safety, since the guerrillas ran rampant outside of the cities, and in many cases it wasn't safe to leave the city.

This tangent may seem like I'm trying a little too hard to appease your worries, but truly – I feel quite safe here.

Having said that (you knew there was a "but" in there somewhere, didn't you), when I first arrived in Bogota, I did as any god-fearing tourist would do, and I asked my host is Bogota safe.

"Sure!" she said, before launching into a tirade of precautions one should take that left me reeling. Admittedly though, for the most part it was sound advice for anybody visiting a big city, anywhere in the world.

And Bogota…Bogota is a big city indeed.

Is it safe to live in Colombia? According to the Colombians I spoke to, sure. But I think frame of reference and perspective are important considerations when asking these questions.

Love, Nora
Bogota is BIG
One of the first words I learned on my arrival in Bogota Colombia was "trancon", which means "traffic jam". And ay caramba is there ever a traffic problem in Bogota. Consider yourself lucky if you only need to spend 45 minutes getting somewhere (relatively close as the crow flies); more often than not it takes hours to get around the city. This is just a part of daily life in Bogota.
Although they've tried to resolve traffic problems with Pico y Placa (which is a system that prohibits people from driving during peak hours on certain days according to their licence plate number), I'm told it hasn't really solved any problems because many people circumvent it with two cars; when one car is restricted by pico y placa, they simply drive their other car.
And then there's the Trans-Milenio; a network of buses with dedicated lanes that does a good job of carting anybody and everybody around the city. Without it I cringe to think what traffic problems there would be, because it's consistently packed to capacity and adding more buses isn't an option since even that system is clogged.
After my first day of traversing the Trans-Milenio into the centre of (the very long very spread out city of) Bogota, I was shattered. Granted, I'd come from over five months in the tranquil and sparsely populated Sacred Valley of Peru, so the sheer energy of the city was a total shock to the system which required two days of recovery.
Dear Nora,

I trust that you've been on the road long enough to know what to do in the big city to stay safe. As a city slicker myself, I know the drill.

On another note, over Christmas I gained 10 pounds, so I've joined my friend in an orgy of lettuce, cucumbers, and celery. We expect to be breathtakingly beautiful any minute now.

Love, Dad
Food in Colombia: Oh, the Food!
Dear Dad,

I'm back in Bogota after a truly delightful weekend at the family "finca" (which is spanish for "estate" but really just means cottage – of a sort), about 1.5 hours outside of Bogota. Given that it's a 1.5 hour drive, you'd think it much further than 60 kms away, but it's not; it's a white-knuckled drive along a twisty two-lane road over a mountain range with trucks on all sides.

After initially being completely overwhelmed when I arrived in Bogota last week, my batteries have now been recharged, and I'm standing strong against the tidal wave of Colombian hospitality which threatens to bold me over (in a good way) and continually distract me from my ever-present (and increasing) work responsibilities I have that are mounting with great speed as we approach the launch of my next book.

I have one more week here in Colombia, and I've decided to stick to Bogota. I considered a cheap last minute holiday to another part of the country for a few days, but somehow communicating the idea made my hosts think they were doing something wrong and being bad hosts, so instead of trying to translate "don't worry be happy" into Spanish, I just decided to stay and delve deeper into the inner workings of Bogota…including Bogota food.

If you're busy having an orgy with lettuce, I'm busy having an orgy with cheese, sugar, and fried Colombia food: the basis of most Colombian fast food. The family cottage (finca) is located in the cheese capital of the universe, with everything cheesy to be had. If that wasn't caloric enough, Colombians love sweet things, namely arequipe (dulce de leche) – which is basically caramel. They put it on everything. They even stuff it into cheese. Seriously. I've never had anything like it, and at the risk of clogged arteries and diabetes, I'm loving it.

Then there are the empanadas (fried), the yucca (fried), and the arepas (pan fried, and sometimes deep fried).

Lettuce sounds delightful at the moment, but I don't think I can find any space in my stomach for it, given all the cheese floating around in there.

Love, Nora
Colombia is excellent for tasty food, although not so excellent for the waistline. I've fallen head-over-heels in love with arepas, which are kind of like pancakes made with corn flour, but which vary dramatically in nature by region, from savoury to sweet, plain to stuffed. The arepas con queso (stuffed with cheese ohmysweetlord) are most commonly found in Bogota, anywhere from street stalls to fast food joints to fancy restaurants.
Head to the coast (or to a Bogota fast food joint) and you'll find arepas stuffed with eggs and/or ground beef (and then deep fried), which are sinfully delightful. Goodness knows how many other kinds of arepas I haven't yet discovered, but for this I'm sure my arteries are thanking me.
And the Colombian coffee – is spectacular. Oftentimes, a country that has a specialty export doesn't keep any of the good stuff for themselves (for example, don't bother trying to find a good kiwi fruit in New Zealand).
Colombia is not one of those countries. Not only is the coffee good, but it is drunk with enthusiasm, at all times of day. It's strong, served in small cups, and most Colombians prefer it black (they call it tinto). I'm currently writing this at 2am, trying hard to come down from my daily coffee rush.
To cut the oil content in my diet, I was thrilled to discover lots of tropical fruits in Colombia – more than exist in Peru. I even found mangosteens; a delightful purple fruit (I dare say a favourite of mine) that I haven't seen the likes of since being in Thailand, many years ago.
But it's the arequipe that really has my number; you'll find it everywhere in various incantations – even at supermarket counters in small containers that are intended to be consumed with a spoon. I think it was when somebody served me a spoonful of arequipe on a chunk of fresh cheese that I truly fell in love with Colombia.


Life in Colombia
Dear Nora,

I don't know if it's the diet of fried food/cheese/sugar, the history of violence, or both – but it seems that the Colombians' shortened lifespans make for an enthusiastic approach to Colombia life. I must say the Colombians I know here in Toronto are a vibrant bunch. What do you think?

Love, Dad
Dear Dad,

You got it! I've spent the last two weeks trying to crack the Colombia lifestyle code through both conversations with and observations of my gracious and generous host family. Colombia is a vastly diverse country, with varying climates, altitudes, cultures, diets, paces of life, and people. But one common denominator, one unifying quality, seems to be that of a passionate approach to life.

I'm told this is (at least in part) because Colombians have lived – recently – with violence and a lack of security. It has bred a people who are living life as passionately as they can, now, because now is what they have. They are optimistic, they roll up their sleeves when there's work to be done, and they always see the light at the end of the tunnel. It's part of what creates a youthful and energetic approach to Colombia daily life; one that initially overwhelmed me when I arrived in Bogota and was surrounded by "too much" energy – but one that I'll miss when I soon leave.

In other news, the latest Miss Universe was crowned, and she's Colombiana. It's a coup here! Colombia is a proud country to begin with, and now – well, if they weren't such a cool group of people, I'd be worried it will get to their heads.

Over and out – and on to the next country. Thanks for giving m the opportunity to write you these Colombian letters.

Love, Nora
Plan Your Trip to Colombia
Start planning your Colombian trip by finding the perfect accommodation and activities! Have a look here and get inspired: