Matt is an American who sold (nearly) all of his possessions back in 2013. Ever since picking up a travel guide on Japan in college, he has been intent on seeing more of the world than what was visible from his apartment window. He is currently funding future travels by teaching English in that beautiful island known as Formosa, aka Taiwan. Enjoy this week-in-the-life of Matt, teaching English in Taiwan!
(See also: Earning Income Abroad by Teaching English)
This post was originally published in 2015. It has since been updated for accuracy of links and content.


Day 1 – Monday
9:00 AM– To my amazement, I'm out of bed before 11am. I live in a dormitory-style building with around fifteen other foreign teachers, so I stumble out of my room and groggily mumble a few hellos to the others who are already awake.
9:50 AM – I get some breakfast, which for today is some dan bing from a local food stall down the street. I've learned just enough Chinese to order it without embarrassing myself.
10:30 AM – While most teachers do their lesson plans the day of class, I like to get an entire week's done in one fell swoop, freeing myself up to do more activities later on.
4:40 PM – Class time. I hop on my scooter and drive to one of the schools at which I teach. Each of my two classes tonight is two hours with a ten-minute break in the middle.
9:10 PM – Finished for the night, most of the foreign teachers head out to get some hot pot. With around twelve of us each riding our scooters, we look like the least intimidating motorcycle gang that's ever existed. A massive, all-you-can eat buffet complete with drinks costs us around $10 each.


Day 2 – Tuesday
9:00 AM – There's only one class to teach today, and it's at 7:15 PM, so that means it's time to explore! I gather my daypack and zip away on my scooter.
10:30 AM – After driving through some picturesque mountains, I arrive in the Sansia District. It's famous for containing one of Taiwan's most intricate temples, so I park my scooter somewhere safe and leisurely make my way in that general direction.
12:00 PM – The temple does not disappoint. After taking a few photographs with locals who are excited to see a foreigner in their midst, I have some of the regions specialty, "horn bread". This is essentially a croissant in the shape of bullhorns, and it tastes pretty good!
10:00 PM – It's trivia night at one of the neighborhood bars. Everyone puts in 100NT (~$3) and winner takes all. Our team does well, but falters in the speed round. I now know that Fidel Castro came to power in 1959, not 1958.


Day 3 – Wednesday
11:00 AM – After a late night, I roll out of bed a little later than usual. With buxibans, or cram schools, all of your classes are in the afternoon, since students come when they are finished with their regular school day (this can make for some thoroughly unmotivated students sometimes).
1:30 PM– After narrowly dodging multiple vehicles and pedestrians on the way to school (to say that Taiwan traffic is insane would be a major understatement), it's time for the first class of the day. These kids are younger, and while they're a handful sometimes, their energy is infectious.
3:30 PM– I head back and edit the photos from the previous day. I try and formulate some writing pitches to send out to blogs and magazines.
7:00 PM – Class number two. One kid laughs so hard that he throws himself backwards and demolishes the wooden chair he's sitting in. This results in about two minutes of uncontrollable laughter from everyone, including the chair-breaker himself.
10:00 PM – After some more writing, a few teachers and I head to the top of our building for some drinks. We've got a pretty nice view of the city from the rooftop, and it's a good place to relax and unwind.


Day 4 – Thursday
10:00 AM – I shave my beard for the first time in eight years. I promised one of my lazier classes that, if they all did their homework, I would shave it off. Little did I know how eagerly they wanted to see me without facial hair!
10:30 AM – Freshly groomed, I head off to a nearby park and do some reading. I pet entirely too many dogs and have an adorable interaction with two little kids who try to talk to me in Chinese.
7:10 PM – My class loves the new look, and it gives them a good laugh. One of the girls gives me a handwritten note afterwards thanking me for doing it.


Day 5 – Friday
9:30 AM – I head off to Taipei for a little day trip. I meet up with some Taiwanese friends I got to know during the New Year.
11:00 AM – We go to the National Palace Museum, a massive museum that originally housed the old leader Chiang Kai-shek's personal collection of artworks from China. Pottery and scrolls galore! There is a twenty-minute wait to see a piece of Jadeite shaped like a cabbage.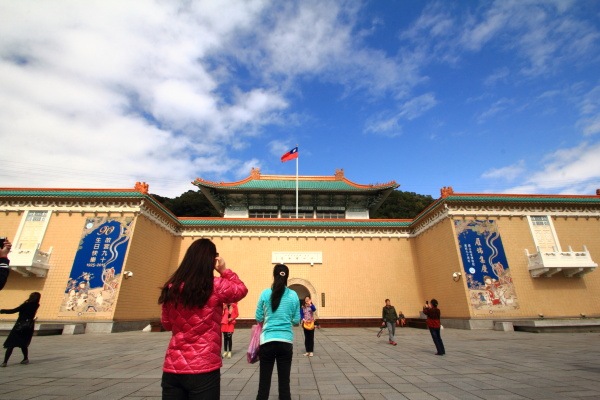 5:30 PM – My kindergarten class is both exhausting and rewarding in equal measure. You can't rest for a single second while teaching English, but the kids absolutely love you. During break, I teach them how to fist bump and play thumb war.


Day 6 – Saturday
8:00 AM – Working in a buxiban, Saturdays are typically the busiest day for a teacher. Since students don't have regular school, this is the most common day that they will attend cram school. Unfortunately, this results in a six-day workweek for us foreign teachers.
10:00 AM – My first class is in the same building in which I live. We live on the fifth floor, and classrooms occupy the first three floors. The commute to work consists of two flights of stairs, i.e. approximately 30 seconds. This alleviates the pain somewhat.
3:30 PM – As soon as the bell rings for my last class, I fly out the door to meet a friend. Although she is from Namibia, she has been here for over ten years and speaks Mandarin fluently. Along with several other teachers, we have planned a weekend camping trip in Fuxing, a rural district nearby known for its mountains and hiking trails.
4:00 PM – We all cram into our friend's car and head out. It's much more convenient than buses or trains, although slightly harrowing in mid-day traffic.
6:00 PM – After a stunning drive, we arrive at the campsite in the middle of nowhere, past several aboriginal villages and off a dirt path. We are the first foreigners to have ever camped there.
7:30 PM – While we're setting up, a mob of around fifteen small children rush to our campsite and excitedly inquire what we're doing there. Over the next half hour they continually bring us free food from their campsite and eventually invite us over. We're treated to several dancing demonstrations from the children, and free drinks from their parents as well as neon light sticks.
8:30 PM – All of us write our wishes on a giant paper lantern, light it, and send it off into the sky. It seems to fly with no problems, which signifies that our wishes on it will come true.
9:00 PM – We spend the rest of the evening sitting around the fire, drinking and staring up at the sky.


Day 7 – Sunday
11:00 AM – We pack up, say goodbye to the Taiwanese families, and head to a nearby attraction; a glass walking platform that's next to a massive waterfall.
12:00 PM – The platform is both terrifying and enjoyable in equal measure. People don't appreciate it when one of the teachers jumps up and down at the end of the platform.
1:30 PM – We wander around the area, dipping into small hiking trails and trying some Buddhist ice cream from a roadside vendor. We also stop by a mountainside coffee shop, complete with several cats lazing about in the sun.
4:30 PM – Our stomachs full, we pile back in the car and start to head back, the sun setting behind us. For a moment I start to think of next week's lesson plans, but soon forget about it when I see a temple off in the distance.


When his contract is finished, Matt is planning on putting that money to good use by enjoying a year-long working holiday down under in Australia. In the meantime, you can follow his adventures and thoughts at A Boundless Environment.