Street food in Peru: I have a few favourite things to do while exploring new cultures, and most of them centre around food – as in, shopping for it, eating it, and in some cases, learning to prepare it.
Peruvian cuisine is the new black these days, and with good reason – the food here is generally excellent. And there's lots of it available, on the streets, in markets, etc.
Here is a (proverbial) taste of what it's like to eat street food in Peru, to whet your tastebuds.
This article was originally published in 2015, and has since been updated for accuracy of content and links.
The Market Lunch
Along the perimeters of most indoor fruit and vegetable markets are food stalls with mamitas hawking a daily menu of market lunches. For about $1, you'll get a bowl of fresh soup, a home-brewed tea or juice, and a main dish that consists of rice or pasta, and some sort of stew (like Peru's national dish: lomo saltado, which is beef with tomatoes, onions, peppers, and local seasonings served over fried potatoes and rice).


Ceviche
Some markets include cevicherias (ceviche being a favourite of mine). Ceviche is served in markets and restaurants alike; prices (and quality) of the ceviche vary depending on where you get it. The cheapest place to eat ceviche is in a market, and will cost you $2-3.


Chilcano
Instead of having ceviche, why not try chilcano? This is a delightful soup (never mind the dish-watery tint to the broth – it's delicious) with a scoop of rice and ceviche in it, topped with toasted corn kernels. It's all yours – for $1.


Rocoto Relleno
This is another market favourite (and is served in restaurants as well): stuffed peppers. Rocoto peppers are a bit spicier than your average bell pepper, and they're filled with a lovely mix of vegetables (and often ground beef/pork), then the open side is dipped in batter and fried to seal it off. For just over $1 you'll get one or two of these lovelies with some rice, potatoes, and salad.


Choclo con queso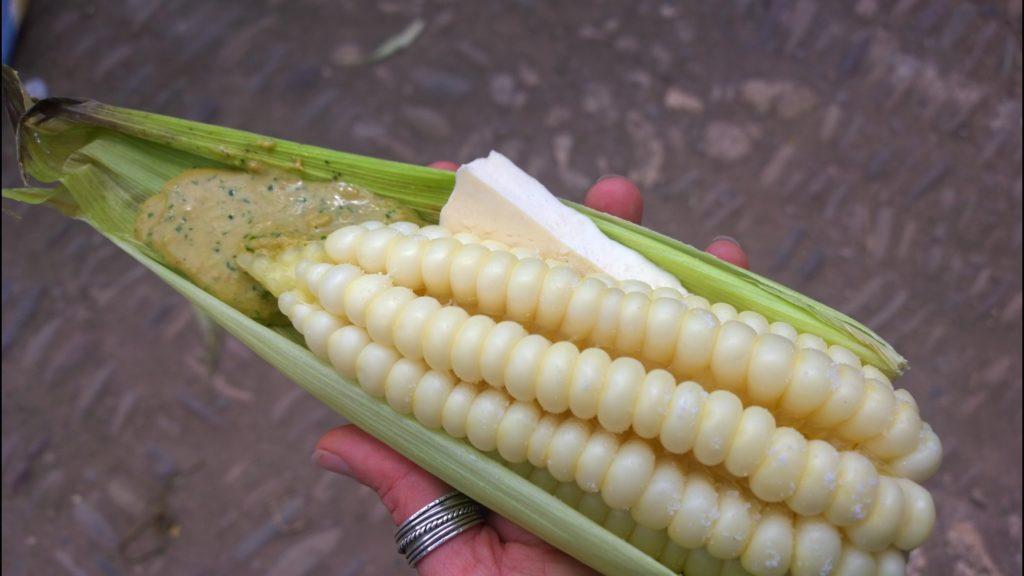 Wander outside or around the market, and you'll probably find somebody in front of a giant pot of steaming water selling choclo con queso – corn with cheese. Peruvian corn is not your average peaches 'n' cream; the kernels are very large and more fibrous. Once you get used to it though, a nice hot piece of corn with a hunk of cheese and a dollop of homemade huacatay (a Peruvian herb) sauce goes down a charm.


Fruit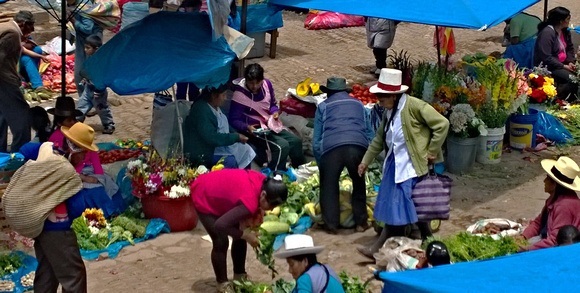 While you're wandering around the market, check out the collection of mamitas selling fruits and vegetables of all kinds. It doesn't get much cheaper or fresher than this. Hungry? Grab a mango (or cactus fruit, or lucuma, or passion fruit) for the road.


Wandering Street Food Stalls
Outdoor markets (like the Barratio market in Cusco) see some mamitas setting up make-shift tables and portable stoves to sell their home-cooked goodness, as well as people wandering through the markets with their food in buckets and bags, ready to serve. This woman pictured above was just sitting pretty in her spot; others walk through the market and sell as they go.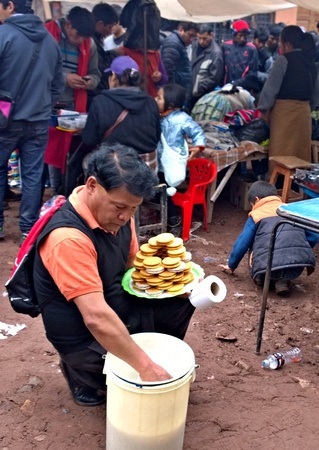 This man selling alfajores (more on these beauties shortly) managed the fray of distracted market-goers with his pyramid of sweets like a pro, handing out plates and toilet paper napkins without missing a beat.


Other Yummies
Here are a few more commonly enjoyed foods/snacks in Peru:
Alfajores
Alfajores are common in other South American countries as well, and whether traveling from bakery to bakery or country to country, no two are the same. Alfajores are simple: two shortbread-like cookies sandwiching a good dollop of dulce de leche (caramel) and topped with icing sugar. You will pay anything from $0.10 to $2 for one, and generally, you get what you pay for.


Empanadas
Also common throughout South America, empanadas in Peru (filled with either cheese or meat or vegetables) are sold in bakeries, on street corners, and in some small restaurants with special clay wood-fired ovens.


(Bonus): Snack Bars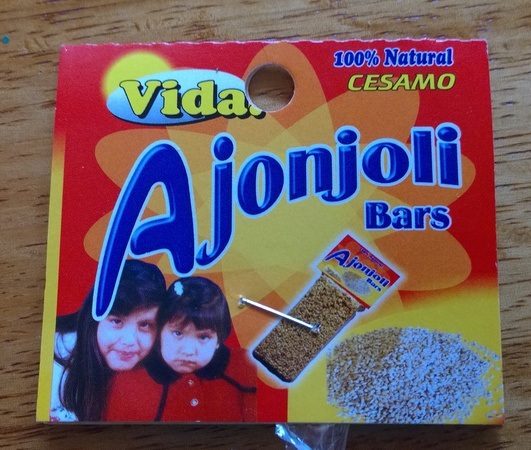 I had to include this because I'm so enamoured with the picture of the sour-looking girl on this package of one of my favourite snacks. I mean – you have to assume it's the owner's daughter or somebody of emotional importance (surely she wasn't a paid model), but you'd think they could have snapped a few more pictures to capture a slightly…happier…side of her.
Anyway. When it comes to snack foods that you buy in a supermarket or convenience store, you'll find these lovely bars as well as a selection of a few others. These Peruvian versions of granola bars include local grains like kiwicha and quinoa, as well as sesame seeds, some nuts or fruit, and honey. It kind ot resembles bird food (as a friend regularly likes to remind me), but it's delicious (and nutritious) bird food so I don't mind.


To Wash it Down…
When you're on the go, these Peruvian drinks will quench your thirst:
Juice
Close to the perimeter market food stalls, you'll find juice stalls, with mamitas eager to prepare you whatever juice combination you crave.


Emollients
In the mornings and evenings, you'll find women on street corners with carts of teapots with an array of coloured syrups in bottles. They combine these to make hot emollient drinks (for $0.30) which you either drink right there or take away in a plastic bag. Emollients have medicinal properties (you can get a concoction based on what you want – e.g. digestive or respiratory attention, or you can just get the "all-purpose" version) and are made with flax seeds, toasted cereals, herbs, lemon, sugar, and more.


Chicha
And of course, you can't wander too far in Peru without encountering an opportunity to drink a glass of chicha. They come in alcoholic and non-alcoholic versions, but just about all are an acquired taste. (See also: Drinking Chicha in Peru)


(Bonus): Pisco Sour
Okay, pisco sours aren't usually available in Peruvian markets, but they bear mentioning, given that they're Peru's national drink. Pisco is a (strong) alcohol made from grapes, and to make it a pisco sour you add lime juice, simple syrup (sugar), ice, egg white (blending it with egg whites creates a frothy top to the drink), and bitters.
What's your favourite street food in Peru?