"Wow, Nora: you really don't live here any more, do you?"
This came from a friend who I was visiting whilst recently spending two weeks in my hometown of Toronto. When I tried to pay for our coffee with cash, she looked at me like I was from the moon; she shook her head and handed the cashier a plastic card.
"Is that a Tim Horton's credit card?" I asked, confused as to why coffee shops would be in the credit card business.
"Um…no, Nora. It's just a store card. You load it up with credit, and just pay for your coffee quickly and easily with it; no messing with cash."
As I relayed this revelation to another person, they too, looked at me like I was from the moon. "All kinds of stores have these cards now, Nora."
Right.
After nine years of living abroad and returning to Canada for periodic visits, I no longer suffer from reverse culture shock or other standard traveler ailments, but apparently I'm stuck in a bit of a time-warp. While living in idyllic (and often rural) little corners of the world, I've lost touch with what daily life in Canada (and to a greater extent, North America) is like – for better and worse.
Here are some other differences in daily life between Canada and Peru, as observed during my visit. It's Peru vs Canada. (I wonder who will win.)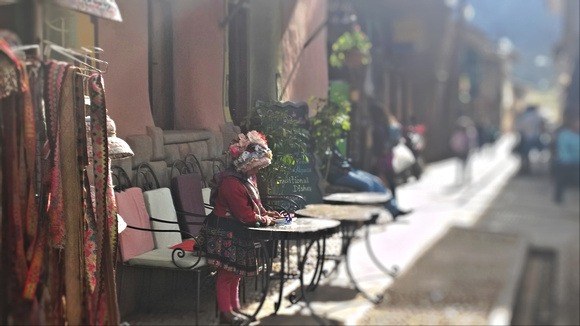 This post was originally published in 2015. It has since been updated for accuracy of links and content.


Plumbing
In Canada, you don't think twice about flushing toilet paper down the toilet. This is a big no-no in Peru (with the exception of some establishments in major cities like Lima). Peruvian plumbing and water treatment systems just can't handle toilet paper, so you quickly adapt to the habit of putting toilet paper in a garbage bin.
While in Canada, I actually felt strange about putting my toilet paper in the toilet; a sign that I'd adapted to Peruvian daily life more than I thought.


Water Water Everywhere
Along the lines of plumbing, I was delighted to return to Canada and actually be able to drink the tap water and use it for brushing my teeth. You have to be incredibly careful about tap water in Peru; even rinsing a cup with tap water and reusing it (without drying it thoroughly) is begging for a stomach full of crippling parasites and bacteria. Filtered/treated/bottled water is used for everything – even brushing your teeth. (Here's how I deal with my water in Peru: Dealing With Parasites – A Guide to Clean Water Around the World).
And since you can drink the tap water in most places in Canada (which some people might argue isn't potable, but trust me, after experiencing Peruvian water – it is), I was also delighted to see public water fountains. In Peru if I'm out for the day and don't want to buy a bottle of water (and I detest the plastic waste from bottled water so much so that I'd rather go thirsty), I have to carry around my own bottle of filtered water from home. Not having to do this saved me lots of room in my purse…for buying stuff.


Treatment (and Generation) of Garbage
Speaking of stuff, there's so much more of it in Canada. And all the stuff you get is packaged ten ways to Sunday, which generates garbage. This garbage from packaging is in addition to the waste generated by the stuff you throw away when buying new stuff to replace old stuff – a seemingly endless cycle that doesn't exist to nearly the same extent in Peru. My mind boggled at the number of curbside waste bins filled to the brim each and every week.
Despite this little rant about the amount of waste generated in Canada, Peru is not squeaky clean (neither literally nor figuratively) in this example. In (many parts of) Canada, recyclables and organic waste is separated out and treated accordingly. In Peru this isn't the case, and what's more, litter is a bit of a problem.


Cash is King vs Plastic Payments
It ires me that cash is king in Peru, since it means I generally suffer ATM withdrawal fees and have frequent flyer mile woes since I can't charge regular expenses to my credit card and accumulate miles.
Contrast that with my trip to Canada, where I withdrew $100 in cash for good measure….and then redeposited it all back into my account when I left, since I was able to put everything on plastic.


"Do You Have Change?"
I have to ask this question (in Spanish, of course) every time I pull out a crisp 100SOL bill (worth about $30) in Peru – usually the smallest denomination the ATMs will spit out. As with many developing countries, it's difficult to get change for large bills in Peru (I also experienced this while living in Grenada).
Even if I had used cash in Canada, I wouldn't have had any trouble getting change.


Smiling at Strangers (or Not)
The picture above was a sad commentary for me on the public state of affairs in Canada (or at least in Toronto). Normally known as a country of friendly outgoing people, I've interacted less and less with strangers in Canada as the years have gone by. People are more entranced with looking at their smartphones, e-readers, the ceiling, the floor, these billboards, and everywhere else they can manage, rather than making eye contact and smiling. I know this is a general city-symptom (since I'd like to think that in more rural areas of Canada, small-town friendliness still exists), but it saddens me nonetheless.
In small-town Peru, by contrast, you smile and say hello to just about everybody you pass in the streets.


Do You Deliver?
Living rurally in Peru, there is no such thing as home delivery – of food, mail, or anything else. If I haven't shopped for groceries, and don't feel like going out for a meal, I don't eat.
In Canada, you can order a pizza (or groceries, or sushi, or Ethiopian food) at just about any time. Not only that, but if you're willing to hit the streets for a meal, in Toronto you can eat just about any world cuisine imaginable. I miss this – and whilst in Toronto, did my best to overdose on favourite ethnic foods.


Disclaimer
Many of the differences of daily life explored in this post aren't solely applicable to Peru and Canada. In some of the above examples, Peru is a representation for life in many developing countries, as is Canada for life in many Western countries. Also, my life in Peru is largely rural, whereas my time in Canada is urban; another barometer for these differences in daily life.
I was discussing some of these differences with a friend who also lived in Peru and returned to her home town of San Diego. We turned on the camera to have this fun conversation for you!
Click here to view this on YouTube