I am now the casualty of three major relationship breakups in my last seven years of full-time travel. Is it because of my travel lifestyle? The first one may have been, but the second one wasn't quite (although our time apart seemed to be the catalyst for infidelity – and resulting pregnancy), and this latest one also wasn't quite; however the method of dumping – instant message – was a function of distance…in a few ways.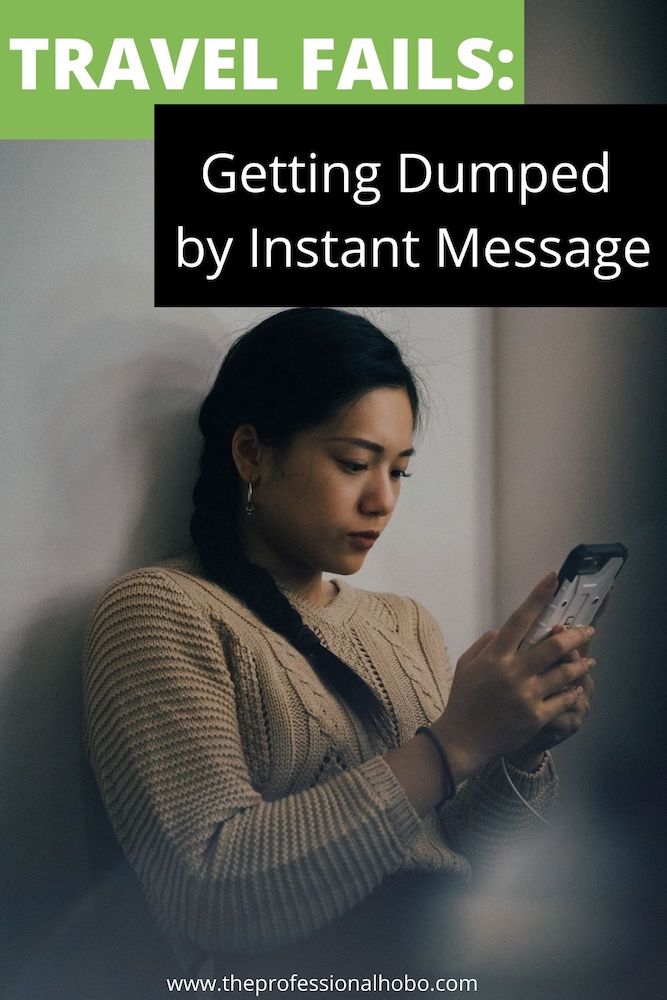 This post was originally published in 2014. It has since been updated for accuracy of links and content.
And I've had a few more breakups since this one too! Read about them all at My Sordid Attempts at Love on the Road.


Sh*t Happens While You're Busy Making Plans
I loved him, and I know he loved me. We are both hurt by how everything went down, and there are always two sides to the story.
Regardless of whether we were meant to be, we were both dealt a pretty crappy deal in the last year or so of our two-year interlude. I haven't written (and won't write) about the myriad of personal ugliness that happened, but I did share some of the tragedies that befell us such as the head-on collision and theft by a house-guest.
I spent a lot of time wondering whether these (and more, many more) incidents were a function of sh*t happening while we were busy making dreamy plans, or a long-established precedent of his.
The jury is still out, but I will say this relationship held some of the most amazing highs I've ever experienced, along with the most agonizing lows I could imagine. It makes my marriage and ensuing divorce (dating back to a time before I started traveling) look like a cakewalk.


Getting Dumped is Complicated.
Our house-sitting gig in Panama was meant to be a relaxing retreat for us given a hellish year in 2013. However instead of it being relaxing, it was a pressure cooker. It culminated in our separating on New Year's Eve on the back of one too many catastrophic fights, with him returning to Grenada while I stayed in Panama to finish house-sitting, then traveled to Florida to decompress in the loving arms of some friends.
I'm am NOT (with big capital letters) an on-again off-again sort of person, but in keeping with this entire relationship that broke most of my precedents, we left the door open to make things work. But first, we both needed time apart to get our bearings and our respective lives together.
The last words I told him a few weeks ago (via instant message, which was our main mode of informal conversation whilst apart) were "I love you", before he launched into a series of tirades on me out of the blue that were indicative of just how many ways we couldn't see eye-to-eye. Somewhere in his diatribe were also the words "it's done bye bye Nora" and "please don't reply".
He was also drunk.


The Perils of Instant Messaging
Most people will agree this was a coward's approach to ending a relationship. But because he was drunk, it's possible he spoke (I mean, wrote) out of line. Given the things he wrote however, there is no going back.
This is one of the perils of instant messaging. It's too easy to write in haste and press send without thinking it through. When you're face-to-face with somebody (or on a video call, or even on the phone), you've got to deal with the immediate consequences of what you are saying in seeing and hearing the other person's response. With instant messaging (or text, or even email), you can say all kinds of hurtful things and wash your hands of it. Done.
But this instant message culture of ours poses an even bigger problem culturally and socially. His daughter used to tell me to text her – from the other room – when dinner was ready. I've watched entire groups of adolescents sitting together, focused solely on their devices, telling the world at large what a great time they're having – doing nothing with the friends in front of them. Interpersonal communication is being lost.
And it's not just teenagers; adults do it too, texting while driving, surfing at dinner tables in restaurants, and, as I've discovered, ending relationships via instant message.
It's changing the very nature of the english language, with smiley faces, LOL, and other abbreviations becoming commonplace. I'm seeing professional communication come through my email with bastardizations like "thru" and the occasional uncapitalized "i", indicating a general laziness and most likely something typed with thumbs on a mobile device. And this is becoming acceptable.
As a writer and lover of language, this ires me to no end.
But I'm no angel either.


Homeless Again….But Not So Happy About It
So where does all this leave me? Well, if you'll recall, I had designs on a home base in Grenada, and despite an initial crisis of conscience with my evolution from full-time travel to something a wee bit different, I was ready for it, and very happy to have a place called "home" that I could travel from.
That home has now been ripped out from under me, and I'm homeless again. This time however, I'm feeling a wee bit lost.
What it does mean is that I'm going to pay special attention to slow travel, personal time, and doing what I want, where I want. I'm embracing the freedom I had lost in trying to assimilate my travel style and preferences with a partner who wasn't quite on-board with it, in a variety of ways.
People say that long-term travelers are either running away from something, or looking for something. I'm not sure if that diagnosis is accurate on the whole, but if I'm looking for something, that something may well now be a place to call "home".


It's For the Best….Really
…and no, this isn't a justification. The confidants in my life to whom I've spilled the beans are gobsmacked at what I endured throughout the course of this relationship. And I haven't even told them everything. It wasn't pretty.
I could go on. But I won't.
Suffice it to say, it's been a slice, and a learning experience extraordinaire. And with each passing day, I am recapturing my freedom, confidence, and even my wanderlust for new slow travel experiences.
And as they say – onwards and upwards!
What are your thoughts on this instant message culture of ours?