I realized it was time for a change a couple of months ago when I was house-sitting in Switzerland.
Sitting.
Almost inexplicably glued to the couch.
I talked to my Mum on Skype, lamenting my guilt for not doing more despite my lack of desire and overwhelming fatigue.
"Well, honey," she started. "You love trains. Why don't you just get on a train and enjoy a ride?"
Normally this would have been a terrific idea. It's easily enough done, it's relaxing, and indeed enjoyable. In fact, train travel is one of my favourite things, and Switzerland is home to some iconic train rides.
Instead I balked at the suggestion, finding even the coordination required for a panoramic train trip beyond my comprehension.
"Mom. I've been on trains. And I've seen mountains. What's the point?"
Self-Check: Uh oh. Really? "What's the point"?! This, from a full-time traveler?
Even as the words came out of my mouth, I realized this was the beginning of the end. Or maybe the end of the beginning.
This post was originally published in 2012. It has since been updated for accuracy of links and content.


The Beginning of the End.
To be truthful, the beginning of the end started a year ago in Grenada. My first three months weren't necessarily ideal to start, but I fell in love with this lush Caribbean island pretty quickly.
So it was an easy decision to return to Grenada last March for a second three-month stint after sailing around the Caribbean for a while.
It was on my return to Grenada that something happened.
A little thing called love.
Not only my love of Grenada and the people and cool easy pace of life, but of one person (or rather, two) in particular.


Love? Meh. Been There, Done That
If you'll recall, I've had a few cracks at romance on the road; spending my first few years of full-time travel with a partner, and later starting a relationship in New Zealand (before it ended in a less-than-graceful manner).
Although incompatibilities and infidelities didn't deter me, I also realized that finding (compatible) love on the road as a full-time traveler is a tall order, and conceded that maybe it's just not my time.
Despite my decision to put love on the back burner of my life, it seemed that on my return to Grenada, love had different plans.


Anonymity
For privacy purposes, you won't get to meet or see my current squeeze, nor his adolescent daughter. It seems that not everybody is as enthusiastic as I am about displaying their lives online for all to see. Who knew.
So you'll just have to trust me on this one….there's a guy, with a daughter.


Wha-What?!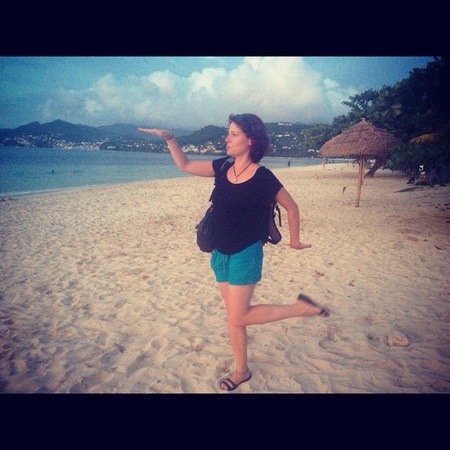 But how does love, and a guy with a daughter in Grenada fit into the life of a Professional Hobo; a girl with no fixed address who has been traveling the world full-time for almost six years?
This has been the subject of an inner battle and emotional journey to which I've alluded for the last few months, and which in part dictated my relatively sedentary summer in Switzerland.
I've been in shock.


Time for a Change.
I was in love when I decided to spend my summer in Switzerland. I also knew that my relationship wouldn't end my traveling career per se, but that a lifestyle change was in store, and I needed some time on my own to emotionally process these changes.
When your entire lifestyle, personal branding, income, and even identity is wrapped up in the world of full-time travel, how do you make a change?
This is one of many issues I had to grapple with while sitting – dumfounded, fatigued, and apathetic – in Switzerland.
But I'd been ready for a change for a while. I'd grown to feel more stress than excitement about new travel experiences, and the schisms of the full-time travel lifestyle in general:
Living out of a bag.
Constantly researching and booking travel arrangements and searching/applying for new destinations/gigs.
Staying in somebody else's home, submitting to their routine, and never truly feeling like I have a space to call mine or full control over my day.
Never staying somewhere long enough to develop truly meaningful relationships. (Or, staying long enough to spark a connection, then having to say goodbye all too soon).
In fact, some readers may have read between the lines over a year ago when I wrote about Motion Sickness on the Road and Travel Fatigue. There were some clues in there that I was ready for a change, even if I denied it at the time.


The End of the Beginning.
So here I am. Sitting on my couch in my house in the Caribbean, with a wraparound terrace and a view to die for.
Well, it's not actually mine. It's ours.
In spending a Swiss summer largely on my own with lots of time to reflect, I gained the perspective I needed to realize I wanted to set up a home base in Grenada, with my guy and his girl.


Home Base?
Yes, home base.
Travel is in my blood, and despite my lacklustre attitude towards continuing my full-time wandering, I'm far from lacklustre about travel in general.
Hey – I've been essentially homeless for six years. You could say I've "been there done that".
What I want is a place to come "home" to:
With a wardrobe that doesn't have to be uber-practical due to space constrictions.
And more than two pairs of shoes.
Having a familiar place to flop down and not worry about caring for somebody else's stuff or moulding to their lifestyle.
Enjoying deeper friendships.
Not having the stress of cramming everything I own into a bag and praying it arrives at my destination.
Having a routine.
A proper exercise regiment.
A kitchen kitted out my way, so I can cook the food I want, when I want, how I want.
A sense of community, aside from the global online community which I'm all too dependent on.
And a family to call mine, in a little piece of tropical paradise.


The Future of The Professional Hobo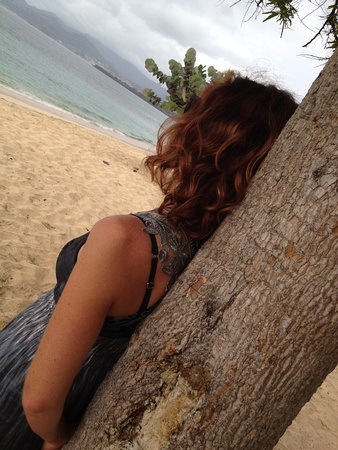 Far be it for me to predict what my future will look like, as I've become pretty adept at rolling with what life throws at me (this recent life change being a case in point).
Heck – this flexibility is what spurred me to sell everything I own to travel full-time in the first place. Lifestyle design is not a singular event; it's a continuous process. (See also: Destiny is a Direction)
But given that I'm also a planner at heart, here is what I foresee my new lifestyle will look like:


I'll still travel, but the trips will likely be shorter
…and a little more specific in nature. I've had opportunities to attend and speak at various travel-related conferences, but which I've been unable to do because of long-term volunteer or house-sitting commitments elsewhere in the world. I also have a couple of television shows courting me to be their host, and I'd be delighted to travel in the name of shooting a season of episodes.
And my guy regularly travels for business, so I expect we'll coordinate some trips together, with his daughter as well.
Obviously, most of my bookings will now involve return tickets. Ironically, with the security and comfort of having a home base, the rest of the world seems even more accessible to me than before. It seems like nothing to just "hop on a plane" and go somewhere, whereas previously, any long-distance travel move was a much more calculated part of a series of one-way tickets and volunteer gigs.
Now, I can just go somewhere, whenever I wish. And frequent flyer miles are much more cost-effective to redeem for return tickets than one-way tickets.


It's time for a rebrand.
I believe six years of full-time travel experience is enough to make me something of an authority on full-time travel. I have no end of tips and techniques to share from these experiences. And in living in Grenada – a vastly different country to my own, I'm learning and growing daily as I slowly come to understand this culture, land, and people.
But it's time for The Professional Hobo to be about more than "the adventures of a girl with no fixed address". With popular columns like Financial Travel Tips and a Week-In-The-Life, and hundreds of practical instructive articles, this site is already about way more than l'il ol' me.
So I've redesigned the site (you like?), allowing The Professional Hobo to fulfil its destiny as a site about Travel, Personal Finance, and Lifestyle Design.
I'm still here and you'll still enjoy my regular personal rants and adventures, but it's just not all about me!


It's time to step up.
I'd be rich if I got royalties every time I heard the phrase "you should write a book!"
And I have an ever-growing list of people who have personally contacted me asking me to mentor them into a lifestyle of full-time travel.
But what I've lacked with my full-time travel lifestyle is the time or wherewithal to write said books, develop mentorship programs, and do public speaking gigs. By not having volunteer/house-sitting duties or constantly adapting to new environments and researching/booking my next travel move, I hope to take my business to the next level.
Then again, "Life happens while we're busy making plans."
Stick around. Let's see what the future brings!
2020 Spoiler Alert: The relationship (along with my life) in Grenada didn't work out. I went on to some pretty extraordinary experiences over the next five or so years before returning to my home town and establishing a home base there.