No part of this series has been sponsored by Amtrak; despite being a travel writer, I embarked on this adventure for nothing more than the sheer joy of traveling again, especially by train. (It just so happened that I thought it would make a good travel narrative as well. I hope you agree).

originally published in 2021

The months roll on and on. I'm in a groove so deep I actually worry about how I'll learn to break my iron-clad daily routine when this pandemic lockdown finally lifts. I'm so grateful I had a home base to return to when COVID-19 reared its ugly head back in early 2020; I'd simply never intended that this base would become a prison of sorts for a year and a half. Surviving the world's longest lockdown in Toronto has taken a huge toll.
I'm not alone in this, so I'll spare you the sob story. The pandemic has changed everybody, in subtle to grandiose ways. And somewhere around June of 2021, I hit a wall. At the same time my number finally comes up in Canada to get vaccinated; an act which simultaneously breaks down the wall as I'm hitting it.
I'm chatting online with Matt, a digital nomad friend of mine and fellow train travel enthusiast.
"I'm getting my second vax tomorrow. I'll be in the States in two weeks," I start off in a text thread. "I'm going to visit a friend in Florida, but before that, what do you say to a wee U.S. travel adventure?"
"What about that rail pass?" he responds.
The month prior Amtrak had come out with a 30-day rail pass at a great price and we had bantered about it in a daydreamy way. I call up the article and dig a little deeper.
"The offer just expired, and besides, it's for economy travel only. That's not how I like to do long-distance train travel. It's all about sleeper class." I reply.
So he sends me another article; this one a collection of the most scenic long-distance train rides in the United States. In the article is a collection of long-distance routes offered by Amtrak. I scour the article and pick out some favourites.
"Any of these three would be good," I reply.
"Great. Let's do all three," Matt responds with a proposed itinerary that connects all three routes.
I blink at my phone as I read the message a few times over.
"I was just thinking about doing one of those routes."
"C'mon. You're The Professional Hobo! Considering the train journeys you've done, this is totally on brand! I can't believe I'm telling you to do all three!"
He's not wrong. I kicked off my full-time travels in early 2007 by taking the train from Toronto to Prince Rupert (in British Columbia), eventually circling back to Edmonton via Vancouver.
Three years later in 2010, I got my hands on a rail pass in Australia and rode every possible train they had including their signature long-distance routes: The Ghan and the Indian Pacific; the latter of which I combined with another overnight train ride and rode one way then immediately back the other way (all in all covering 11,000 kilometres in 11 days straight, all to see if it's possible to get bored on a train. I wrote a book about it instead, so suffice it to say boredom eluded me).
And the very next year, I did the Ultimate Train Challenge: a train travel stunt dreamed up and embarked on by me and two full-time travel colleagues, It involved traveling from Lisbon to Saigon (a total of 25,000 kilometres) in 30 days, all by train.
If all that weren't enough, in 2017 I experienced the world's most luxurious train: The Deccan Odyssey in India.
Matt has called me on my own game, and now I can't back down. We must do all three of these long-distance train rides around the United States. And so it is.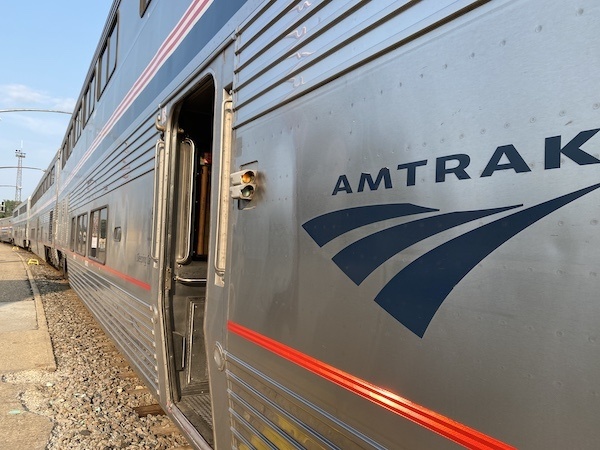 Adventures With Amtrak: The Grand Plan
Within 24 hours, Matt and I have constructed an ambitious itinerary. We will meet in Chicago, and a few days later we'll board the Empire Builder train from Chicago to Seattle (46 hours and about 2,200 miles).
After a day or so in Seattle, we will hop down to Portland (3.5 hours and 200 miles), where we'll spend a few days.
Then we'll board the Coast Starlight from Portland to Los Angeles (35 hours and 800 miles), where we'll spend another few days.
Last up, we will take the Sunset Limited from Los Angeles to New Orleans (53 hours and 2,000 miles), where we'll spend a week.
All in all, over 5,200 miles and almost 140 hours on trains.
Yeah, I'd say that's pretty "on brand" for me.


"But….It's Amtrak."
"You know Amtrak isn't like European trains, right?"
"I've been on the Empire Builder. It's cool. But the rest, sounds kinda…'Amtrak-y'."
"How many hours? On a train?!"
Skepticism abounds from friends and colleagues. I know it's Amtrak. And I know the Amtrak skeptics are referring to.
I grew up taking Amtrak commuter trains back and forth between Toronto Canada and Albany NY every summer (400 miles and about 10 hours, with a lengthy border stop) to visit my grandparents. While somebody who wants to get somewhere expediently may not have enjoyed the experience, it actually planted the seed for my lifelong love of trains. I adored those train trips; walking up and down the train while it jostled from side to side, napping peacefully with the canter of the train, looking out the window at the ever-changing scenery, and playing cards with my mum in the lounge car. Trains for me became synonymous with summer vacation, freedom, and adventure.
Many years later this seedling of inspiration would propel me to experience some of the world's most epic train rides, but the United States remained largely undiscovered from a railway perspective.
And I am completely undeterred by people's lack of confidence in Amtrak. Because what most people don't know about Amtrak is that when you book a long-distance trip in sleeper-class, it is a totally different experience. Not only do you have a private cabin with seats that convert to beds at night, but you also have access to a special sleeper-class-only dining car that provides three meals a day, with dinner involving linen table service, three courses, and even a glass of wine (or beer).
This ain't no commuter train experience.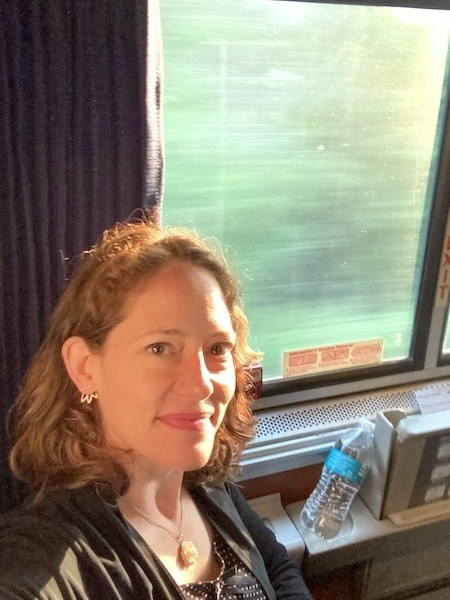 Oh Yeah, By the Way…
At this stage it's relevant to note that Matt and I have never met in person. We have conversed online through messaging and emails, been on one another's podcast shows, and had social video calls over glasses of red wine. Like many friendships of the digital nomad persuasion, the fact that we haven't actually met in person is somewhat incidental.
And yet.
"Are you crazy??" my friend in Toronto says (and she is one of a few who offer similar objections). "What if you two don't get along? You're going to be stuck on trains and in hotels with him for a whole month!"
I shrug. "It'll be fine. We are both super-experienced lifestyle travelers, and we're accustomed to traveling in close quarters with other people. I did the Ultimate Train Challenge with two people I'd never met in person before and that went fine…" I respond.
"I guess you can just get off at the next stop if it comes to that," says one friend, creating a mental escape route in her predictions of a possible blowout.
"The hell I will!" I say. "I've spent a small fortune on this trip. I'll be damned if I don't see it through! Don't worry, it'll be fine. I know we can do this."
Secretly I'm wondering if we can.


Check out Part 2 of my Adventures With Amtrak – The Empire Builder!