In Part 1 of this Adventures With Amtrak series, I set the stage for a 5,000+ mile train trip around the United States with a relative stranger. Now it's go-time, starting with the mighty Empire Builder.
The Empire Builder train, as explained on the Amtrak site:
Experience the rugged splendor of the American West. Traveling between Chicago and the Pacific Northwest along major portions of the Lewis and Clark trail, the mighty Empire Builder takes you on an exciting adventure through majestic wilderness, following the footsteps of early pioneers.
From Chicago, you'll have magnificent views of the Mississippi and see the glowing night skyline of Minneapolis and St. Paul. Awake the next morning as you cross the North Dakota plains and travel over the spectacular Gassman Coulee Trestle. Skirting the Missouri, you'll cross into the Big Sky country in Montana, passing by a travelers' favorite, Glacier National Park. From Spokane, you can continue on to Seattle or head down the Columbia River Gorge toward Portland for spectacular views of Mt. Hood and Beacon Rock.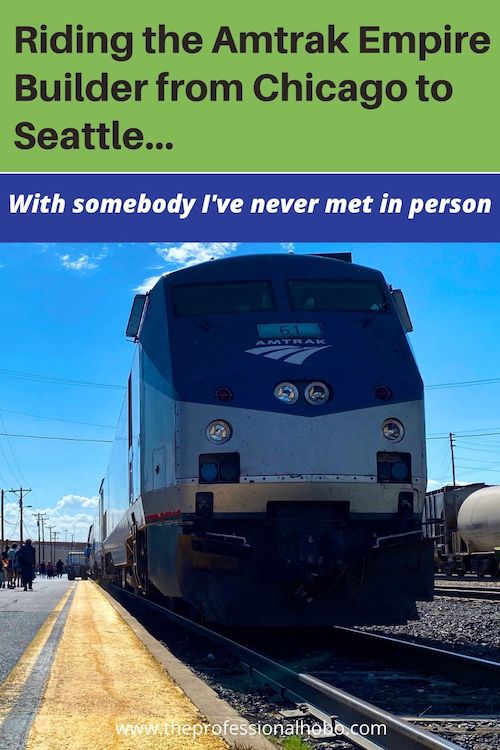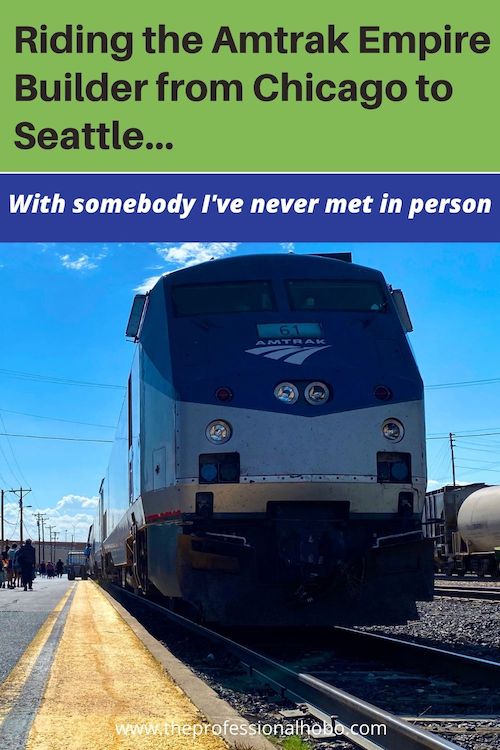 Meeting in Chicago
"So good to finally meet you!" Matt says while enveloping me in a big hug in the lobby of our Chicago hotel. It feels more like meeting an old friend than a new one.
We immediately go up to the room and do what a couple of digital nomads who just met would do: we talk about travel gear. We are both ultralight packing enthusiasts, traveling long-term / full-time with carry-on luggage only, and anybody who travels this way is likely to be not only enthusiastic but also a bit obsessive about curating the perfect items balancing both fashion and function.
Matt turns out to be my travel-gear-soulmate.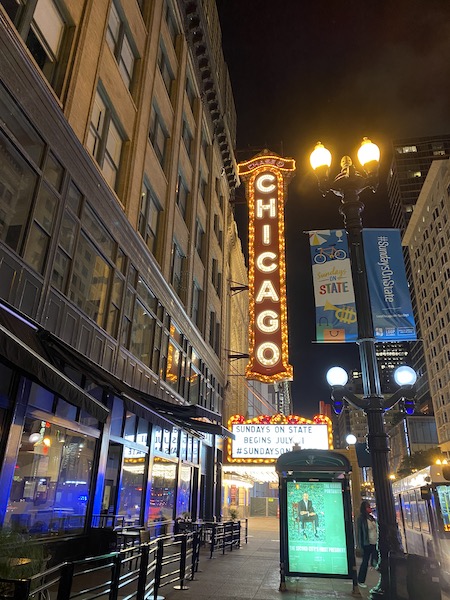 The next couple of days are a blur of working in coffee shops, walking around downtown Chicago, and meeting up with a number of Matt's friends who live in the area. Matt is a connected guy in digital nomad circles, having participated in various co-living and co-working programs like Remote Year, Hacker Paradise, Nomad Cruise, Nomad Train, and more. We already have plans to meet up with more of his remote working friends and colleagues in Seattle and LA. 
Never having been to Chicago before, we make a good go of it. We gorge on deep dish pizza (how did I not know such things existed??), take in sweeping views of the city from the 96th floor at Signature Lounge, sip wine and people-watch on the river bank, race around on an Indian-style pub crawl on Devon Street (instead of drinking beer at each place we sample an Indian dish each restaurant is known for), and laugh uncontrollably while sharing travel stories with Matt's fellow Remote Year alumni over multiple bottles of wine at the funky Time Out Market.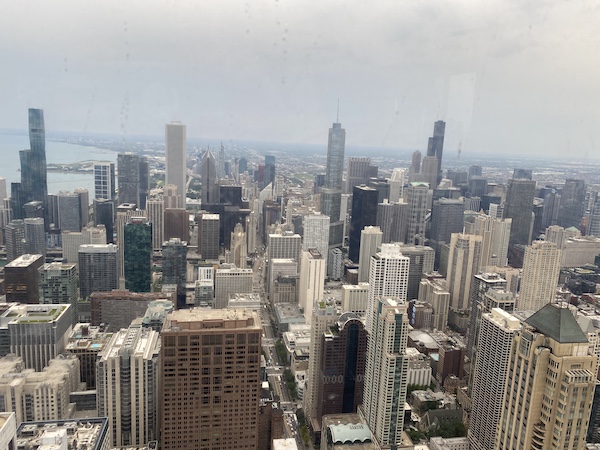 Boarding the Empire Builder Train (What Have We Done?!?!)
There are two kinds of sleeper class accommodation on Amtrak's trains: a Roomette, and a full Bedroom. The Roomette consists of two single seats facing one another during the day; at night the seats fold down into a single bed, and an upper bunk bed comes down from the ceiling. Roomette passengers have access to bathrooms and shower facilities shared with other Roomette passengers in the same car. The Bedroom has twice the space of a Roomette, including a private toilet and shower in the cabin.
Matt and I are intrepid travelers, not afraid of tight spaces, and the bedroom comes at a premium we're feeling gun shy about; we assume the Roomette will suffice.
We are immediately horrified at how small our Roomette is. I mean, we knew it would be small, but there isn't even enough room for us both to stand in the tiny space that exists between the two seats. Just trying to find enough room for us and our carry-on luggage necessitates a comical version of anatomical Tetris.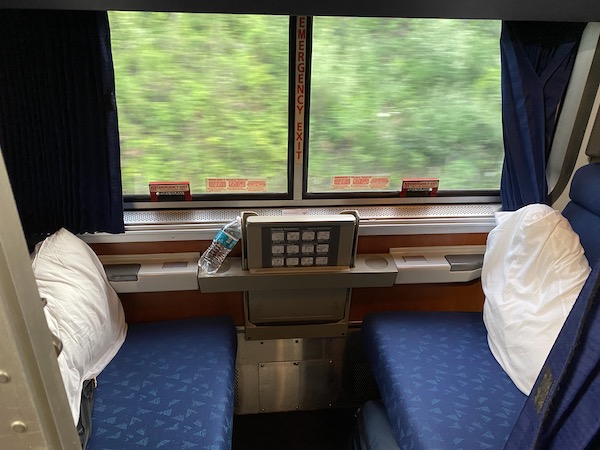 I had every intention of seeing if we could navigate an upgrade to a bedroom anyway (as I have learned on other long-distance trains around the world, you can upgrade on-board for a deep discount), and my latest search on the Amtrak site indicated there was at least one bedroom cabin available. Seeing the size of the Roomette adds a sense of urgency to this mission.
I set off in search of the conductor, who informs me that they don't actually do upgrades on the train any more, and that I'll need to call the 1-800 number; an experience I've already discovered usually entails sitting on hold for 30-90 minutes.
Undeterred, I get on the phone and am surprised to be immediately connected to somebody despite the automated attendant cheerfully informing me I'd be waiting for more than two hours.
There are no bedrooms available, much to our chagrin.
"While I have you," I say, "what's the deal with the Portland to LA route? Has the track reopened?"
Two weeks prior, wildfires had literally melted a section of track but I was told the repairs were scheduled to be complete a week before our trip and that everything would be fine.
"Didn't you get the email?" she responds. I gird my loins and say no. She proceeds to describe the results of an imposed itinerary change: a 1-day train ride, followed by an overnight bus ride, before picking up the final leg by train for another full day. "We've upgraded you to a deluxe bedroom for both of the train rides and we refunded $150 to your card for the inconvenience."
Matt, sitting across from me with wide eyes, still trying to comprehend how we are going to survive the next two days and two nights in this closet-sized room, signals he's not interested in this new itinerary. We're on the same page.
I politely inform the Amtrak rep that we didn't pay (somewhat exorbitantly, despite a $150 refund) to spend a night on a bus. I request a refund, and am luckily obliged.
"Ask about upgrading to a bedroom for the final train," Matt whispers. Perhaps knowing we'll have nicer digs for the final ride from LA to New Orleans will help us survive this first leg.
I'm transferred to another department where I'm informed it will be an extra $500. I look to Matt to see if he's on board. He nods vigorously. They could have said the upgrade was $2,000 and we would probably still have agreed. (Well, maybe not, but it gives you an idea of how panicky we are given our brand new friendship and the size of this Roomette).
We haven't even left the station, and we're wondering if we've made a mistake booking this epic train trip with Amtrak.


Empire Builder Day 1: Chicago to Somewhere-In-Minnesota
It's immediately evident to us that we won't be spending time in the Roomette. Even during the day it's cramped. So we find various nooks and crannies to stuff our belongings and head to the lounge car.
The lounge car is shared between sleeper class and coach class passengers, and as such it's the point of congregation for everybody, which makes it the best place to eavesdrop and people-watch. I'm always fascinated by the various people who travel long-distance by trains, and I'm excited to spend the next few days observing and meeting some of these people.
There's a guy who is drinking beer (a lot of it), and reading the bible, and talking loudly about how he likes to drink beer and read the bible. A lot. He's holding captive a young guy who is spreading peanut butter and jelly on bread (presumably this is his dinner); he is nodding and smiling, and obliging Bible/Beer-Man's requests to read various passages.
So far, so good. People watching is off to a great start.
Matt and I settle into a table and Matt proceeds to make round after round of small espresso shots; he's testing out a new portable coffee grinder and hand pump-style espresso maker, determined to get the perfect balance of grind, tamping, and quantity of water and coffee.
We are being watched, intensely.
Sitting across from us is a group of five young men playing cards and wearing tailored navy blue pants, royal blue collared shirts, and navy blue vests to match the pants. Their haircuts are identical: it's worn ear-length, with a straight line of bangs across the middle of their foreheads. It's a bit reminiscent of a monk's haircut circa the medieval times, minus the shaved spot on the crown. They are speaking a language that bears no resemblance to any language I understand, but intermixed with their unintelligible vocabulary are words and small phrases of English (which I note is said in a perfect American accent). Two of these fellows are mesmerized with our espresso operation. We interpret their fascination as an opening for conversation.
"Where are you from?" Matt asks.
"Michigan," one boy responds after they collectively recover from the shock of somebody interacting with them.
"What language are you speaking?"
They seem to contemplate the question for a while, before saying "Pennsylvania Dutch".
Curiosity gets the better of me and I ask "What is the significance of your clothing?" They look at me in a way that requires me to elaborate. "You are all wearing the same outfits. The same shirts, vests…" Their spokesperson shrugs and says "this is just the way we dress in our community."
It seems our cultural exchange is complete as they shyly return to their card game, and Matt and I return to the task of making espresso.
I hop online and a quick search of Pennsylvania Dutch reveals a tight-knit community from a lineage of Germans who emigrated to the Pennsylvania area in the 18th and 19th centuries. Over the years, their language has become a dialect all its own, as has their religion which has roots in Lutheran, German Reform, Anabaptist, Mennonite, Amish, and Brethren.
They mostly keep to themselves, but over the next few days we exchange nods and smiles, and I manage to learn this is the first time they have ever traveled beyond their community, and they are on this train trip because they have always wanted to travel this way. I completely understand; for me, long-distance train travel is as much the destination unto itself as it is the place the train is traveling to.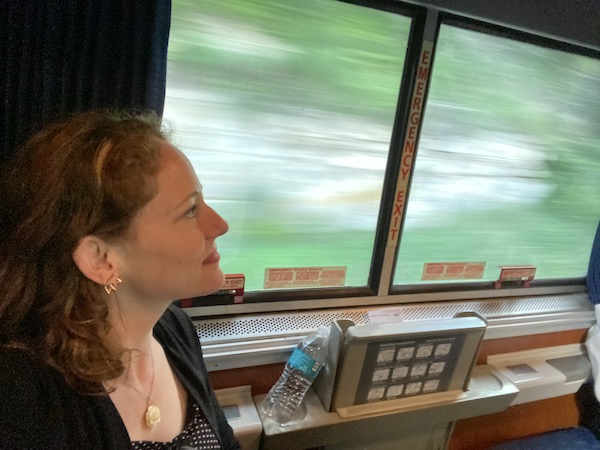 After Matt and I take turns in the roomette juggling luggage and changing outfits, we head to the dining car for the last dinner seating. As with many long-distance trains, the dining car can't handle all the sleeper class passengers at once, and so we choose pre-reserved seating times. I adore the last seating because there's no rush to leave to accommodate another seating, and I have consistently had the most interesting experiences while languishing after meals in the dining car. Tonight is no exception.
After dining with a very enthusiastic very well-traveled retired couple who pepper us with stories of their decades living and traveling abroad, they leave and we keep the conversation going with a boisterous group of three Indian-American couples. Everybody in our merry band shares their top two favourite places in the world, and with each share people contribute stories and anecdotes. Before we know it, we have conversationally traveled around the world a few times over and we've also closed down the dining car.
Going to bed is beyond awkward. While we've been at dinner, our cabin attendant has converted our cabin into a bedroom and prepared our beds for us. There is literally almost no space to even stand in the cabin with the sliding door closed. The entire cabin is the size of the single bottom bunk.
One at a time, each of us vacates the room while the other pulls out their carry-on bag to dig out and change into sleeping clothes and gather toiletries for our evening ablutions in the restrooms a few doors down.
Full-on acrobatics are required to climb into my upper bunk in the roomette, which has all of two feet of clearance to the ceiling. I am in the best shape of my life, and I have absolutely no idea how less able-bodied people manage to get in and out of these bunks.
"It's hot as balls down here," Matt calls up from his bottom bunk. "How is it up there?" The air vent on the ceiling is blasting arctic air two feet away from my face. "Cold as shit."
We both burst into uncontrollable laughter, before falling asleep to the canter of the train much quicker than either of us had anticipated would be possible.


Day 2: Minot North Dakota to Somewhere-In-Washington
The on-board (read: in-cabin) announcements begin with the opening of the dining car for breakfast at 6:30am, so we end up paying for our late-night escapades with our new friends in the dining car last night. Luckily, I am pleasantly surprised at the quality of sleep I get for the majority of the night; it has been a few years since I've slept on a train, and I've forgotten how the roll and canter of the train can lull me into deep sleep, as it does on this night.
Again Matt and I are among the last to sit down to breakfast, which is great because after all the other diners have left, he embarks on another round of espresso-making that both amuses and baffles the staff on train who are now sitting at tables around us, eating and taking breaks.
I have a habit of getting to know staff on trains. In my experience the vast majority of people who work on trains enjoy it; it's a lifestyle more than a job, and one that requires you to be away (on trains) for days at a time. So although an inherent love of trains is not a prerequisite, it certainly helps.
Likewise, it doesn't generally take long for a staff member on-board to figure out that I'm not on the train to get to a destination so much as to enjoy the train as the destination. I love to chat with them and I take an active interest in what they do on board, how they came to work on trains, and more. With this camaraderie, I generally get on a first-name basis with various staff quickly, and I tend to get perks such as occasional upgrades (I've already been alerted by one of my new staff-buddies that if there is a no-show tonight by a passenger who has booked a bedroom that the room will be ours) and the ability to hang out in the dining car long past meal-time. They don't mind my presence while they tend to their work, and I appreciate theirs. It works out well for everybody.
"Be in the observation car by 6pm. That's when it gets really good," my staff-buddy tells me in the morning. Thus far in our train journey the scenery hasn't exactly been spectacular. I haven't minded so much; I enjoy softening my gaze out the window and allowing the passing landscape to wash over me. Yesterday I enjoyed the greens and browns of farmland and rolling terrain as a backdrop to sipping espresso with Matt while chatting about life and business, speaking randomly with fellow passengers, and tapping away on my laptop, recording various musings such as you're currently reading.
But my train-friend isn't wrong about the shift in scenery. By 6pm we are in Glacier National Park, and the observation car (with large picture windows and a glass domed roof) is the place to be. After a full day of prairies and shallow rolling terrain, a wall of mountains appears out of nowhere, and suddenly we are snaking around (and even through) mountains, across valleys, and over rivers. We eat dinner while watching a magical sun set over layers and layers of mountains shaded in pink and purple that fade off into the distance.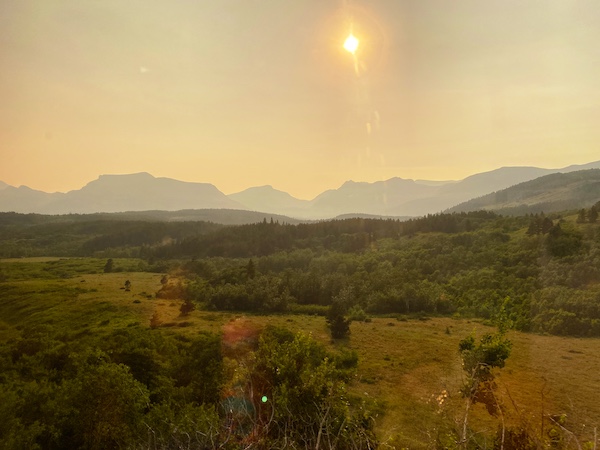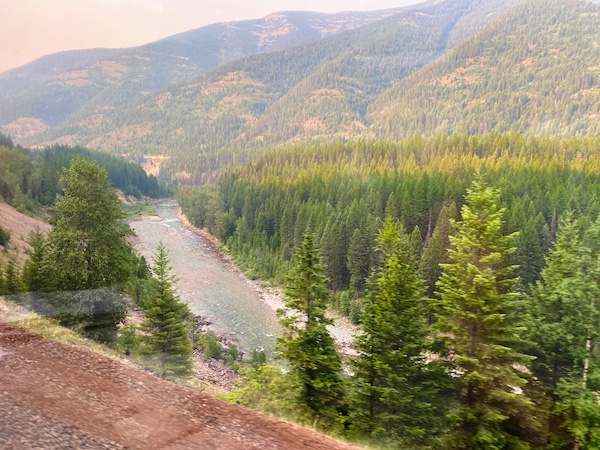 It's a good thing the scenery is fantastic over dinner because the company is a bust. We are seated across from a couple for whom conversation is not a forte. The body language of the woman (who tries as best she can to dissolve into the corner of her seat) is signal enough to me that these introverts would rather have dined alone, but unfortunately that wasn't an option given the number of people in the dining car. So Matt and I quietly chat amongst ourselves and take in the passing scenery, which isn't such a hardship since it's part of the reason we are on the train to begin with.
By our second night in the tiny roomette, we are better equipped with a system to manage the game of anatomical Tetris required to get ready for and into bed. I perform my acrobatics to climb into the top bunk and only hit my head on the ceiling three times.
Again surprisingly, I fall asleep quickly and rest very well.


Empire Builder Day 3: Arriving to Seattle
Breakfast is served from 5:30 to 7am, which means we don't eat breakfast. But that's okay, because by 10am we are pulling into Seattle (30 minutes ahead of schedule – a minor miracle given that we were 90 minutes behind schedule a few hours prior). And given Seattle's reputation for coffee, it's no hardship to go in search of coffee and breakfast on arrival.
After settling into the hotel (thanks to my Marriott Gold Elite Status they don't flinch at an 11am check-in and late check-out the next day), our 28 or so hours in Seattle are filled with market lunches, seaside strolls, work-sessions in coffee shops fuelled with incredible espresso, and dinner at a wine bar where we sample flights of wine from Washington State.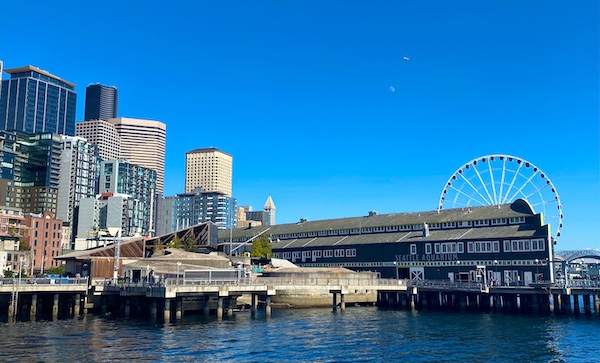 In Part 3 of this Adventures With Amtrak series, we head down the west coast of the United States (in a slightly different way than intended), before boarding the Sunset Limited to New Orleans. Check it out!

And if you missed Part 1, you can read it here and learn how we dreamt up this crazy trip around the U.S. by train: Adventures With Amtrak: The Big Idea.

Some Other Train Adventures For You to Enjoy:
India's Deccan Odyssey from Jaipur to Mumbai
The Indian Pacific Across Australia (and Back)
Taking The Canadian from Toronto to Vancouver (sort of)
The Ghan from Darwin to Adelaide in Australia
The Ultimate Train Challenge from Lisbon to Saigon (25,000 kms in 30 days)