So far in this Adventures With Amtrak series, we've set the stage for a 5,000 mile trip around the United States, taken the Empire Builder from Chicago to Seattle, and had a day in Seattle. Next up….the Sunset Limited Train.


The Cascades: Seattle to Portland
After lunch with some more of Matt's friends in Seattle, we return to the train station for the four hour train trip to Portland; an easy commute with lovely scenery. The Amtrak Cascades train route goes from Vancouver to Eugene Oregon, but we are just on board for the well-trodden middle portion from Seattle to Portland.
While standing in line to board the train, we run into our dinner companions from our first night on the Empire Builder, and enjoy a spirited reunion and comparison of our respective Seattle experiences.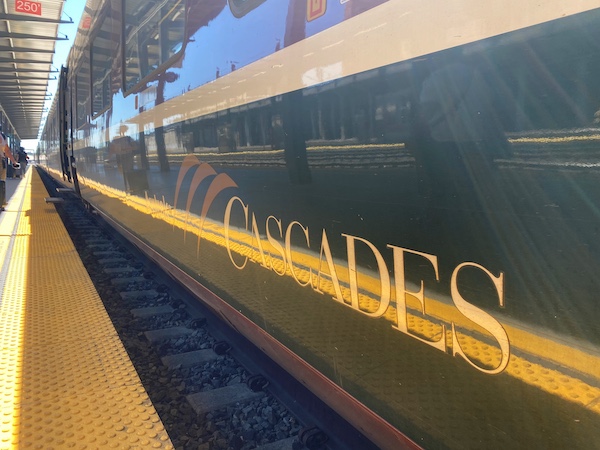 The beautiful scenery along this small portion of the west coast makes me very sad that our second scheduled train – the Coast Starlight from Portland to Los Angeles – has been canceled due to fire damaged tracks. While long-distance train trips such as these are far from money-saving adventures, the entire refunded money from this stage of our train trip is immediately swallowed up by an additional night of accommodation in Portland plus flights from Portland to LA.


Pinot and Pizza in Portland
Having long heard about the delights of Oregon State in general, and Portland in particular, I really enjoy getting to know Portland as a "city of neighbourhoods", each with its own style and pace.
Matt and I immediately find a coffee shop close to where we are staying in the northeastern part of Portland with a work-friendly ambiance and coffee so good that we can't bring ourselves to go anywhere else for our work sessions. But we still get around the city, using their well-appointed public transportation infrastructure to check out different neighbourhoods and sample a variety of fare including some excellent Ethiopian, Mexican, gourmet donuts, and we even find a pizza place that is apparently considered the second best pizza in the United States, but I am so hungry and a bit drunk from a day of drinking wine that I may not appreciate its finer qualities.
That's because the pizza follows up the highlight of our time in Portland, which is a winery tour of the Willamette region. Being one of a few places in the world with a similar altitude and terroir suitable for finicky pinot noir grapes, said grapes were imported from Burgundy France to Oregon in the 1960's and have flourished ever since. In fact, although I can't find any written proof to substantiate this, rumour has it that the original grapes in Burgundy were subsequently destroyed and it was the Oregon varietal that was used to repopulate Burgundy's vineyards.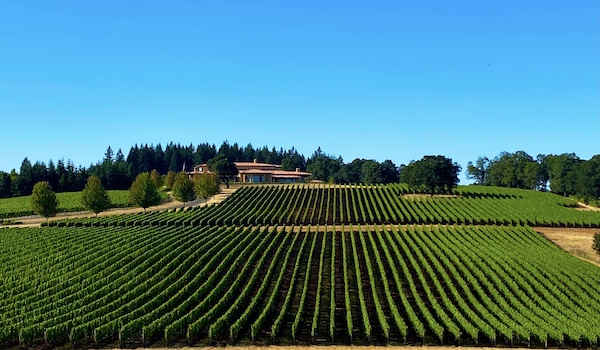 At the start of the day we are thrown together with four other strangers and an enthusiastic guide who can't seem to make the air conditioning work in our van and does her best to distract us with a monologue about the history of the area while we drive to the first winery. As tends to happen with group tours like this, by the end of the day we are all laughing like we've been friends forever. The scenery at each vineyard gets increasingly more beautiful and climaxes at the exclusive Domaine Serene winery where we are treated to a private tasting by a sommelier who is evidently confused as to how such a motley crew gained admission as our giggles waft to the tables of other more serious patrons.
Which takes me back to the second best pizza in the United States; a claim made in a CNN article about pizza published just a week prior and one that we simply must substantiate. (You know, for science.) The pizza joint is so exclusive that it's only open a few days a week, and only for pickup after ordering online hours in advance. Our initial plans to take our bounty back to our place are foiled by both hunger and curiosity, which result in us eating the entire pizza while standing on the sidewalk. This enthusiastic consumption is certainly evidence that it was a damn good pizza, but with Chicago deep-dish still in my rear-view mirror, I remain dubious about its status as second best in the country.
"Matt! What have I done?! Why did you let me eat two dinners?" I moan in bloated agony. He snickers. With an appetite befitting his height and gender, Matt generally eats more than I do, so when we are walking back to our accommodation following wine and pizza, he wanders into a food truck pavilion and orders more food. The night is young and with eyes bigger than my stomach and wine-impaired judgement, I am bedazzled by a sushi burrito that I figure is small enough that surely it's an appropriate follow up to pizza.
I'm not sure I've ever eaten two consecutive dinners, but hey – travel is for new experiences. This trip is nothing if not indulgent.
Los Angeles (Cough Cough)
I've visited Los Angeles a few times and never found it to be particularly memorable. Matt, a former LA resident for seven years, is determined to change that. We are staying in the downtown area (his former hood), and he's eager to show me the diversity and energetic pulse of Los Angeles. The pandemic makes this challenging, but not impossible.
Thus far in the trip, we have been living a fairly effective "post-pandemic" life. Leaving a horrendously long lockdown in Toronto and arriving to Chicago is a shock, as I have almost forgotten what "normal life" could be like. I re-learn how to be indoors and not wear a mask. What it's like to eat in a restaurant. And what it's like to meet people and forge new friendships.
That is not to say that masks are a thing of the past. Amtrak requires masks to be worn on the train at all times unless eating or in the privacy of a sleeper cabin. Airports also require masks at all times. And as our train trip progresses, it becomes apparent that the pandemic is far from a thing of the past; the Delta variant is having its way with the United States, and by the time we reach LA, it is becoming a hotspot.
So Matt's initial attempt to betroth me to LA isn't met with universal cooperation.
"Want to go for a walk?" he says as we drop our bags at our accommodation. It's 9pm and I've got a belly full of In-and-Out Burger (an obligatory LA experience I'm told).
"Sure! Why not," I reply enthusiastically.
With gusto, Matt shepherds us to the LA Live area, normally a hive of activity with a stadium, convention center, and myriad of restaurants and bars.
It is completely deserted.
"I don't understand. I've never seen it like this," Matt wonders. It's obviously pandemic-related, but this level of emptiness – on a Saturday night no less – is unexpected. Even the Starbucks that is normally open until the wee hours of the morning closed at 8:00pm.
With the original place he intended to take me to being a bust, Matt conjures up another bar with a great view from his memory and leads me there. Also closed. We call around to a few other places. Closed. We find a roof-top night club that's open, but it's ridiculously crowded and comes with a hefty cover charge that deters us.
"Perch will be open. It has to be," Matt says, and a couple who overhears us confirms it. At this point we've been wandering for almost two hours, although it's far from a hardship. The weather is perfect and we are both walkers at heart; walking is one of the best ways to discover a city.
Our circuitous journey makes arriving at Perch Rooftop Bar all the sweeter. "Perch: An Elevated Resting Place" is adorned with fairy lights and offers amazing views of downtown Los Angeles. We enjoy a glass of wine at the bar, and Matt orders another burger for us to share; this $20 burger a bizarre juxtaposition to our $3 In-and-Out burgers a few hours prior, and my second shot this trip at a double-dinner evening. I make a mental note to double up my exercise routine tomorrow. Little do I know I'm about to get a great workout and unconventional tour of LA.
In downtown LA, electric kick scooters litter the sidewalks. There are a variety of scooter rental companies (Lime and Bird being two popular examples). Using them is as simple as downloading the app, inputting payment information, finding a scooter, and scanning the QR code with your phone. The scooter magically comes to life and you can take it anywhere while the clock ticks. You are charged based on time used and/or distance traveled. I've never done this, and I'm curious.
"Let's take scooters home instead of an Uber," I suggest.
"Sure, but just in case you think we'll save money doing this, we won't," Matt warns.
"It'll be more fun though!" I say, and he nods in agreement. I also can't imagine it costing that much more than an Uber, so I take Matt's warning with a grain of salt.
The $28 bill (per person) at the end of the night is just as much our fault as it is the scooters being expensive; instead of heading straight home we end up on an impromptu two-hour joy ride around a deserted downtown LA at 2:00am. It's ridiculously fun and I can't help but giggle joyfully the entire time; I mentally vow to explore other cities that have scooter programs in a similar fashion.
Considering the evening started out with a whole stream of roadblocks due to the pandemic, it ends on one of the highest notes of the trip yet. It's a poetic simile to travel in general; you can plan as much as you like, but you're inevitably going to get some curve balls along the way, and your resulting experience will depend on how you choose to pivot and make the most of what's available.
Over the next few days we certainly make the most of Los Angeles, the majority of our experiences involving food in different neighbourhoods (LA being another city that, like Portland, is considered more a collection of neighbourhoods than a cohesive city). We meet up with a few of Matt's friends as well as a dear friend of mine from San Diego for an epic dinner accompanied by multiple bottles of wine in Santa Monica. I meet yet more of Matt's friends for a feast in Little Korea. And Matt and I dress up to the nines one night (he in his three-piece suit and me in a unique silk dress from Indonesia) to have a ritzy dinner on the Sunset Strip.
By the time we leave LA I have a collection of amazing experiences that will fade into fond memories. Much to Matt's chagrin, I still wouldn't cite LA as a favourite city of mine; while the scooters were fun, public transportation on the whole is lacking for a city that size. Also, the concentration of homeless and mentally-disturbed people in tent cities comes as a disturbing shock as I've seen nothing like it before and I must admit it throws a certain degree of shade on my experience as a whole.
That said, Matt's efforts are far from wasted, and I can tick off Los Angeles on this train trip as a place we "did" really, really well.


Boarding the Sunset Limited Train
Here's how Amtrak sets the stage for the Sunset Limited Train:
Los Angeles – Phoenix – Tuscon – San Antonio – New Orleans
48 hours
Departures Three Days a Week
Travel between Louisiana and California along our southern-most route. While onboard the Sunset Limited Train, settle back and watch the Bayou Country, Mexican border, southwestern deserts and California mountains pass by your window.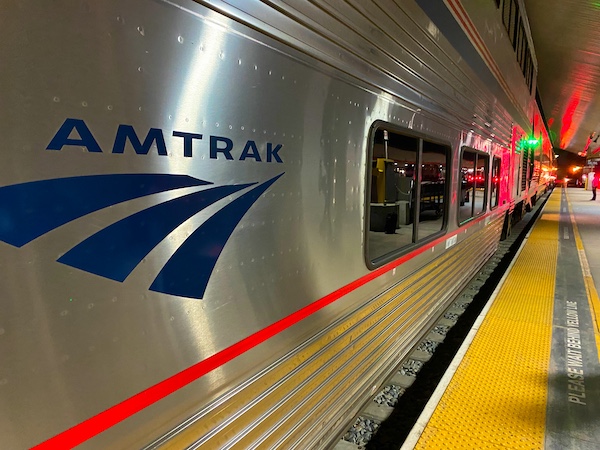 We boarded the Empire Builder in Chicago exactly two weeks ago. Having missed out on the Coast Starlight portion of the journey, it seems like ages since we've been on a train, and it feels a little bit like coming home.
Our boarding time isn't until late in the evening, but our required 12pm checkout from our accommodation doesn't phase us, since sleeper-class passengers have access to Amtrak lounges, and certain major departure points (like Los Angeles) have great lounge facilities.
We lock up our luggage in a secure room connected to the lounge (another perk for sleeper-class passengers), set up shop with our laptops and free WiFi (and snacks) for a few hours, then hit the streets of LA for a brisk pre-train walk and dinner.
We board at 10pm, and settle into our bedroom cabin (which is considerably more comfortable than the roomette we had on the previous train), which has already been turned down for us. Despite the beds being down, there is still space for us to move about (albeit cramped space, but let's get it right: it's a train), and with the sink and bathroom we can tend to our pre-bedtime routine with relative ease in general; and much more ease compared to the roomette.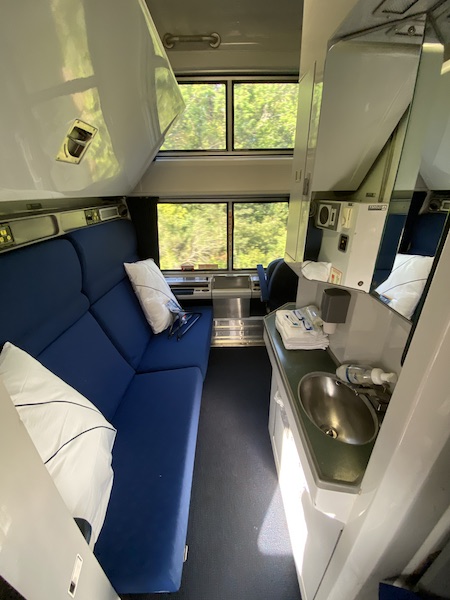 I clamber up into the top bunk again which has a bit more headroom, and with space enough for a proper ladder to ascend, makes for a much more civilized experience.
Again, I am lulled into hypnotic sleep from the train's movement and rocking.
It's great to be back.


Sunset Limited Day 2: Tuscon to Somewhere-In-Texas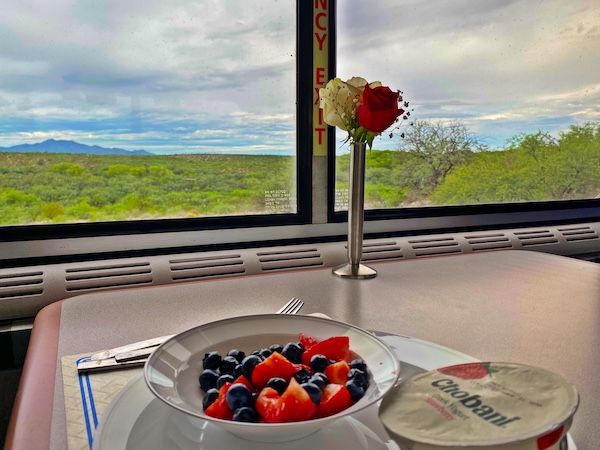 Matt has been feeling under-the-weather for a few days. It is no more than a cold, but it's taking a toll. Last night he said he intended to sleep in as much as possible, knowing he'd likely miss out on breakfast. I intend to get breakfast, but I accidentally sleep almost late enough to miss it myself. Despite the extra space in the bedroom cabin, trying to get up and changed and out of the room without waking Matt is challenging. Thankfully last night I had laid out some clothing and shoes so I could steal away with a few items to amuse myself until he awakes.
Little do I realize I'm going to be amusing myself this way for three hours.
I do, however, thoroughly enjoy sitting in the observation car watching the beautiful Arizona mountains, red soil, and green cacti passing by outside the window. I'm so smitten feeling the motion of train, taking in the gorgeous views, and generally enjoying the excitement and poetry of this trip, which was dreamt up and booked in an impulsive 24-hour period just a few weeks prior.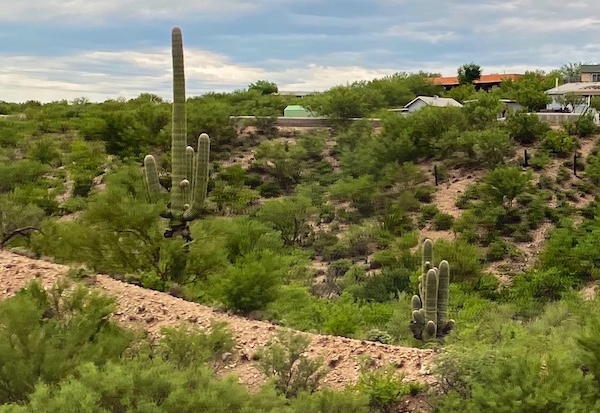 Unfortunately, the staff on this train aren't nearly as friendly as on the last one (and frankly, most of the trains I've been on around the world). One of my observations over the years is that most of the people I've met who work on trains adore their jobs, and it shows in how they conduct themselves and interact with passengers. But the staff on this train are harder to chat with, and while I'm loitering in the dining car after breakfast, I overhear them in the neighbouring section, complaining about many things from unruly passengers to unharmonious encounters with other train staff, to disgruntled soliloquies about the inner workings of Amtrak.
Also, there are considerably fewer passengers on this train than there were on the Empire Builder, so meeting people in the dining car doesn't happen as it did on the last train, largely because every party is seated at their own table. The Delta wave of COVID is currently surging through the U.S. however, so it's possible dining alone is also being mandated, and all things considered I think it's a good idea.
Despite a less social experience, this train ride is a dream. The scenery is beautiful, and I wile the day away intermittently gazing out the window and writing on my laptop. The American Southwest is new territory for me, and I regularly catch myself wishing I could sit on this train forever.
My love for this form of travel simply can't be overstated. Some travelers (myself included) feel a surge of excitement when their plane takes off, and the point of origin fades away slowly, the clouds bringing the promise of arrival to new land and landscape in a few hours. For me, that surge of excitement lasts for the entire train ride, which in this case, means two days of bliss.
Matt and I get permission to camp out in the dining car between lunch and dinner for our espresso-making ritual. As on the last train, the staff members sitting nearby are enthralled with the process. We laugh and joke with them about the our finicky routine of grinding the beans by hand and then making the espresso in Matt's little portable espresso maker. They amusedly supply us with hot water so we can feed our passionate caffeine addiction.
When I started this trip with Matt, I informed him that under no circumstances do I drink coffee after 2pm, as I don't wish it to affect my sleep. In truth, I'm not actually sure if it does. I had one experience years ago when I had a coffee after dinner and then I couldn't get to sleep. For this reason alone (and the general idea that caffeine affects sleep), I've since held to the no-coffee-after-2pm rule.
Matt shrugged when I told him this. "I drink it at all times of day and night. Doesn't affect me."
Since that day, I've found myself joining Matt in his espresso sessions later and later each day. And here we are, at 7:30pm, making our pre-dinner espresso.
"Didn't you have a 2pm cut-off time for drinking coffee?" he says with a smirk while grinding beans for our second shot of the night.
"You're ruining me for coffee. I'm becoming a full-on espresso-snob. And now I need shots throughout the day. You've created a monster!"
"On the contrary," he replies with a smile. "I'm quite impressed with how far you've come on this trip."
Traveling with Matt has been an enjoyable exchange and sharing of ideas. I've not only levelled up my coffee game, but he has introduced me to new ways of traveling and socializing as a digital nomad; techniques that, had I employed them in years gone by, might have circumvented the catastrophic burnout I had that led me to return to Toronto and set up a home base after 12 years of full-time travel. While there's nothing for me to regret, I do plan to try out a few new dance moves in terms of my travel style in the next few years. He has also given me some great perspective and ideas for my online business that I am inspired by and grateful for.
Likewise, I've helped Matt in the travel gear department. After dissecting the contents of our bags together with childlike joy and wonder, I was fascinated to discover just how much stuff he fits into his carry-on entourage; things like an espresso maker, wine aerator, three-piece suit, and an entire podcasting studio. But that's far from the extent of his gear, as evidenced by his ridiculously heavy bags. I coach him to drop this and that, and replace a few items with more lightweight multi-functional alternatives. We also speak at length about podcasting, and he asks me for online content creation and marketing advice.
Traveling in extremely close quarters with Matt (a relative stranger just a few weeks ago) has, despite the warnings of my skeptical friends, been a lot of fun. One or two inconsequential disagreements thus far have tested our mutual communication and problem-solving skills. We both understand the challenges of traveling in close quarters with other people, and our respective experiences have served us well.
It's great we have this foundation, because my patience is about to be tested.


Sunset Limited Train Day 3: San Antonio to New Orleans
When I awake the train isn't moving. I look on my Goole Maps app and see that we are in San Antonio, Texas. I quickly dress and emerge from the cabin to ask the conductor how long we are in the station. "Oh at least 30 minutes. They're inspecting the train."
I wonder if the inspection has anything to do with what I perceived to be a breakdown last night. While falling asleep I remember the acrid smell of burning rubber wafting though the cabin as the train came to an abrupt stop accompanied by the sound of a loud clunk of metal and a long hiss coming from somewhere below me.
I laid in bed, awake with curiosity, listening to subsequent clunks and hisses that happened over the next hour or so before the train eventually jerked back to life.
After taking advantage of the 30-minute break on this sunny quiet morning to take a spirited walk in the neighbourhood around the San Antonio station, I return to the dining car for breakfast, thankful that they were willing to hold breakfast for me so I could take this walk. The staff's demeanour towards me seems to have softened since yesterday morning, and I wonder if it's the espresso that endeared them to Matt and I.
"Is the train on time?" I ask the dining car attendant as she takes our reservation for lunch and dinner seatings.
"Nope." I laugh at the immediacy of her response. Last night I overheard a staff member saying this train last week was five hours late arriving to New Orleans.
I'm not surprised. Many of the long-distance routes I've taken have been delayed. Passenger trains play second fiddle to freight trains, so when a freight train needs to pass (or is coming the other way), trains like this one need to pull over wherever there is a secondary track available and wait for the freight train to go by. Depending on where the passenger train is able to pull over, the wait can be long. And in the last 24 hours, I've noticed a lot of long waits. This, coupled with what I manage to confirm was indeed a breakdown of sorts last night, will have put us well behind schedule. It's possible to make up a lot of time, but I mentally prepare myself for a late arrival tonight.
Matt continues to doze in the cabin while I set up my laptop in the lounge car and do some writing, again inspired by the romance of passing landscapes, listening to the muted train horn as we approach intersections, and curiously watching the land go from being red and flat and full of cacti with a backdrop of faraway mountains (as was the case for most of yesterday), to lush green dense foliage and forests interspersed with fields of citrus trees, farms, and small towns.
Lunch approaches and Matt still hasn't stirred. I rouse him from his slumber in the cabin, slightly irked that I've been ousted the last two mornings running. My absolute favourite thing to do on overnight train rides is to wake up and watch the world go by (ideally with a cup of coffee in hand) and luxuriously welcome the day while lying in bed. Not once on this 5,000 mile trip has that been possible. The top bunk has no windows, and Matt has closed the curtains next to his bottom bunk, requiring me to get up and sneak out in the dark the last two mornings.
If I'd known I'd be spending the majority of my time in the lounge car, I wouldn't have paid the extra money for the bloody upgrade to a bedroom! But I cool my jets, reminding myself that he has a cold and if I felt unwell I would appreciate the extra sleep too.
After lunch, we each take turns commandeering the cabin for a shower. The sleeper cabin's private bathroom resembles what one would have on a boat. A teensy space with a toilet, a shower head against the wall, and a drain on the floor. The sink and mirror are outside the bathroom in the main part of the cabin.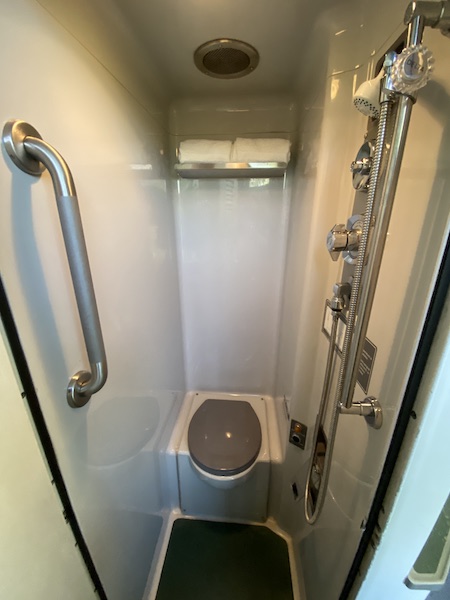 The bathroom situation is far from a luxurious experience, until I remind myself that I'm on a train and that having a private bathroom with a shower on a train is still pretty lux. (That said, I remember my full-sized bathroom on the Deccan Odyssey; the Deccan Odyssey this is not). 
While Matt is taking his turn, I chat with the man sitting next to me in the lounge car. He's also on a month-long train trip around the States, except he's doing it in coach class and for the most part he is breaking it up into much smaller chunks, staying with various friends and family members along the way. I discover he also works remotely, and this is his first stab at traveling long-term while working along the way. We quickly find a conversational groove speaking about various nuances and logistics of managing a travel lifestyle along with remote work obligations – something I specialize in helping people do effectively. He peppers me with questions and I happily oblige before we start trading travel tales.
Matt reappears and it's time for another espresso session. While we are making espresso, the woman sitting at a table across from us overhears us talking about website management and SEO and asks some questions as they pertain to some work she's trying to do around writing for economics publications.
The train pulls into El Paso Texas, and we are informed we'll be in the station for at least 15 minutes while various passengers are off-loaded and others on-loaded. Long-distance train travel is incredibly sedentary, so every time there is a station stop long enough to stretch my legs, I get off the train and walk. If the stop is short I keep my stroll to walking up and down the platform, for fear of the train departing without me. On the train from Chicago to Seattle, we ate lunch in the dining car with a couple who described exactly such a scenario happening to them in Italy, and while it made for an amusing story (as many travel mis-adventures tend to with a good dose of retrospect), I am in no mood to follow in their footsteps.
"Okay, Nora. Go enjoy the cabin. You're wasting valuable time," says Matt sardonically, after we've started moving again. Earlier on, I couldn't contain my frustration that I'd shared a not-insignificant expense with him in upgrading to a bedroom that I'd felt largely ousted from while he slept.
"I thought you said one of the things you love about train travel is meeting people!" he had replied at the time.
"It is, but that's more about the dining car experience – since eating with people is one of the best ways to get to know them. And besides, in all my time sitting out here the past two mornings, I haven't met anybody. The vibe isn't here this time."
His solution to my beef is to give me the rest of the day at my leisure in the cabin. So at the moment of course, the irony is not lost on me that in the last hour I've met and conversed with two interesting people, on the eve of my last night on the train, and I would happily have remained in the lounge car with Matt, chatting with various folks.
But instead, out of some mis-directed form of pride in combination with donkey-like stubbornness, I head to the cabin for a different kind of train experience (and one that thankfully turns out to be equally enjoyable): reclining by the window with my feet up, playing some music, and lulling myself into a hypnotic state while watching the world go by.
Over dinner, I wonder aloud whether I could continue the train journey to my next destination in south Florida where I'm due to visit a friend. While the 55 hour circuitous trip via Washington DC doesn't put me off, the price point (at $1,000 more than my already-scheduled flight) does. I decide to stick with my existing flight, but I also vow to take the train from Florida to my next destination in Connecticut the following month, where I'm speaking at a conference.
The train is due to arrive in New Orleans at 9:40pm, but when I ask the conductor, I'm told it will be a minimum of 90 minutes late. I frown.
"What? Doesn't that mean more time on the train? Don't you loooooove train travel?" Matt playfully says in response to my frown.
Despite poking fun at me, he has a fair point, and I settle back in to the cabin to continue enjoying my space, the canter of the train, and doing some inspired writing about my train trip thus far.
We pull in to New Orleans after midnight, and despite the late hour, the muggy heat of summer in the deep south doesn't let up, and it re-calibrates our body temperatures (which have become largely accustomed to a very air-conditioned train for the last 55 or so hours). We walk to our apartment for the week in a moody silence, reflecting on the last 5,000 miles of travel (largely by train), happy to have completed a trip of such magnitude, and sad that it couldn't have gone on just a bit longer. That sadness is a common ailment for most travelers; it's what keeps us planning the next trip, and the next.
Conclusion: New Friends Become Old Friends
Matt and I spend an epic week in New Orleans together before parting ways; he to his own lifestyle travel adventures and I to mine. A little over a month ago, we were relative strangers; colleagues at best. Now, after a month of traveling and living together (at times in ridiculously small spaces!), we share a knowledge of one another and a level of friendship that would take years to develop under any other circumstances.
Traveling does that. I've long professed that travel accelerates the pace of a romantic relationship, and it does for friendships as well. If I consider the sheer amount of time Matt and I have spent together and the experiences we've shared in the last month, and try to amortize that over three and four-hour weekly lunches and coffees such as one might experience with a new friend (in a non-travel world), it would probably take years to break even. So by "normal" friendship standards, we've been friends for years now.
The double-edge to that sword is that sometimes, the natural progression of a relationship includes a fallout or breakdown that can spell the end, and while in a non-travel world it could take months or years to reach that crisis point, it can happen a lot faster when spending such a concentrated amount of time together as happens in a travel scenario.
Lucky for Matt and I, we part with big hugs, much gratitude for the laughter and learning we have experienced together, and the promise of another shared travel adventure, someday.
Probably on a train.


But wait, there's more! I kept to my vow to continue the train journey from Florida to Connecticut, seven weeks later. Stay tuned for Adventures With Amtrak Part 4 to see what happens!!

Need to Catch Up?
Adventures With Amtrak, Part 1: The Big Idea
Amtrak Adventures, Part 2: The Empire Builder

Some Other Train Adventures for You to Enjoy
India's Deccan Odyssey from Jaipur to Mumbai
The Indian Pacific Across Australia (and Back)
Taking The Canadian from Toronto to Vancouver (sort of)
The Ghan from Darwin to Adelaide in Australia
The Ultimate Train Challenge from Lisbon to Saigon (25,000 kms in 30 days)