Having dreamt up a crazy train trip with a relative stranger, traveled with Amtrak from Chicago to Seattle on the Empire Builder, spent time in Portland and sadly missed the Coast Starlight to LA, then picked up the Sunset Limited from LA to New Orleans, I've traveled 5,000 miles so far in a general "C"-shape around the United States. Now is my chance to close the circle and experience Silver Meteor Amtrak along the east coast, between south Florida and New York City.
Here's how Amtrak describes this swathe of track: 
New York – Washington, DC – Charleston – Savannah – Jacksonville – Orlando – Tampa / Miami
Up to 28 + hours, 1,300 miles
Daily Departure
Welcome aboard the Silver Meteor, Silver Star and Palmetto — a journey between exciting Northeast cityscapes, the Deep South's Civil War history, and the sights and sounds of Florida's beaches, cities and family attractions. Onboard, you will witness scenery not accessible by other modes of transportation while experiencing the unique comfort and relaxation of rail travel.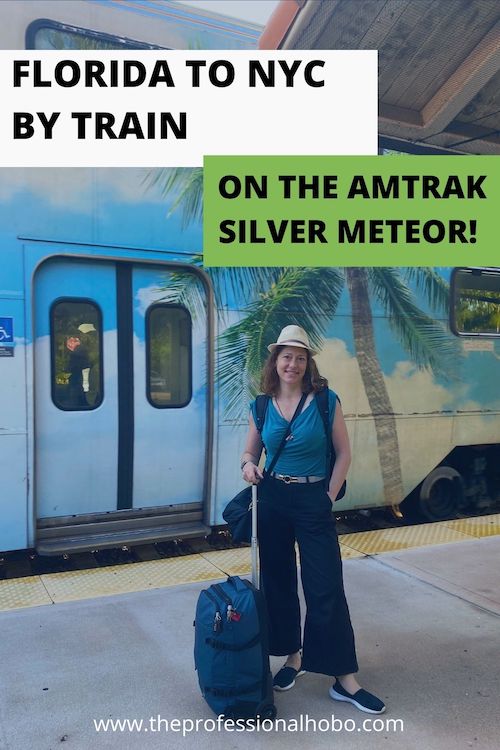 The beast has awoken, and it won't take "but I could fly for less" as an excuse.
Long distance train travel defies logic. It will almost always take you longer to reach your destination. It's likely to arrive late; possibly many hours late. And chances are, it'll cost more than flying. 
But…
You'll save hours trudging to/from airports and languishing in various airport lineups. Overnight trains (in sleeper cars) include the cost of accommodation and food. It's more environmentally friendly. And frankly, at least for me, it's just plain magic. 
But by now you're probably familiar with my bias. I have taken long-distance trains in 25 countries. I wrote a book about some of the more epic trips. I created videos about the opulent ones. And you're reading a 4-part series about circumnavigating the U.S. by train.
I like trains. A lot.
And I can't just stop. After a horrendous pandemic lockdown, I unleashed the hounds of travel with my epic train trip from Chicago to New Orleans via the entire west coast. (And yes, I'm well aware that the west coast is the very long way around between these destinations.) Now all I can do is dream about where else I can travel by train.
The east coast of the U.S. is blatantly missing from my repertoire on this trip, and I have to travel from Florida to New York anyway. So, why not by train? 


Oh. This is Different.
As the train pulls into the station in south Florida, I tearfully embrace my best friend with whom I've been staying for the last six weeks. I visit her at least once a year, but our parting moments don't get any easier despite repetition.
I climb up onto the train and find my Roomette. After my experience on the Empire Builder, I am prepared for the tiny space, which is much better-suited for solo travelers than pairs (especially a pair that has just met!). To my surprise, this roomette is bigger! I think. It feels at least a little bit bigger, because it has a toilet and sink.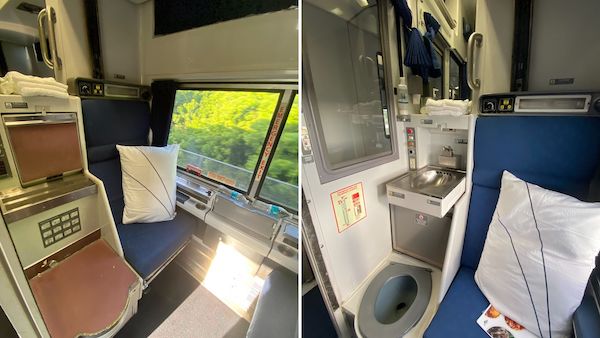 While I'm initially quite excited about my plumbing situation, as the hours go by I can't bring myself to actually….go….in this toilet that is very much in my personal bubble. Instead I pop into neighbouring cars to visit the dedicated restrooms and do my business. I figure the toilet in my cabin will be convenient for a midnight pee, but I have no plans to use it otherwise.
While I'm visiting neighbouring cars, I see that they are brand new. The Roomettes have the same dimensions, but the toilets have been removed (the fold-down sinks remain). I guess I'm not the only person to question the sanitary wisdom of using a toilet inches away from where I sit and sleep. I cringe to think of how Matt and I would have managed in such a room; the thought of doing my business in an open space within whispering distance of a travel companion is laughable, no matter how tight we are. We simply wouldn't have used it.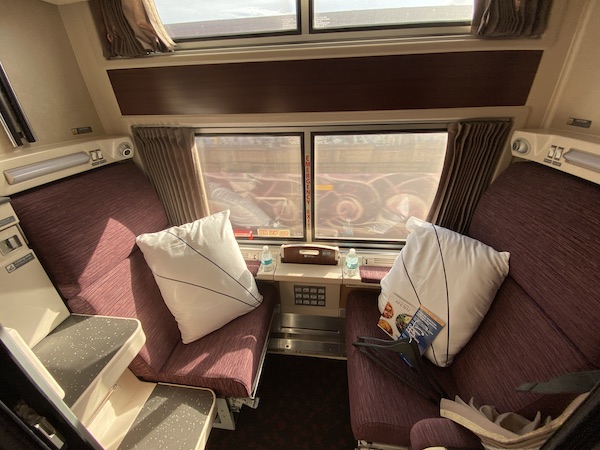 While the roomette spaciousness as a solo traveler is a win, the dining situation is not. Unfortunately, this route on Amtrak doesn't have linen table service or chef-prepared meals like the other Amtrak distance routes do. Meals are still provided, and there is a choice of entrees, but they are pre-made and a cut (a sliver, perhaps) above airplane food; actually, depending on the airline and class of service, I have had better airplane meals. 
Worse yet, everything is served in disposable containers on disposable trays with disposable cutlery and napkins and cups and plastic bottles….I cringe with each meal as my zero waste ambitions fade into oblivion.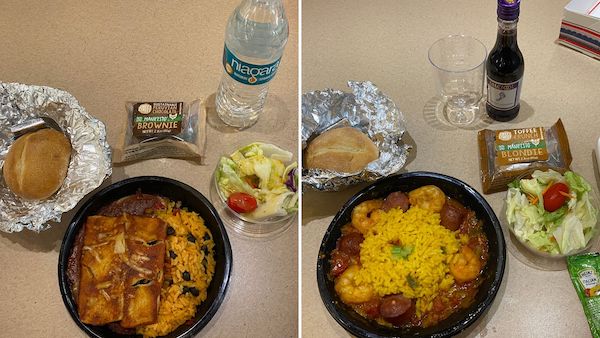 I ask the dining car attendant if it has always been like this on the Silver Meteor route.
I learn that they used to have table service and a chef. But they cut it before COVID; presumably a budget move. In fact at that time Amtrak had cut the full dining service on all their trains, but the other routes just brought it back a couple of months ago. 
I realize I got lucky with my train rides so far; while I had assumed dining service has always been of the caliber that I received on the Empire Builder and Sunset Limited, apparently it was only resurrected a couple of weeks before I began my trip. I now understand why the Silver Meteor route seemed comparatively cheaper than the other trains I took.
Although the food situation is disappointing and the toilet situation is confusing, I am still utterly elated to be spending another 28 hours on a train. 
Silver Meteor Amtrak Tip: My impression from speaking to the staff was that Amtrak will at some point reinstate full dining service on this route. You can check in advance; the website has clues – I'd just failed to pick up on them.


Sleepless in Savannah
I spend the entire day in my delightful cabin, amusing myself with the normal accoutrements of train trips: writing, listening to music, and hypnotically gazing out the window.
"What are you going to do tonight? Are you ready for your bed to be made?" asks the cabin attendant around 9pm.
"I'm going to lay in bed and read my book until I can't stay awake, then I'm going to sleep like a baby, then wake up and lay in bed some more while I watch the world go by," I reply with a bright smile (that I hope he can see underneath my face mask). He smiles despite (or perhaps because of) my overshare. "So yes, I'm ready for the bed to be made, thank you." 
Things don't quite go according to plan however. The reading part is great, but the sleeping part is horrendous. I've experienced this before; I learned when I rode 15,000 kms of trains in Australia that sleep is a total crap shoot. I count myself lucky that the rest of my Amtrak experiences have been pretty solid sleeps, because tonight is an exercise in tossing and turning.
As a silver lining (on the Silver Meteor – ha ha), when I eventually give up trying to sleep, I get to watch the sun rise while laying in bed. There's something luxurious about lying in bed on a train, and I quickly forget about my substandard snooze. 


The Silver Meteor Amtrak Experience: Home Stretch
By 8:30am we are pulling into Washington DC and I stretch my legs on the platform. The sticky south Florida summer heat has been replaced with more comfortable temperatures. After Washington comes a steady stretch of urban landscapes including Baltimore, Philadelphia, and a long approach to New York City via New Jersey.
I'm excited to have a night in Manhattan; the last time I was here was over 10 years ago. I'm going to check out the High Line (which has been built since my last visit), and I may even try to catch a Broadway show.
As we pull into Penn Station, can you guess what I'm doing?? I'll bet you can.
I'm dreaming about my next train trip. 

Need to Catch Up?
Adventures With Amtrak, Part 1: The Big Idea
Amtrak Adventures, Part 2: The Empire Builder 
Amtrak Adventures Part 3: Portland, LA, Sunset Limited Train to New Orleans

Interested in some of the other epic train trips I've done? Check out:
The Indian Pacific (Australia)
The Ghan (Australia)
The Ultimate Train Challenge (Lisbon to Saigon) – VIDEO