Phoebe Gill is a freelance SEO consultant and blogger who runs Your Green Grass Project. She writes for millennial women who want to work up the courage to go against the grain and live a life more authentic to them. In her journey to freelance SEO (starting out as a VA and market researcher), Phoebe discovered Upwork as an easy gateway to start working online. She shares these tips on her website.
Read on to learn how Phoebe grew her income from $1,000 to $4,000/month, and how she designed her lifestyle to have the freedom to shift to new projects and income streams.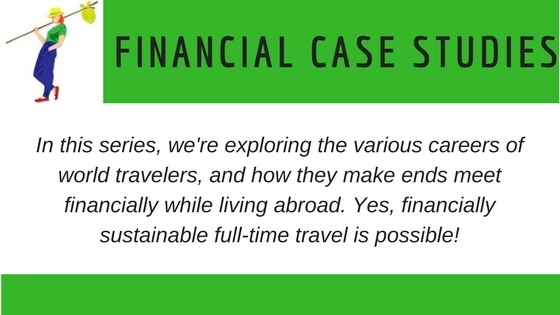 How long have you been living/working on the road, and where have you traveled to?
I started working online in July 2016 while living in Colombia, splitting my time between sunshine and my home country of England.
In 2018, it felt like a good time to resettle in the UK after 8 years of living abroad in Portugal, Brazil and Colombia. However, after 6 months I felt like I deserved a break so booked 2 weeks in Brazil to visit old friends. When I arrived in Brazil it felt like coming home, and I decided to extend my vacation by 8 months, travelling around Brazil, Argentina and Ecuador this year!

Please describe what you do for income.
I started out doing Virtual Assistant work and market research. This developed by accident into freelance SEO. Currently I split my work between freelance SEO and my blog.

How many hours per week do you work on average?
It varies wildly, between 20-45. Some weeks I do none, other weeks I work double to make up for it.

How much money do you make?
When I first started on Upwork I was making $1000 a month, working for low hourly rate jobs.
Over a period of two years, I built up my reputation as a freelancer and at my peak was making over $4000 a month.
In 2019, I decided to develop my blog so I made the decision to go part-time with my freelancing. At the moment, I make about $2000 with my freelancing, working about 20 hours a week on paid jobs.
The rest of my time I spend on my blog which in the past couple of months has really picked up speed. In October, I made $130 from affiliate sales and last week, I got accepted into Ezoic ad network.
I am excited to see where my blog goes. The plan is to transition fully over to the blog and that will be my full-time income.
(See also: How to Start a Travel Blog)

Do you make enough money to support your lifestyle?
Yes, but I consciously choose to live in cheaper countries. In most countries in Latin America you can live comfortably on $1000-$1200 a month.

What do you like most about your career and lifestyle?
Freedom to be me! I never experience that dreaded Sunday Evening feeling of having to go into work on Monday morning.
Each night, when I get into bed, I ask myself if I died tomorrow would I be happy with how I'm living my life. And the answer is nearly always, yes.
I haven't achieved all my goals yet nor travelled to all the places I want to go, but I would much rather try than watch my life pass me by while I sit on a couch.
Besides, I'm confident that I will complete all my goals!

What are some of the challenges you have with this career and lifestyle?
The ups and downs!
When you are employed in a traditional job, your career path is fairly steady.
Being self-employed means you are constantly on a roller coaster! Crazy highs and terrifying lows.
It's hard to stay motivated when you're going through a tough period. But, the europhia felt when you're on top of the rollercoaster is unbeatable.

What is your vision for the future of your lifestyle on the road?
For the time being, I want to keep on travelling and enjoying my life as an adventure!
The long-term plan though is for me to able to afford to buy a home as a base and then travel whenever I feel like it.
I would also like kids one day, so life will probably slow down when that happens. That's why it's important for me to make the most of my freedom while I have zero responsibilities.

Any advice for the aspiring traveler about living and working on the road and managing finances?
Live below your means so that you can build up a safety net in case you fall upon hard times. You want to have at least three months saved to tide you over. Also, it's important to be able to afford a flight whenever you need to fly home in case of an emergency.
(See also: How to Create a Long-Term Travel Budget)

Is there anything else you'd like to add?
Go for your dreams. With the rise of AI and automation, making money online is the future. It will become more common for people to be self-employed and working remotely, so why not start now?