As I window shop in the beach town of Hollywood Florida, I'm being eyeballed left right and centre. What? What is it? Is it the sweat dripping from my brow in this 100+ degree weather? Is it my gait? Or is it the over-filled black vest donned over my beach dress, making me look like a suicide bomber in search of a tan?
Regardless of what my hostile onlookers are actually thinking, this is me in the process of spectacularly failing the No Baggage Challenge in Florida.
This post was originally published in 2011. It has since been updated for accuracy of links and content.


How it all Started
Preparing for the No Baggage Challenge is a breeze. It is actually fun to go through my purse and finally eliminate the dead weight that I'd been too lazy to sift through. Even packing the Women's Essential Travel Jacket is fun as I discover the 18 pockets and figure out where everything should go, packing for my week-long trip in as minimalist a way as possible.


Getting There
But as soon as I leave the house, I feel bulky. I can barely zip up the jacket for all the things crammed into the pockets, and I resemble a beer-belly-laden-pregnant-woman once I do (no really! Watch the video below for a laugh). Somewhat unrealistically – I had taken on the No Baggage Challenge, thinking that one little jacket could actually harbour an entire week's worth of stuff.
So as I weave my way through the airport and to my final Floridian destination donning a vest (thank goodness the sleeves zip off the jacket for hot weather travel) packed to the gills, my mind is flooded with images of anything from an old-school photographer on safari loaded with filters and rolls of film, to a terrorist with a bomb strapped to my chest, to an overzealous fisherman with lures hanging from every crevice. Although I'm convinced that I'm the laughing stock of onlookers, I realize my mind is probably in paranoid overdrive.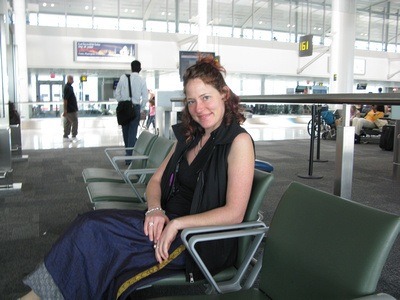 No Baggage in Florida
Despite initial concerns about airport security, the act of Flying with No Baggage is a relative breeze. And once I arrive at my friend's place, I eagerly unload all the things from my jacket that I don't require on a daily basis: toiletries, USB charger, passport, tickets, bathing suit, change of underwear, etc. I also strip off the extra layer of clothing I wore on the plane (ingeniously coordinated so I would have an outfit to wear while I washed the other). Whew – my load is considerably lightened.
But my camera is a real stumbling block. Although it's not big, it's also not small, and it's a staunch requirement for a traveling writer. Despite the thoughtful design of the Women's Essential Travel Jacket to minimize bulky appearances, the camera doesn't gracefully fit into any pocket without being obvious and weighty.
Florida with no baggage is starting to get complicated.

The Heat
If I weren't going to hot-sunny-Florida, I would also have use of the pocket in my long-sleeved Q-zip. Already at this early stage of my participation in the NoBaggageChallenge, I've realized that I have no (functional) pockets in any of my clothing. Then again, I'm not sure I've ever seen summery women's clothing with practical pockets.


Fashion vs Function
My biggest battle with no baggage in Florida is that of fashion versus function. Not only am I relegated to wearing the jacket everywhere (converted to a vest of course) for lack of having any other pockets or bags, but I realize that this vest doesn't actually go with anything I've worn. I'm just not a vest person to begin with, and my poor choice of wardrobe for this trip accentuates this fashion faux pas.
And in fashion-consciousSouth Florida, I feel like I stick out like a sore thumb. I still can't tell if the suspicious looks I get from onlookers are real or imagined.


Ultimate Failure
Eventually I crack. Between the oppressive Florida summer heat and my insecurity about being stared at, I just can't bear to put on the bulky hot vest on my way to the beach for the afternoon and a nice dinner in the evening.
So, with my head hanging in shame, I borrow my friend's purse.
Want to see what I mean? Check out this video, which is worth the 800 or so words in this post!

Email subscribers, click here to watch the video.


My Fault, Not Scottevest's
Although nobody paid (or even lightly coerced) me into saying this, I feel the need to take on the majority of the blame for my No Baggage Challenge failure. Despite 18 pockets in the travel jacket I have, it's not magic! No jacket can easily carry a week's worth of stuff, and without any other pockets to work with, some people (heck, let's get serious – everybody!) would argue that I was doomed before I began.
I've taken this failure to heart though, and this isn't my only attempt at No Baggage travel! My next trip is toQuebec Cityfor a week, and I'll be applying some of the lessons I've learned on this trip. (And hopefully, it won't be tropically hot either). Stay tuned!
(Editor's Note: I received a free Scottevest Women's Essential Travel Jacket as the impetus and inspiration for doing the No Baggage Challenge).