Beaches, boardwalks (or rather, broad-walks), vintage decor, international cuisine, art galleries, dance studios, and a chill vibe; these are among the many reasons why Hollywood Florida is a lovely place to spend some time. Oh yeah, and the weather. How could I forget the weather?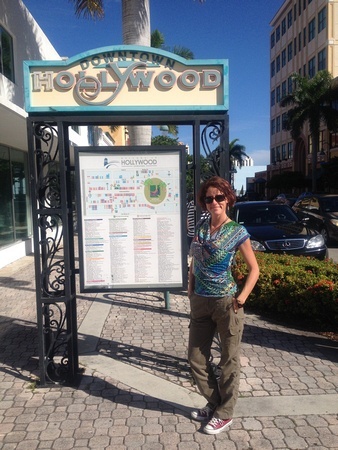 This post was originally published in 2017. It has since been updated for accuracy of links and content.


Long before I started traveling full-time, I made a few trips to Hollywood Florida to visit a dear friend. After hitting the road, I passed through the area many times, and in the last year I've spent quite a bit of time there; because of my friend and her ferocious hospitality (even in my absence she continues to refer to the spare room as "Nora's room", my makeshift office space as "Nora's office", and even the mango tree in the backyard is mine), I would even dare to say that Hollywood Florida has become a bit of a home base for me. (The biggest danger to my visits there is that she never wants me to leave, and has threatened to appropriate my passport).
But I've never written about Hollywood, because when I go there, it's usually just to see my friend and be on "vacation" (an odd concept for a full-time traveler). So when I recently spent a week and change there with a friend who had never visited Florida, I found myself playing "tour guide", and realizing I would be amiss not to tell you more about Hollywood Florida.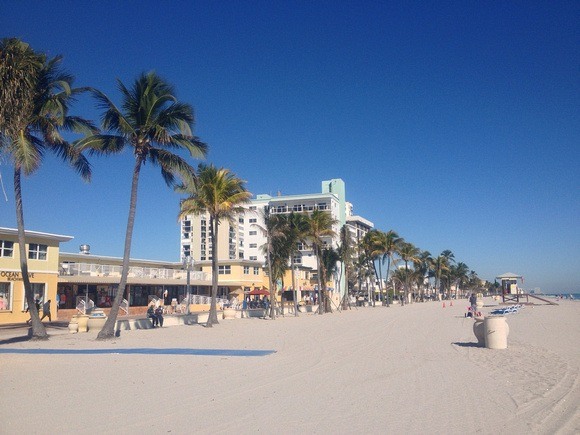 Location: In the Middle of it All
If South Florida is on your radar, Hollywood is a cool place to hang out because it's right between Fort Lauderdale and Miami (which are less than an hour's drive apart anyway). So in a sense, you can get the best of both worlds in Hollywood Florida without being immersed in either one of them. And it's easy to get to because you can fly into either Fort Lauderdale or Miami and be a quick drive (or Tri-Rail train ride) away.
By the same token, Hollywood is pretty small; you can cover most of "downtown" on foot in about 30 minutes. I quite like this about Hollywood, but if you're looking for thriving city-life, you're not really going to find it there.


It's All About the Beach
According to Visit Florida, Hollywood Florida's dominant enticement is the beach, with soft white sand, crystal blue water, and lots of sunbathing space. Fodor has even named it the "Best Beach for Families". Although the beach is great for swimming at during the whole year (and is especially popular with tourists during the winter months), I believe I've further delineated myself as a "local" in that I only like to swim during the hot sticky summer months.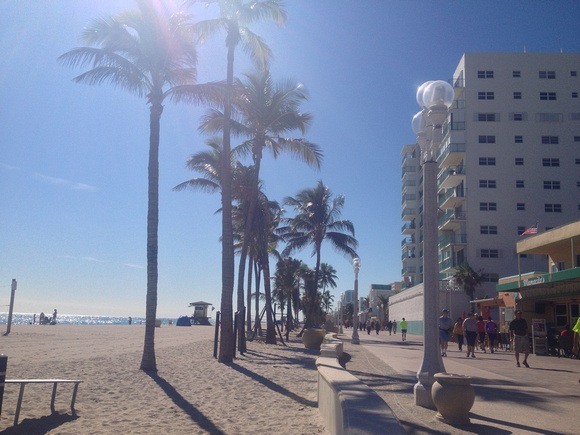 Besides (and beside) the beach, is the Hollywood Broadwalk (no, that's not a typo); a 2.5 mile beachside wide brick-paved boardwalk that is consistently filled with joggers, cyclists, strollers, roller-bladers, and more. Lining the Broadwalk are lots of places to eat, where you can take in the beach and Broadwalk action from the comfort of your patio chair. Both USA Today and Travel + Leisure have named it among America's Best Beach Boardwalks.


Downtown Hollywood Florida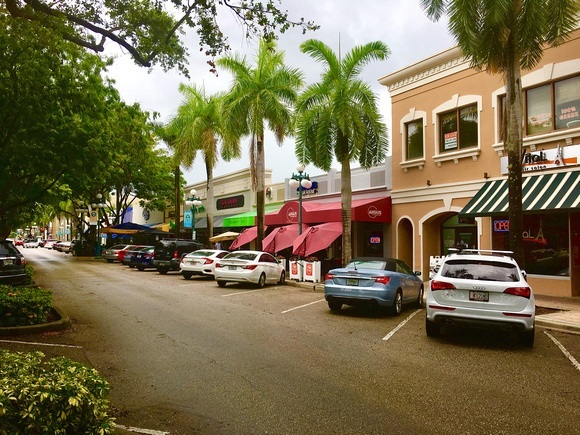 But there's more to Hollywood Florida than the beach. A $1 trolley ride will take you to nearby downtown Hollywood (not to be confused with Hollywood's business district, which is further inland). Here you'll find lots of sidewalk cafes, art galleries, interesting boutiques, and dozens of bars and restaurants.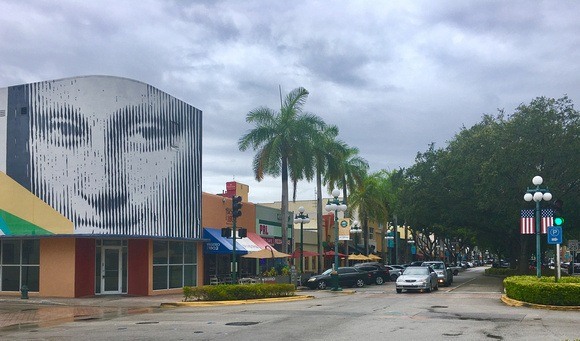 You'll also find a few dance and yoga studios, which offer all kinds of classes and workshops like yoga, Bollywood, flamenco, fitness, and more.
Although it's referred to as Downtown Hollywood, it's really more of a historic arts and entertainment district, since very little of Hollywood's "business" is there. On the third Saturday of every month, you can get a feel for the place with the Downtown Hollywood ArtWalk, where many art galleries and businesses participate offering special art exhibits, live painting, refreshments, and more.


ArtsPark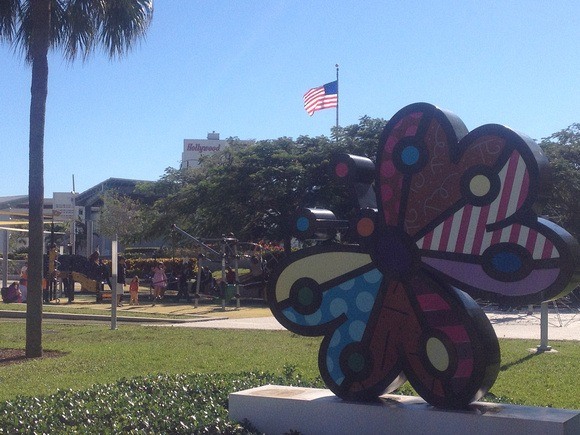 Hollywood Florida's other main attraction (and staple for locals) is ArtsPark, located in the middle of Young Circle at the end of the "downtown" strip. This 10-acre urban park has paths for walking/jogging, some huge trees, a playground and interactive fountain/splash pad, an amphitheater offering free events, and even a glass-blowing museum.
Every Monday night you can stuff your face at the Food Truck event (OMG the lobster sandwich), and every Friday bring the kids to Funtastic events. You can also check out the daily glass-blowing demonstrations, the monthly Full Moon Drum Circle, and the award-winning ArtsPark Live concert series.


Getting Around, and Other Attractions
My friend lives just a couple of blocks away from the centre of downtown Hollywood Florida, so in my time there, it has been easy to get around on foot, with shops and restaurants and basic groceries a stone's throw away, and easy access to the beach trolley.
But like many US towns, if you want to see more than that, or if you need to take care of business of any sort, you'll need wheels.
With a car, you can take tours into the Everglades, or check out the kayaking opportunities along the Intracoastal waterway. You can sign up for boating and fishing adventures, check out Flamingo Gardens, and try your luck at any of the casinos in the area. And of course, with wheels, you'll also have easy access to both Miami and Fort Lauderdale.
Could I live in Hollywood Florida full-time? Mmm….probably not. It's not exactly culturally rewarding for me (although I enjoy keeping up with my Spanish there, since it seems that just about everybody in South Florida speaks it), and given my track record with natural disasters, I'd prefer not to live somewhere quite so hurricane-prone. And to be perfectly honest, Hollywood's biggest attraction for me is my friend who lives there. If it weren't for her, it wouldn't be on my radar.
But as a place to visit, with great weather, lovely beaches, restaurants, not too much going on, and easy access to two major airports that make it a great international jumping-off point, I'm happy to have Hollywood Florida as my (kind of) home base.


This post was written in collaboration with Visit Florida, from whose website I received a ton of tips about the best Hollywood Florida attractions that I could show off to my visiting friend.