Having wrapped up my summer in North America, so too ends the No Baggage Challenge wrap-up. After preparing for the monumental challenge of traveling with no baggage, I then took to the skies to fly with no baggage and enjoy (endure?) a week in hot sunny Florida (with varying degrees of success). My second no-baggage adventure was to take the train to Quebec City.
Many of my learning curves with this style of travel would be specific to women, from pocket layout to toiletries to the ever-present "what to wear" conundrum. But I also learned a few things about my current entourage of luggage that I expect will be very enlightening (in every sense of the word) in the future.
Here's what I learned:
This post was originally published in 2011. It has since been updated for accuracy of links and content.


Clothing
Some no baggage travelers might suggest that you only need one outfit. Wash it at night, and it's dry the next morning. I see two problems with this scenario: first of all, what do you wear to sleep? Although I'm not a total prude, I'm pretty sure my house hosts wouldn't have appreciated a naked Nora traipsing through the house at night while my clothes were drying. (Heaven forbid I should have stayed in a guesthouse with shared bathroom facilities).
So with a requirement to have two outfits, I did my best to layer what I could while traveling. By the time I left for Quebec, I also discovered extra room in the back of the Women's Essential Travel Jacket for some clothing to sneak into, saving me the uncomfortable bulk of wearing it all.


Toiletries
I don't consider myself to be a princess (by any stretch), but I do have certain needs in terms of toiletries. And my poor little pockets struggled to fit everything.
In Florida, I thought I was smart by substituting shampoo, conditioner, face wash, and even toothpaste for Dr Bronner's multi-purpose soap. But after a couple of days my face was dry, my hair was unmanageable, my mouth was reeling from the soapy taste, and my mood was miserable. The stuff is great as soap – but only as soap.
Even as a Professional Hobo (or perhaps especially as a Professional Hobo) there are a few comforts that I generally require to feel human – and one of those comforts is a proper allocation of toiletries. (Thank goodness I was staying with a friend and not in a hostel, as I was able to borrow a towel along with my sorely missed toiletries).
In Quebec, I had a slightly easier time of it because I didn't have to contend with carry-on guidelines for liquids. So I took the bare minimum of toiletries in the smallest containers I could find. On a long-term basis, constantly replenishing tiny containers (especially if you're picky about using high-quality natural products, as I am) is impractical. But for short trips, it works out fine.
Note: Since writing this article, most of my toiletries are now solid. Click here to see my updated Packing List for long-term travel!


Getting Used to Jacket Pockets
Most women's clothing has no inside jacket pockets. So we just aren't used to keeping things in there, especially things we really need. For items like wallets, phones, and knick-knacks, we carry purses; it's almost instinctual. So getting used to everything being in a jacket was a learning curve that many men don't go through, but which I found challenging.
Given my comfort with carrying a purse, having things in the pockets felt like a security compromise. What if I'm frisked by a gaggle of pickpockets? What if I want to take the jacket off? How do I open the jacket to fish out my wallet without revealing everything else to onlookers? Although it would technically be easier for a robber to make away with a purse, I've become accustomed to having one, and not traveling with any sort of bag left me feeling a tad naked.


Women's Clothing and Pockets
As a reader pointed out in my Florida post:
"I think, like a lot of things, the design/idea works for what it was originally intended to –men. Women have more dips and bumps, and fitting stuff around them without looking lumpy or odd is tougher."
I couldn't have said it better myself. I love the look and feel of the Women's Essential Travel Jacket when it's empty, but once I loaded it with stuff, I felt bulky and, well, fat!
I think this is why we don't see more women's jackets with inside pockets; they just don't play well with our curves.
Two caveats here: One is that I probably overloaded my pockets (my not-too-big-but-not-so-small camera was a sticking point); the other is that Scottevest Women's Trench could likely have solved many of these issues with lots of pockets lower down, and a belt to accentuate the waist.


Wearing Other Clothing with Pockets
By the time I left for Quebec, I knew better than to rely solely on the Women's Essential Travel Jacket as the sole mule of belongings for the trip. So I wore a few items of clothing with pockets to complement the jacket.
But even then, the additional pockets weren't particularly functional. I guess women's clothing designers are keen to our curves and know pockets aren't complimentary, or they know most of us carry purses so they don't bother with the extra material. We women seem to be unwitting victims of fashion over function whether we like it or not!


Eliminating What I Don't Need
I learned pretty early on in my full-time travels that the weight of your pack is directly correlated to misery on the road.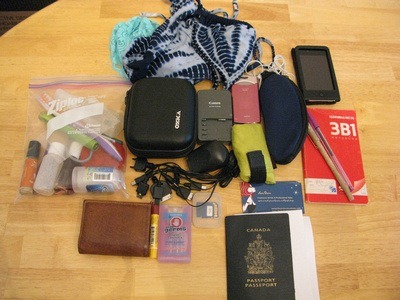 And although I generally travel pretty light to begin with, the exercise of emptying my purse did bring to light that I still carry more stuff than I need to. And seeing that I'm soon to embark on a crazy train trip involving lots of movement, the lighter I pack, the happier I'll be.
So as a No Baggage Challenge wrap-up, these trips have been instrumental in my taking another critical look at my bags and seeing how I can further reduce what I travel with. If I haven't used it in a year (and don't expect to in the foreseeable future), it's staying behind. And although I really like the clothing I have, duplicates (ie: two of any kind of clothing like pants, t-shirts, etc) have been eliminated. It's easy enough (and fun!) to replace and refresh my wardrobe as I go.


Would You Do It?
Female or male, pocket-savvy or not, would you do it? Would you take a No Baggage trip? I'd love to hear your feedback in the comments.