I've done some pretty heavy-duty time on trains. I've traveled across over a dozen countries by train, and loved every minute of it. And initially, I liked sleeping on trains as well.
Initially.
This post was originally published in 2011. It has since been updated for accuracy of links and content.


Sleeping on Trains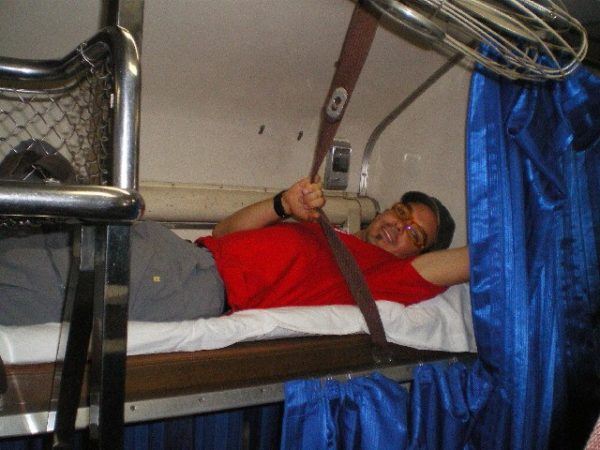 There's a novelty to sleeping on a train. Seats ingeniously convert into beds, and beds pop out of the ceiling in ways you never thought possible. Berths and cabins are usually a creative use of tiny space to provide varying degrees of comfort (depending on the country and class of travel).
And if you've ever popped your head inside a working kitchen of a train (especially a high-class affair like The Ghan or Indian Pacific or the Deccan Odyssey), you'll see just how efficient a small – moving – space can be.
As for the actual act of sleeping on trains, I initially proclaimed how wonderful it was. There's something alluring about the gentle canter of the train, and the ability to awake and watch the world skimming by as you relax in horizontal comfort.
And to some extent, I still feel this way. As a travel lover and train travel enthusiast, it's my preferred way to travel.
But – after conquering 11,000kms in 11 days straight in Australia, my feeling towards sleeping on trains has shifted.
On Day 8 of the Indian Pacific, I understood the strange looks the train staff gave me at the start of that trip when I said I sleep well on trains. I identified with the dark circles under their eyes, and understood their need to sleep for a day straight when they returned home from a working shift/trip.
Although sleeping on trains is novel and can be lovely for a few nights, it's not exactly conducive to great sleep. This is especially dependent on the track condition, as well as the train layout and quality.


Sleeping during the Ultimate Train Challenge
Given that the Ultimate Train Challenge involves 30 days of travel between Lisbon and Saigon, there will be many nights spent on trains. The Trans-Siberian leg alone involves six days straight on a train. And the ensuing race from Beijing to Saigon will surely involve a few nights on trains in order to reach our final destination on time.
Some train challenge participants are going to try to sleep on trains the whole way through. Although I like this idea in theory, I'm already having enough trouble planning out my European leg of the trip, and relegating myself to this condition – physically and logistically – isn't my cup of tea.


Sleeping in Beds
So instead, I suggested we needed a few good nights of sleep for this trip. Specifically, in Lisbon before the trip starts, in Moscow to gather our resources before experiencing the longest railway in the world, and at the end of the trip in Saigon while we wrap up our trip and celebrate our 25,000km journey.

HostelBookers immediately stepped up to the plate to partner with the Ultimate Train Challenge and help us out.
I've enjoyed using HostelBookers to search for and book accommodation for years now; their search function is very easy to use, and you can narrow your results by price, customer ratings, or even click on the map view to find your ideal digs by location. There are no fees or service charges (or a requirement to sign up for an account), and if you find the same accommodation somewhere else for a cheaper rate, they'll refund double the difference.
And despite their name, I've also enjoyed using HostelBookers for more than just hostels. You can book hotels, apartments, guesthouses, and even campsites in addition to hostels. In fact, we'll be staying in a lovely hotel in Saigon, since we're all expecting to be a little worse-for-wear by the end of our 30 day extravaganza and are looking forward to a little bit of pampering.


Ultimate Train Challenge Itinerary
So as far as sleeping in beds goes, the Ultimate Train Challenge crew is meeting in Lisbon on September 30th at Lisbon Destination Hostel (which is a railway station no less – how appropriate!) for two nights before we launch into Europe for the following few weeks.
Then we'll reconvene on September 16th in Moscow at the new Prosto Hostel for one night before our Trans-Siberian experience and the second half of our train adventure.
And assuming we all survive (!), we'll celebrate on September 30th at Thien Thao Hotel in Saigon for a whole week of comatose recovery and frantic catching up on emails and our location independent work, in addition to a few wrap-up events and surprises.