Susi Kaeufer is a Visibility and Mindset Coach for female entrepreneurs who desire the freedom and flexibility to travel with an online business. Susi's on her second tour around the world and has been a nomad for four years now. In the last year, she's moved 75 times. Through Susi's work at Dream Life Deluxe, Susi creates multiple five-figure months from her laptop while she's at the beach, living in luxury accommodations, or adventuring.
She's helped female entrepreneurs create high-ticket offers allowing them the freedom lifestyle they crave, create consistent income in their soul-based business, take their offline business online to be fully location independent, and get fully booked in their service-based business. Read on to learn  more about Susi Kaeufer's awesome lifestyle and career!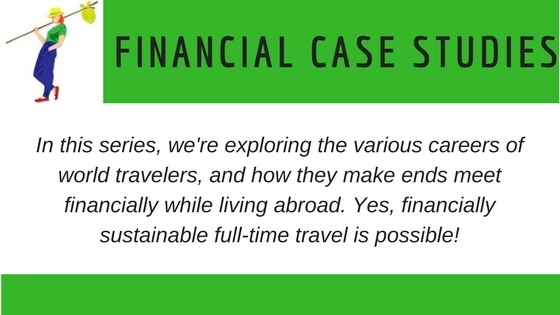 This post was originally published in 2018. It has since been updated for accuracy of links and content.


How long have you been living/working on the road, and where have you traveled to?
I left Germany in January 2014 to volunteer and work my way around the globe for one year. I volunteered at a cheetah rehabilitation project in South Africa, with koalas in Australia and at a cat sanctuary on Bali. When my savings got low I took a job in Sydney, Australia where I lived for 2.5 years.
This is when I started my own online business, as I was craving the freedom to travel full-time and be fully location independent.
After seven months in business, I quit my job in Sydney and am on my second round the world trip since May 2017.
I discovered housesitting as an amazing opportunity and have been all over the globe this year: Bali, Europe, Las Vegas, Canada, New York, Saint Lucia, Martinique, Barbados, England, Vietnam… to be continued.


Please describe what you do for income.
I work as a Business and Mindset Coach for female entrepreneurs.
My income comes from several income streams: 1:1 Coaching, Group Coaching programs, self-study courses, a membership tribe, and affiliate commission.
When I started my own online business as a certified life coach I mastered the art of finding clients on Facebook and Instagram quickly.
Today I have a large following and Facebook group and my coaching has shifted more and more towards Visibility Strategy and Mindset Coaching, as those are the areas that helped me the most to establish my own business.
I help other service-based Biz Babes (aka female entrepreneurs) to create content that converts and overcome their own limitations when it comes to aiming for a higher income than just the bare minimum.


How many hours per week do you work on average?
It depends how much I'm traveling and if I'm launching any new programs, but I'd say anywhere between 20 and 40 hours per week.
I show up in my business every single day (content creation, sharing my message, selling) and I love it, so sometimes I'm glued to my laptop for longer than I even notice.
But that's the magic of being your own boss: You get to decide.


How much money do you make?
I make consistent five-figures per month, with ups and downs depending on the current group programs or courses I'm running.
My main income streams are my 1:1 coaching clients and group coaching clients.
On top of that I make around $1,500 per month with a membership tribe for mindset journaling, $1,500 passive income with the courses in my online shop about mindset and online visibility, and around $400 per month from affiliate commissions for tools like Convertkit and for referring new coaches to the life coaching school that I got certified with.


Do you make enough money to support your lifestyle?
I make enough money to support my lifestyle and shifted my travel standards to the next level several times during the last four years.
Starting out as a classic "backpacker" I turned more and more into a "flashpacker".
Today I love to stay at five-star hotels, life-changing retreats and I love to pay for comfort whilst being on the road.
When I was starting out with the lifestyle, all I saw within the Digital Nomads world was the philosophy "to get by as cheap as possible in Chang Mai", which is definitely not what I'm aiming for.
I love to surround myself with successful seven-figure business owners and inspiring role models to learn from them and grow and create and live the lifestyle I TRULY desire.


What do you like most about your career and lifestyle?
The freedom to be fully location independent and go with the flow, whilst doing what I love.
When I got into coaching I didn't even know something like "Online Coaching" existed. I was simply very good with encouraging people to believe in themselves and simplifying complicated processes so they're easy to understand and implement.
Only later did I discover the crowds of online coaches out there, and I honestly think some people might get into coaching for the wrong reasons.
I love seeing female entrepreneurs grow and step into the next level version of themselves.
At the same time I am blessed to travel the world, work with the most inspiring mentors, attend life-changing seminars and work with my laptop at a beach bar.
If someone would have told me this was possible a couple of years ago, I wouldn't even have believed them in my wildest dreams.


What are some of the challenges you have with this career and lifestyle?
Not having a fixed address makes it harder to get equipment from places like Amazon. (See also: Everything You Need to Know about Virtual Mailboxes – which can help solve this problem)
Investing money without a local phone number connected to your bank account is a challenge as well.
I'm a German citizen with a business registered in Australia, traveling around the world full-time – and sometimes that doesn't seem to fit into the boxes and forms of governments and banks.
(See also: Everything You Need to Know About Filing Taxes as a Digital Nomad)


What is your vision for the future of your lifestyle on the road?
I'm currently madly in love with house-sitting and petsitting in between travel adventures. Having a temporary (rent free) home for a couple of months is amazing to settle for a while, before hitting the road again. Plus I love pets, which makes petsitting the ultra combination of traveling and being surrounded by animals. (Learn more about house-sitting and where to get gigs here.)
I think having a freedom lifestyle on my own terms is something I'll always crave, however I can imagine investing in property on several continents and building a home base in some countries.


Any advice for the aspiring traveler about living and working on the road and managing finances?
There are NO excuses. If this is what you truly want, there WILL be a way.
"No money"? Look into housesitting or volunteer websites like workaway and helpx. I loved volunteering and working my way around the globe before I had my own business. (Nora's Note: Amen to this! When I was building my own online business and wasn't making much money in the early years, I stretched my travel budget 10-fold by getting free accommodation using these and other methods.)
Done with playing small and working for $10 per hour? Get help and hire a mentor who can help you build and scale your location independent business. Learning from others has been life-changing for me and surrounding myself with people that inspire me has been very helpful when it comes to "questioning my own limits". The only limits you have are in your head.


Is there anything else you'd like to add?
I've been following the Professional Hobo for years, when I was still stuck in my 9-5 in Germany, browsing travel adventures in a secret window at the office. Follow inspiring people to expand on what's possible for you! They all started somewhere, I did too! It took me no longer than two years to create an amazing Dreamlife Deluxe that's wilder than my wildest dreams!
I'd love to connect with you! Send Susi Kaeufer a Facebook friend request.