Liesbet Collaert was born in Belgium and recently became an American, but calls herself a world citizen. She's been a digital nomad since 2003 (sailing, house sitting, and RVing), earning money as a freelance writer, photographer, translator, and editor. Her first travel memoir is almost ready for publication. Liesbet connects with her readers on her blog Roaming About – A Life Less Ordinary, as well as her Facebook page or Instagram account.
While Liesbet's income seems small, I think you'll agree that she and her husband have lived an extraordinary life of travel, and by using creative budget travel tips (like getting accommodation for free) they haven't been left wanting for much. Check it out!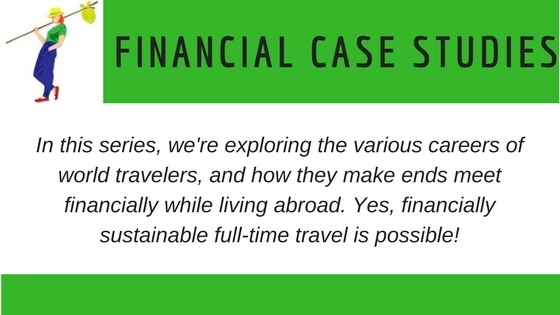 How long have you been living/working on the road, and where have you traveled to?
Where do I start? Since I'm pretty impulsive and adventurous, my nomadic existence and means to make money developed organically. I've always been a traveler. One of the reasons I became a teacher in Belgium was to have a long summer vacation designed around exploring the world. I took two "leave of absences" during my first four years of teaching, to backpack in Southeast Asia and Down Under. Being frugal and passionate about travel, that's what I used my income for. I never owned anything, making it easy for me to be flexible. The third time I left Belgium for an extended adventure, I never returned. That was in 2003.
While I didn't need to make money during these initial escapades, as I had savings from my "real job" and I run a tight budget ship, one – of course – can't journey forever without earnings. Darn! I think it was in 2008 – after a few years of RV-travel and getting close and personal with sailboats – that I started to create some sort of income. Up until that point, I'd cleaned a few boats for change and kept a free blog about our sailing journey on SV Irie to share our experiences and inspire others.
I traveled throughout Europe while living in Belgium until I was 27, backpacked in Southeast Asia and Oceana for two years, explored the continental US, Canada, and Alaska in a truck camper for a year and a half and Mexico and Central America for another year. In 2007, the sailboat episode followed – a journey that brought us from Maryland (USA) south to Florida, throughout the Bahamas and Turks and Caicos, spending hurricane season in the Dominican Republic, and on to the Eastern Caribbean via Puerto Rico and the Virgin Islands.
After three years up and down the Leeward and Windward Islands, we skimmed the out islands of Venezuela, spend time in Colombia, and enjoyed over a year in Panama. The next steps were transiting the Canal, being blown away by wildlife in the Galapagos Islands, and concluding our sailing voyage after cruising in French Polynesia for two years. Eight years after casting off (in 2015), we sold Irie in Tahiti.
Since then, we've slowed down a bit, house and pet sitting throughout the United States and exploring North America in our 19ft camper van Zesty. I am more than ready for tropical and exciting destinations again, whenever this pandemic allows it.
Please describe what you do for income.
First, I'd like to point out that my husband and I are very frugal and we've found that being careful with expenditures allows us the life we desire – more freedom and less need to be workaholics. The way we manage our money, our aversion towards collecting material goods, and our love of simplicity are leading factors for how we make this nomadic lifestyle work – financially and otherwise.
See also: Lifestyle Inflation – Why Earning More Money Sucks (the Life Outta You)
I've done a fair amount of jobs to make a buck, from cleaning boats to tending bar to painting fences to home schooling to writing lesson plans – work can be found everywhere! Yet, once I decided to turn my passion and aptitude for writing (in English) into a means to make money, I stopped doing manual labor.
My freelance writing career started in 2008 in the Eastern Caribbean – between St. Maarten and Grenada to be precise – with the first destination pieces I submitted to the Caribbean Compass and All At Sea boating magazines. I became a regular contributor for both. Over time, my work was accepted by all the major sailing magazines around the world. I also posted a few times a month on my sailing blog and jotted down notes for a future book. These last two "occupations" didn't pay me a dime – and still don't. I was never a fan of plastering ads or affiliate links on my websites, but enjoy the connections made by blogging and the raw writing process.
Around the same time, I started doing translation work for several companies: English to Dutch and Dutch to English, later adding proofreading, transcription, and voice-over services to the mix. For the last year and a half, I've been an assistant editor for a Caribbean boating magazine as well.
See also: 7 Surefire Ways to Make Money While Traveling


How many hours per week do you work on average?
My work is VERY flexible and sporadic, other than the monthly editing job. Once a year or so, I have a big translation project with a tight deadline, forcing me to focus on that eight to ten hours straight for one or two weeks. But mostly, my work situation is a hit-or-miss kind of thing.
I generally work about twenty to thirty hours a week (blog or book-related), based on whether we are in "sightseeing mode" or "settled mode". I joke with my best friend that I am really good at working for free. On average, I receive payment for about eight hours of job responsibilities a week. We live by the motto, "The less money you spend, the less you need to make." ?


How much money do you make?
I currently earn an average of US$6,000 – US$7,000 a year.


Do you make enough money to support your lifestyle?
That depends on the year. Our combined household income just did the job in 2019. If I was single, I might be able to support myself, as I've been known to live off $300 a month for many years. My nomadic family consists of a husband and a recently adopted 60-pound dog. My partner supplements my income with random jobs like manual labor through Amazon CamperForce last winter (and possibly this coming winter) and small investments. We have savings for years we can't balance out expenses.
From 2009 to 2018, my husband and I ran a marine WiFi-product business from our sailboat and then while house sitting. The first years this – in combination with my personal writing efforts – did not support our lifestyle; just grocery expenses. Savings took care of boat maintenance. As the product evolved and internet became more important in people's lives, we managed to reach a status quo for a few years and the last couple of years, we made a small profit. It was tough – eight to ten-hour days for my entrepreneur husband, while also dealing with our alternative lifestyle and its challenges. My upcoming memoir reflects on how that evolved.
Bottom line is that we never know what we will dive into next or how we can add to the travel kitty. We are flexible and open to new initiatives and are not too stressed about our options. After all, we find free accommodation and only spend about $16,000 a year for the three of us, so, as long as we can offset that, we are solid enough. If anyone is interested in our expense report for 2019, have a look here. I've been posting monthly and yearly overviews like this for the last five years.
See Also: How to Get Free Accommodation Around the World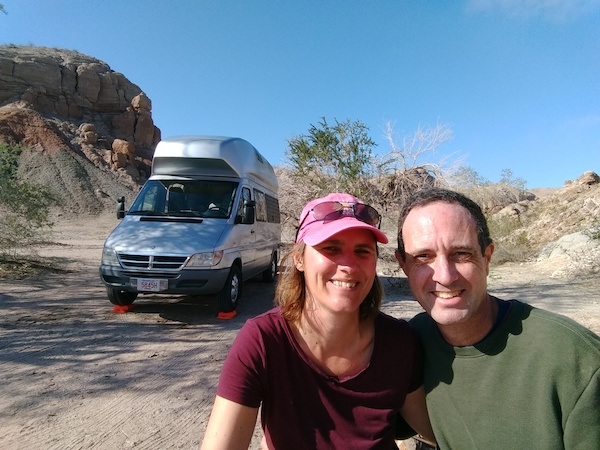 What do you like most about your career and lifestyle?
It is extremely diverse. I love the flexibility of our jobs and our lifestyle, and the opportunities it comes with – seeing the world for little money, having a chance to volunteer at the biggest no-kill animal sanctuary in the US, meeting fascinating – and sometimes famous – people, interacting with wildlife and nature… Plus, I don't have to get up at 7am or stick to a schedule; I'm not a fan of routines. I have three major passions: traveling, writing, and animals. I manage to enjoy all of those, every day, in lieu of eating out frequently, paying utility fees, or buying the newest gadgets.


What are some of the challenges you have with this career and lifestyle?
Challenges aplenty! Good internet is required every single day. This used to be a major impediment the first decade of our nomadic life, but gets better every year. Electricity is another biggie, but we try to be self-sufficient with a wind generator (on the sailboat), solar panels, and generators. When sailing, we always anchored. When RVing, we always boondock (camp for free). This is for financial reasons as well as our desire to have privacy and space. Starting a business from the middle of the ocean and traveling with dogs add a tad more complications. And, "deciding" to work while others are having fun is just one aspect you have to get used to.
Over the years, we have learned that the combination work – travel is only successful, or even doable, when taking breaks from sightseeing and driving/sailing. When you're constantly on the go, there is no time or energy to work. Finding a balance is extremely important! Having jobs without deadlines works best. In my case, when there is a tight deadline, we drop everything and have to go park somewhere with AT&T cell service for the duration of the project. When we were sailing on Irie, we could only anchor in bays with WiFi, as my husband needed to be online every (work)day. Not easy!


What is your vision for the future of your lifestyle on the road?
We pretty much live in the here and now. The three of us enjoy this lifestyle and since I'm a nomad at heart, I could never see myself settled. I haven't had a "normal" life for 17 years – the longer I'm out and about, the harder it is to ever fit into society again. I'm not planning to. Plus, how could we pick just one place to be (knowing from experience that the perfect spot doesn't exist), when there is an entire world to be discovered?
That being said, it would be nice to take a break once in a while, to charge our batteries (full-time travel is exhausting), to focus on making "real money" in order to retire early, or to find a little home base that's ours and that we could potentially rent out. I know, though, that after a few weeks of being stationary (during this pandemic for example), our feet get itchy. Many more adventures await!


Any advice for the aspiring traveler about living and working on the road and managing finances?
I think there is an art to managing finances. I've been frugal my entire life and believe that this is one of the reasons why I managed to be a nomad for so long. It's all about priorities – sure, I rarely splurge on eating out or any form of paid entertainment, but it actually gives me joy to just buy the essentials, hike in nature for exercise and entertainment, camp for free, live minimally, and stretch my money. If that's not you, count on working hard, finding a niche, and capitalizing on your knowledge and efforts. It will take time, unless you don't mind picking up manual labor along the way, which might cause issues in regards to country laws, paying taxes, and upsetting locals.
I also think it's an art to successfully combine working and living on the road. You have to find a profession that is flexible, easy to do worldwide, and enjoyable. You might have to be creative. If you require creature comforts 24/7, fancy food and specific shopping brands, routines, and a steady income, this lifestyle might not be for you.
In any case, I highly recommend keeping track of your expenses, maybe even creating budgets. While we are frugal, we actually don't "budget" (dedicate certain amounts of money to certain categories). My husband and I just spend as little as needed to live healthy and basic. Knowing what you spend provides insights and moments of reflection. Plus, it makes you accountable – no pun intended.
See Also: Financial Planning for Travelers


Is there anything else you'd like to add?
It doesn't hurt trying out this lifestyle, but make sure you have something – or someone – to fall back on if it's not what you expected. To me, being a digital nomad represents freedom, independence, and adventure – three ingredients that enhance my life.