Chelse Hensley is a Digital Nomad obsessed with traveling the world and seeking adventure beyond the 9-5 office life. When she turned 25 she decided that she was going to stop making excuses and do what she'd always dreamed. She went from having 0 stamps in her passport to 15+ countries in one year. While she details her adventures at HashtagTourist, she earns her living as a social media manager. Read on to learn more about her travel lifestyle and location independent career as a social media manager!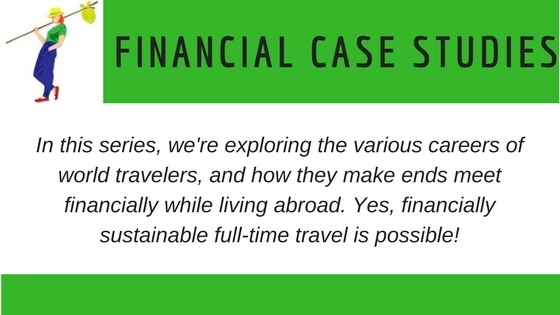 This post was originally published in 2018. It has since been updated for accuracy of links and content.


How long have you been living/working on the road, and where have you traveled to?
2+ years, around the world.


Please describe what you do for income.
I am a Social Media Manager who owns RechargeSocialMedia.com. I manage advertising campaigns mostly, but currently restructuring a shop to sell courses and DIY trainings.


How many hours per week do you work on average?
Approximately. 20 hours on client work, and another 15-20 hours working on my own business development.


How much money do you make?
I make approximately $2,000-5,000/month as a social media manager. I earn an additional $100-300 a month doing consults and private training sessions, and $500/month with my recently launched Power Solving Sessions.


Do you make enough money to support your lifestyle?
I do currently make 'enough' but I'm not even sure I know what 'enough' is because we always adapt to our income, right? Whether I made half what I make or double of what I make, who knows if I'd consider it 'enough'.
I do try and allocate SOME funds to my IRA account and stocks though to prepare for the future! Typically no more than 10% of my income per month. Usually around 5%. (See also: Asset Allocation and Financial Planning for Travelers)


What do you like most about your career and lifestyle?
I wake up in the morning and get to relax in bed and bask in the fact that I don't need to rush around arbitrarily to go into an office and sit at a desk.


What are some of the challenges you have with this career and lifestyle?
It's tough not having a community 100% of the time. People leave, you leave, it's so fluid that it's hard not having a constant, stable friends and community around you.


What is your vision for the future of your lifestyle on the road?
I think I am slowly weening myself from being so nomadic. Within the next two years I want to buy a house and have roots, and supplement my time with travel – maybe only traveling for a few weeks or couple months at a time versus being on the road for 4-6 month chunks.


Any advice for the aspiring traveler about living and working on the road and managing finances?
Have your paychecks automatically deduct into an untouchable account! Whether it's a savings fund or a retirement account. I am so passionate about financial literacy for women so I think starting a retirement fund before you're 25 is key. (Nora's Note: Amen, sister! Here's how compound growth set me free, starting in my 20s)
I also SWEAR by Robinhood because I can purchase and sell stocks ON MY OWN instead of having some stuffy Wall Street type do it for me. I love learning about the market so far!
Secondly, I use Acorns app to roundup purchases on my card. So if a cup of coffee is $3.89, it'll invest that 11 cents into stocks or savings. It's a great way to grow my savings without even being conscious of it!