While spending December 2018 at a friend's place in Florida, I was trying to remember when I did "that crazy detox retreat" in Thailand. Looking back, it felt like it was at least a year prior. When I realized it was actually only earlier the same year, I was floored.
This post was originally published in 2019. It has since been updated for accuracy of links and content. 


For some reason I thought 2018 had been more sedentary than it was; I couldn't possibly have visited six countries – including six different locations in one of the countries and two in another, in a sense visiting over 11 different places.
Thank goodness I do these annual summaries of where I've been; I'd be lost (literally!) without them!
Please enjoy this summary of the places I visited in 2018 along with the adventures (and mis-adventures!) I got up to. Previous annual summaries can be found at the end of this article.


2018 in Summary
14 planes, two ferries, and countless buses and taxis shuttled me between six different countries in 2018. While none of the countries were new to me on the whole, I discovered some new haunts. The biggest surprise of the year (a surprise to me as much as anybody else) was that I set up a home base in my home town of Toronto.
And still, I traveled over 51,148 kilometers (31,782 miles), which puts 2018 in 4th place for biggest distances traveled in the last 12 years, while remaining on the lower end of country counts for me. (Good thing I don't actually care about ticking off countries for the sake of ticking them off)!
Here's how 2018 rolled:


JANUARY: Chiang Mai (Thailand)
I rang in the new year in my cozy apartment in Chiang Mai Thailand where I had been since late November 2017.
While it was my second visit to Chiang Mai (the first being in 2008), it was almost unrecognizable from my previous visit. This was due in part to my staying in another part of town which had (since 2008) blossomed into "the digital nomad centre of the universe". During my first visit, the term "digital nomad" hadn't even yet been coined.
Chiang Mai, 10 Years Later: The Impossible Search
How to Find an Apartment in Chiang Mai
Chiang Mai's Nimman: The Unapologetic Bubble


FEBRUARY: Hoi An (Vietnam)
My first trip to Vietnam was in 2011 as the final stage of completing the Ultimate Train Challenge which was a crazy mission involving 30 days of trains from Lisbon to Saigon. I fell in love with the food and the people, and vowed to return.
So in 2018, inspired by some verbal and written accounts of Hoi An's beauty and friendliness towards digital nomads, the hop/skip/jump was made from Thailand.
In the areas of food and friendliness, I wasn't disappointed with my return visit. Despite my complete inability to communicate with the locals, I felt an uncommonly friendly vibe and enjoyed miming with a few of the "market ladies" from whom I regularly bought my produce.
February 2018 also coincided with the Vietnamese New Year, which was a mixed blessing. The upshot was an invitation from my landlord to a family feast that was one of those "victories" for travelers (well at least, for me) in participating in an inherently local festivity. While the evening required extensive use of Google Translate (one of my go-to smartphone apps), it was one where I felt an almost unprecedented level of warmth and welcome from a local family.
The bad news for the month was the weather, which involved solid cloud cover and periodic rain for the entire month. I didn't realize how badly the lack of sunshine was affecting me until one day it came out and my disposition changed entirely. Unfortunately by that point, I'd already made onward travel plans since I'd lost the will to live.
MARCH: Koh Phangan (Thailand)
Since my visit to India in late 2017, I had been wrestling with a host of physical and emotional challenges that, by this time, had bled me dry. So visiting the southern Thai island of Koh Phangan was in part a sun-seeking experience, and in part a chance to participate in an intensive detox retreat which I hoped would be a way to hit "reset" on my body (and spirit) and clear it of the variety of ailments it was suffering from.
All I can say is I hope to return to Koh Phangan one day and not do a detox retreat. While I'm sure it was beneficial on the whole, it was a slugfest the entire way, and an exercise in irony and deprivation on this idyllic (even hedonistic) island.
All Life is Suffering: A Month in Koh Phangan, Thailand – incidentally one of my favourite and more entertaining pieces of writing


APRIL: Melbourne (Australia)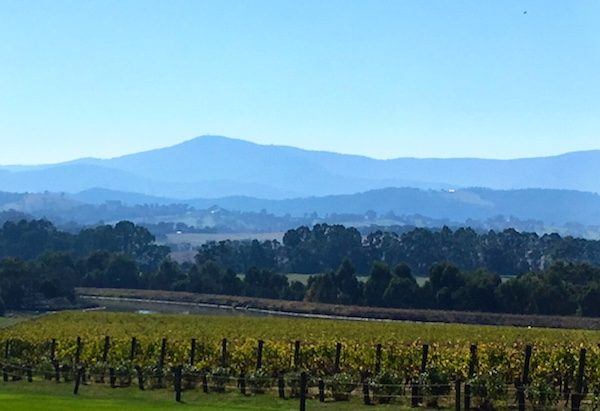 This detour Down Under may come as a surprise to some readers, as I never wrote about it. It was "part two" in my attempt to recover from the physical and emotional effects of what I (by this time) realized was a severe case of burnout.
Long-time readers will know that I spent 1.5 years living outside of Melbourne Australia back in 2008/09, and in that time I criss-crossed the country a few times (by campervan and then by train), survived their worst-ever natural disaster, had my first breakup on the road, and other adventures.
During that first stint I befriended a couple with whom I stayed in touch over the years, and who (knowing of my burnout) invited me to stay with them as a personalized healing retreat of sorts.
While I didn't know this couple very well, the invitation was serendipitous, and I immediately booked a ticket. It was one of the best decisions I made, as their loving care and regular healing treatments in their clinic was instrumental – if not life-changing – for me.
It gave me the rest I sorely needed after almost 10 months of bouncing around just as many Asian countries, recovery from a variety of physical ailments, and strength to start pursuing some business and personal projects over the course of the rest of the year.
Somewhere in all this recovery, I started reflecting on what I'd learned in the last 12 years of travel. Here it is: one lesson for each year on the road: 12 Truths About Travel – and Life


MAY: NYC (USA), Toronto (Canada), London (England)
My frequent flyer mile prowess allowed me to fly from Melbourne to New York in business class for a grand total of about $600. NYC was a glorified layover enroute to my hometown of Toronto, where I planned to spend the summer.
But not before a bit more traipsing! After dropping my checked luggage in Toronto, I packed a wee bag and hopped on a flight to London for a couple of weeks of staying with some friends who had just bought a lovely house.
It rained. A lot.


JUNE: Hollywood FL (USA), Toronto (Canada)
I'm no stranger to Hollywood (in South Florida), where a dear friend of mine lives and where I have a home base of sorts. So while it's certainly out-of-the-way between London and Toronto, I detoured anyway to visit for a couple of weeks.


JULY-OCTOBER: Toronto (Canada)
I love summers in Toronto, and the summer of 2018 was a glorious one by all accounts. Even locals (who are renowned for their weather-driven running commentary) had little to gripe about.
What was surprising was how a simple plan to spend a couple of months there evolved into getting an apartment and setting up a home base. While I never thought I would live in Toronto again, it clicked for me on a variety of levels, and I'm pleased to have made the decision.
My Epic Search for a Home Base


NOVEMBER: San Diego, Desert Hot Springs, LA, Palmdale CA (USA)
While I would have liked more time to enjoy my new place in Toronto, I have this thing about winter: I don't do it. I grew up with it, and I loathe it. I spent the last 12 years hemisphere-hopping to avoid it, and my cozy apartment wasn't about to sway me from maintaining my record.
So, coincidentally (or not), on the day the temperatures plummeted and it started to snow in Toronto in early November, I boarded a plane for San Diego to visit a friend. We did a wee road trip to Desert Hot Springs and Joshua Tree – which was my first taste of the American desert.
From San Diego, I bussed up to Palmdale (near LA) to visit with my boyfriend's family; included was a little trip into LA to film a video and do a bit of sightseeing.


DECEMBER: Hollywood FL (USA) (again)
Can't see the picture? Click here to watch this video on YouTube.
One of the reasons why Hollywood has been a frequently-visited base for me over the years is because of its proximity to Central and South America where I've spent the majority my time since 2014. (Well, that, and my friend there is super-cool and I have my own room at her house).
So while my visit to Hollywood in June was a detour between London and Toronto, my visit in December was perfectly enroute to Guatemala (!), where I'll be spending the first quarter of 2019.


Summary Notes: Progress!
In the summary of my 2017 annual travel report, I wrote the following:
It's like every single aspect of my life has been thrown up in the air (lifestyle, location, health, relationships, career, etc), and I'm watching all the pieces float around and am waiting to see where they land. It's simultaneously exciting and agonizing.
If 2017 was my unraveling, then 2018 was my year for putting everything back together again (well, with a bit more unraveling for good measure in the first quarter or so of the year – as was evidenced in Koh Phangan).
In addition to my personal recovery, you'll read soon in my annual income report for 2018 that my online business also underwent a significant overhaul and recovery process.
It was a year for many big changes, both personal and professional, not the least of which was setting up a new home base in my home town. After a dozen years of exploring expat life in a many different places, I'm enjoying the close proximity of family and friends when I'm in town (which, in the coming years, I expect will be a little over half of each year).
I own a couch now! And desk, and a bed, and a tv. And I have Canadian health care again! Most importantly, I have a place to return to after every trip, to unpack, unwind, and assimilate my experiences. Already, my travels feel lighter – literally and figuratively.
Looking into my magic crystal ball, I would say that 2019 will be a year for more transitions and transformations. I'm just not sure how yet. Let's see! It's far from the end of the trail for me…..rather, it's the start of a new one.

Prior Travel Summaries
My First Four Years of Full-Time Travel (2007-2010, including Canada, Hawaii, Thailand, Malaysia, Singapore, Australia, USA, Mexico, New Zealand, Spain, Germany, France, England, Scotland, Ireland, Nepal)
What I did in 2011 (13 countries, 73,000 kms, including New Zealand, Canada, USA, Sweden, Portugal, Spain, Switzerland, Czech Republic, Ukraine, Russia, China, Vietnam, Grenada)
What I did in 2012 (8 countries and 20,000 miles, including Grenada, St. Martin, BVIs, USA, Switzerland, France, England, Canada)
What I did in 2013 (12 countries and 29,000 miles, including Grenada, USA, Canada, England, Scotland, Holland, Norway, Denmark, Germany, Ukraine, France, Panama)
What I did in 2014 (7 countries and 34,000 miles, including Panama, USA, Canada, Peru, Spain, Gibraltar, Italy)
What I did in 2015 (6 countries and 35,000 miles, including Peru, Colombia, USA, Costa Rica, Canada, Bolivia)
What I did in 2016 (5 countries and 30,000 miles, including Peru, USA, Canada, Ireland, and Ecuador)
What I did in 2017 (10 countries and 29,000 miles, including USA, Ecuador, Canada, Japan, Indonesia, Hong Kong, Macau, Sri Lanka, India, and Thailand)