Mikkel Thorup (of the Expat Money Show) has spent nearly 20 years in continual travel around the world, living as an expat just about everywhere. Throughout his explorations, Mikkel has kept a keen eye on different investments and businesses. He puts his money where his mouth is and finds some very interesting and often very different opportunities.
Despite the fact that Mikkel Thorup is a high school dropout, he is a firm believer in continual education. It has paid off, as he earns a massive income with his various investments, real estate, and businesses. Learn more about his lucrative life and lifestyle here!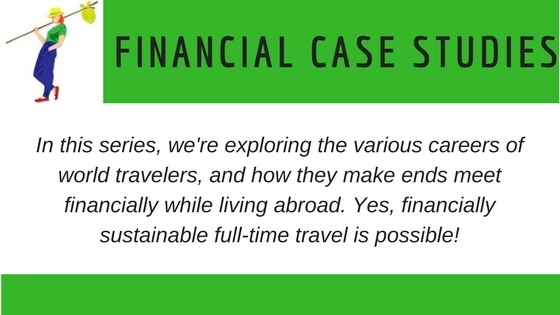 This post was originally published in 2018. It has since been updated for accuracy of links and content.


How long have you been living/working on the road, and where have you traveled to?
I have visited nearly 100 countries including Colombia, North Korea, Zimbabwe and Iran. I've lived as an expat since the early 2000's, making homes in Central America, South Pacific, Asia, the Arctic, North America, as well as the Middle East.


Please describe what you do for income.
I host The Expat Money Show Podcast and write for the Blog of the same name. On the show I interview inspiring Entrepreneurs from around the globe who are running some rather remarkable businesses.
I am also the partial owner of a travel agency in Canada. I own apartments in China. I control a very substantial bond portfolio in the UK. A diversified portfolio of ICO tokens. There's also some physical gold and investment grade stones…and maybe a dozen other investments around the world.


How many hours per week do you work on average?
80


How much money do you make?
I'm not overly keen to share this piece of information sorry, I will tell you that I am doing very well for myself and live a very comfortable (but conservative) life. It is somewhere in the mid-six-figure range I will say though…


Do you make enough money to support your lifestyle?
50% of all my income goes straight into more investments. I have always lived below my means. I love to have fun but delayed gratification is really important. Being able to put off today what you want so you can be more secure (and have more) in the future.
See also: A Guide to Financial Planning for Travelers


What do you like most about your career and lifestyle?
When I started my blog and my podcast I really looked at my life and tried to decide EXACTLY what I wanted out of life. If I had to make no concessions, and I could really choose…then what would I do…and then I set out to create that.
See also: How to Start a Blog – an Epic In-Depth Guide


What are some of the challenges you have with this career and lifestyle?
I find it difficult to stop working and spend time with my family. There are always ten thousand things to do. Always another conference or mastermind meeting I need to fly to. There's always something to share, an interview to record, a blog article that needs to be edited…
I feel bad if I am not working because I want to share so much and help so many people. I want my content to be the best it can be.
See also: Travel, Work-Life Balance, Time Management, and the Paradoxes Therein


What is your vision for the future of your lifestyle on the road?
I do need to slow down the amount of work and learn to relax a little but honestly I am having the time of my life and I feel very lucky to be able to chase my dreams. Even if I never made another dollar doing this, I would still continue on…it's just too much fun to stop!


Any advice for the aspiring traveler about living and working on the road and managing finances?
I have been travelling and living overseas my entire adult life. I had no safety net, I had no idea where I was going to sleep some nights or where I would find my next meal. But everything always works out. Honestly just try to keep that in mind; it's always okay, people are good, they want to help you, they want to see you succeed. Just jump in and it will all be alright!


Is there anything else you'd like to add?
If you want to discover how to protect your assets using the offshore markets then I encourage you to download my FREE infographic-report called "15 Global Strategies To Protect Your Wealth" or grab a copy of my brand new book Expat Secrets on Amazon today.