When I sat down to write this post, I thought Gee Nora. What are you going to write about? You haven't traveled THAT much this year. That was, until I tallied up my travels and realized I visited 8 countries this year, and I flew/sailed/rode/drove/walked 20,000 miles! For a slow traveler, that's a pretty good sum.
Here's a quick summary of the full-time travel adventures of The Professional Hobo in 2012.
Prefer to watch the video version? Here it is.
This post was originally published in 2012. It has since been updated for accuracy of links and content.


January: Grenada, St Martin
Shortly after ringing in the new year, I packed my bags after a three-month stint of house-sitting on the Caribbean island of Grenada.
But I left my main traveling bag behind, since I had already arranged to return for another tour of duty of house-sitting. With my laptop and a small bag, I flew to St. Martin – home to the most dangerous beach in the world – to live on a sailboat and work on my (complete lack of) sea legs.


February: St Martin, BVIs
I spent a few weeks getting my feet wet on a sailboat anchored in St Martin and making a few day sails here and there, before meeting another captain who was headed for the BVIs and needed some help cooking for some charter guests.
So I jumped ship(!), and made the 14 hour sail to the BVIs for a week of island hopping, snorkeling, swimming, liming, and preparing delicious meals (which on a boat, requires a dose of creativity).
Here's a summary and video of my Caribbean sailing experiences.

March: St Martin, USA
Once I finished the charter in the BVIs, I hopped back over to St Martin spent a few weeks on three different boats around the island. By this point I was quite accustomed to boat life, and I hadn't spent a night on land in months. I was no longer seasick every time we lifted anchor, and I had learned a few tricks to sailing and living on boats.
But my next destination was on terra firma, as I headed to Florida to visit some friends in Hollywood, and then further north near Destin. I was shocked by the cold temperatures on the Gulf Coast, which contributed to a very surprising sense of culture shock.
Incidentally, I also discovered that the best and cheapest doctor I ever visited was in the US. Who knew.


April: Grenada
By the end of March I settled back into my house-sitting job in Grenada, where the sun shines hot year-round.
Although the territory was becoming familiar, I still had a few interesting discoveries on Easter Sunday, and I further eased into the art of Grenada's unofficial national pastime: Liming.


May: Grenada
I continued to lime and explore this cool (in the proverbial sense only) Caribbean island by checking out the all-natural Sulphur Springs, and studying grunting turtles on the north side of the island (where I realized that turtle volunteering is just not for me).


June: Grenada, Switzerland
I wrapped up my house-sitting gig in early June and hopped on a plane to Zurich to embark on another house-sitting gig. My arrival was a bit rough, but I quickly settled into my awesome house in Zurich and cottage in the Alps, and started learning about The Swiss Life.


July: Switzerland, France
In fact, my accommodation in Switzerland was so lush and comfortable, I was hard-pressed to leave the house. But despite my struggle of traveling without moving, I visited the gorgeous city of Lucerne, and went crazy on the side of a mountain.
Oh yeah, and I had a weekend in Paris, but as it was my third visit, I didn't have much new to write about. (Let's call it a holiday from being The Professional Hobo).

August: Switzerland, England
In my final weeks of house-sitting in Switzerland, I was blown away by the warm hospitality on Swiss National Day (and yes, I think yodelling is totally cool), and I attended the world's largest techno party: Street Parade (where yodelling was nowhere to be found).
Then it was a quick jump over to London, where I found many redeeming qualities in this city where (for me) there was previously no love lost.


September: Grenada
I returned to Grenada in September to mark my third visit, this time to try my hand at – gasp, blink blink – setting up a home base with my new love and his daughter.
This has marked a significant change in lifestyle for me after six years of full-time wandering with no home, however I expect to continue to travel regularly – simply in a different way.
For my first month back in Grenada, I really enjoyed getting to know the public bus system, but eventually, I enjoyed getting a scooter even more (more on that in the new year).


October: Grenada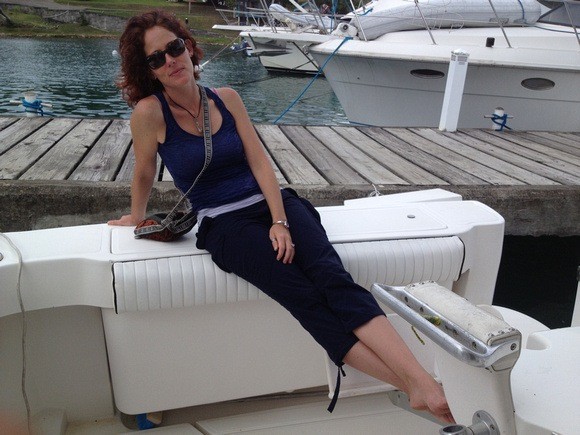 October was spent working on a few writing projects and getting used to my new "home" in Grenada (despite the regular sensation of being on another planet at times with the very different culture and communication), and coming to realize that living as an expat is a travel adventure unto itself. October also marked the end of hurricane season, and I watched the country get a face lift in preparation for some upcoming celebrations, and ultimately – tourist season.


November: Grenada, Canada
Right after I launched the wildly popular free intensive series How to Travel Full-Time in a Financially Sustainable Way, I popped up to my home town of Toronto to check in on family and friends and share my joy of having a new home in the Caribbean. (What a dream come true)!
The trip was a touch dreary (weather – and otherwise; more to come on this in a future post), but my return to Grenada was marked with a colourful random street parade (no, it wasn't for me, but that would have been cool too) that picked my spirits right back up.


December: Grenada

Although Christmas in the Caribbean is a far cry from the white Christmases I grew up with, the holiday season started early with the arrival of some friends from Norway. I met them a year ago when they visited Grenada, and although they've been here a few times, I realized just how much more "local" I've become in the time I've been here, and ultimately, just how far I've come in the last year – literally and figuratively.
I've been traveling full-time for six years, and my style of travel and living has evolved a few times over. Let's see what 2013 will bring!
Happy Holidays, and Happy Travels.