I stand on the dock and wearily eye the rubber dinghy bobbing on the water below me. This is my chariot; my commuter vehicle for a life lived on a sailboat anchored in the lagoon. And yet, with many eyes bemusedly fixed on me as I clumsily trip into it with all the grace of an elephant, I wonder just how long it will be before the inevitable happens and I end up in the water instead of the dinghy.
Welcome to daily life on a sailboat in St Martin.

How I Got Started
After a day-sail with some friends in Grenada, I was hooked on the idea of finding out more about sailing, and living on sailboats. I had discovered an entire lifestyle and world that exists on the seas that I hadn't previously known about; and as a full-time traveler I realized I was amiss not to try my hand at it, since it can be a very financially sustainable way of seeing the world.
So I hopped on Find A Crew (one of a few sites that connects wannabe crew members with captains looking for anything from an extra set of hands to skilled sailors to cooks – and yes, sometimes "female companionship"), to look for a boat I might like to sail on (that didn't require my "companionship" services).
Lo and behold, I found a couple of fellow Canadians on a boat in St Martin, sailing around the Caribbean and running a few videography businesses (Ambient Real Life and Land and Sea Video). Given my television production experience and social media outreach, we saw a mutual fit of skills, and Captain Rick was unfazed by my lack of sailing experience, saying in some ways it's better because I don't have any ingrained bad habits.
The situation got even sweeter when (thanks to Facebook) we realized we had a mutual social circle in Grenada (where he weathers hurricane season each year), so we both had the confidence of solid character references by our friends.
Rick's boat was in St Martin, so that's where I headed.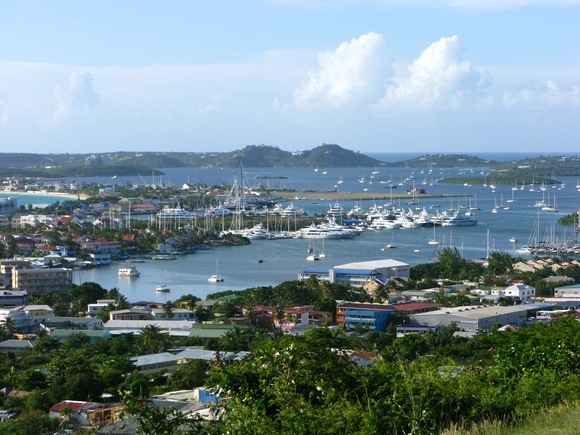 Interested in the nautical life of St. Martin? GetMyBoat is like the worldwide AirBnB of boat rentals, and they have a huge selection of boat charters and rentals in St Martin.

First Impressions of St Martin
After the raw Caribbean flavour and relatively undeveloped landscape of Grenada, St Martin was a shock to my system. Known as the "Las Vegas of the Caribbean", I was immediately bombarded with lights, casinos, traffic (oh god, the traffic), and people. From the music to the food to the people, I didn't feel any Caribbean flare in particular; it felt much more American than West Indian to me.
The sheer prevalence of mega-yachts screamed of an over-indulgent life, and money – oh, so much money – being sheltered from taxation in this tax-free haven.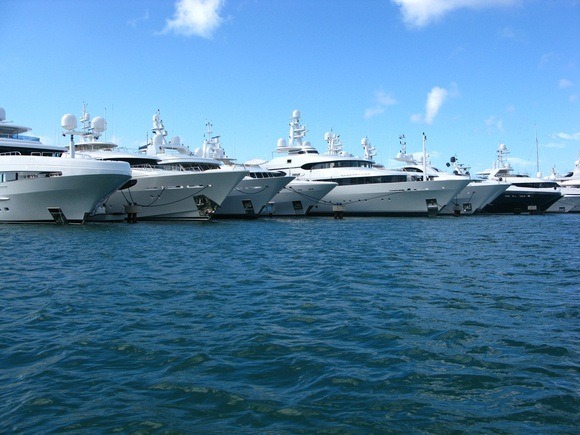 This was certainly not the "Caribbean" I had come to know and fall in love with. (But eventually after a few weeks, I must admit it grew on me, due in large part to my having met a wonderful group of people – which truly, can make or break any destination, no matter how it may seem from the outside).


One Island, Two Countries
St Martin is actually half Dutch (Sint Maarten) and half French (St Martin). (Spell it which ever way you choose). You can drive freely between the two sides, but the currency changes from US Dollars to Euros, the language from English to French, and the culture from American to European.
The Dutch side (despite a European heritage) spoke nothing of Dutch culture to me, and instead is home to the lion's share of the casinos, luxury shopping, and hopping nightlife. And with an airport in the middle of the action around Simpson Bay, "peace and quiet" is not exactly what you come for (as evidenced by the most dangerous beach in the world).
The French side is a little more subdued, and more authentically French; the perfect place to get a great cup of coffee and a fresh croissant, and go for a beautiful hike or enjoy some outdoor sports.


Misconceptions About Living on a Sailboat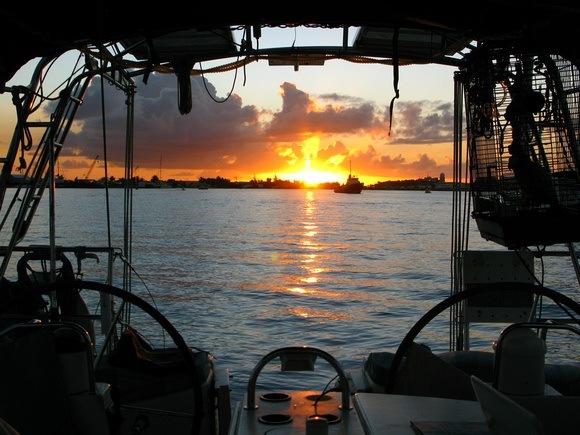 My first misconception about living on a sailboat was that space is limited. In fact, boats make amazing use of space, and can be quite roomy below deck. In addition to a decent living space and galley (kitchen), Rick's 50ft sailboat had four cabins (bedrooms), each with their own head (bathroom) – complete with shower, toilet, and basin. It's a little cramped, and certainly not for those who are claustrophobic, but let's just say in my five years of full-time travel, I've made due in smaller spaces with less luxurious accoutrements. (Since then I've lived and sailed on a few other boats including a 43ft boat, which has one less bedroom but doesn't particularly sacrifice on space or comfort).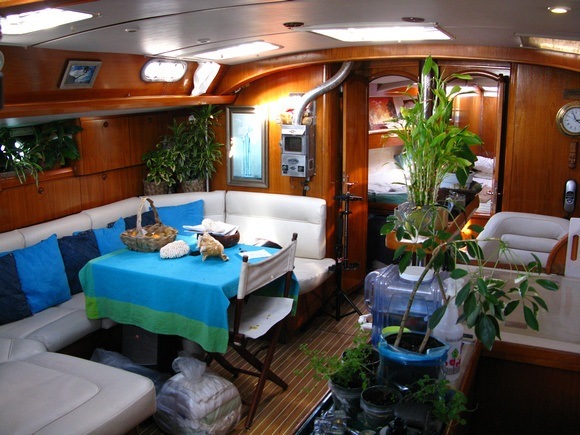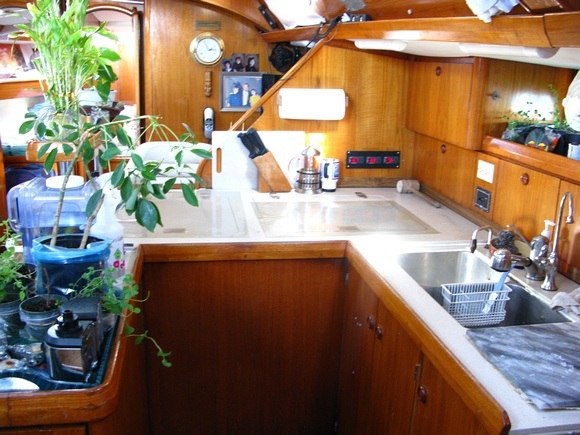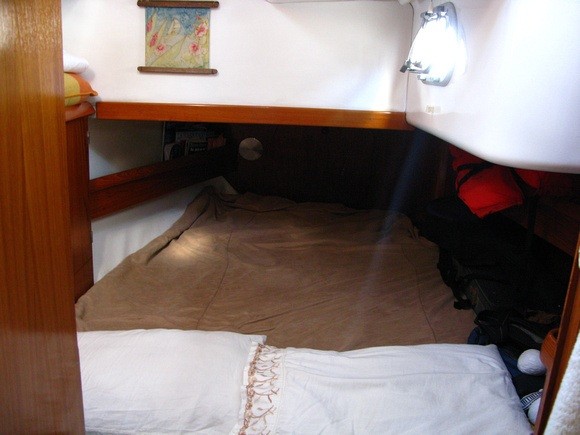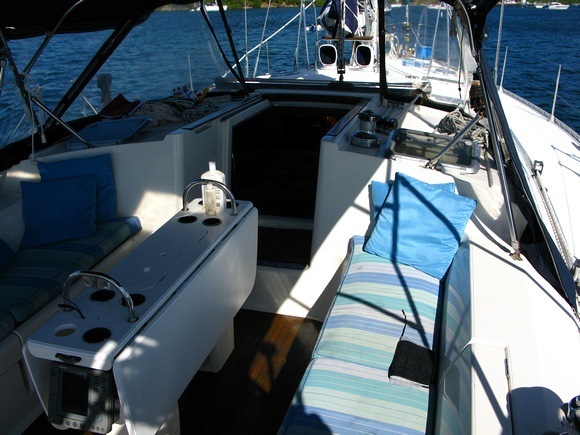 My second misconception about living on a sailboat is that anybody who lives on a boat….sails it. To the contrary, I was informed that likely more than half the boats anchored in St Martin don't go anywhere; they're simply floating houses for people who live and work in St Martin. This applies to other Caribbean islands as well, but to what degree I'm not sure.
Life on such a "floating house" is a little more complicated than on land; fresh water has to be brought on-board (or replenished at a water/fuel dock if the boat can get there on its own steam), so water conservation is of prime importance. And many boats rely solely on solar and/or wind generators, which usually generate plenty of power – as long as you're conscious of what you consume.
Similar to the life I lived off-the-grid in Hawaii, life on a boat makes you keenly aware of many of the things we land-lubbers tend to take for granted.


Dinghy Hopping
My first real adjustment to the nautical life was the use of a dinghy as commuter vehicle. It is your passage between the boat and shore (or other boats), and getting my "sea legs" and sense of balance has taken quite some time. I still struggle to hop gracefully in and out of dinghies like obviously experienced people do; rather I lumber out by practically rolling onto the dock hanging on to anything (or anybody) within reach, and getting back on I usually need to sit down and inch my way on tentatively, ever-nervous of unintentionally ending up in the water. (Knock on wood; it hasn't happened…yet).
Even more harrowing is the dinghy-hopping experience; if too many dinghies are tied up at the dock, sometimes the only way to get to yours is to hop from one to another. All those years of professional dancing seems to have done nothing for my sense of balance on the water.
But with practice, comes perfection (and the occasional soggy bottom from landing ungracefully on the wet floor of the dinghy).


Life on a Sailboat in St Martin
Very quickly on arrival to St Martin, I fell into a pleasant routine with my crew mates, and adapted to life aboard a boat quite nicely. We didn't do much sailing (as the videography businesses have required a constant presence in St Martin), but I got my chance to do a day sail aboard another boat, and my next move (to join a charter boat in the BVIs) involved some hefty sailing.
It seems that St Martin was the perfect place to get used to life on a boat, gain my sense of nautical balance, and – literally and figuratively – get my feet wet.
On to the next nautical adventure! In the meantime, check out the video below featuring my three months of sailing experience (or click here to see it on YouTube):
See also: The Creative Guide to Free (or Cheap) Accommodation
And if you're keen to learn more about the specifics of getting volunteer gigs on boats (including some crucial due diligence advice), you'll want to read my book: How to Get Free Accommodation Around the World.