London.
My recent week in London was yet another exercise in how travel is contextual. The places that resonate with us on our travels tend to only partially have anything to do with the actual place itself. Instead, the places we cite as being our favourites tend to be more related to the people we are with, our headspace at the time, what we are doing, and why we are there.
A couple of years ago, I spent some time in England; house-sitting in Hampshire, visiting Winchester and Avebury, staying in York, and checking out Whitby were my main activities. And of course, with London being the hub that it is, it's a little difficult to get in and out of England without at least passing through London.
This post was originally published in 2012. It has since been updated for accuracy of links and content.


London – Before
Every time I've visited prior to 2012, I've been passing through. Even in spending a couple of days there, I was still enroute to somewhere else, such that London was never the actual destination of choice; it was merely on the way to somewhere else.
As such, my mind was always elsewhere, and London didn't do much for me. I thought the tube was expensive (it is), the streets were crowded (they are), and I was dismayed at the incongruity of architecture – the city appeared to me to be a jumbled mass of buildings thrown up through the centuries with little attention to aesthetics.
I was nonchalant at best in my feelings about the place.
London – 2012
In spending a week with a local friend (London being the destination unto itself), I had a chance to see the city with different eyes.
Even in a short week, I felt the energy and buzz of the city, got used to the layout and transportation, and covered a fair bit of territory.
And as such, I came to a much more favourable attitude towards London.
Yes, the tube is still expensive.
Paying for the tube (which is "London-speak" for train or subway) on a ride-for-ride basis is murder. An £8 day pass is better, paying for itself if you use public transportation three or more times in a day. And given the intricacy of the tube system and prevalence of iconic red double-decker buses (check out the video below to see for yourself), you'd be cheating yourself not to take advantage of it.
For locals, I understand that weekly and monthly passes are a better deal yet.
But it still ain't cheap. A friend of mine moved here years ago as a young adult to immerse herself in the thriving music scene. However after a couple of years, she realized she was working to live (the tube is just one example of how London is an expensive place to live), and had no time or money remaining to do the things she actually moved to London to do.
(I wonder how many people live in London to do little more than make ends meet).
Yes, it's crowded.
At just about any time of day or night, the main drags of London are crowded. There is a general crush of people wherever you go – people from such a diverse range of cultures speaking so many different languages that you might be hard-pressed to identify what country you're in if you were blindfolded and dropped in the middle of the city with no bearings.
I enjoyed the general buzz of the city, and the multi-cultural feel that reminds me of my home town of Toronto. At the same time, I occasionally felt a little bit panicky with all the people; any sort of mishap causing a mass hysteria would be tragic. I don't normally like to think on those terms, but hey – crap happens, and London is far from impervious to mishaps. So I found the mass of energy from all the people around me to be a little bit overwhelming. I still like cities – but not generally to live in.
Yes, the architecture is jumbled.
This is where I experienced the biggest change in attitude. When I was in York visiting a friend a few years ago, I admired how seamless the architecture is, how aesthetically pleasing it is, and how the history has been so well preserved. (Something I found to be in contrast to London).
My York friend wasn't quite as obliging. He commented how even new buildings are built to conform to the old style of architecture despite certain impracticalities; a somewhat randomly-selected era that has been frozen in time and replicated with no regard to cultural or practical evolution.
With this observation in mind, I approached London with fresh eyes this visit. Although I still found the older buildings more aesthetically pleasing than the modern structures, and although I sometimes thought the juxtaposition of buildings from various decades and centuries was a tad jarring, I now respect London's ability to grow and evolve with the times. London strikes a balance between preserving the old and moving forward with the new.


London is a world-class city.
You can't walk the streets of London and not feel its influence and power. This city has attracted 12 million residents from all over the world; there's a reason for it.
Being accustomed to influential North American metropolises like New York and Toronto, I found that by contrast, London manages to marry a much longer and richer history with modernity. And even in comparison to other large European cities I've visited, London has more of a modern edge while retaining its history.


And, it's green.
There's beautiful parkland interspersed throughout the city, so you never have to go too far to reach some greenery. This also makes for excellent bicycle transportation through the city.
Trees that are hundreds of years old line many of the avenues in older neighbourhoods too; a natural tribute to London's history and preservation of nature.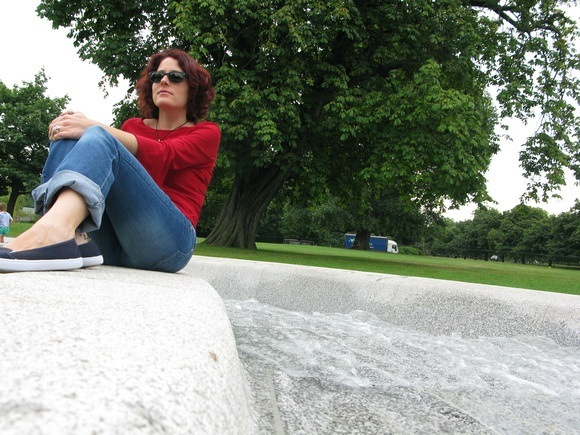 As a park-related aside, I enjoyed visiting the Princess Diana memorial….a circular fountain that flows in two directions. Although it's incredibly simple there's also beauty in the simplicity, and intricacy in the texture and shape if you take the time to examine it. Kids (and adults) all play in the fountain, walking/wading around it.


Wanna see for yourself?
Here's a 50 second time lapsed tour (via double-decker bus) through the centre of London. Notice the prevalence of buses, and the general hub of activity on this average day at a non-peak time. This city moves!

Click here to see the video on YouTube.