It's hard to believe that I was in England over a month ago. My trip through Europe has been a whirlwind; a pace much faster than my preferred style of slow travel (staying in each place for a few months or more).
This post was originally published in 2010. It has since been updated for accuracy of links and content.


But my view is skewed too; in a recent email conversation with a friend who was planning an eight-day visit to Scotland, I was berated for suggesting that her trip is incredibly short. Indeed, eight days is plenty for most North Americans with limited vacation time. But in reflecting on the approaching end of my four months in Europe – and almost four years on the road in total, I couldn't imagine a trip that is just over a week. Although my location independent lifestyle comes with some costs, I consider myself to be blessed (if not downright spoiled).
Interestingly in planning this four month trip to Europe, I still thought "whew! Four months. That's a long time." I figured I'd get a good sense for Europe as a whole and leave with a feeling of satisfaction.
And although I'm satisfied, I've also realized that I could spend a lifetime exploring Europe alone; four months has been a tease at best.
This is a long-winded way of apologizing for the disparity of time elapsed between the places I'm posting about and the places I'm actually posting from. I'm currently in France (again), and have two more countries full of adventures to share with you before I even get to the tales of my adventures here.
To that end, I'm finding with ever-mounting adventures in an increasing number of countries under my belt, things are starting to blur. But having spent three wonderful weeks in England, it's time to let you in on some of the fun!


London
On arrival in England, I enjoyed a few days of the hospitality of a friend who I met while volunteering in Spain. She showed me her home town of London, which was a hub of life and activity.
I must admit, however – company completely aside – I found London itself to be a lacklustre experience. It lacked some of the uniform character I'd come to expect of a European city, and instead seemed to be an incongruous mash of architecture and culture. Although I love multi-culturalism (being from one of the most multi-cultural cities in the world myself), and I expected it of London, I didn't expect such a lack of overall continuity. Maybe I've watched too many British television programs set in quaint little English towns, and came to expect it of London as well.
But to be fair, I was only there for a paltry three days, and didn't have a chance to explore enough to give me a true cross-section of the place. It simply struck me as a big impersonal city, which isn't usually my cup of tea.
Note: I returned to London a few years later, and found it to be a very different experience. Read about how London was redeemed in my eyes and why.


Hampshire
After the hustle and bustle of the big smoke, I cruised down to Hampshire for two and a half weeks of house-sitting. I realized with some degree of shock that this was the longest period of time I stayed in one place since April; a record that will remain unbroken for the next undeterminable period of time in my full-time traveling life. Eek!
The house-sitting (and dog-sitting) gig was great, and a chance to experience a slice of daily life in Hampshire, a beautiful spot in the English countryside. Having my visiting Mum as company for the duration was a thrill too, as it gave us a chance to cook some great meals, watch lots of DVDs, go for long walks, tour the area, and generally enjoy each other's company.


Avebury
One of the day-trips Mum and I took was to Avebury, where there is an impressive (and impressively accessible) ancient stone circle. Initially we were headed for the iconic Stonehenge, but a few insiders' recommendations led us to Avebury instead, where we could get up close and personal with the stones, instead of paying an admission fee to remain at some distance from them.
These stones surround the town of Avebury, and there is a palpable energy and aura to the place. Apparently the Avebury area is noted to be the happiest place in the UK. Although I didn't feel an overwhelming urge to sing and dance in the streets, I did indeed feel a great sense of satisfaction for having seen – and touched – such a curious part of history.


Winchester
A friend from London who spent some time living in Winchester stopped by our Hampshire digs to take us to his old home town. Winchester was much more along the lines of what I (unrealistically) expected of London; a charming town with a smooth continuity to the architecture, beautifully manicured gardens, and – of course – a stunning cathedral.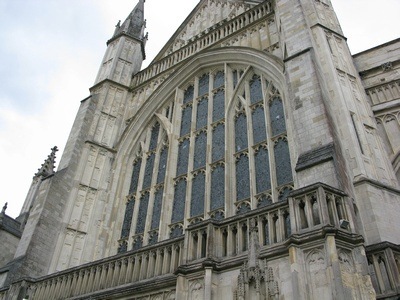 I'm not much of a cathedral person, but I must admit that with our knowledgeable guide, it was a pleasure to peruse it and glean some interesting facts about its history. Enjoying "bangers at the bar" at the local pub (more on that in an upcoming post) was a special treat, after walking along the enchanting streets.
York
After leaving Hampshire and saying goodbye to my Mum (for the next year or so, until I visit Canada again – probably next summer), I hopped on the train to the city of York to crash on the couch of a fellow travel writer who I met online and developed a rapport with over some hilarious Twitter conversations.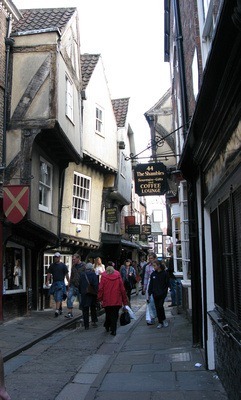 Being a medieval walled city, York further fulfilled my expectations and desires of England, in addition to filling my camera with great shots. For the three days I was there, we walked countless kilometers, sipped Yorkshire cream tea at Betty's Tearooms (an institution in its own rite), ate Yorkshire pudding (I mean, how can you not – it's York!), and soaked in the history, energy, and (uncharacteristic) sunshine.
Whitby
Whitby was a day-trip from York, being a two hour bus ride that is well worth the £12 and scenic journey over the heather-filled moors of northern England. It's a picturesque seaside town with lots of history, scenic views, charming architecture, and a historical brush with Dracula.
It was again a destination filling my tummy with great food, my camera with great shots, and my walking shoes with sand. A good day was had by all.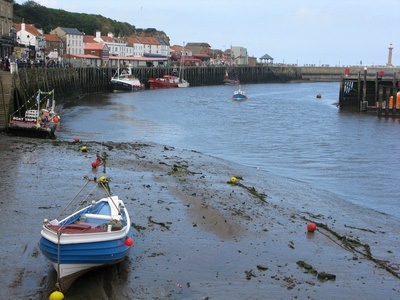 I must (quietly, yet in a somewhat masochistically public way) admit that England was not on my initial list of places to visit (please don't hate me, English readers!), as it didn't seem to me to be the cultural or scenic experience I was aiming for. (Then again, neither was Hawaii, which pleasantly surprised me). In fact, maybe I just felt too much at home in England…with an understanding of the language and culture that made me almost too comfortable – for a traveler. I had many of the comforts and familiarity of "home", without actually being home. It was a tad surreal.
So although I thoroughly enjoyed my time in England, it didn't grab me in the way I was grabbed by Spain or France or even New Zealand. Scotland and Ireland however (which you can read about by clicking the links here), held more appeal for me, and piqued my interest in returning to this neck of the woods. And when I eventually return, I hope to visit England again, and to spend more time discovering the place, in the style that I normally like to travel: slowly.