His name was Toro Bravo, and although I'm not sure exactly what he said, very little was lost in translation.
This post was originally published in 2010. It has since been updated for accuracy of links and content.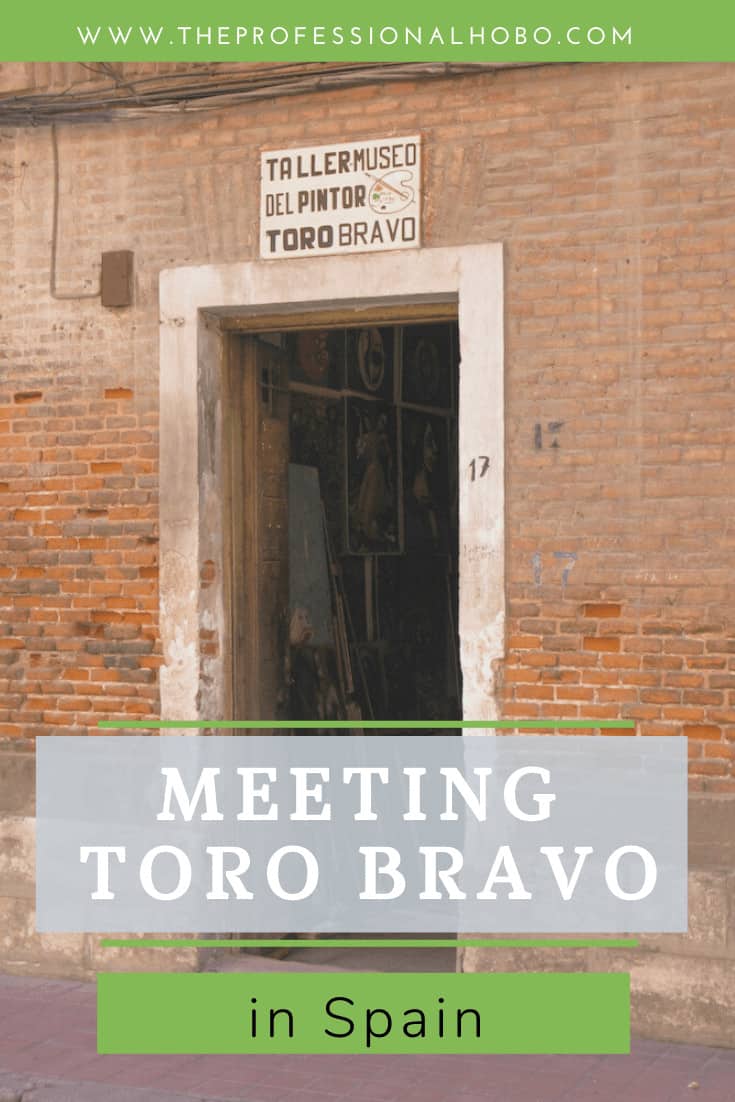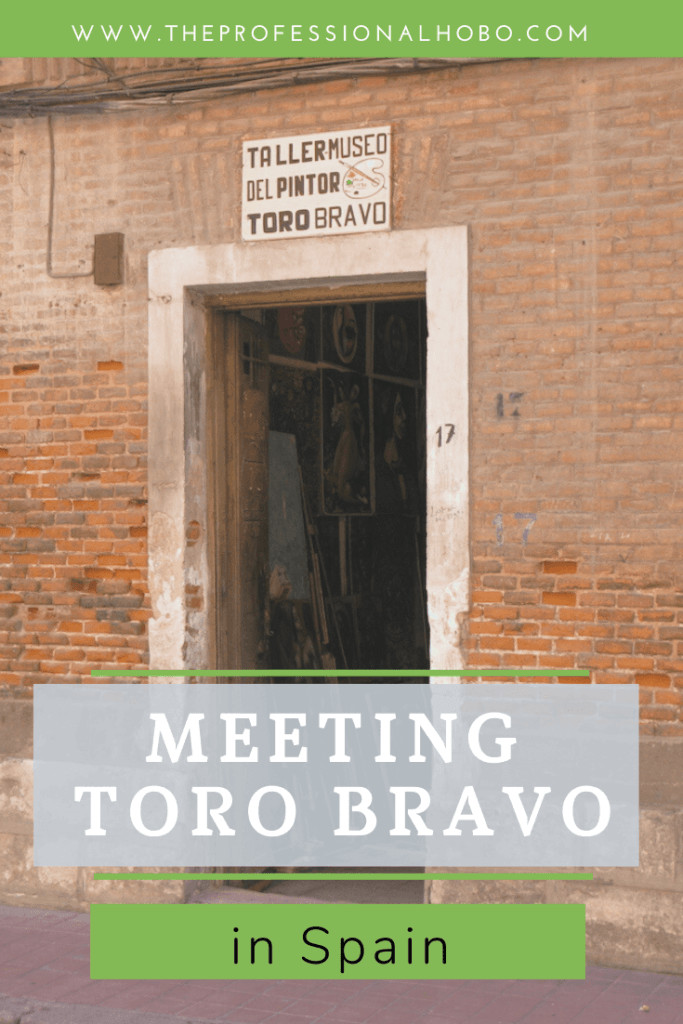 As I walked through the narrow cobblestone streets of Alcala (a town 50km outside of Madrid, where I was the house-guest of a lovely Spanish family for a week), I took in everything I could. I smelled the delicious food wafting out from the nearest tapas bars, listened to the sounds of children playing and adults socializing and enjoying the afternoon, and gawked at all the amazing buildings and historical features that are commonplace here in Europe, but oh-so-foreign to my Canadian eyes.
Then, on a relatively empty side-street, I spotted a non-descript doorway, through which I could see countless pieces of artwork. Just inside, an elderly man with long hair and an even longer beard sat on a chair, sketching.
Standing across the street, I was mesmerized. This man had to be photographed. The tiny dark art gallery of sorts obviously contained hundreds of works of this man – who unto himself was a work of art.
Feeling a streak of shyness, I sidled up to the doorway in a way where I couldn't be seen, to read the sign on the door…drats – all in Spanish, of course.
I stood outside Toro Bravo's doorway, working up the courage to go inside. I've had this feeling before; one of overwhelming shyness, not knowing what would happen if I went inside – whether it would be amazing or a complete flop. It would have been immensely easier just to keep on walking and enjoying the sunny day. And yet I was rooted to the spot, unable to move.
But this is what travel is about for me; pushing myself beyond a comfort zone, satisfying curiosities, and expanding personal boundaries. I realized if I didn't go inside, I would forever wonder what this man – and this tiny art gallery – was all about.
With that, I stepped inside, and in a combination of broken Spanish and charades asked if I could take a look at his art. My primary motive was really to get a picture of the artist himself, but I figured I had to at least have a look around. I only hoped that I wouldn't become the victim of a hard sales pitch.
My hopes were gratified when he cordially stood up and with a bow invited me to come in and walk around. I soon discovered that one room opened into another and another, and each room was covered – floor to (and including) ceiling – with artwork. Many of the canvases were piled one on top of the next; there were thousands of pieces of art in this tiny gallery that most people would walk by without a second glance.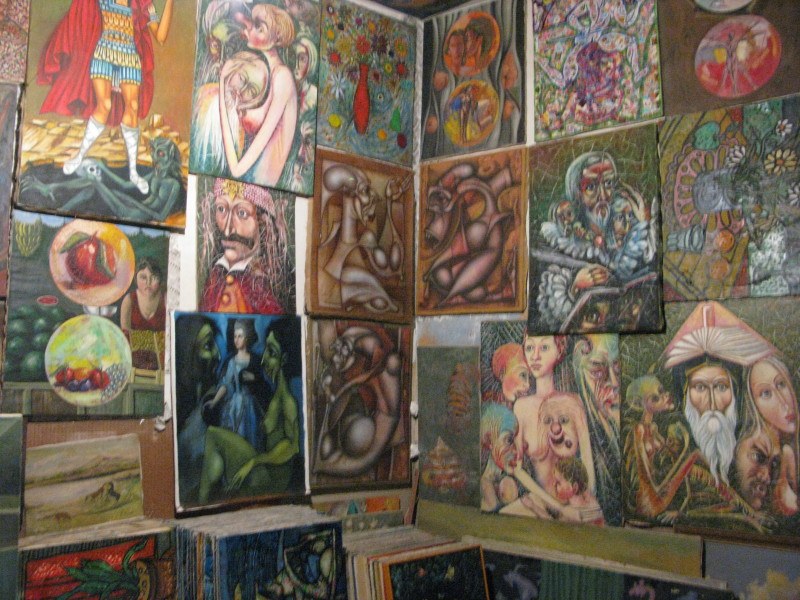 I gawked at the oils and acrylics, with all manner of styles and artistic messages, while Toro simply continued to sketch on his pad. My primary motive was still to get a picture, and I was still fighting a bout of shyness about asking.
I said in Spanish that his artwork was beautiful, which was apparently an invitation for Toro Bravo to start speaking. He stood in front of me and addressed me in his calm and quiet – but strong – voice. He had a message, a passion; something that was obviously a lifelong journey and mission.
Although my Spanish is horrible, I picked up on his philosophical and existential message; one of a mind-over-matter theme, not without its share of conspiracy theories, but much of which I identified with on one level or another. He obviously relished a chance to speak to a new face, and my periodic "si"s and nods of approval were enough for him to continue on for a good 15 minutes.
Toro Bravo didn't even seem particularly phased when he realized that I don't speak Spanish fluently, as I think he knew that I understood his sentiment while he continued to educate me about the many decades of experience he had amassed. He pointed to books with his image on the front (presumably written by him) that further outlined his expertise and thoughts, and other books and articles written about him sitting on a table.
Finally and suddenly (but not curtly), it was apparent that Toro Bravo had said his peace, and was happy for me to continue to browse or leave, as I wished. I asked if I could take a picture, and of course, he was more than willing. He made a few faces for the camera in a playful attempt to screw up the shot at the last second, and after a few laughs, sat patiently while I took some "serious" shots.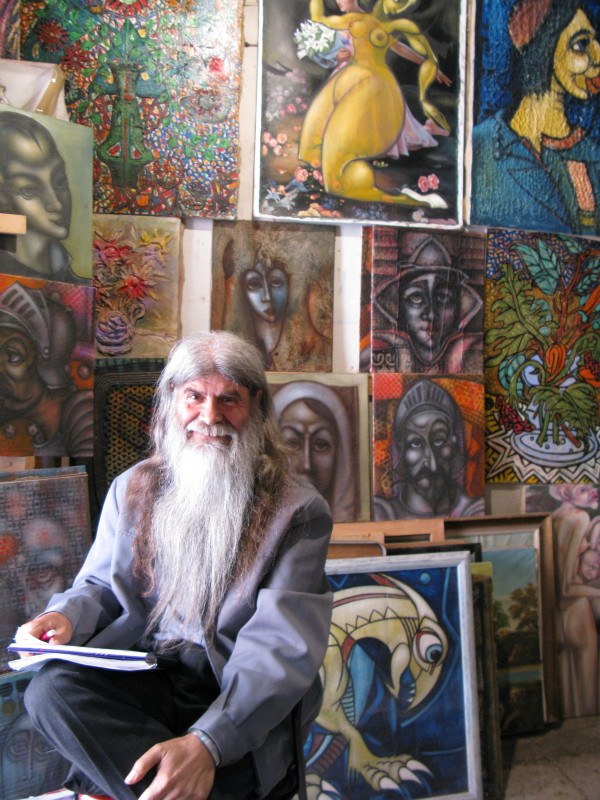 I emerged from the dark gallery to the afternoon sun and heat with a huge smile on my face. I had faced a fear – if even a small one of shyness – and came out not only with a few great shots, but a personal encounter that despite language barriers, spoke deeply to me, and shall forever remain in my memory.