English pub culture is big.
I mean, really big.
When I arrived at the place I was to house-sit in Hampshire, the owners were sure to take me on a mini pub-crawl before they left. And in my orientation of the area, I was informed of the pubs I was to strictly avoid, as well as the ones I should make a point of visiting as part of a dizzying whirlwind drive around the country roads. In fact, a goodly section of the instructions they left for me even included directions to the local haunts worth frequenting.
No, my house-sitting hosts weren't alcoholics.
When I was shown the sites of Winchester by a local friend, it was a similar scene. We had to visit his favourite pub in Winchester, and if it weren't for the late start we got, we'd have visited at least one – if not two – more. In fact, he even made a special detour to drive by one of the pubs he would have taken us to if he had time…just to show us.
No, my Winchester friend isn't an alcoholic.
This is England.
This post was originally published in 2010. It has since been updated for accuracy of links and content.
The Pub is an institution. A gathering place. A community watering hole, if you will. And nothing illustrates this better than the Pub Dog.
While we were enjoying a pint and some "bangers at the bar" at a charming pub in charming Winchester, located on a charming street corner surrounded by charming houses, I noticed the Pub Dog.
A little scruffy thing, he was trotting around like he owned the place. In fact, he even wandered behind the bar and sat down, looking expectantly at the bartender. Once noticed, the bartender reached up for a red tin sitting on a shelf behind the bar and opened it up. Inside were a pile of dog biscuits.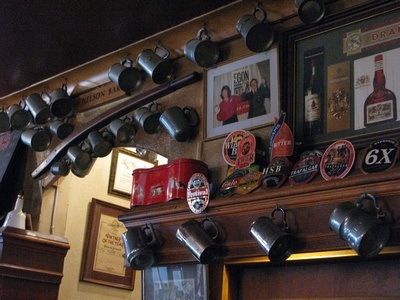 "Wow. That's service with a smile," I said, watching the scene in progress. "I didn't even know that dogs were allowed in pubs, much less given biscuits!"
"Must be the Pub Dog," my Mum commented.
"In fact, he sort of is," said the lady next to us at the bar, who overheard our chat. "We live just down the street. Today, he came along with us. But he also comes here on his own. If we can't find him at the house, we know he's gone down to the pub! Those biscuits are behind the bar just for him."
As if on cue, the dog finished his bone just as his owner slugged down the last of her pint. "Talk to you soon!" she said, and walked out, followed by her dog.
If I had stayed in Winchester for any length of time, I'd certainly have gone back to that pub, and am sure I would have seen that lovely lady and her Pub Dog. Or at least the Pub Dog.