Please enjoy these photos of Zurich taken over this past summer, which I spent house-sitting in the area. Switzerland is very much a "picture-perfect" country, and Zurich is no exception to the rule!
See also: The Swiss Life – Random Observations about Switzerland
This post was originally published in 2012. It has since been updated for accuracy of links and content.


Lounging along the riverbanks is a very popular activity. Sometimes it's difficult to find a spot of wall!


I don't know if these boats serve anything other than an aesthetic purpose. But if they weren't tied down, they'd float away in the strong current.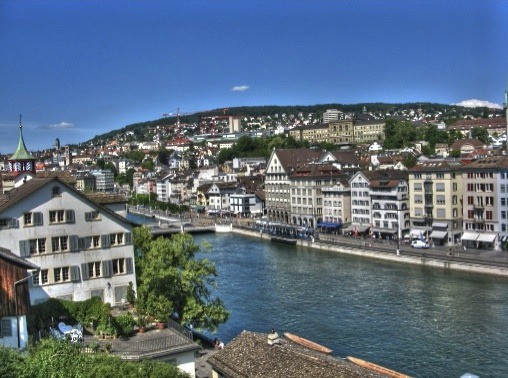 Zurich is such a pretty city, especially on a sunny day.


Enjoying lunch in a very popular area near the main station


Further down the same street. Although you might think this is Spain, rest assured it's just one of a few Spanish restaurants.


The colourful crowds at Street Parade: one of the biggest parties in Europe, the world's largest techno party, and Zurich's largest annual event.


Not exactly a Zurich-specific photo, but an interesting thing to be found at most grocery stores: hard-boiled eggs! You know they're hard-boiled because they come in all sorts of colours, including some very patriotic ones (as pictured here).


One of the popular spots to jump into the river and float down with the current. Believe it or not, this is only a few minutes' walk from the epicentre of Zurich! Similar to Lucerne, the water everywhere is clean for swimming, even in downtown areas.


Doing backflips off a bridge into the chilly waters.


Enjoying happy hour at Clouds: a lounge and restaurant at the top of the Prime Tower – Switzerland's tallest building. (Although you would suspect the drinks would come at a premium, I was delighted to drink beer at the same price as the local pub).


There are lots of rules on the trams in Zurich, including a strict one against sawing up the seats. I guess this bears mentioning…


Thanks, Zurich! It's been a slice. See you next time!