Each year I publish my full expenses, as well as my location independent income for the year. I do this not to set the bar for what you should earn or what you should spend in order to travel full-time in a financially sustainable way; rather – as the years go by and my own lifestyle and income and expenses vary – to demonstrate that there is no bar. Here is my 2019 location independent income breakdown, complete with a business analysis, trends over the years, and plans for the coming year.
This post was originally published in 2020. It has since been updated for accuracy of links and content.


Click here to see all of my Annual Income and Expense Summaries!
2019 was a different year for me. The biggest change was that I had a home base in Toronto; something I was financially obligated to maintain despite traveling for half the year (cumulatively). While I initially worried that I'd have trouble making ends meet with a whole slew of additional bills, I was pleasantly surprised to discover that having a home base and traveling a bit less led to increased productivity, which in turn led to increased income.
2019 was also when I started really seeing the benefits of the work I did with an SEO consultant throughout 2018, which led to dramatically increased traffic, and in turn, advertising and affiliate revenue.
All in all, 2019 was a good year for my location independent business.
Here is where I went in 2019.


2019 Income Sources for The Professional Hobo
NOTE: My income was earned in a few currencies, including US, Canadian, Australian, British Pounds, Euros, and more – all of which I've converted to US dollars for the purposes of this report. Unfortunately, with currency fluctuations throughout the year, these numbers are approximate at best.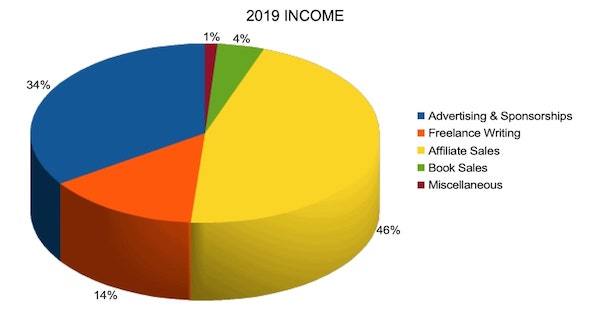 Freelance Writing: $7,253
This is half of what I earned for freelance writing in 2018, and about the same as what I earned in 2017. (Like many aspects of my online business, freelance writing income can be highly variable).
Normally, monthly columns comprise the majority of my freelance writing income, but 2019 changed everything. After almost five years of monthly "Dear Nora" instalments at CreditWalk, I stopped doing it in March, and my monthly gig with GoBankingRates (which lasted about a year) stopped around the same time.
I didn't even have time to worry about the loss of income though; serendipitously, I was contacted by an old editor who had moved to a new company, and they contracted me for six months to write about travel security matters for a B2B health insurance company.
The remainder of the year was topped up by some articles I wrote for Lonely Planet, Budget Travel, and Transitions Abroad.
In previous years, freelance writing has comprised approximately 50% of my total revenue. These percentages have changed dramatically in 2019, and I expect my other income sources to continue to supersede freelance writing in the future. That said, I believe freelance writing is an integral part of a blogging business, and I intend to continue with it.
I write extensively about freelance writing as a career here: Ways to Make Money While Traveling.


Affiliate Sales: $23,337
This is more than double the most money I've ever made from affiliate sales, and also the highest percentage of my total income it has ever been (but only by a small margin).
I attribute my success with 2019 affiliate income to three factors:
The work I did with my SEO consultant in 2018 (plus some good luck) ended up with my most monetized posts consistently being amongst my top 10 articles for traffic.
I wrote a few new (monetized) posts in 2018 that started ranking in 2019 and earned me a healthy sum.
I continued increasing the number of affiliate providers I work with. In 2019, I earned affiliate income from over 25 different sources, though the most significant of them were women's travel clothing, travel insurance, virtual mailing services, and travel luggage. I have multiple articles on most of these topics, and as a result I rank quite well for them all.
In most previous years, Amazon affiliate income represented the highest percentage of my total affiliate income, until 2019. Now, it's about 20% of my total affiliate sales, which doesn't bother me one bit; rather than remaining beholden to their ever-dwindling payment schemes, I've found other ways to earn affiliate income while remaining true to my brand and using/endorsing products that will help people travel better.


Advertising & Sponsored Posts: $17,543
This number is triple what I earned in 2018, and it beats every previous year, by far; the most I ever earned in this category was $7,700 in 2012, back when it was cool to sell text links.
The reason for this is a big uptick in website traffic (thanks to my SEO consultant), plus continued use of the Mediavine advertising platform. I also made a couple of thousand dollars with sponsorships of my monthly newsletters and some posts.


Book Sales: $2,209
This is a little higher than my book sales for last few years, though largely on par. While I have three books (of which one was recently discontinued), the most consistent best-selling one is How to Get Free Accommodation Around the World. For less than the cost of a burger, readers can save thousands upon thousands of dollars getting free digs (and a super cool cultural experience) when traveling. I saved over $100,000 getting free accommodation around the world; I walk the talk.
I attribute my 2019 success with this book to making it available on Amazon in late 2018, right before a feature documentary about me was released on a very popular YouTube channel that drove sales around the world.


Miscellaneous: $580
As always, this is a catch-all for random work that doesn't fit into the above categories. However it's much higher in 2019, due to me doing some travel mentoring and coaching sessions. I enjoy this work, and while I've offered it very quietly and informally for a few years now, I'm considering making it a bigger part of my online business.


TOTAL INCOME: $50,922
Ca-ching! This is a 60%+ increase over what I earned in 2018, and the most money I've made with this online business, ever. The only year that came close was 2013, when I got a large payout from a site I'd been writing for for years that bought out my rights.
I anticipated this growth in last year's income report, so while I'm pleased, I'm also not surprised. I'm also hoping that this is the start of a continued upward income trend. That said, I'm meeting my expenses comfortably (even with the increased cost of maintaining a home base in Canada), and earning more money for the sheer sake of it is not my jam. I refuse to burn out (again) chasing dollars.
See also: Lifestyle Inflation: How Earning More Money Sucks (the Life Outta You)


What I Did Right in 2019
As much as I initially wrestled with the idea of having a home base in my home town (did I fail as a full-time traveler? Or does full-time travel simply have a shelf life?), it was the best move for me. The familiarity of my home town, plus the proximity of my small but fiercely loyal tribe of family and friends, plus having a place that is truly mine, formed a trifecta of healing that reverberated throughout my life and career. While I got my apartment towards the end of 2018, I only really started enjoying it and reaping the benefits in 2019.
This home base also indirectly provided me with opportunities. I had the chance to connect in person with many colleagues in the blogging and travel biz who also live in Toronto. One of them pushed me pretty hard to start speaking at travel media conferences. Up to that point I figured I had nothing to offer as a speaker (I'm not exactly a shining example of how to run a website; rather, I was busy traveling and house-sitting and apprenticing with a shaman and ignoring the business side of my blog as best I could), but when one speaking proposal was accepted by three conferences, I realized perhaps I knew a thing or two.
And somewhere in the mix I did actually stop ignoring the back end of my blog and I started doing (and/or outsourcing) the tasks I avoided for too long. So in 2019, I continued the work of my SEO consultant in updating and optimizing old posts.
Lastly, after publishing almost 100 Financial Case Studies over the course of five years, I was going to wrap up the series, until some readers told me it's one of their favourite aspects of my site. So instead, I levelled up. Seeing how my own lifestyle and income had evolved dramatically over the years, I became voyeuristically curious how other location independent folks had changed along the way. So I'm getting people I've previously featured to update their Financial Case Studies, providing a comparative look at their lifestyles, careers, and incomes over the years. It's getting a lot of good feedback.
If I look at my 2019 business plan (which I published last year), I see that while some of the things I'd forecasted happened like clockwork (such as increasing website traffic, outsourcing, developing a speaking career, and bingeing Netflix), some things also didn't happen.
I had trouble finding a publicist, so doing all the large media appearances I'd hoped to do didn't happen. I also didn't end up moving on my brilliant tv show idea; I shopped it out to a few people in the biz, all of whom said I was on to a great concept. But the reality of it would have been that I'd need to be very involved in bringing an international tv show to life even with a network and production company to back me, and I realized what I really wanted to do was watch Netflix, not be on it. (Not yet anyway).
But I don't see these as failures or shortcomings; instead, I realize I overestimated what I had the energy for. All things considered, I'm very happy with how 2019 played out.


My 2020 Business Plan
I already have three speaking gigs booked for 2020, and I even turned down one as well. I adore public speaking (and would venture to say I'm very good at it), so in order to develop it further, I want to broaden my audiences beyond travel media conferences and Rotary clubs. And to do that, I need to broaden and develop key messages that will resonate for larger and different groups of people while tapping into my fantastical repertoire of experiences. (And then I need to land the gigs). I may start working with a coach to guide me through this process, as I've no interest in reinventing the wheel.
Hand-in-hand with a public speaking career is of course, a book. Oh, that dastardly memoir, that I received a stroke of inspiration to write almost four years ago now, but not enough clarity (or time or energy) to bring into fruition. I think the problem with my initial memoir idea and outline attempts was that I was trying to fit all of my travel experiences into one book, and I couldn't find the thread to tie it all together to create a cohesive reader experience. After brainstorming with a (best-selling author) friend, I realized perhaps I have more than one book in me. I'm not good with lofty large long-term projects like "write a book" (I'd much prefer to write a 1,000 word article and receive a month's rent for it right away). But now that my site is making more income and I don't have any monthly freelance columns to contend with, I can redirect that time and energy into developing my book ideas.
Travel-wise, I have a number of trips already planned for 2020 (including a month in Florida and two months in Greece over winter, and a few short-term speaking-related trips), and I want to spend a good chunk of the summer in my home base in Toronto. I'm also open to doing more sponsored trips and tackling bucket-list items. The expedition cruise I did around Newfoundland last year was a peak experience for me, and I'm extremely proud of the resulting article.
Lastly, I will continue working on my blog; the never-ending tasks of updating old content, producing new content, working on back-end infrastructure and systems, answering obscene numbers of daily emails, marketing, and overseeing the tasks I've outsourced. This is a full-time job unto itself.
These are some pretty damn lofty goals. My 2019 business-related word was "SHIFT", and I think I shifted well from owning a job to owning a business by developing more infrastructure therein. Given my goals above, 2020 is about EXPANSION.
Blogging is not a business where you can rest on your laurels. I tried that (for three years when I was working with shamans I largely ignored my online business), and three years later, I'm still recovering. Blogging requires adaptability to constantly-changing circumstances that affect the bottom line. Google regularly changes search algorithms in ways that wreak havoc with traffic (and thus, income), and rumour has it that upcoming changes could be seriously detrimental to the travel sector. Some of my colleagues got absolutely battered by this in 2019, losing up to half their traffic. I was lucky to avoid the brunt of it (for inexplicable reasons), but it's nothing for my traffic to swing 20-30% (usually down) with each update. And that's just one of many volatile aspects to this business.
To be honest, it's difficult to sleep at night with this feeling of precariousness. So while my blog is now at a point where it is making good money, I'm concerned about the majority of my income being tied to this one (volatile) source.
This is why expansion is my word for 2020. I would like to develop more products and services of my own to diversify my income streams and activities, in addition to freelance writing.
All the while, life balance, time off, and rest continue to be of paramount importance. Balance is, as always, where true success lies. This, ultimately, is my goal.
Let's see what happens.
Previous Income Reports