Rachel and Greg Denning and their seven children (!) have been living on the road since 2007. And they're all busy bees; Greg is an online teacher for homeschooled youth and parents, and is a life coach and speaker. Rachel homeschools their kids and is the marketing and content manager for their websites: WorldschoolAcademy.com, GregDenning.com, and ExtraordinaryFamilyLife.com.
Phew! That's a lot of juggling, and yet, they make it look effortless.
(You can also read about a week-in-the-life of the Denning Family driving from Alaska to Argentina back in 2011).
I originally published this Financial Case Study when they (only!) had six children, back in 2015. Given the time elapsed, I invited them to provide an update to their situation, which you'll see below each answer. Please enjoy this case study of the evolution of a family – and family business – while traveling.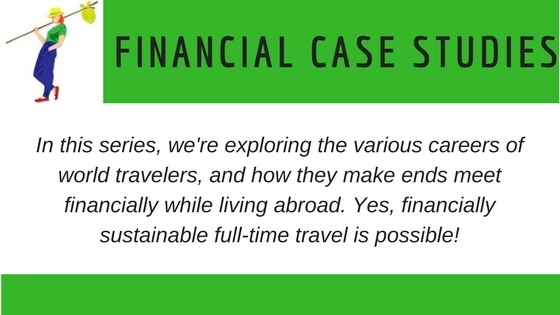 This post was originally published in 2020. It has since been updated for accuracy of links and content.


Where have you lived and traveled to?
2015: We've driven from Utah to Mexico, Guatemala, Honduras, Nicaragua, Costa Rica and Panama; lived in Costa Rica (twice); lived in the Dominican Republic; lived in India; lived in Alaska; drove from Alaska through Yukon, British Columbia, US, Mexico, Belize, Guatemala, El Salvador, Nicaragua, and Costa Rica; lived in Guatemala; visited Peru (hubby lived there two years before we were married). We're currently living in Germany; on a road trip to France, Luxembourg, and Belgium.
2020: It has been 13 years now! After living in Europe for two years, our family returned to the U.S. for the first time in 2017, and have spent the last couple of years exploring our home country (with a few trips outside too — Peru, Nepal, Iceland, Mongolia, Mexico, and more).
We are currently in Texas, with plans to head to Georgia (the state) to set up a home base. Yay! But our trips for the coming year include Tahoe, Thailand, U.S. History, Guatemala, China, Mongolia, and Kilimajaro.
Greg has now been to 44 countries and I have been to 35. Our 14-year-old son has passed me up and traveled to his 36th country this summer. Our 7th child, born in Germany, is now 2-years-old and has been to 17 countries. She rode a camel in the Sahara with me when she was just six-weeks old!


Please describe what you do for income.
2015: Greg is an educational mentor for homeschooled students and a teacher at an online high school. I do web design and social media work part time, as well as blog and write.
2020: We provide online classes and courses for homeschooled and worldschooled youth and parents. Greg is also a life coach.


How many hours per week do you work on average?
2015: Greg — 20-40 hours
Me — 10 ish
2020: About the same…unless you count all the hours that I work homeschooling, preparing meals, being a mom… then I'm easily 50-60 hours a week. 🙂


How much money do you make?
2015: Our income has definitely varied over the years…we had some TOUGH years trying to figure things out. Now Greg makes about $5,500/month from his work. I make around $40/hour with mine.
We also have additional/occasional income from affiliate sales (doing a launch with my friend Danielle from onlinebizskills.com) or sales of products we've created (such as our course on How to Fund Travel), or our YouTube channel, but these aren't major income sources…yet.
2020: We are earning five figures per month.
Do you make enough money to support your lifestyle?
2015: Yes
2020: Yes!


What is your vision for the future of your lifestyle on the road?
2015: To earn more income passively…continue to create a series of sales funnels that sell products that we've created. Currently working on a 'worldschooling' course.
2020: We are setting up a home base — temporarily in the U.S. (Georgia), eventually in France? Our main travel focus will be on trips and adventures for families and teens — since this is the phase of life we're in. Our teens need more challenging experiences and more friends. We want to focus on building a community around shared passions. So we design adventure and international trips that meet these needs.
We're also working on developing a revolutionary approach to online learning through WorldschoolAcademy.com.
We're loving it!


Any advice for the aspiring traveler about living and working on the road and managing finances?
2020: Read and apply The Slight Edge.
Enjoy the travel, but make time each day to focus on your business and finances. (See also: How to Make Money While Traveling)
Save 10% of everything you earn, don't spend it ALL on experiences. (See also: How to Create a Long-Term Travel Budget)
Invest in assets that produce income. (See also: Financial Planning for Full-Time Travelers)