Where to Eat in Antigua. Antigua, Guatemala, that is.
When a sailor friend (on whose boat I lived for a while in the Caribbean) sent me a message asking where my traveling hat was currently parked, I wrote back "Guatemala! I'm currently in Antigua. It's gorgeous."
"I don't get it," he replied. "Where are you – Antigua, or Guatemala? You just said you were in both."
Written like a true sailor, his version of Antigua is a Caribbean island. But if you go to Guatemala and head inland a few hours, you'll find Antigua, Guatemala – an exceedingly charming town that I had the pleasure of visiting for almost a month.
Many things struck me about Antigua, but the food was the most surprising. Here's what I discovered, including where to eat in Antigua Guatemala.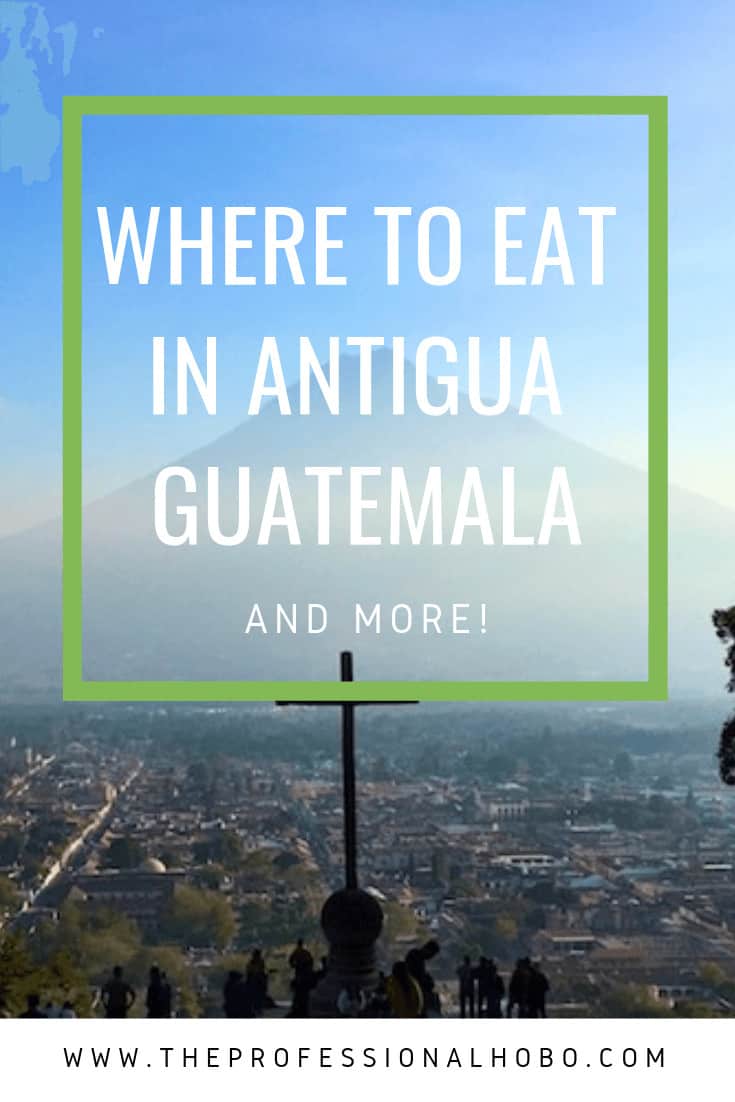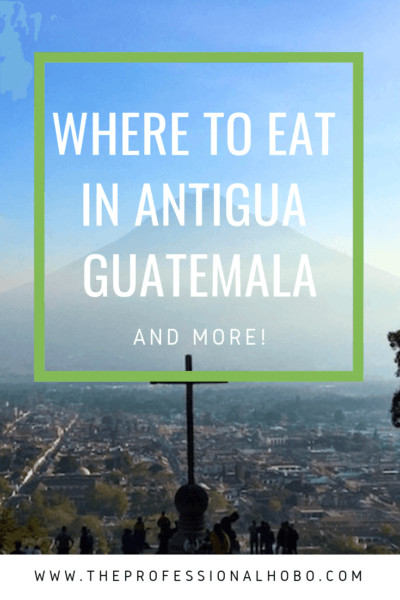 This post was originally published in 2019. It has since been updated for accuracy of links and content.


Go Hungry.
Antigua Guatemala is an incredibly touristy town that feels more local than the preceding words might indicate.
Perhaps this is because many of the tourists in Antigua are actually Guatemalan, many visiting for the day or the weekend from nearby Guatemala city. Or perhaps it's because, despite the fact that most of the locals who work in Antigua can't afford to live there, they live in nearby Jocotenango which is an easy bus/bicycle ride away, and thus they spend their downtime chilling out in Antigua's Parque Central and other visible spots.
What this means, however (for better or worse), is that Antigua is largely comprised of hotels and restaurants.
What surprised me, was the sheer variety of restaurants available; it was almost easier to find international foods than Guatemalan cuisine! I ate the most amazing homemade Italian pasta and gnocchi I've ever had, in Antigua Guatemala (and not in Italy, as you might suspect). I also had terrific Chinese food, baked goods, and even Indonesian cuisine.
It was a stretch for me to eat such international flavours in Guatemala (I always try to eat local cuisine), but on the whole I enjoyed a great cross-section of restaurants and coffee shops that include Guatemalan fare, as you'll see below.

Bring Money.
I was thankfully advised of the general cost of Guatemala (and Antigua in particular) by a budget-travel friend of mine who had just visited and was blown away when she calculated how much she and her hubby had spent on food ($700 US for a month of travel around Guatemala). She also said that she had trouble finding (well-priced) accommodation with user-friendly kitchens, which forced them to eat out more than they'd anticipated.
While you can certainly find cheap places to eat and stay in Antigua, you'll likely have to stay outside of town (which poses risks when walking at night), and/or sift through the plethora of higher-priced restaurants to find the cheapies. Look. You can do anything super cheap or super expensive. I went to Antigua with a mid-range budget, and I'm glad I did. The place was gastronomically delightful. Give yourself that gift when you visit Antigua.
And remember: everything is relative. Guatemala is the third country I've visited in Central America (the other two being Costa Rica and Panama). Of the three, Guatemala was the cheapest. Could I find a cheaper cost of living in neighbouring El Salvador? Yeah, probably. How about Belize, on the other side? Mmm….maybe not. But like all things about travel, it's contextual.
Confused yet? Read this post and create your own long-term travel budget.


Best Restaurants in Antigua Guatemala
While the hotel I stayed at in Antigua (more on this delightful place later) had a shared kitchen, between the sheer variety of places to eat and not feeling particularly inspired by the kitchen, I chose to eat out for most of my time in Antigua. I would enjoy a late-morning brunch at a cafe where I could connect to the Wifi and work for a few hours, and then I'd enjoy dinner at any number of restaurants.
While I almost never write articles that summarize places to go/eat/do stuff, I was inspired to write this expose on Antigua Guatemala restaurants, because I would never have found most of these places on my own.
Instead, I was tipped off by a few different people, including a Guatemalan friend-of-a-friend, my (Antiguan) Spanish teacher, and an expat I met up with who has lived in Antigua for many years. I sampled the dozen or so insider recommendations this trio gave me, and also discovered a few places on my own. From there, I distilled this list down to the places I visited more than once. Here they are:
Remember: when you're in a country (such as Guatemala) where the water isn't drinkable, you must scrutinize the food you're eating. Salads are generally out, unless you like to play with fire. Generally speaking, the adage goes "if you can't peel it or boil it, don't eat it." See also: How to Stay Healthy on the Road.


Where to Eat in Antigua Guatemala – Best Places for Breakfast and Coffee
These places all had decent coffee (you do know that Guatemala is world-renowned for their coffee, right?), free WiFi, reasonably priced breakfasts, and didn't mind when my boyfriend and I camped out for a few hours with our laptops. See also: How to Earn a Location Independent Living

Canela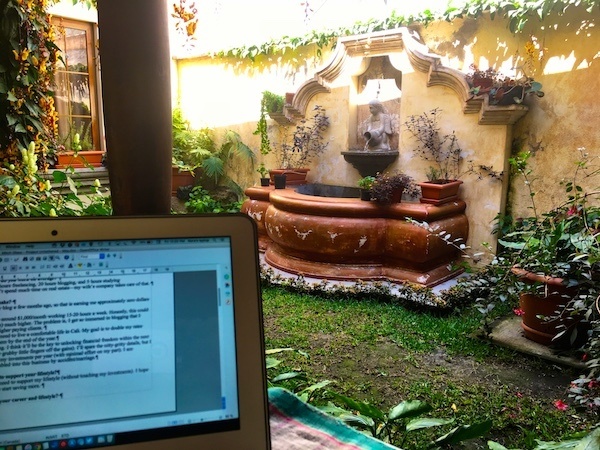 There's no way I'd have found Canela on my own, but man – it's good. Canela is first and foremost a bakery, specializing in sourdough breads, focaccia, cookies, and daily/weekly specials that range from bagels and quiche to their homemade version of pop tarts.
They have a limited breakfast and lunch menu that involves said baked goods. Go for the breakfast sandwich (and pay the extra 10Q to have it on focaccia), or the bagel with smoked salmon, cream cheese, capers, and pickled red onions. Their coffee is good, but not outstanding; this is the only place listed here that doesn't serve espresso-based drinks (and I love my cappuccino).
The seating area is lovely, especially in the garden. And do not leave before sampling their cookies – I had an untold number of their Whiskey & Rye & Dark Chocolate cookies of gloriousness.

La Casaca
I never would have thought that a coffee/breakfast/smoothie place located right on Parque Central would be a good deal. But I'm thrilled that I tried it out on a friend's recommendation; La Casaca and Canela were the two places I frequented most for breakfast in Antigua.
The Super Chapin breakfast is a well-rounded typical Guatemalan brekkie with eggs, fresh cheese, queso crema, plantains, a tomato/onion stew, beans, and tortilla/bread, all for 35Q ($4.50USD). Their large cappuccino is tasty and well-priced (19Q – $2.50USD). You can also enjoy smoothies and crepes – all delicious and served up with a smile.
The upstairs seating made La Casaca a great place to hang out and work, as it's out of the way, quiet, and nobody bugged us.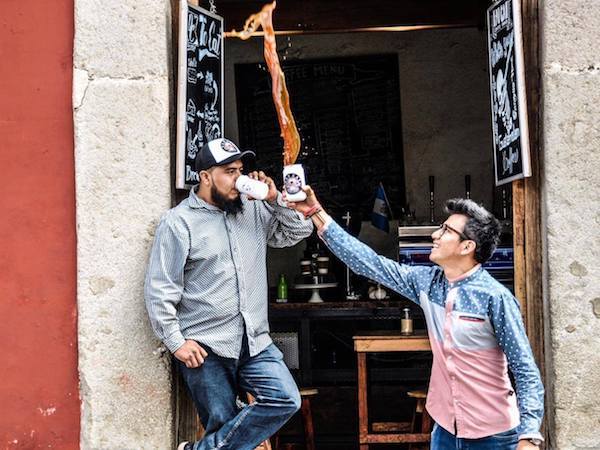 As a coffee roaster and home to barista classes, Fat Cat knows how to make an excellent cup of coffee, any way you like it, from espresso to cold-brew and beyond. It is a bit more expensive however (a large cappuccino costs 23Q ($3USD).
Their breakfasts are simple and well-priced, although I didn't end up trying them. I just went to drink coffee and work on my laptop with the very good WiFi.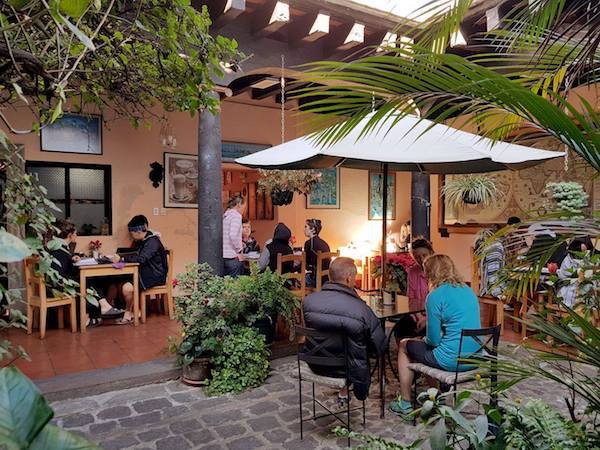 Although Fernando's Kaffee is a wee walk from the centre of Antigua, this coffee roaster and chocolate maker is worth it. The "typical breakfast" is delicious and a steal at 20Q ($2.50USD). The cappuccino is also absolutely delicious and very well-priced at less than $2USD.
The garden seating area is beautiful, laptop friendly, and you can watch some local Guatemalan women weaving their handicrafts for sale.


Where to go for Guatemalan Cuisine
Guatemalan food is quite delicious. Below are two places, one cheap, and one more expensive. Both are frequented by Guatemalans as well as tourists.
Rincon Tipico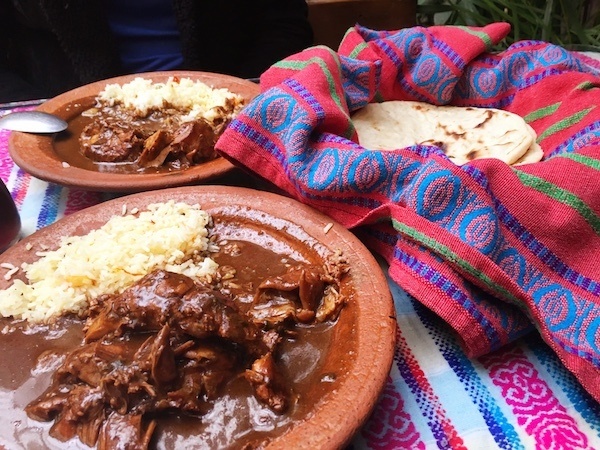 "Rincon Tipico" directly translates to "typical corner", but also implies "typical food" or "typical kitchen". Their somewhat limited menu is authentic and delicious, and at about 30Q ($4USD) for most meals, and you won't leave hungry. They are most known for their chicken, which you can watch being cooked over open flame in a giant purpose-built rotisserie oven.

There are actually a few Antigua Guatemala restaurants called La Fonda de la Calle Real, and they're all the same – just in slightly different locations. Recommended by a few locals (who go there themselves on special occasions), this is the place to have some pricey but authentic Guatemalan fare (pricey being about 80Q ($10USD) for a main dish).
Pepian is a chicken stew that is considered to be the most popular dish in Guatemala, so that's always a winner. Also, the "fondue" to start is excellent, but erase the Swiss version from your mind when you order it; this Guatemalan dish is basically a bunch of (undiluted) melted cheese served with bread sticks.


The Rest of the Best of Antigua Guatemala Restaurants
While most of these restaurants are owned – or at least operated – by local Guatemalans, the cuisine isn't typical of Guatemala. That doesn't mean you should give them a miss however – these Antigua restaurants are 100% worth visiting, and compare to their international counterparts. Seriously!
El Italiano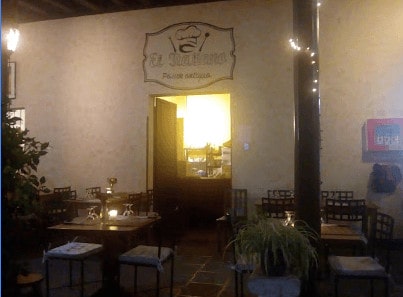 El Italiano is my favourite restaurant in Antigua, and gives some of the best Italian restaurants I've been to around the world a serious run for their money. Their homemade pasta and gnocchi, excellent sauces, prices (35Q – $4.50USD), ambiance, and service sealed its fate in my books.
You might have a hard time finding El Italiano, which is located in a courtyard off the street. If it doesn't come up in a Google Maps search, look for La Taverna, which is a well-known pub/bar in the same courtyard.
(2019 UPDATE: El Italiano is closed. I'm keeping this information in this post in the hopes that they will reopen somewhere in Antigua; their food was too good not to).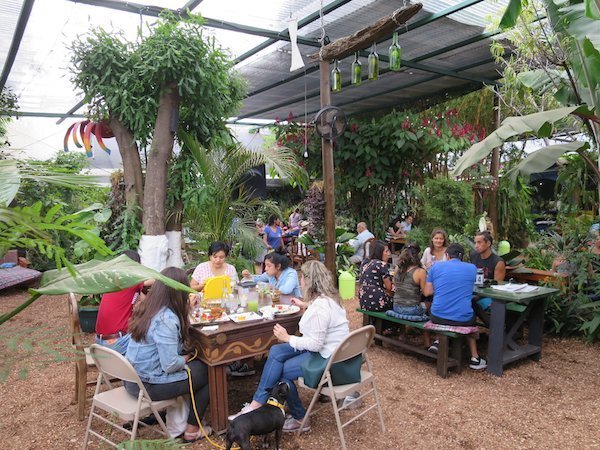 Caoba Farms is located on the outskirts of Antigua (so don't walk there/back at night). But the location is a big part of the charm of this (literal) farm to table restaurant. You can sit on the edge of this working farm while eating the fresh produce and delicious meals. Everything is good (I went for dinner and brunch), and for organic farm-to-table produce, the prices are decent (at $10-15USD for a meal).
The ambiance is delightful and nature-filled. Caoba Farms is also more than a restaurant, with scheduled activities, Sunday yoga, a butterfly conservatory, organic store, farmer's market on weekends, and more.

Toku Baru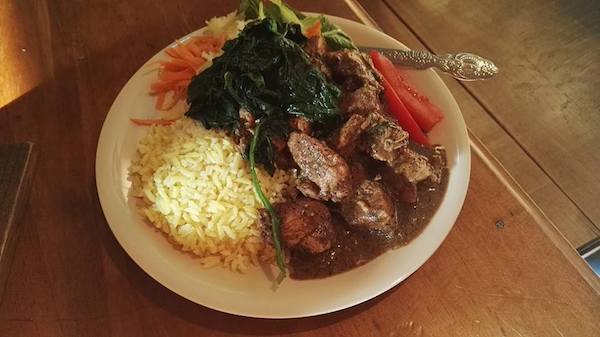 Toku Baru is a bizarre place that works in spite of itself. Founded by a Dutch guy whose mother is Indonesian and a Swiss guy (whose mother is….Swiss?), this place serves (mostly) Indonesian, Indian, and Middle-Eastern cuisine. The trio of sauces that come to the table shortly after you order (no matter what you order) are incredible – order some warm pita bread to enjoy the addictive garlic sauce while you await your meal. The prices are decent (about 45Q or $6USD), and the portions are huge.

Kombu Ramen Shop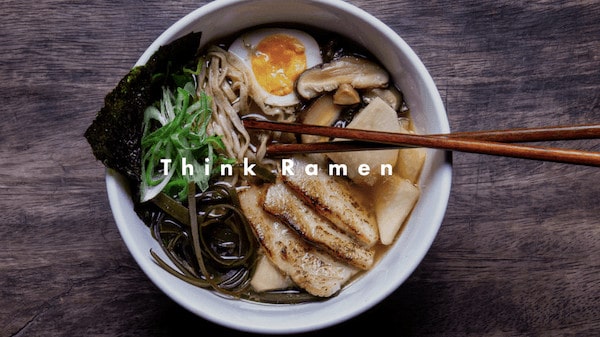 Kombu Ramen Shop blew me away completely, and unexpectedly. It is founded by a Guatemalan couple who traveled through Asia extensively before returning to Guatemala and realizing you can't get a decent bowl of ramen anywhere (not surprisingly). So, they went to Japan and studied all things Ramen for four months, before returning to Antigua to open their restaurant.
Their homemade ramen noodles are made using local non-GMO wheat, and the broth is out of this world. The menu is quite limited (only go if you like ramen), and not cheap at about 70Q ($9USD) a bowl. But as far as ramen goes, it rivals (and perhaps even exceeds) anything I ate in Japan.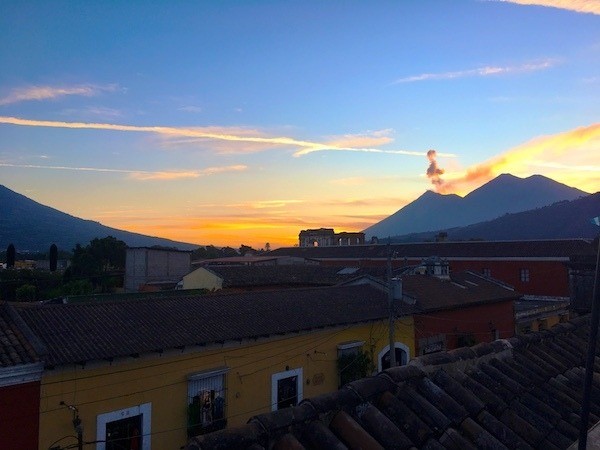 Antigua has a few local artesenal microbreweries, though Antigua Brewing Company is the only one I sampled. In addition to their delightful selection of locally-brewed cervezas, they have a decent food menu (though not particularly cheap at $8-10USD a plate).
What makes these guys worth a visit is their rooftop patio, which gives you some killer views at sunset.


Where to Stay in Antigua
Is Antigua safe? How about Guatemala on the whole? That's a topic that I'm going to save for another post, as it's a complicated question, with an even more complicated answer. The most-repeated advice I received was not to walk alone at night, especially on less-populated streets.
What this means when searching for a place to stay in Antigua, is the more central your hotel is, the more you'll enjoy Antigua. What this also means is that you should be prepared to spend a bit of cash.
I adored Posada San Sebastian, which was rustic, small, and very friendly. It was also a museum of sorts, as the owner (Luis) is a collector and restorer of Guatemalan artifacts.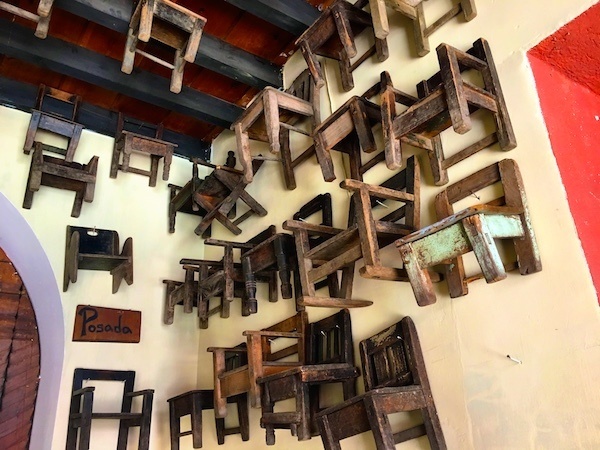 Take the entrance way, for example, unmistakable with its collection of dozens upon dozens of tiny wooden chairs. The story goes, that in Guatemala's war-times (not so long ago), local schools couldn't afford desks and chairs for the children. So, the kids would bring their own little chairs to school each day. Posada San Sebastian is a monument to many curious tales such as these.
One of my favourite things to do every morning was to head up to the rooftop terrace to do my daily yoga/exercise, with a 360 degree panorama of charming rooftops, including Antigua's volcano Fuego, which is Central America's most active volcano and inspired in me equal parts curiosity and terror.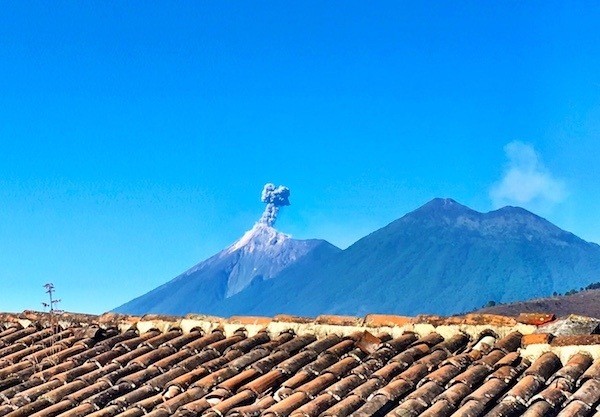 If Posada San Sebastian doesn't have space (they're a small boutique hotel so they book up quickly), you'll find plenty of centrally-located places to stay in Antigua Guatemala. You can start your search here.
Note: If you use the links here to make a reservation through Booking.com – which I use and recommend myself – I will receive a small commission, which doesn't affect your price. Thank you in advance for supporting The Professional Hobo in this way!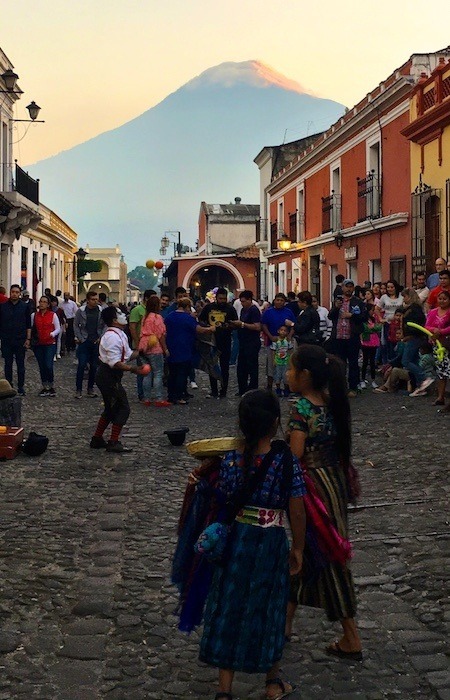 Things to Do in Antigua Guatemala
This not meant to be a comprehensive listing of everything to see and do in Antigua; here are a few ideas, as suggested by insiders and/or experienced by fellow travelers.

Buy Second-Hand Weavings and Cheap Handicrafts at Nim Pot'
Nim Pot' is a well-known handicraft market in central Antigua, and totally worth a visit to get well-priced authentic artisan products.
What not everybody knows about Nim Pot' is that you can get gently used locally-woven fabrics (these are the real deal!) at incredible prices. The tables with piles of pre-priced fabrics should be on your left as you walk in. They are used, so hold the fabric up to the light and look for structural integrity. I bought material to cover my dining room chairs, make cushion covers, with enough left over to make a tote and even some scarves – all for under $20USD. I love that the material is used as well – it has a story.
Even more so, I love that Nim Pot' does not negotiate. Everything is pre-priced, and reasonably-priced at that.

Hike Cerro de la Cruz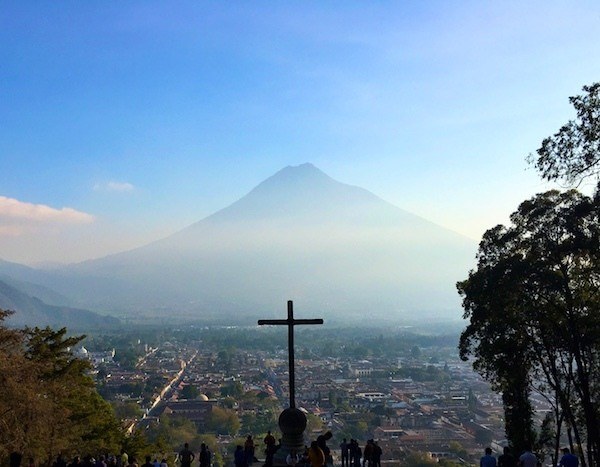 It's an easy hike (under 30 mins from the centre of town) and a must-do if you're in Antigua; you'll get some lovely views. The best times to go are generally in the early morning (before the view gets too hazy), or close to sunset – just be aware that the road closes at 6pm.

Do an
Overnight Volcano Acatenango Hiking Adventure
I didn't do this, and I probably should have, as anybody I know who has done it attests to this excursion's magnificence. Volcano Acatenango is the 3rd highest volcano in Central America, and is conveniently located next to Fuego – Central America's most active volcano. By camping near the top of Acatenango, you'll get epic views of Fuego at both sunset and sunrise. Be warned however: the hike is very demanding and it's cold at the summit. You must do this with a guide.


Pacaya Volcano Trek
This is a much easier excursion, which can be done in half a day or so. You'll get some great views of Antigua's volcanoes, and you may even get to see some flowing red lava. Roast marshmallows on steaming lava! It is recommended that you do this excursion with a group, and prices are cheap – as low as $30, all-in.
Note: If you click these widgets to Viator.com and book an excursion, I will receive a small commission, which doesn't affect your price, and helps me to keep this website up and going. Thanks for your support!


Have you been to Antigua? Where is your favourite place to eat there? Feel free to share in the comments!