Hannah and Chad Janis quit their finance jobs in NYC after earning more than two million credit card points in the course of one year. They booked round-the-world business class tickets for nearly free and they help others book free flights by sharing their travel hacks and secrets via their website (Wall Street Minimalist, since debunked) and YouTube channel.
Their story has been featured on dozens of news sites and live TV worldwide, including Good Morning America, Yahoo Finance, and Business Insider. Their largely passive income strategy is a stroke of brilliance in teaching the world about what they're doing, and they've made amazing progress. Learn more about their online business and personas as Wall Street Minimalist below!
See also: A Beginner's Guide to Frequent Flyer Miles and How to Start Travel Hacking Like a Pro

This post was originally published in 2019, and has since been updated for accuracy of links and content.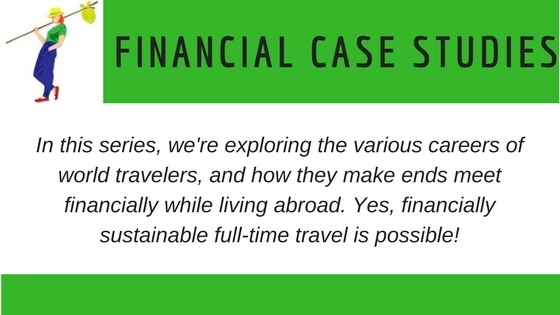 How long have you been living/working on the road, and where have you traveled to?
We have been on the road since August 2018, but we have tickets booked to take us out to at least July 2019. Over the course of this first year on the road, we have our tickets booked to visit over 40 countries across 6/7 continents. Sorry, Antarctica…not yet.


Please describe what you do for income.
We make our money via two revenue streams right now: a premium web-based application we built and affiliate links we've placed on a single webpage. These two sources of income produce much more than we originally anticipated, but we're excited to launch multiple additional products in the near future.


How many hours per week do you work on average?
That's a difficult question, as most of our "work" consists of the adventures and travels we have abroad. Our website and web-based application have been set up to run passively, so there's hardly any work to do there to generate the income we receive. We do send out emails occasionally to share our knowledge and updates about the travel hacking game, although it doesn't take much time to draft these emails.
Most of our work consists of the YouTube videos and Instagram posts we create of our travels and adventures. I would estimate that we work 30 hours per week across all of our work projects. However, in my opinion, I'd say it's closer to 5-10 hours each week, because I love making videos and would be documenting our travels anyway. We view Instagram and YouTube as convenient platforms to share our message and increase our audience, so that's where the majority of our time is spent.


How much money do you make?
Before leaving on our adventure around the world, our business was a bit slower because it was hard for our followers to find "social proof" in the service offer. But our journey for free around the world and the features we've had from major news publications have served as a catalyst for others wanting to use our online application and book free flights for themselves.
Our revenue grew 3x in our first month abroad alone. We make around $2,500-$3,500 monthly through our premium online app and course, and we make another $1,000 – $2,000 through affiliate links placed on a single webpage. We never really update that webpage either, so this money is truly passive. It's basically a page we set up to document our journey of earning two million points, how it affected our credit scores, and how we've redeemed the points we earned during that year.


Do you make enough money to support your lifestyle?
Yes! This is the craziest part of all to us. We were hopeful that we'd be able to make enough to at least have the option of traveling full-time, but the traction we received has been amazing! As far as social media goes, we're still small, but the behind-the-scenes figures of our website and email subscribers is really what has attributed to our growth and success.
We're probably at a breakeven income right now, but as we continue to grow, we're excited to use the finance knowledge we have from our careers in NYC to help us invest our excess income wisely.


What do you like most about your career and lifestyle?
We love the freedom! Before quitting our jobs, we were working 80-100 hours each week. We knew this wasn't sustainable, and our jobs helped us realize that there is more to life that we were never going to get to enjoy if we were couped up in our cubicles.
We love the ability that we now have to choose what to do with our time, where to travel next, and which direction to take our business!


What are some of the challenges you have with this career and lifestyle?
The biggest challenges that we've experienced are
(1) finding a balance while working with each other as husband and spouse, and
(2) not getting burnt out.
We've done our best to draw a hard line between what I work on and what Hannah is responsible for. I do all of our YouTube content, manage our business and income, and book our free flights around the world (since this is more of my longterm forte). Hannah is incredible at planning our adventures in each country and managing Instagram. It takes a lot of time to plan video-worthy activities every day, and she's great at it. We may ask for each other's input occasionally, but we try to give each other full autonomy over our respective jobs.
When we were in Japan, we were so excited about the culture and experiences that we didn't really give ourselves the time to slow down and recoup. We've realized that traveling full-time isn't a vacation, and you need time to work and relax.

(Nora's Note: Amen to this! Work-life balance is consistently a challenge when living a life that looks like a vacation from the outside. Also, living/working/traveling with a spouse 24-7 requires some serious coping mechanisms! Here are my theories why travel tests relationships to their limits).


What is your vision for the future of your lifestyle on the road?
Our circumstance is a little unique in that I have a job offer with a private equity investing company with a start date in July 2019. I'm really excited about this opportunity and the plan remains to join the firm then.
We would love to travel full-time and make this our lifestyle, but we recognize that at some point Hannah and I would like to settle down and start a family. We're not sure exactly when this will be, but we're trying to live up every moment abroad until then!


Any advice for the aspiring traveler about living and working on the road and managing finances?
The greatest advice that we would give is to be unique. Most people considering living and working on the road think in terms of Instagram or YouTube. We find ourselves questioning how many followers and how many likes it would take to get partnerships and sponsored posts that would pay enough to sustain this lifestyle.
What we've found, however, is that real success on the road comes from leveraging the right business idea. For us, that has been our website Wall Street Minimalist. It's important to first be creative as to what talents and knowledge you have that you can share with the world. Execute on your idea by creating a business or product that your followers or people would love. And then use this business as a way to fund your travels!
(See also: How to Make Money While Traveling)