What was supposed to be a three-month trip to Guatemala, was cut short to six weeks. The reasons why I left early have little to do with the country itself, rather, it was me doing a poor job of planning this trip and making several mistakes that somebody of my tenure in this biz could have avoided.
But, that's how the cookie crumbled, and now that I've picked up the pieces, I'm here to share with you seven travel mistakes I made in Guatemala. May these help you to avoid traveling as I did in Guatemala – or wherever – and plan it better than me!
This post was originally published in 2019. It has since been updated for the accuracy of links and content.
Note: If you are traveling to Guatemala and came to this post to learn how to travel in Guatemala, this is probably not the article for you. You'll get some pointers contextually, but this article is less about Guatemala and more about a bunch of mistakes I made, for better or worse.

7 Travel Mistakes I did in Guatemala
Not Researching Enough
Funny thing: I got by well in my first decade or so of full-time travel without particularly researching the place I was about to visit. Instead, I followed my nose when an opportunity presented itself, (usually in the form of creative/free accommodation) – perhaps house-sitting, volunteering, filming a tv show (no, really! That happened – a few times), or just visiting friends. From there, the rest of the trip would somewhat organically unfold.
But more recently, I've strayed away from free accommodation gigs, as I've wanted a bit more freedom; the kind of freedom that tending to somebody else's home and pets can't offer.
In some ways, it has introduced a whole new set of travel difficulties; difficulties that most "normal" travelers are probably accustomed to facing and know how to circumvent – such as the very ordinary difficulties of booking accommodation. This exercise in having my travel stripes stripped off has been humbling, to say the least. Here are a few of the ways that not researching enough got me into trouble in Guatemala.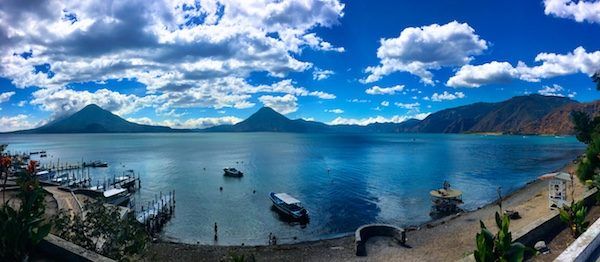 Booking Accommodation in the Wrong Place on Lake Atitlan
After almost a month in Antigua, Guatemala where my boyfriend and I ate ourselves silly and enjoyed the ambiance of this UNESCO-rated walkable town, we headed to Lake Atitlan where we had reserved an AirBnB in a residential area of Panajachel.
While our Guatemala travel itinerary was already on the rocks (for reasons that will become clear later), arriving at Panajachel was the end of the line.
Lake Atitlan is rumored to be one of the most gorgeous lakes in the world; on par with Italy's Lake Como. Lake Atitlan (which is an ancient caldera of a volcano) is dotted with small towns rich in Mayan history and traditions, many of which are only accessible by boat, and which feature unique indigenous languages/dialects and cultures.
Unfortunately, researching a destination from afar isn't easy, and it was difficult to determine which town on Lake Atitlan was best to commit to as a base for two months. (Committing to a base for two months from afar was also a travel mistake, but we'll get to that later).
Our research revealed that Panajachel was the most popular town on Lake Atitlan for tourists. It is the best town in terms of accessibility (which felt important for ease of getting in and out), as well as having facilities like well-stocked grocery stores and other accoutrements of a comfortable life. Panajachel is also the largest town but appeared to be pretty small on a map, still allowing me to conjure up visions of a quaint picturesque lakeside town.
So we booked an AirBnB in a residential area of Panajachel, resting assured that we would be staying in a very quiet area that would be comfortable for a little personal retreat of sorts.
Problem is, no sooner than the place was booked, did a gaggle of people come out of the woodwork (many of whom were Guatemalan) with disapproving scowls on their faces.
None of them liked Panajachel as a destination (for various reasons), but given that I'd already made the arrangements, they shrugged and said it would be a good place as a base for exploring other towns on the lake. It wasn't the best of Guatemala, but it would do, they supposed.
They were right. Panajachel did nothing for me. I was staying on the opposite side of a river that runs just beside Panajachel's center, and there were clouds of smoke from people burning their garbage on the river's banks; the river itself is a giant excavation site for sand.
By mid-afternoon, the smoke was so thick I couldn't even see the gigantic volcanoes on the other sides of the lake. None of this was particularly attractive….or aromatic (or healthy).
I later learned that Panajachel is the center of commerce and a destination for weekenders from Guatemala city who want to drink and party. It's a jumping-off point for every other town on Lake Atitlan. But for the most part, it's not the place to stay.
WHAT I LEARNED: Feel free to book a place in Panajachel, but more as a place to stay on your way into or out of other towns around Lake Atitlan. Towns to consider (and research!) include San Pedro, San Marcos, Santiago Atitlan, and San Juan.


Not Checking the News
I seldom check travel alerts, because generally speaking if you take them too seriously you'll never leave the house. However, after buying my travel insurance for the trip, I received a list of travel alerts from World Nomads (my travel insurance provider at the time). Volcan de Fuego had been acting up recently; not only that, but the latest eruption was act two – it erupted violently earlier in the year, killing 200 people. Not only that, but Volcan de Fuego is one of the most active volcanoes in Central America, and is near to Antigua, where we were staying for almost a month.
I evacuated Bali for less volcanic activity than this.
So in the weeks leading up to our departure, I seriously considered pulling the plug on the trip. I asked a few questions via email to some people living in Antigua, and they blew off my concerns, ultimately convincing me to disregard the beginnings of a wee inner voice urging me to cancel the trip.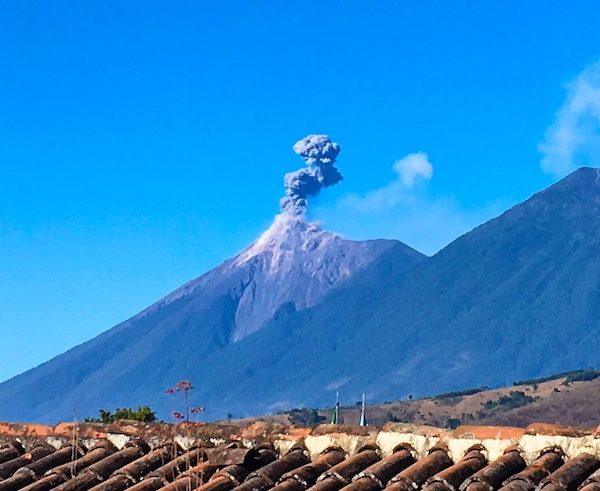 Volcanoes aside, when my Dad (and others) said they'd seen Guatemala in the news and that it wasn't good, I also blew that off, dismissing the headlines as being about dramas near the border to Mexico that I would have been unaffected by.
But when my Guatemalan friend in Toronto emailed me the night before I was to leave, saying there were political troubles and that rumors indicated there would be a coup and state of emergency, I wavered.
By the following morning, she replied to my rapid-fire questions by saying it seemed the rumors were just rumors, and that I would be fine even if there was trouble – which would be isolated to Guatemala city.
While I did persevere in taking the trip, my inner voice was developing some actual ammunition for not being in Guatemala.
WHAT I LEARNED: I still don't read travel alerts. But in the future, if I'm visiting a country I'm not already very familiar with, I'll do a quick search for that country/destination in the news, just in case there's something I need to know that would affect my decision to go.


Random Rookie Travel Mistakes
While the mistakes above fall into the overall category of not researching enough, I don't necessarily categorize them as rookie mistakes – especially since my little head-in-the-sand and free-accommodation approaches served me well for so many years.
But the travel mistakes below? Yeah, I have no excuse.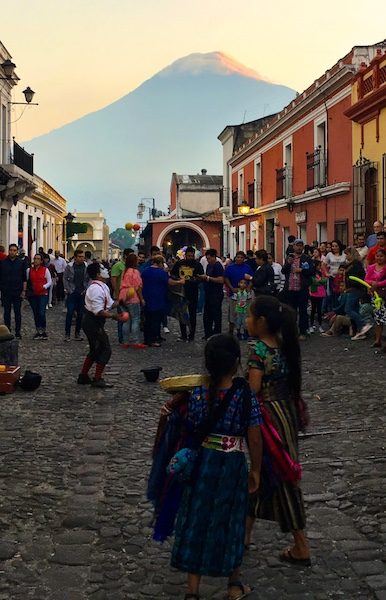 Booking Too Much, Too Far in Advance
When I lived in the Sacred Valley of Peru, I watched travelers of all ilks come through the area. Some were on short fixed-duration vacations requiring efficient use of time; thus, their trips were pretty intricately planned. No problemo.
Other travelers were on much longer trips; it was common to meet people who had dedicated up to a year for a big trip around Central/South America. These people would arrive at the Sacred Valley of Peru and fall in love with the place (as I did). But because some were on a tight schedule, they couldn't stay, much as they were desperate to. I could tell how far into their trip they were by the physical evidence of travel fatigue; dark circles under their eyes and slumped shoulders from bearing their backpacks for too long without enough rest.
These people overbooked their trips to see everything everywhere, allowing no flexibility to rest and/or take more time in a particularly magical place.
While I didn't pack my trip to Guatemala with too much activity, I did create too many "commitments" too far in advance. With 90 days in mind, I booked the first month in Antigua, and the remaining two on Lake Atitlan in Panajachel. The division of time between Antigua and Panajachel was arbitrary; my thought being that Antigua would be the more active of destinations, and Panajachel would be a quiet lovely retreat type of experience.
As you've already read, Panajachel was the wrong choice of destination on Lake Atitlan; on top of that, the accommodation itself left a lot to be desired; it wasn't quiet, the bed was minuscule, there was no comfortable seating or workspace (ergonomics is very important for digital nomads), and the place smelled of mold.
Had other factors (to be divulged later on) not been in play, I might have been able to bear – enjoy, even – this accommodation in Panajachel. But as it turned out, it was the final straw pushing us to cancel the entire trip. Problem was, we were at the mercy of a hefty cancellation policy, and despite staying only two of the eight booked weeks, we had to pay for four weeks.
WHAT I LEARNED: I already knew what I learned; it was simply an unsavory reminder. Unless you're sure of a destination and/or specific accommodation, leave your schedule open. Book the first few days, even a week or two. But not two months, sight unseen.
The problem is, it's a very fine line, the other side of the equation entailing getting stuck paying a last-minute premium to stay somewhere you want to spend some time but didn't book in advance, or worse yet no accommodation being available at all. A friend of mine ran into exactly that problem in Oaxaca Mexico during high season; after her pre-booked week, she wanted to extend but couldn't. And when she searched for apartments, she had trouble finding something suitable/reasonably priced.
But experience has also taught me that most places available online (especially on sites like AirBnB) are categorically overpriced. With a little bit of work, you can find a place to stay on the spot that will cost less than anything you can find online in advance. I did it all over Asia and it worked a charm. (See also: How to Find an Apartment in Chiang Mai).
My real problem was not having the energy to risk getting stuck somewhere without a plan. But I'll get to that in a minute.

Setting Expectations / Trying to Recreate Old Experiences
Visiting a new town is like having a conversation. Places ask questions of you just as searchingly as you question them. And, as in any conversation, it helps to listen with an open mind, so you can be led somewhere unexpected. The more you leave assumptions at home, I've found, the better you can hear whatever it is that a destination is trying to say to you." – Pico Iyer
Expectations are always dangerous; they're a cosmic set-up for disappointment. Thus, I erred in setting expectations that Antigua would be like Cuenca Ecuador, and that Panajachel would be like Pisac (the town I lived near in Peru). While Antigua was far from disappointing, I think some of my disappointment with Panajachel was in realizing that it was nothing like Pisac.
WHAT I LEARNED: Again, this is a lesson I preach regularly but needed to be slapped with for good measure. Expectations are bad. And recreating old experiences is worse. It's bad enough if you try to recreate an experience by returning to the same destination; it's madness if you try to do it elsewhere.


Listening to too Many People About Guatemala Travel Safety
This one is a real can of worms. So before I get into questions like "is Guatemala safe", I will note that everything is relative. And safety depends largely on location.
I had a friend who wouldn't visit me in Peru because travel alerts told her there was trouble at the Peruvian border with Ecuador; it didn't matter that it was thousands of miles from where I lived – the whole country was a no-go zone for her.
I'm not a particularly skittish traveler. And I'm pretty careful about whose advice I heed. Before I left for Guatemala, some acquaintances in Florida warned me of the dangers of Guatemala. They'd never left their county, much less the country, so I wasn't concerned about their advice.
But the woman I met in Antigua who had made studying Guatemala her life's work and who had visited Guatemala consistently over the last 40 years? I figured she knew a thing or two.
The problem is, she loved to pepper every conversation with gruesome tales of violent crimes and murder – many of the victims thereof being unsuspecting tourists. After informing her of our plans to take a day trip to the coast from Antigua with some ex-pat friends, she relayed how many deaths happened along that very stretch of road, like she was talking about how many roadside fruit stands there are along the way.
For good measure, she threw in a few other tales of bus drivers being attacked weekly and a French tourist being killed for not giving up his wallet while being mugged.
I canceled the day trip.
I let this woman get under my skin. Now, perhaps I wouldn't have, if hers were the only tales of violence in Guatemala. The problem is, I'd already heard about violence in Guatemala, a lot.
I even met a man with a very mashed-up face. He had been attacked and robbed outside a bar in Antigua just a few days prior. As an ex-pat living in the area, he was extremely nonchalant about it.
He seemed to think he got what he deserved for being out in Antigua late at night. The group of ex-pats I was with at the time all nodded in agreement at this; it's the cost of being out after dark, especially on empty streets, in Guatemala.
While this man was my only first-hand account of violence in Guatemala, wherever I went I found myself no more than two degrees of separation from somebody who had been robbed, attacked, or even killed. It seemed to be a fact of life in Guatemala. People consistently told me Guatemala city is generally to be avoided at all costs, and the rest of the country is hit and miss.
Generally speaking, if you stick to tourist-friendly places, don't go out at night, and never go walking by yourself somewhere without many people, you'll be fine.
But the "edge" of this edgy place did nothing to help me relax.
WHAT I LEARNED: If you've made it this far into this article, you've probably figured out that my trip to Guatemala was a perfect storm. These tales of violence, threatening my sense of safety and security – regardless of how founded or unfounded my concerns were, threw me over the edge. I was uncomfortable in every single way.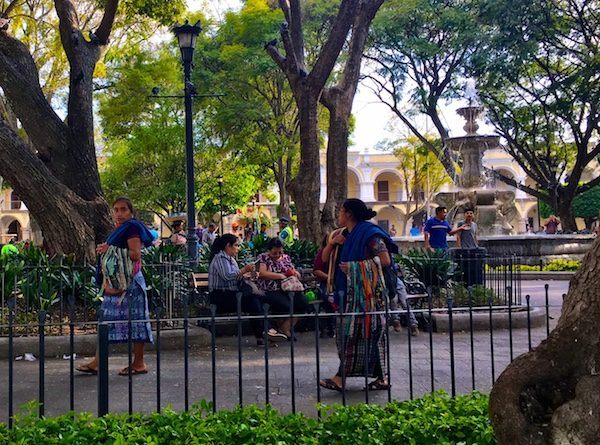 My REAL Mistake
All the above travel mistakes were definite factors, but superfluous ones to the real reason why Guatemala was a bust for me.
The bottom line is: I didn't want to travel. I was still too burned out from years prior of pushing too hard for too long with no home base to recover in. I had only just moved into my apartment in Toronto when, paint still proverbially drying, I left for five months. A variety of circumstances (including the encroaching winter) had dictated that it was time to hit the road again, so despite having reservations, I figured "why not".
But it wasn't right, and I paid the price for it. After a month of bouncing around California, my boyfriend and I retreated to my friend's place in Hollywood Florida for a month – my home away from home.
But even while in Florida, I vocally admitted that I didn't want to travel to Guatemala since I needed more rest.
Creature comforts. Sushi. Netflix. And fast internet.
I didn't want to be in a foreign environment, trying to figure everything out from scratch. The "intrepid" part of my traveling personality was on vacation (somewhere not in Guatemala).
Leading up to the trip, I had an inner voice saying "don't go". It was pretty persistent, but I dismissed it as irrational fears of volcano Fuego blowing, or concerns about safety after being barraged by negative stories from afar, or….it doesn't matter. Every time the don't-go voice popped up, I dismissed it. The trip was booked and paid for, and I was going to enjoy it come hell or high water.
But I didn't enjoy it. It takes a monumental amount of energy to travel – to simply exist in a foreign environment; even more so when it's long-term and you're balancing a full-time location independent career alongside those travels.
And in the months before my trip, I hadn't had enough time to myself, to rest and recover following what I now understand was a pretty catastrophic episode of burnout that had been years in the making (and unmaking).
WHAT I LEARNED: The time is not always right to travel. And if that time is not right, fighting it won't help.
I've said over and over again that travel is contextual, and here's proof: I thought my accommodation in Panajachel was horrific. All I saw was the bad stuff. But my boyfriend didn't see it that way.
Sure, he nodded empathetically when I ranted and raved that the walls were moldy and the constantly barking dogs were intolerable. But had I been in a different frame of mind, instead of staring at moldy walls I'd have seen the beautiful garden, and instead of hearing dogs barking I'd have put in some earplugs or listened to music.
Traveling in a compromised state (and/or when you simply don't want to) is inadvisable. Only on this (failed) trip to Guatemala did I realize just how much energy it takes to travel and be abroad. And only on returning from my trip early did I realize how sweet "home" can be.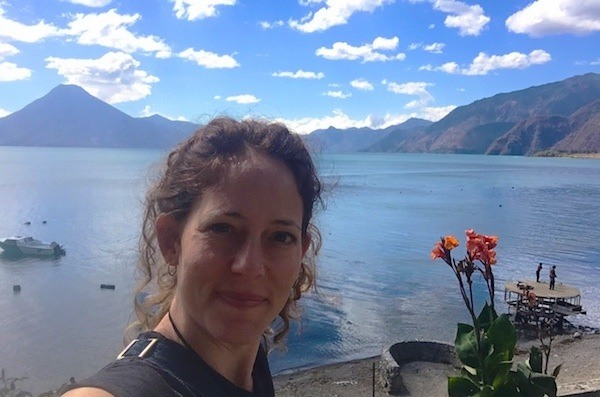 Other Guatemala Travel Advice
You can't drink the water in Guatemala! This also affects what you can eat, and where. For more information, check out How to Stay Healthy While Traveling: Natural Preventions and Cures.
The exchange rate between the Guatemalan Quetzal and the Dollar (U.S. or Canadian) is tricky. Before you head into the marketplace to test out your bargaining skills, arm yourself with a good currency conversion app. Here are some of the Best Travel Apps out there.
Booking your trip to Guatemala? Use the widget above to search for some digs (and I'll earn a small commission, which helps me to keep this site running). I stayed at the Posada San Sebastian in Antigua and and highly recommend it for its great location, easy access to public transportation, eclectic environment, and super-friendly staff.
And remember, don't go out alone! The hiking in Guatemala is epic, but it's important to do it in groups. Here are some opportunities below:
Addendum: Now please. You can see from the string of comments that this post struck a chord with many people who love Guatemala and see this post as an attack on the country or some of the places I mention in Guatemala. Then there are other people who have hurled a variety of insults in my direction regarding my travel experience, personality, and much more.
Before you join this club and leave a negative comment, please reread this post, starting with the very first paragraph, which states very clearly that Guatemala was not the problem. Then, please practice empathy before you write me off as a ding-dong, and consider that 13 years of full-time travel coupled with severe burnout might have put me in a position the likes of which you may not be familiar.
I don't want to have to close comments on this post, but if negative comments continue, I will.