Kelly Hayes-Raitt admits she sleeps around — usually with animals. As a full-time house-sitter, where she lives at no cost in other's homes while caring for their pets, she has an opportunity to explore the world more authentically while pursuing a new career as a writer. An award-winning journalist, she has written How to Become a Housesitter: Insider Tips from the HouseSit Diva, and her web site HouseSit Diva inspires others to expand how they travel….she shares her decade of experience caring for others' homes and pets.
Here's how Kelly's house-sitting and writing career complement one another to allow her to travel full-time!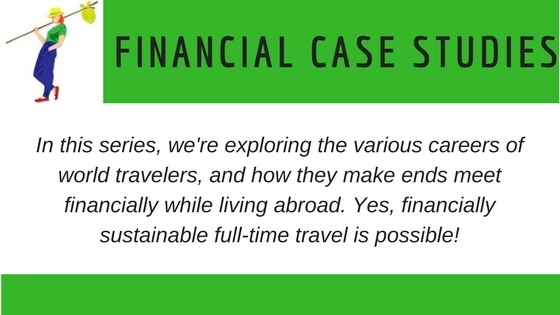 This post was originally published in 2019. It has since been updated for accuracy of links and content.


How long have you been living/working on the road, and where have you traveled to?
I've been traveling forever, but for the last 10 years as a full-time housesitter. I've housesat in London (during the Olympics!), Berlin, Amsterdam, Paris, Gibraltar, Hanoi, Osaka, throughout Africa and the US…even Ya'an a Chinese "village," where I was the only non-Asian I encountered for a week! I regularly housesit in Ajijic, Mexico.
See also: The Creative Guide to Getting Free (or Cheap) Accommodation Abroad


Please describe what you do for income.
Until recently, I rented out my home as a vacation rental. That house is now on the market and I will live off the invested proceeds. I also edit and co-write books, coach authors, teach in-depth writing workshops (willing to go anywhere to teach!), speak at conferences, blog for hire, and write a column for a Los Angeles newspaper. My housesitting book provides income when I spend time promoting it.


How many hours per week do you work on average?
I spend at least 1 – 2 hours/week day promoting my housesitting book, plus another 2 – 4 hours/day on paid gigs. When I'm teaching, I spend 5 – 6 hours/day prepping and teaching.


How much money do you make?
From my rental income, I cleared between $2,000 – $3,000/month, which is enough for me to sustain my travel/housesitting lifestyle. Once my house sells, I'll maintain that income from the invested proceeds. I'm now supplementing that with stepped-up writing/teaching/coaching/speaking income that varies widely, depending on current contracts.


Do you make enough money to support your lifestyle?
I live frugally and simply, so, yes, this income sustains my lifestyle. My largest expense is airfare, and I've found some pretty good ways to minimize air costs!
See also: A Beginner's Guide to Frequent Flyer Miles and How to Start Travel Hacking Like a Pro
How To Travel On A Budget: 14 Creative Tips That No One Talks About


What do you like most about your career and lifestyle?
I love the freedom I have now. For 30 years, I was a political consultant/activist in California. It was a great life! But now, I love the freedom from maintaining and paying for an office, staff, overhead.
I love the variety in my life and the opportunity to experience new cultures. I've also had the opportunity to report on breaking stories from the places where I'm housesitting. For example, while housesitting in Berlin at the height of the Syrian refugee crisis, I volunteered at a refugee registration center and wrote a column about it. While housesitting in Osaka, I had the opportunity to travel to Hiroshima and Nagasaki to report on the 70th commemorations of the atomic bombings. While housesitting in Malaysia, I reported a breaking story about the changing definition of rape. While housesitting near Guadalajara, I reported about the recent Central American refugees traveling through Mexico. Housesitting made it possible for me to afford to be "on the ground."
I also appreciate being of service to pet owners — to allow them to travel knowing that their pets are loved and their home is secure.


What are some of the challenges you have with this career and lifestyle?
There are challenges to any lifestyle choice, of course. I find my life is more logistics-heavy than I'd like, because it just takes time to figure out how to get from Point A to B affordably.
I never know what the home that I'll be taking care of will be like — and I've been met with some unpleasant surprises (which is why I wrote How to Become a Housesitter, hoping to help others learn from my experiences).
But the primary challenge I have is combating loneliness and dealing with the inevitable "good-byes."


What is your vision for the future of your lifestyle on the road?
I'd like to create a new home for myself somewhere in Europe, but continue to housesit for most of the year. I'd just like my own home to return to — and to be there for me when I'm too old to travel this much! Fortunately, I have no immediate need to make any permanent decisions, so I can take my time.


Any advice for the aspiring traveler about living and working on the road and managing finances?
Assess your assets! Once I realized that my home — with its strangling mortgage — was an asset that I could turn into an income-producer, many options opened up!
See also: Financial Planning for Travelers
Work with a bank and credit card company that are used to having traveling clients.
See also: The Ultimate Guide to Traveling With Money


Is there anything else you'd like to add?
Housesitting isn't for everyone (I include a quiz in my book "Is Housesitting Right for You?"), but it can be a great option for digital nomads. Besides the no-cost accommodations, I benefit from secure, hi-speed internet usually with wider broadband, (generally) a free printer, and generous work space that I don't have to "clean up" every afternoon, or travel to, or sleep with. I have my own kitchen, laundry, TV (usually with cable, Netflix or Hulu)…and, of course, my furry companions!