Earning income while traveling can take many forms, and can accommodate many lifestyles. This post is an example of how it can be done.
This post was originally published in 2016. It has since been updated for accuracy of links and content.
In 2015, I launched a popular new series called Financial Case Studies which profiles the incomes and lifestyles of various people to live and work on the road. I am fascinated by the myriad ways people are earning income while traveling, and how they manage to live sustainably – which involves a balance between earning enough money to cover expenses, and using creative techniques (like getting free accommodation) to keep expenses low.
In turn, each year I publish my own cost of full-time travel, as well as my income for the year. I do this not to set the bar for what you should earn or what you should spend in order to live on the road in a financially sustainable way; rather – as the years go by and my own income and expenses vary – to demonstrate that there is no bar.


Click here to see all of my Annual Income and Expense Summaries!
2015 Income Sources
NOTE: My income was earned in US Dollars, GBP, and Canadian Dollars – all of which I've converted to US dollars here. Unfortunately, during 2015 the Canadian Dollar took a nose dive, so currency fluctuations throughout the year mean these numbers are approximate at best.

Freelance Writing: $5,989
In order to make space in my life for my shamanic studies, I dropped most of my freelance writing gigs. So this number is considerably less than what I made in 2014 (which was almost $16,000).


Affiliate Sales: $10,631
This is a wee bit higher than my affiliate sales for 2014. About 60% of my affiliate sales consist of income from Amazon, which provides a nice stream of passive income given the vast repertoire of posts on my site (and others) that include Amazon affiliate links.


Advertising: $2,889
This is about $1,000 less than I earned last year. I am very choosy about the advertising I put on my site (vetting opportunities carefully for compatibility with my site and readership). So this category of income can be pretty volatile, since internet advertising policies (and budgets) seem to be a moving target.


Book Sales: $13,046
This is up drastically over 2014's book sales (which were about $1,600), due to the release of my latest book (in February 2015): Working on the Road: The Unconventional Guide to Full-Time Freedom (since discontinued). The initial months of the launch made up most of this income, although it continues to provide a passive income of a couple of hundred dollars each month.
This is in addition to the income from my other two books: How to Get Free Accommodation Around the World and Tales of Trains: Where the Journey is the Destination.


Other: $1,839
This number includes some coaching sessions, royalties from a Hollywood movie I filmed many years ago, and some income earned from assisting my teacher with plant medicine ceremonies. With the ceremony income, it's much higher than 2014 (which was about $300).


TOTAL INCOME: $34,394
…which is about $3,300 more than I earned in 2014. Over the years, my income has fluctuated for a variety of reasons, and it comes with the territory when you're self-employed. So I don't lose sleep; instead, I ensure that my income and expenses are sustainable – which in 2015 they were (in fact, I spent way less than I earned in 2015, despite having a home base in Peru to maintain in addition to my travels to six countries.


Business Plan for 2016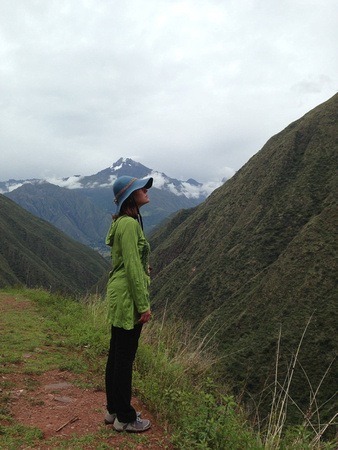 I did pretty well in 2015, given that I've been scaling down my online operations to make way for my new life in Peru. But I'm not so sure this will last through 2016, since a chunk of my 2015 income took the form of reaping the benefits of my book launch in February. My income (from my online activities and writing career) should be steady in 2016, but likely lower overall than 2015.
I expect to make up for some of this online income loss with the work I'm doing with my teacher and plant medicine ceremonies in Peru. I'm still learning, so my wages are pretty low, but given that I am assisting him with many retreats this year, I'll earn more than I did last year.
However. When it comes to financial sustainability, 2016 is likely to be a wild card for me. In obtaining my Peruvian residency (which should come through shortly), I'll be on the hook for some hefty expenses for the next two+ years. It's too complicated to outline for the purposes of this post, but ultimately I'm prepared for the distinct possibility that I'll have to tuck into my savings to make ends meet.
Luckily, though, I have savings to tuck into. I live very well, and I want for nothing – but I also live fairly frugally (and in a country with a relatively low cost of living). In 2015 alone, I spent almost $9,000 less than I earned. Ca-ching! No need to worry in 2016, even if the books don't appear to balance out.
As time goes on, I'll also be earning more money with my plant medicine work, and who knows what income opportunity lays around the next corner.
Such is the life of an entrepreneur, earning income while traveling. If and when I need to, I'll create the income I need in order to continue to live the life of my dreams.
What does the life of your dreams look like in 2016?