I thought I was pretty bad at learning languages. But you know what? Now that I can fairly confidently say I'm fluent in Spanish, I realize that was just an excuse. Here's how to become fluent in Spanish – according to how I did it, anyway.
Note: this also works for other languages, as similar principles and tools apply and are available.
Further down in this article I will share details about the most effective way to learn Spanish – by taking classes with a native-speaker at Live Lingua.
This post was originally published in 2015. It has since been completely overhauled and rewritten (now that I actually am fluent, rather than trying to be).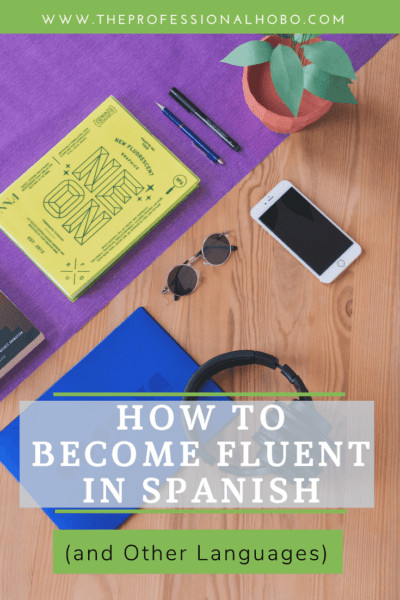 How Long Does It Take To Learn Spanish?
Is Spanish actually easy to learn?
Spanish might be one of the most commonly spoken languages in the world, but that doesn't mean it's easy to learn. Learning Spanish can be a complex process that requires dedication and discipline.
Spanish is considered a difficult language to learn for English speakers due to its grammar and sentence structure being quite different from English. However, it is possible to become proficient in Spanish by following a few simple tips and tricks – which I'll share later on.
Depending on how quickly you can absorb and apply new material, learning Spanish can take anywhere from two to six months of consistent study or up to two years if you're aiming for fluency.
Despite the difficulty of the language itself, Spanish can be learned at different levels of proficiency.

Conversational Spanish
For basic conversational Spanish, the things such as counting and simple phrases can be learned in a few months or even weeks if you're particularly quick at picking up languages. In three months, depending on how much time and effort you put in, you should be able to hold basic conversations with native Spanish speakers.


Fluent Spanish
How long does it take to learn the whole Spanish language, you might ask.
For those aiming to achieve fluency, it is best to plan for a minimum of six months of consistent study. The more time and effort you put in, the sooner you will be able to speak Spanish fluently. It's important to make sure that you are actively using the language as much as possible – whether through conversation with a native speaker or immersing yourself in Spanish culture and media.
An average person can learn the whole Spanish language in about two years. For most people, this is a realistic time frame for mastering Spanish.
However, it's important to remember that everyone learns languages differently and at different speeds. So the amount of time it takes you to learn Spanish may be shorter or longer than two years depending on your individual learning style and how much time you are able to dedicate to learning.
In short, how long it takes to learn Spanish depends on your goals and how much time and effort you are willing to put in. While two years is a realistic timeline for mastering the language, it's also possible to achieve conversational fluency within just a few months. Thus, in an average of a year, you can still achieve a good level of Spanish proficiency and fluency.
If you really want to master Spanish, I highly suggest you take lessons at Spanish language schools or in private tutoring sessions that can help you learn Spanish faster. (I'll share some specific resources in a bit).
Immersing yourself in the Spanish-speaking culture is also an effective way of learning the language faster than traditional methods such as textbooks and online courses. Even so, Spanish can still be learned through self-study and dedication.


7 Tips On How To Speak Spanish Fluently
Now that you are much aware of how long it can take for one to learn Spanish, here are some useful tips on how to speak Spanish that you can incorporate into your studies to help you reach fluency faster:


1. Utilize Spanish-speaking media sources
As mentioned above, immersing yourself in Spanish culture is one of the fastest ways to learn a language. Watching television shows and movies in Spanish is a great way to learn the language.
Not only will it improve your vocabulary and pronunciation, you can also get used to the rhythm and flow of spoken Spanish.
Additionally, listening to Spanish music can help you understand the nuances of Spanish culture and gain an appreciation for different dialects. Reading books, magazines and newspapers in Spanish is also highly recommended.


2. Practice speaking with native speakers as much as possible
As the saying goes, practice makes perfect! Whenever you have the opportunity, try to converse with native speakers of Spanish. This will not only help you gain confidence in your ability to communicate, it will also help you learn faster.
You can search for language partners online or join language exchange events in your local area.


3. Take advantage of learning resources and tools
Studying Spanish with textbooks, flashcards and other materials is an excellent way to supplement your learning experience. There are also some great mobile apps (like Duolingo) that you can use to practice on the go. Additionally, you can find online language courses that can help you improve your Spanish skills without having to leave the comfort of your home.


4. Reading aloud and mimicking native speakers
Reading aloud and listening to recordings of yourself speaking Spanish can be helpful in understanding how you sound when speaking the language. It will also help you identify any errors or pronunciation issues that need to be addressed.
Listening to native speakers and mimicking them is a great way to improve your accent and intonation in Spanish. Not only will you get accustomed to the way Spanish should be spoken, you can also develop an understanding of the different dialects and accents within the language.


5. Build your own phrasebook
Creating your own phrasebook or vocabulary list is a great way to learn and practice Spanish. You can keep track of the words and phrases you have learned by making flashcards or writing them down in a notebook.
Additionally, you can also use online tools like Quizlet to create virtual flashcards for easy access. Quizlet is an intelligent flashcard learning system that allows you to create and organize sets of flashcards, as well as provide quizzes, games and learning activities to enhance your language learning experience. It's free and incredibly user-friendly!


6. Stick to one Spanish variety
Spanish is a language that is spoken across the world with various dialects, accents and varieties.
There are several versions of Spanish including Castilian Spanish (spoken in Spain), Latin American Spanish (spoken in Mexico, Central America, South America, and the Caribbean) and Peninsular Spanish (spoken in Portugal and Galicia).
Each variety has its own unique pronunciation and grammatical constructions, so it is best to stick to one variety when studying Spanish. This will help you create a solid foundation for the language and make your learning process easier and more efficient.


7. Have fun with it!
Learning a new language should be an enjoyable experience. Don't get too caught up in studying and make sure to take breaks when needed. Incorporating some fun activities like playing Spanish-language games, listening to music, or watching movies can help make your learning journey a more positive and memorable one.


How

I

Became Fluent in Spanish
"I want to become fluent in Spanish!" I declared one day. I'd already spent quite some time learning Spanish casually using various tools and modalities, all the while without realistically expecting to attain fluency. But somewhere around 2014 shortly after arriving to Peru, it occurred to me that fluency was actually possible.
The above information is theoretical. Now, I'll show you exactly how I became fluent in Spanish.


Determination
Spoiler alert: there is no magic pill. No one way. And it sure as heck ain't easy. Or fast.
Sheer unwavering determination is a precursor to all the best ways to become fluent in Spanish – or any other language. I'd go so far as to say it's a deal-breaker. If you don't want it badly enough, it simply won't happen.
Learning a language is work, and it takes a ton of determination to put in the hard yards required.


I Started With Classes and Audio Lessons
Before I started traveling full-time in 2006, I took Spanish lessons for six months, for no reason other than I figured Spanish was a good language to travel with. And because I spent a lot of time in my car for my job at the time, I listened to stacks of audio lessons on CD.
However I rarely practiced it on the road until I started spending time in Latin America seven years later. Even then, I was in Panama, where the accent was so thick I may as well have been on the moon; I could barely understand the most patient and slow-speaking of Panamanians.
But those initial classes and audio lessons proved to be incredibly useful once I committed to becoming fluent in Spanish, a few months later in Peru. They gave me a basic understanding of grammar, conjugations, and simple vocabulary, most of which came back quickly when I started using it.


A Note About Immersion. (It Doesn't Work for Me)
I don't know how people do it. It's a relatively well-known fact that the best way to learn a new language is to immerse, plain and simple. I know a guy who started living in rural Italy without knowing a word of Italian. He was surrounded by Italians who didn't speak English, and he asked those who did know English not to speak it with him. Within six months he had learned 100% through immersion, and within a year he had developed a vocabulary and accent so bang-on that most people thought he was local.
His is far from the only story. I know a few people who have learned new languages this way, and to them I say "good for you". Jump in the pool, learn to swim, and all that. But that's not me.
I'm not saying that because I'm scared of immersion. I'm saying that because my brain works differently. I'm not a particularly auditory person. Even in English – for me to really retain something, I need to see it. I needed to have those initial classes and textbooks to grasp the basic structure of the language, which I could then build on with other modalities of learning languages (which I'll outline shortly).
You may be in a similar situation. Perhaps there is no "best way to become fluent in Spanish". For some people, straight immersion is perfect. For others, not so much.
For me, it was a full-on, down and dirty, multi-faceted approach.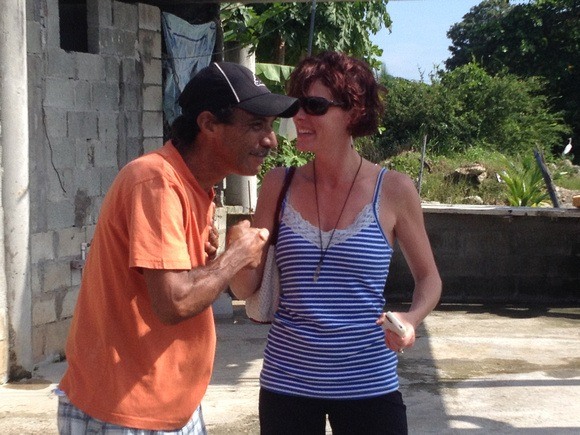 So I Took More Classes
Once committed to fluency in Peru, I took more Spanish lessons. Because they were private classes, my teacher met me at my current level and quickly moved me forward (see the section on Live Lingua below to learn more about this). The classes combined immersion (because we would converse in Spanish), text book work to help my cognitive brain understand what I was learning through immersion, and lots of homework to keep me progressing between lessons.
For me, Spanish classes are invaluable – but at the same time, they're useless without practice and determination.


I Practiced (Even if it Was Easier to Speak English)
When I was first in Peru, I was staying in an area heavy with expats and visitors from all over the world. This was a double-edged sword on a variety of levels (see also: The Irony of Expat Life).
Thus the common language was often not Spanish – but English. It was almost too easy to not speak Spanish; a sure-fire way to never become fluent.
My room was next to a fellow from Spain (whose English was impeccable). There's an unspoken general rule on the road; when conversing with somebody, you default to the easiest language for all to speak. In this case the default language was most certainly English, but the difference was that he specifically offered to speak Spanish with anybody who wanted to practice. Still, for myself and others, it took huge discipline to speak Spanish with him, since it was quicker and easier to just do it in English.
Without practice though, you'll never become fluent. You have to throw yourself into it and speak as much as you possibly can, even when you don't have to.
And if you're learning a new language from abroad (ie: there aren't any locals to practice with), never fear! You can attend local meetups with fellow language-learners, or find a language exchange partner (where you have Skype calls with half the call in their language and half the call in your language).


I Played With Duolingo
Duolingo feels more like a game than a free online language learning program (available in desktop and app formats – see also Best Travel Apps), but it will definitely help you learn a new language, especially if you're consistent. It covers different modalities of language learning with listening, writing, identifying objects, translation, etc. And it's so much fun you barely realize you're doing the hard work of learning a new language.
I don't believe that you can learn a language with Duolingo alone because it's not super comprehensive, and on the whole it's slow-going. Regardless, I "played" with Duolingo daily, and especially as I became more advanced in my Spanish, I was able to lean new forms of past and future tenses with Duolingo and increase my vocabulary very effectively.


I Listened to (More) Audio Lessons
Because I was living in an expat-heavy neighbourhood in Peru where English was spoken almost more so than Spanish, I hit myself from all possible sides with Spanish. Thus, I listened to a 30 minute Spanish audio lesson every day, while I was getting ready in the morning.
Pimsleur was my poison of choice; they offer audio courses with reading materials/lessons (available in both download/PDF and CD/book formats) that use the perfect amount of repetition and translation to take you through various conversations to increase your every-day vocabulary. Listening to daily 30-minute lessons helped take Spanish to a new level.
As an example, I learned some past tense phrases without really knowing the mechanics of using the past tense at the time, but they were words and phrases that I could immediately use in conversation (in so doing, getting over my cognitive self that thinks it needs to know everything about a word before using it). This in turn, opened up my brain to continue to become fluent more effectively when I was in immersive scenarios.
After two months of listening to a Pimsleur 30-minute lesson daily, plus my weekly private lessons (complete with homework) and practicing whenever I could in Peru, and playing Duolingo daily, I achieved one of the pinnacle moments when trying to become fluent: I started to think in Spanish.


I Set a Specific Goal/Challenge
When I first had a Spanish thought, I didn't really believe I'd done it. But by this point, my brain was in Spanish-overtime; I was learning daily in so many different ways, I found myself subconsciously practicing translations of my own thoughts.
This made me realize I could in fact become fluent in Spanish if I continued. So I set a specific goal to up the ante and keep me on the path.
By this point I had been in Peru for about nine months. I had started my apprenticeship with a shaman (who preferred to speak English). But in five months I would be traveling to the Peruvian jungle to undertake a one month intensive shamanic "dieta" with my teacher's teacher – an indigenous Peruvian who spoke almost no English. I set the goal of being able to speak with him without anybody translating (which, given the circumstances would require discussion of much more than basic pleasantries).
And so, it was. With that specific challenge to push me, the next five months of continued Spanish classes, Duolingo, audio lessons, and regular practice, allowed me to successfully reach that goal.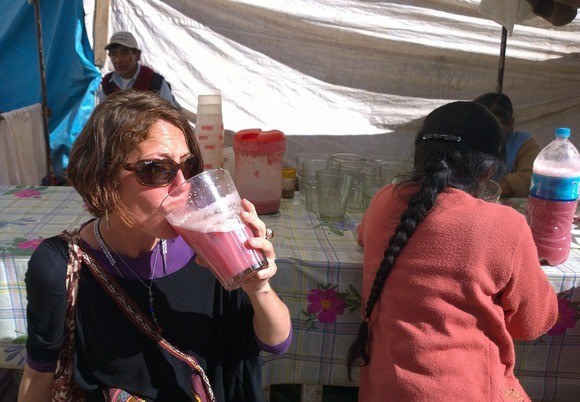 How to Become Fluent in Spanish
The Best Way to Become Fluent in Spanish is a Multi-Faceted Approach
Learning Spanish didn't end there. It's not like achieving the goal of having some proper Spanish conversations with a Peruvian meant I was done. In fact, it only fuelled the fire for me to learn more. So, in addition to all the above stuff, I went in even deeper by watching movies and reading in Spanish.
As the months and years went by, I continued practicing. My already good Spanish took another leap when I was volunteering at a retreat centre in Ecuador, assisting – and even translating for – some shamans there. While some of them spoke great English and some of them not at all, all of them spoke with me in Spanish. I can't even begin to describe how rewarding it was to realize I'd just had an hour-long, in-depth, philosophical conversation – in Spanish!
It was only at this stage of the game that I dared declare that I spoke Spanish fluently – and even so, I always follow that statement with the qualification that I can only demonstrate the true wit and intellect of something like a 10 year old. But still. (I know some smart 10 year olds).
You could be the fastest verb-conjugator on paper, and totally useless at understanding somebody when they speak. Likewise you might pick up the language quickly via immersion, but hit a plateau with grammar and reading.
Thus, I believe a multi-faceted approach is important to become fluent in another language. From classes to audio lessons, reading, watching movies, using language learning apps, and more – keep learning your target language in different ways to stay interested and awake. (Too much of one learning modality can become physically exhausting).


The Best Tool For Becoming Fluent in Spanish
In addition to the above language resources like Duolingo and audio lessons, here is the best tool for becoming fluent in Spanish (in my opinion). This, plus a combination of the techniques above will help you with questions of how to get fluent in Spanish…..and many other languages.
Please note that some of the links below are affiliate links that pay me a small commission if you click through and make a purchase. This doesn't affect your cost, but it does help me to run this site; so thank you, in advance.


What Does CEFR Mean?
First, a note about CEFR. It stands for Common European Framework of Reference for Languages, and is used as a guideline for grading language proficiency. You can learn more about it here, but here are the basics:
A1 & A2 – beginner
B1 & B2 – intermediate
C1 & C2 – advanced
I'll be referencing these levels in some of the language learning tools below so you can gauge which tools you'll need and create come expectations for what you'll achieve with them.


LIVE LINGUA – The Best Way to Learn How to Speak Spanish Fluently
In my opinion, there's no substitute for in-person (or online) language classes with a teacher. I watched my boyfriend spend a month learning French from scratch using the online course mentioned later in this article (French Uncovered), and he doesn't have much to show for it. The discipline to sit down daily and do the work of an online course with no accountability doesn't work for many people.
Working with a language teacher is a whole different ballgame. They can answer your questions, no matter how trivial or advanced. They meet you at your level and move you forward in a style that will help you learn quickly and effectively. In my opinion, if you're remotely serious about learning a language, you must take classes.
Enter: Live Lingua. It's an online language immersion school that offers Skype classes in a large collection of languages, including Spanish, English, French, German, Portuguese, Italian, Russian, Arabic, Japanese, Korean, and Chinese. Spanish is (by far) their most popular language, with 60% of the student body taking Spanish classes.
The Live Lingua faculty are all teachers with university degrees and a minimum of five years' teaching experience.
For those who have targeted needs and not much time, there is a large collection of smaller themed courses available, including the following:
Spanish for Tourists,
Spanish for Business,
Spanish for Medical,
Spanish for Teachers,
and even Spanish for Priests.
While the variety of specialized courses is largely limited to Spanish, they do offer classes geared towards preparation for language certification exams (eg: TOEFL, IELTS, DELE, DELF, etc) across all the languages they teach wherever applicable.
Specialized courses and language certification exams are effective, but not comprehensive. For example, if you take the Spanish for Tourists course, after about eight hours of study you'll have the ability to understand and respond to some typical situations a tourist could find themselves in such as ordering food at a restaurant, asking for directions or negotiating in a market. But with no grammar of conjugation taught, you would be clueless in other scenarios – for example in paying an electric bill.
Live Lingua also offers plain and simple private language classes – which is the mainstay of the school's activities. During your free trial class, your teacher fully evaluates where you're at and customizes a curriculum for you. That's right – no generalized textbooks here. Teachers utilize Live Lingua's library of materials as well as their own resources and other online tools to customize a course that helps students achieve their language learning goals the quickest.
Here's what a typical one-hour class with Live Lingua might look like:
5-10 minutes: Review what was studied in the previous class and answer any questions about homework (if applicable).
15-25 minutes: Presentation of the new concept – or adding on to the last concept. This can involve handouts, audio, or videos provided by the teacher as well as the lecture from the teacher.
15-25 minutes: Exercises to practice the new concept. The teacher will use the resources on Live Lingua, their own resources or free resources from the web to practice this.
5-10 minutes: Putting the concept into real-world use. In this part, the teacher will make sure the student understands the new concept by putting them in "real world" situations to make sure they can use it. This is usually a conversation or questions but can involve other multimedia.
Homework is assigned.
You set the schedule for how many classes you want in a week, and you purchase classes on a pay-as-you-go basis in blocks of hours; the more you buy at once, the less you pay per hour, and the hours never expire.
Two things set Live Lingua apart from other online language schools:
1) They're a bonafide school, not just a collection of online teachers. You'll be matched up to the best teacher for you given your learning style and goals, and both you and your teacher have the ongoing support of the school administration along the way, just like a bricks-and-mortar school.
2) Live Lingua's teachers tend to live in their home countries, and they're paid a proper salary for where they live. Their Spanish teachers (who mostly live in Latin America), earn 2-3 times what they'd earn at a traditional language school in their home country. Still, the cost of living in Latin America is a fraction of the cost of living in France (for example). Thus, you tend to see a difference of hourly rates depending on the language you want to learn. Luckily, Spanish is cheap, starting at just $10.99USD per hour.
Click here to learn more about Live Lingua and get serious about learning a new language. What you get out of it depends on your dedication, but in terms of efficiency (of both time and money), I believe Live Lingua will get you the best results.


How Long Does it Take to Become Fluent in Spanish?
There's no doubt, learning a new language is a process, and almost never an easy one. For me, the rewards of conversing in another language kept me going through months of practice and lots of frustration.
Ray Blakney, founder of Live Lingua, puts it well.
"The generic, industry answer is that it takes 100-200 hours of study to get from A1 to A2, and the same for successive levels. But we have found that to be so general that it is almost meaningless.

An anecdotal example is that according to the Peace Corps it took me about 180 hours over 3 months to go from no Spanish to B2. That would not at all follow the CEFR guidelines in hours it should take. The difference was probably due to the fact that I was in my 20's, I already spoke multiple languages, and I was living in Mexico. There were older volunteers in my group who barely had a survival level of Spanish after their 2 years of service.
Live Lingua's general guideline for students who want to make regular improvement in their language levels is two to three one-hour classes each week, with at least 30 minutes of practice on the off days.
I was on and off with Spanish for years before making a concerted commitment. Once I did that, I would say it was a good two years before I could call myself fluent, and another year before I could really mean it. But I also didn't live in a place where I had to speak Spanish daily; most of my efforts to learn Spanish required a herculean amount of discipline and learning on my own.
It's difficult to say in general how long it takes to become fluent in Spanish, because that depends on you, and how determined you are. The following are factors that you can control, and which will affect your outcome:
Simultaneously using different modalities of learning (eg: classes, audio lessons, reading, online courses, Duolingo, etc)
Practicing by yourself (drilling yourself on vocab, conjugations, numbers, etc)
Practicing with others (attending classes, language exchange sessions, and practicing with locals if you're on the road)
Lastly, setting a specific goal will help you focus and start speaking fluently much faster. Taking in-person or online classes (it doesn't matter whether they're group or private, though private language lessons are the most effective) is an easy way to create a goal, accountability, and ultimately, become fluent.