I've amassed a lot of special experiences in my travels that count among the world's fastest, highest, longest, deepest, smelliest, most dangerous (etc etc etc). If you're looking for some inspiration, or just an armchair ride around the world, here is some food for adventurous souls, but not all of which requires balls of steel.
You may not end up in Guinness for it, but you're sure to have a memorable experience.
Links to posts about each of these experience – as well as videos! – are included. Enjoy!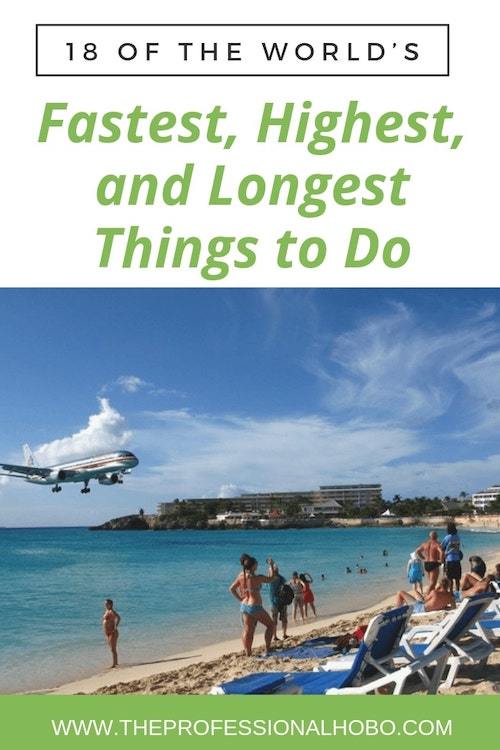 World's Most Dangerous Beach
We don't normally think of beaches as being dangerous, but Sunset Beach in St Martin in the Caribbean will set your heart aflutter. It's directly at the end of the island's airport strip, and you can watch planes come in on top of you. Thrill seekers like to hold on to the fence at the end of the runway and be mangled by the prop blast as jets land mere meters away. (I settled for taking pictures from a mildly respectful distance).
The Most Dangerous Beach in the World

World's Highest (Commercial) Skydive
As a skydiver with almost 300 jumps (from a life that seems lifetimes away now), I dropped my license when I started traveling full-time. But when I was in New Zealand, I was treated to a tandem jump that allowed me to experience the world's highest commercial skydive, exiting the plane at 15,000 feet.


World's Highest (Commercial) Fixed Line Abseil (Rappel)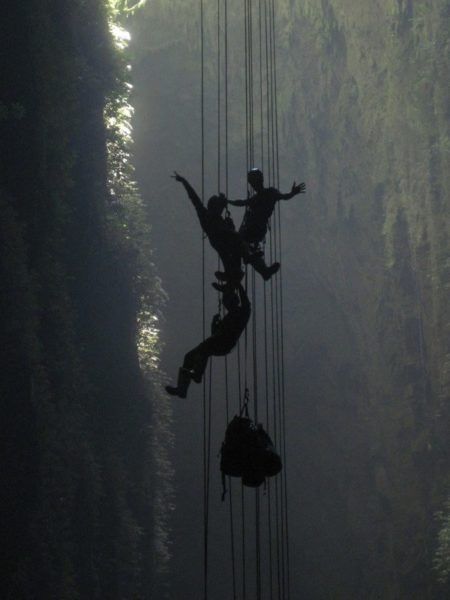 This was an absolute highlight of all my travels. In Waitomo New Zealand, this full day event involved a 100 meter abseil (rappel) into a cave, followed by five hours of venturing through this extensive watery cave system. In our wetsuits, we squeezed, swam, jumped, and shimmied through this cave, and hung out with Waitomo's famous glow worms (which have their own funny story).
Abseiling, Caving, and Spotting Glow Worms in New Zealand


World's Highest (Commercially) Rafted Waterfall
New Zealand is home to all kinds of world's [whatevers], and I experienced a lot of them whilst filming a tv show there in 2010. Even after a day of sledging (which is like white-water rafting on a glorified boogie board), I was shaking in my wetsuit in anticipation of the 7 meter (23 foot) drop that flips a good percentage of rafts. Ironically we survived the drop, and then almost sank the raft whilst caught in a rapid that is apparently more dangerous than the waterfall itself.


World's Longest Train Ride
When I did the Ultimate Train Challenge in 2011 (30 days from Lisbon to Saigon, all by train), it included a solid week on the Trans-Manchurian between Moscow and Beijing. It's better known as the Trans-Siberian, the difference being the particular route the train takes. Either way, it's long.
A Week on the Trans-Manchurian Railway

World's Fastest Train
Hot on the heels of the world's longest train ride, I embarked on the world's fastest train from Beijing to Shanghai. Watching the world whizz by at speeds close to what planes manage was an experience. And with stations on either side that were more like airports than train stations, at times I had to wonder if I was actually flying.
13 Random Experiences on Asian Trains

World's Longest Wall/Biggest Ancient Architecture
You got it – this is the Great Wall of China. I've had the good fortune to have been there not once – but twice.
If you fly into Toronto's Island Airport (officially known as Toronto City Centre Airport), a ferry will deliver you to the "mainland" downtown core of Toronto. It's a whopping 120 meters (400 feet), and the ferry itself is about a third of the size of passage it runs.


World's Most Isolated Major City
There are a few contenders for the world's most isolated/remote major cities (depending on your criteria such as by population size or accessibility), including Auckland New Zealand, Honolulu Hawaii, and Iquitos Peru. Regardless of the measuring stick you use, I can say I've been to all of them.
But Perth Australia is most eager to wear this banner, and it's an isolated city indeed. Bonus: it also boasts the largest inner city park in the world.
World's Most Dangerous Airport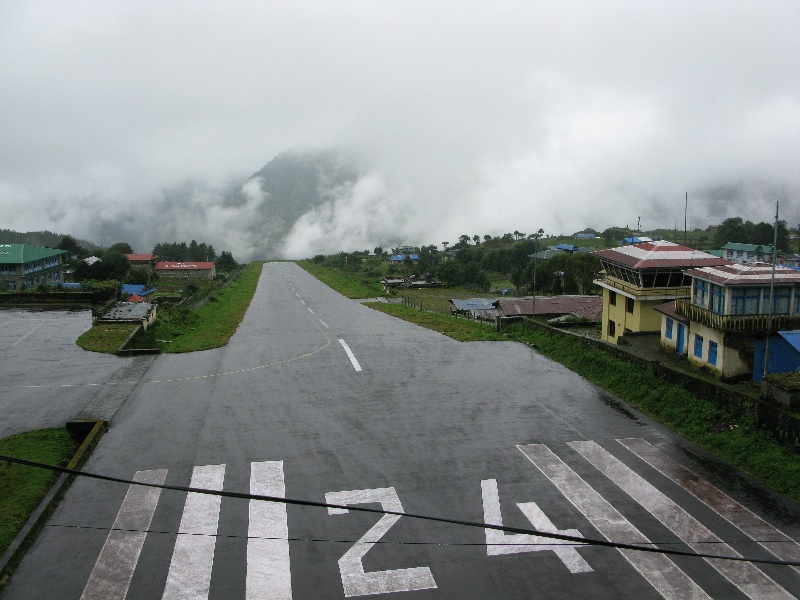 When I was filming a television show in Nepal in 2010, we flew from Kathmandu to Lukla, which is the gateway to Everest and the Himalayas for trekkers. Tenzing Hilary Airport earns its moniker as the world's most dangerous airport due to the short runway with absolutely no margin for error. The runway is on an incline so planes coming in can stop before hitting the mountain behind it, and so planes taking off can gather sufficient speed before the runway drops off into a valley of nothingness.
The other danger factor at this airport is the weather, which comes in out of nowhere. It took us two days of waiting at Kathmandu airport for enough clear sky to allow us to fly in, and we were stuck there for three days longer than scheduled waiting for the clouds to clear so we could take off. The only other way out would have been to hike for 2 days to the nearest city where we could catch ground transportation back to Kathmandu.


World's Most Expensive City
Oslo Norway takes this prize, and spectacularly so. I went to a middle-of-the-road thai restaurant for lunch and paid almost $50 for a green curry and a glass of wine. This was pretty average for my meals in Oslo. Now, if you live in Oslo and earn money in the local currency, you can get by pretty well. But with Norway's strong currency, visiting there with foreign currency in your pocket will result in your pockets being empty pretty quickly.
Travel Lessons and Surprises: Oslo

World's Top City for Cyclists AND World's Happiest City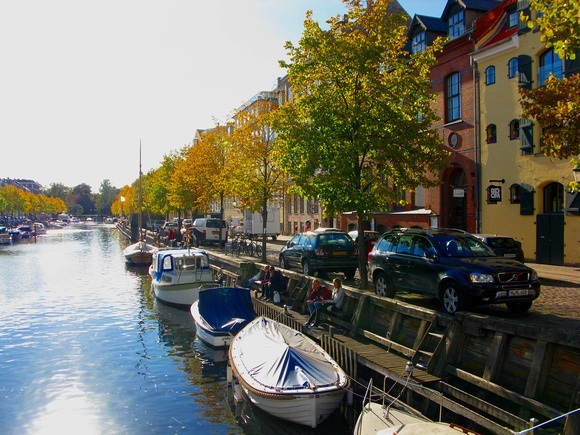 Again there are a few contenders for this title (not the least of which is Amsterdam), but the prize – for both bike friendly city and happiest city – goes to Copenhagen Denmark. I don't know that bicycling and happiness are related, but there you go.
Copenhagen: A Modern-Day Fairy Tale

Largest Beer-Producing Area in the World
If you think Germany takes this cake, think again. When I was in Boulder Colorado, I learned that it's part of the largest beer-producing triangle in the world, with micro-breweries at every turn. Boulder tops a bunch of other lists (in America) mostly in the realm of being active, bike-friendly, dog-friendly, rich, and skinny. Guess you have to burn off the beer somehow, and with the Rocky Mountains at your doorstep it's not too difficult.
A Curious Bubble in Boulder, Colorado


World's Largest Techno Party
The annual Street Parade in Zurich Switzerland is actually officially billed as a political demonstration (dating back to its humble beginnings in 1992 as a demonstration for peace, love, and tolerance. Back then there were 1,000 attendees; now it sees about a million attendees, hitting the streets to party, show off their costumes, and get their groove on.
The World's Largest Techno Party: Street Parade in Zurich

World's Highest Bungee Jump
The world's highest bungee jump is currently the Macau Tower at 233 metres. However in 2005 when I was in the Western Cape of South Africa, I took a leap (a few, actually) off Bloukrans Bridge which was at the time the world's highest bungee jump at 216 metres. So considering this is a list of my own world [whatevers], I think it still counts. So there. Bite me, Macau.


World's Highest Navigable Lake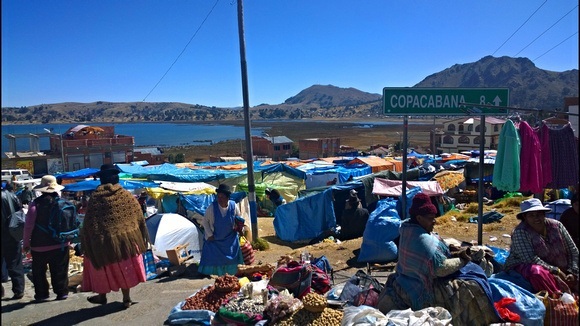 Lake Titicaca (bordered by Bolivia and Peru) is the largest lake in South America, and the highest navigable lake in the world. I spent a few days on Isla del Sol, and even though I live at an incredibly high altitude in Peru, I marvelled at just how close to the sun this island really was.
Visiting Isla del Sol on Lake Titicaca, in Bolivia


World's Longest Standing Protest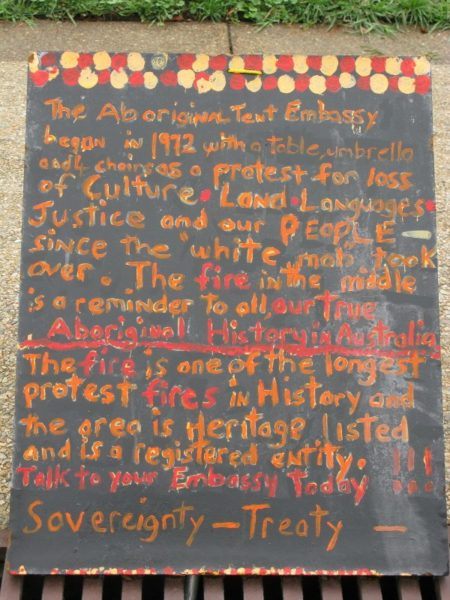 Since 1972, a small fire has been burning in front of Australia's parliament building. Along with the small collection of derelict looking tents off to the side housing anywhere from a few to a few hundred Australian Aboriginals who tend to the fire, this is the world's longest standing protest. Stumbling on to this with a friend while walking around Canberra one afternoon led to one of the most enlightening days I've had in all my travels.
The Australian Aboriginal Tent Embassy


World's Worst Smelling Food
This prize goes to Surstromming, a canned fermented fish that is popular in Sweden. It's a love-it-or-hate-it kind of food, that actually doesn't taste nearly as repulsive as it smells. (There. I'm sure you want to try it now, don't you)?
Northern Swedish Delicacies, Including Surstromming

Do you have any World's fastest, highest, longest, smallest, deepest, craziest WHATEVERs in your travel repertoire?