We get off the Trans-Manchurian train after 150 hours of straight train travel from Moscow to Beijing.
Aah….China.
I was last here in July of 1993 – 18 years ago – at the tender age of 16, when I toured the country with a ballet. It was my first overseas trip, and an instrumental experience in fostering my love of travel, which eventually led to my adopting a life of full-time travel as The Professional Hobo.
This post was originally published in 2011. It has since been updated for accuracy of links and content.


On Arrival
"Andy" – our tour guide from China Odyssey Tours (whose Chinese name obviously isn't Andy) – meets us at the station at 5:30am when we arrive, feeling a little worse-for-wear given our last week on board a train (not to mention the two weeks prior of careening through Europe). We're eager for showers, stationary beds, and a decent meal.
But Andy has other designs for our day. Given his expertise, he has two strong recommendations; One: that we head straight for the Great Wall of China to avoid traffic and crowds, and Two: if we can wait long enough, that we return to the city to eat lunch at a local place instead of a "touristy" restaurant in the mountains.
Given our paltry 24 hours in Beijing, these turn out to be amazing recommendations that we end up repeatedly thanking him for.

China Then…China Now
My first time in China – also being my first overseas trip – I felt like I'd landed on another planet. Nothing was familiar, and I was traveling through some remote areas that hadn't seen white people. I felt uncomfortable at being the object of curious attention, overwhelmed by the cultural differences, and intimidated by a heavy military presence. Although the experience of visiting China as a whole was an amazing eye-opener, there were more than a few occurrences that left a sour taste in my mouth.
Now, having been to well over 30 countries since that trip, China is a very different place for me. (And I'm a very different person for China). With the advent of the 2008 Olympics and globalization in general, my white skin and red hair isn't a head-turner the way it once was. I've also got much more "travel street sense" under my belt, and am less phased by cultural differences, and more knowledgeable about (and respectful of) Chinese culture.
So this time around, I'm both comfortable and happy in China. I immediately notice a difference when the smiling friendly Chinese customs officials breeze through the train in the wake of the grim and intimidating Russians. This friendliness only improves throughout my entire trip in China.


Enroute to The Wall
We're thankful for the lack of Beijing's notorious traffic on this early Saturday morning, and for the extra rest we get on the 1.5-hour journey in a comfortable car enroute to "The Wall".
I certainly remember more bicycles and less cars, but aside from that, Beijing looks quite similar at first blush.
Including the smog.
The pollution is so thick that I look at the rising red sun – directly – without even squinting. It would be more beautiful if I didn't understand that the root of my sun-watching pleasure is in the layers upon layers of smog.
In many parts of China, I remember that clear skies can only be identified by the slight blue tinge directly overhead. You can see that it's sunny because there are shadows on the ground, but the hazy sky looks overcast. It's bizarre. This effect has only worsened with time, as you would reasonably assume given a lapse of 18 years.
But 70km out of town at The Great Wall, the blue skies are bluer – in more ways than one.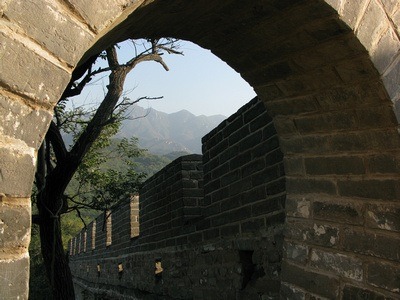 The Great Wall of China
When we enter the gates at Badaling, I don't have recollections of anything around me, and I assume that the last time I was here I visited a different section (an entirely reasonable assumption, given the many different sections of the Wall you can visit).
Since it's so early, there is almost nobody here to begin with, and given a choice from the entrance, most people turn right and climb to the nearest viewpoint. Our guide – and our intuition – tells us to go left.
We have this section of wall almost entirely to ourselves. There are two people about half a kilometre away. It's a photographer's bliss, at The (empty) Great Wall of China on this early Saturday morning.
Choosing to get lost in memories of the last time I was here, I take a few photos along with Michael and Jeannie, and begin my pilgrimage up the steep steps to the viewpoint a little faster while they set a more languid pace with their cameras.
I reach the top, and something happens.
A plastic bag lining a garbage bin in the watch tower is rustling in the wind in an eerily familiar way. I look out, and a cable car line that was obviously shut down long ago sits below. I look left. I look right. Can this be?
Suddenly it's 18 years ago. I stood in this exact spot on top of The Great Wall of China, marvelling at the 1054 steps I took to get up there, and celebrating with my best friend Chris who was also in the ballet with me.
18 years ago, we reflected on the history of this amazing wonder of the world, looked out over the beautiful mountains, remembered the adventures that brought us to that moment, and dreamt of our vast futures that lay ahead.
18 years ago, we took a picture sitting on the steps at the top, geeking the camera after the exhausting climb. A vendor beside us looked on us bemusedly as she said "Hullo! Hullo!" and tried to sell us something.
This time, it's just me (no vendors, no ballerinas, and no tourists) and I'm not so much exhausted as exhilarated.
Like last time, I reflect on the history of this amazing wonder of the world, look out over the beautiful mountains, remember the (many more) adventures that brought me to this moment, and dream of the vast future that still lays ahead.
Please enjoy this video of The Great Wall of China – then and now.
Email subscribers, click here to watch on YouTube.
I'm very grateful for the chance to revisit my favourite Chinese city of Beijing after all these years; it has been an amazing "full-circle" experience. Many thanks to HostelBookers for arranging our one-night stay (our first night in a stationary bed in a week!) at the very nice Happy Dragon Courtyard Hostel, and to China Odyssey Tours for arranging our Chinese tours, transfers, and even the world's fastest train from Beijing to Shanghai. You've made our trip through China an absolute stress-free breeze – something I can't be happier for after the last few weeks of exhausting travel.