Although my hobo-istic tendencies have been slightly truncated with my home base in Peru (where I've lived for the last year and a half or so), it hasn't stymied my desire (nor ability) to continue traveling. Hence, my recent trip to Isla del Sol (island of the sun), on Lake Titicaca, in Bolivia.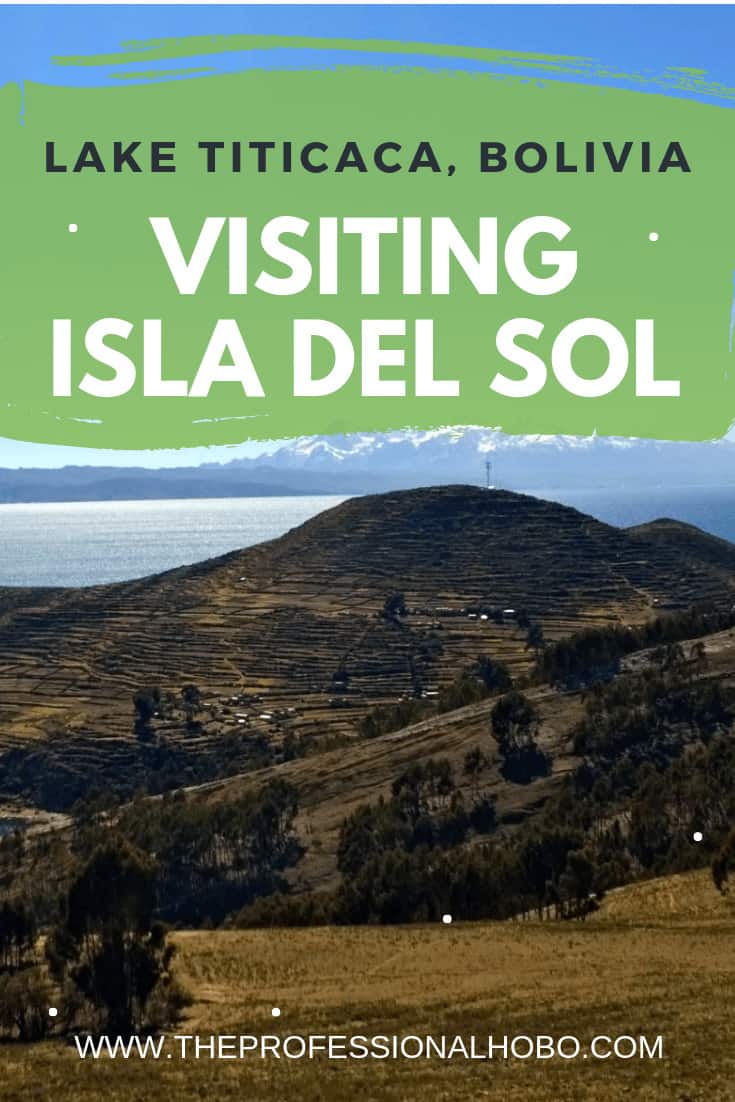 This post was originally published in 2015. It has since been updated for accuracy of links and content.


Getting to Isla del Sol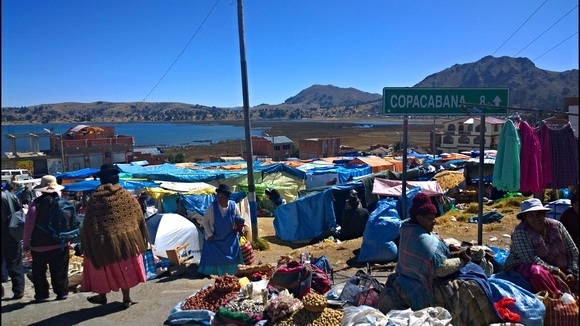 Copacabana (in Bolivia, not to be confused with the beach in Rio de Janeiro) is the launching point to Isla del Sol. It's just beyond the Peru/Bolivia border, which is about 10 hours from Cusco by bus.
The border crossing itself is an experience. After checking out of one country (eg: Peru), you walk about 200 metres through a busy marketplace to check into the next country (Bolivia). I don't know what country this "no man's land" specifically belongs to, but it is a hustle and bustle of people selling everything from fabric to DVDs to plastic tubs to puffed pork fat.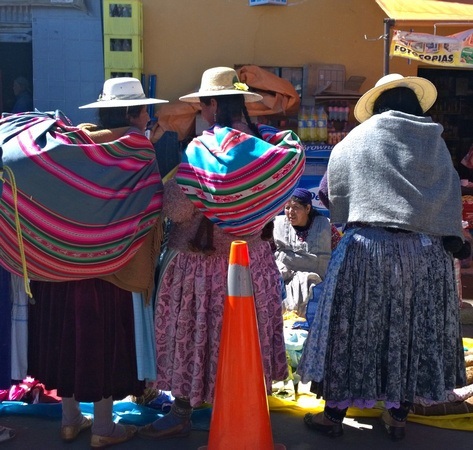 Copacabana itself is a small(ish) town on Lake Titicaca, which has its share of accommodation options, and mainly serves people going to and from Isla del Sol and other islands. (And even though it bears no relation to its sister in Rio, I couldn't help but sing the famous song about Copacabana repeatedly while I was there – much to my travel partner's chagrin).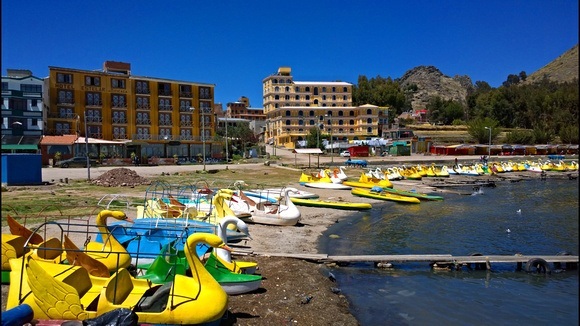 Ferries leave from Copacabana to Isla del Sol 2-3 times per day, and the 1.5 hour ride is a lovely breezy journey.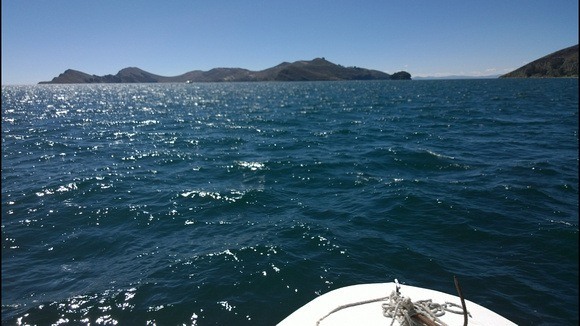 Lake Titicaca
A few words on Lake Titicaca (which again to my partner's chagrin, I giggled childishly at with every mention of the name): It's the largest lake in South America, as well as the highest navigable lake in the world – with a surface elevation of over 3,800 metres (12,500 feet).
It is said that Lake Titicaca used be be part of the ocean, some 20 million years ago before the Andes were formed. Although the water isn't salty any more, it does have an ocean "feel", with countless vistas of bays that look a bit like the Cote D'Azur.


Arriving at Isla del Sol
There are two main ports of arrival at Isla del Sol: the north, and the south. Most people travel to the south first, which is a shorter ferry ride from Copacabana. From the docks, it's a (very) steep hike up to the community of Yumani, which is the largest community on Isla del Sol (which has a total population of about 800 families). Yumani isn't much to look at, but it has its own charm and a very local feel, and offers many places to stay for the night.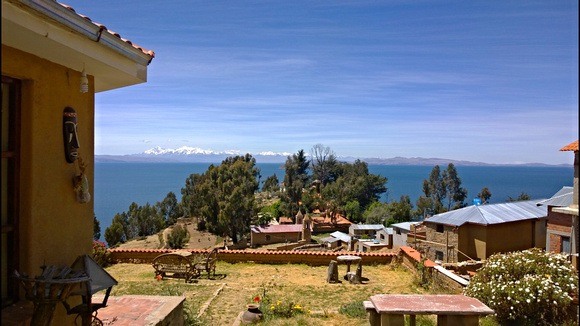 I hiked right through Yumani and stayed just outside of town (and on the trail towards the north part of Isla del Sol) at a beautiful place called Palla Khasa Eco-Lodge with rustic (and sustainable) accommodation and beautiful views.


Hiking to the North
There are no motor vehicles or paved roads on Isla del Sol, but there are lots (and lots) of donkeys. (At times I wondered if there were more donkeys than people living on the island). So between the altitude and the lack of roads, you need to be in fairly good nick to visit Isla del Sol.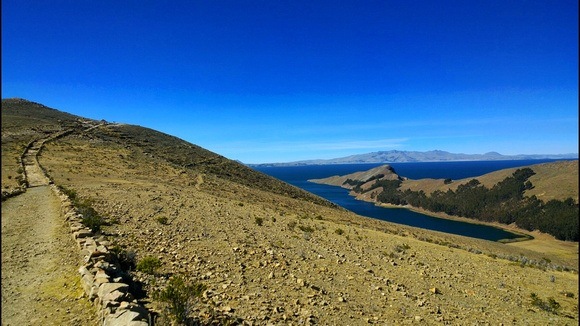 The main event for my trip was to hike to the north part of Isla del Sol and spend the day exploring the sacred ruins before hiking back to the south. Many people start at one side of the island and hike to the other to stay for the night; I did the round trip in one day.
There are over 80 ruins on the island (most of them in the north), dating to the Inca period circa 15th century AD. However there is evidence that people lived on the island as far back as the 3rd millennium BCE.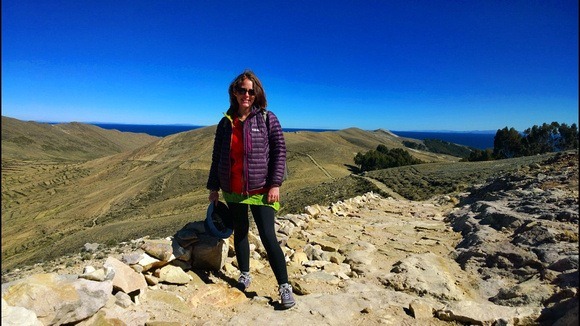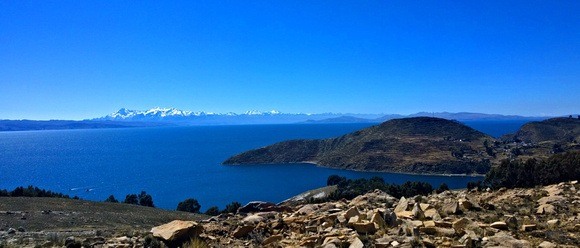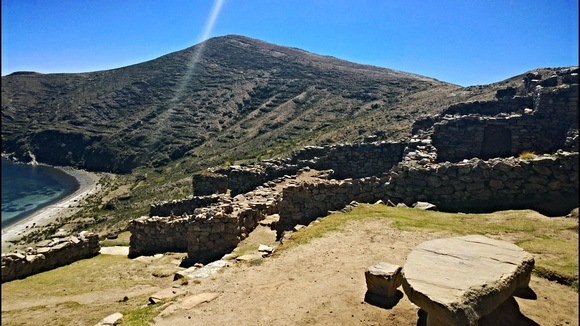 These ruins pictured above (some of the largest on Isla del Sol, in the north) are also known as "the labyrinth"; it doesn't look like much from the outside, but you can lose yourself in the narrow passages and dark corners. Apparently there is a water source hidden somewhere in there, that has special powers of longevity. (I couldn't find it; I guess I'm doomed to regular old mortality).
What makes Isla del Sol special (for me) is not only its natural beauty and rustic charm, but also the Incan folklore and historical power and overall energy of the area.
Legend has it that the sun and the moon were born in Lake Titicaca, and that the Incan sun god was born on Isla del Sol. In the aftermath of a great flood, Isla del Sol was the first land that appeared after the waters receded, and the sun emerged from Titi Qala (a sacred spot in the north) to illuminate the sky once again. A temple was built in this spot to honour the sun's emergence.
My visit was short and sweet (I stayed on the island three nights), but it's longer than many people passing through seem to stay, who float in for a full-day tour and float back out again. To experience the energy and beauty of the place and people, stick around for a wee bit; you won't be disappointed.