Between Beijing and the final Ultimate Train Challenge destination of Saigon six days later, we ride on five different Asian trains, including the flashy world's fastest train from Beijing to Shanghai, some not-so-flashy trains, and a few in between (all things being relative).
Three of our six nights between Beijing and Saigon are spent on trains, so I have lots of time to experience Asian travel culture, make friends, and bide my time while watching the world go by.
Here are some of my random experiences:
This post was originally published in 2011. It has since been updated for accuracy of links and content. 


Beijing to Shanghai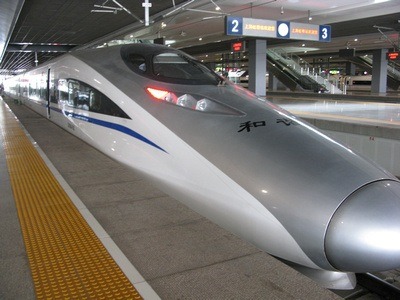 This journey is traditionally an 11-hour ride, and has been cut down to just over five hours with the new flashy bullet train from Beijing to Shanghai – reputedly the world's fastest train. It is an incredibly comfortable and easy ride, buffeted on either side by shiny new expansive train stations.

Random Experience #1: McDonalds "Delicacies"
Even the McDonalds at the Beijing train station is fancy, featuring a "tea restaurant of table delicacies" (pictured here) – whatever that means.


Random Experience #2: Hand-Holding
While waiting for the train, two small adorable Chinese women in some sort of uniform come trotting (literally trotting) by me, holding hands. It's not until they've passed that I can see the bold writing across the backs of their cute little uniforms: SECURITY. Where I come from, security personnel are usually intimidating. This is just endearing.


Random Experience #3: Tongue-Twisting
I am seated at the front of my train car, so I simply hold my camera up at arms length facing backwards to get a shot of the car, with no idea what the picture will look like. The guy sitting just behind me gives me this gem of a shot:

Shanghai to Guilin
In an effort to save a few bucks, we opt for the 3rd class "hard sleeper" train on the 22-hour trip from Shanghai to Guilin (which is all part of a larger 33-hour journey originating from Beijing). Although we initially regret this decision when faced with a crowded, loud, open car with three tight layers of bunk beds, it doesn't take long to get into the fun and enjoy some of the most random of Asian train experiences.


Random Experience #4: Random Photo
Just outside of Shanghai, I take an accidental random photo with my camera, which is randomly pointed at the window. What are the chances that I catch a ferris wheel. I mean, really.

Random Experience #5: Train Food
Although vendors regularly pass through the train car selling fruit, packaged food, and prepared food, I notice most passengers bring their own food on-board; which includes a lot of instant noodles and vacuum-packed snack-foods like chicken feet and tofu. (Yes, vacuum-packed snack-foods like chicken feet and tofu).


Random Experience #6: Passenger Food
A middle-aged woman takes over the communal seating/table area at the end of the bunks and delicately airs a pile of mystery food in the space under the counter.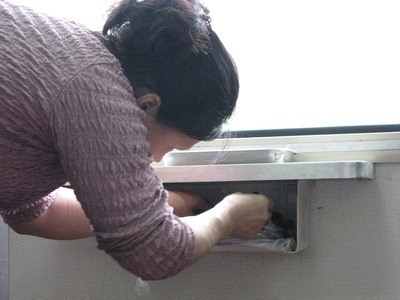 The following morning, this mystery food selection has darkened, shrivelled, and interestingly – multiplied, and she is now carefully continuing to dry out this food using the light of day. She periodically attends to the little brown packets of something, squeezing them, smelling, them, and turning them over. When she smells them I study her to see if I can get a sense for its deliciousness (thinking maybe I can tell from her expression if it's sweet or savoury), but she gives me no clue with her stoic face.

Random Experience #7: Mystery Packages
This same woman has also commandeered the entire table between bunks for 11 wrapped boxes of something. At first I think they are box lunches, and as she shuttles more and more over to the table, I wonder if she has treated our whole section to a meal. I restrain myself from digging into one of these "lunches" which turns out to be a good thing, as I later learn from a Mary Kay girl (how's that for random-ness? keep reading) they are "moon cakes" that are likely gifts for family and friends.


Random Experience #8: Music and Talk Radio for One and All
As I start to become annoyed at the passenger somewhere above me who is listening to the radio full-blast, I realize with some degree of horror that it's being piped through the whole train. This deafening combination of talk radio and Chinese muzak will play for an hour, then stop for a few hours, then play for another half hour, then stop for 20 minutes, and so on. Most people seem to tune it out, despite the ear-shattering decibels.


Random Experience #9: It's a Mary Kay Conference
As I sit on my lower bunk working on my laptop, the lady on the top bunk (with a kind face, who initially helped me locate my bunk from my cryptic train ticket) climbs down and sits cross-legged next to me, looking expectantly at my laptop, then me, then smiling. I'm not sure what she's after, so I show her pictures of my recent adventures on The Great Wall, I play the Ultimate Train Challenge Trailer, and explain with pictures, sign language, maps, and numbers on the computer what the Ultimate Train Challenge is all about. I think she gets it, since she seems genuinely surprised and confused by my mission to travel from Lisbon to Saigon (25,000kms) by train in 30 days.
Now it's her turn: I learn she's a Mary Kay consultant returning home from a Mary Kay conference near Shanghai. She shows me pictures on her camera of the conference, her home, her husband and two year-old son, and her mother and father. I am quickly introduced to the rest of her gaggle of Mary Kay friends. I obediently pose for pictures with each of them and many combinations thereof.
Although we don't share a common language (albeit she knows more English than I know of Chinese), we are best friends for the rest of the train ride; she teaches me about moon cakes, shares a pomegranate with me, we establish our ages and birthdays, my last visit to China in 1993, and we muse over a Chinese handbook with select phrases and pictures.
However our language barrier proves its limitations when I ask what the mystery food (that's displayed and drying at the foot of our beds) is. It seems this mystery food will forever remain just that: a mystery.


Random Experience #10: Toothbrush Etiquette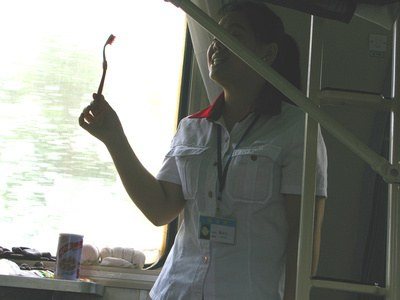 A train attendant sets up shop in the middle of the car (which happens to be at the foot of my bed) around 10am. In her loudest voice she launches into a sales pitch for toothbrushes. This lasts about 10 minutes, as she extols the virtues of the brush itself with a full demonstration of its many features, along with a quick lesson on brushing techniques. I never realized a toothbrush could be deserving of such intricate descriptions. She must have done a good job, because she is swarmed by curious customers at the end of her lecture and she sells quite a few.
(Note: I also see this display on another train between Guilin and Nanning, as well as a very compelling sales pitch and absorption demonstration for chamois towels. Then again, what sales pitch and absorption demonstration for chamois towels isn't compelling?).


Random Experience #11: Deputy Train Conductor
In the train washroom, I discover a female attendant's hat hanging on the hook, obviously left behind by one of the conductors. I take the opportunity to stage a little photo shoot in the washroom, which also serves as a scavenger hunt score for the Ultimate Train Challenge competition.


Hanoi to Saigon
Although I dread the last train from Hanoi to Saigon (as part of a larger longer 4 day/3 night race for the finish), this 35 hour train ride actually ends up being one of my favourite train rides. The scenery is great, there's power in our cabin (glory hallelujah), and the piece de resistance: the windows open for us to capture some great shots along the way.

Random Experience #12: Epic Instant Noodles, Station Stops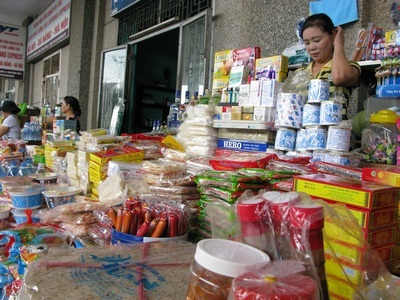 At a station stop, I pick up some instant noodles for lack of there being any food vendors with cooked food. It's not until I dig into said noodles that I see just how cool my package of noodles is. Check out this guy!

Random Experience #13: Photographic Expose
With the window open and the humid Vietnamese air breezing through the train, I have a blast shooting reams of photos and video of the landscape between Hanoi and Saigon. Here are two random shots I get that I'm particularly proud of:
Thank you China Odyssey Tours for providing our tickets for the world's fastest train from Beijing to Shanghai. During the Ultimate Train Challenge, we managed to conquer the world's longest train ride (the Trans-Manchurian), followed immediately by the world's fastest. Now that's poetry.