Welcome to my travel expenses report for 2018! These annual reports are incredibly time consuming to produce, but fascinating for me – and hopefully for you too.
Let's take a look at everything I spent in 2018 – business, personal, and otherwise – a year that saw me travel over 32,000 miles to six countries (with a whole lotta bouncing around within a few of those countries).
Since 2010, I've published my full-time travel expenses annually; an uncensored breakdown of all my expenses for the year, demonstrating that the travel lifestyle is much more achievable than most people think.
This post was originally published in 2019. It has since been updated for accuracy of links and content.
Click here to see all of my Annual Income and Expense Summaries!
2018 Overview
2018 was an interesting year that involved an inner journey even more so than an outer one. While my location changed a dozen times over the year which saw me visit six countries, the real journey for me in 2018 was a journey of healing; healing from burnout, a variety of physical ailments (likely a result of bad water), and from traveling a bit too far, for a bit too long. It's ultimately why I ended up setting up a home base in the latter half of the year.
You'll see some of these healing and home base endeavours reflected in my travel expenses throughout the year.
For more on the year's activities: see 2018: 6 Countries, 32k Miles, And Some BIG Changes
Here's a breakdown of my movements in 2018:
1 month in Chiang Mai
1 month in Hoi An
1 month in Koh Phangan
1 month in Melbourne
2 weeks in Toronto
2 weeks in London
2 weeks in Hollywood FL
4.5 months in Toronto
1.5 weeks in San Diego CA
1.5 weeks in Palmdale CA
5 weeks in Hollywood FL


What I Spent in 2018: $27,611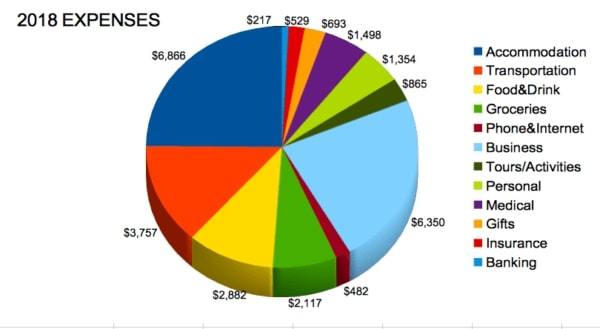 At the end of this post, I'll share some observations on how 2018 fared in comparison to other years. In the meantime…
I mention this often, but there are two matters that bear repeating, emphatically:
1 – Financially sustainable travel is not synonymous with budget travel.
I'm not trying to travel full-time on a restrictive budget. When a mini-documentary about me went a bit viral, a small army of viewers attacked my annual expenses as being too high.
"Where's the challenge in that?" they said. A few people suggested I should be riding around the world on a bicycle and sleeping in a tent. (Literally).
Well, I'm not into "should"s. If somebody tells me I should do something, chances are I'll run as fast as I can in the opposite direction (but that's another story).
The reality is, travel as a lifestyle is budget-less. There are no rights and wrongs nor shoulds and shouldn'ts. Only what we choose to spend and how we choose to travel.
I've traveled the world for anything from $17k/year to $44k/year. I'm not looking to win any prizes; I'm just telling it like it is.
The most important thing to note about my travel expenses every year regardless of the total sum, is that I am comfortable. I live well. I don't want for much. I make spending choices, and I live well by them. And when I want lobster, I eat lobster.
Here's more on what Financially Sustainable Travel really means, and how to create your own realistic long-term travel budget.
2 – The expenses in this report are life expenses more than travel expenses.
This is important, and perhaps I haven't been clear enough about this in the past.
Many of the expenses in these reports aren't travel-related at all. While my online business is (obviously) about travel, my business expenses aren't directly related to travel in any way. Neither are medical nor banking expenses.
In fact, if we subtract those three expenses from my total this year, I spent $19,546. I could argue that a few more expenses yet could be subtracted that aren't travel-related, but I think you get the point.
When I used to work in the financial planning industry, the insider "joke" was that it's all smoke and mirrors. You can massage any number to look high or low or good or bad just by putting it in the right context.
Rest assured there's no smoke clouding the view with my annual reports. I just state the facts, and you can do with them as you please.
So….are we cool? Great. On with the show!


Monthly Breakdown
All amounts have been converted to US Dollars for ease of comparison.
JANUARY (Chiang Mai, Thailand)
$996
To kick off 2018, January was an unremarkable month (financially speaking) with a nice low total. Living in Thailand is cheap!
The groceries expense was so low because I only bought coffee and breakfast foods. There's almost no point in setting up a kitchen and cooking whilst in Thailand, when you can get a delicious prepared meal for a couple of dollars.
And that's not a typo for accommodation; my lovely one-bedroom condo with gym and pool was under $250/month. (See also: How to Find an Apartment in Chiang Mai)
Accommodation $234
Transportation $177
Food&Drink $253
Groceries $31
Phone&Internet $9
Business $110
Tours/Activities $108
Personal $45
Gifts $22
Banking $7


FEBRUARY (Hoi An, Vietnam)
$1,568
Ringing in the Vietnamese New Year in Hoi An was a pretty amazing experience, especially living in a local rented apartment nestled on a rice paddy, as I was (again, for less than $250).
The transportation expense looks high for a simple flight from Thailand to Vietnam, no? You're right. In February I spent $700 purchasing a whack of frequent flyer miles at a very special deal. Later in the year it (more than) funded my business class flights from Melbourne to New York.
See also: A Beginner's Guide to Frequent Flyer Miles & Travel Hacking Like a Pro
Accommodation $235
Transportation $886
Food&Drink $201
Groceries $20
Phone&Internet $16
Business $114
Tours/Activities $6
Personal $26
Gifts $4
Banking $60


MARCH (Koh Phangan, Thailand)
$2,360
The rain in Vietnam drove me back to Thailand, where this time I zoned in on the southern island of Koh Phangan. The main attraction (and associated expense in the medical category)? An intensive detox retreat that I hoped would help me with the mounting issues (physical and emotional) that were weighing me down. I literally tried to clear it out of me. Not sure if it worked, but it sure made for a good story.
Again, the transportation expense is coming in pretty high; it includes not only my travel between Vietnam and Thailand, but also a flight to Australia which I hopped on at the very end of March.
Accommodation $239
Transportation $671
Food&Drink $295
Groceries $69
Phone&Internet $31
Business $123
Personal $15
Medical $868
Gifts $49


APRIL (Melbourne, Australia)
$670
April was definitely my most inexpensive month of the year, as I was in the loving care of some Australian friends who turned their home into a retreat centre for me to really kickstart my healing journey. (I have amazing friends).
My biggest expenses were meals out and groceries, as I was under firm instructions to eat really well (never a hardship for me).
Accommodation $0!
Transportation $17
Food&Drink $217
Groceries $152
Phone&Internet $24
Business $91
Tours/Activities $137
Personal $16
Gifts $16


MAY (Toronto Canada, London England)
$1,977
After dropping my bags in Toronto in the first half of May, I skipped off to London to visit some friends.
Check out that transportation expense: it includes the taxes for my rewards flight from Australia to New York (in business class), my flight from New York to Toronto, and my flight from Toronto to London. I think that's pretty good!
The beefy medical expenses were the ridiculous amount of (high-quality) vitamin supplements prescribed to me by my Australian hosts. They've sold me on the benefits of vitamins; I'm a regular user now.
The large balance in the Gifts category is because I like to thank hosts for their hospitality with something like a nice dinner or a gift, and I had a few gifts to give since my accommodation in Australia and London was gratis.
Lastly, you'll see a slightly higher total in the Business category; a trend that only increased as the rest of 2018 progressed. This is because I took on an SEO-riffic employee to help me clean up my website.
Accommodation $0!
Transportation $568
Food&Drink $217
Groceries $81
Phone&Internet $15
Business $276
Tours/Activities $111
Personal $172
Medical $288
Gifts $250


JUNE (Hollywood Florida, Toronto Canada)
$3,334
From London, I popped over to a friend's place in Hollywood Florida (a regular haunt for me) for two weeks, before returning to the comfort of my Mum's couch in Toronto for the rest of June. While my accommodation for the month was largely free, I did need a hotel on my way out of London, hence the oddball accommodation expense.
By contrast, my transportation expenses were on the higher side, but still reasonable considering it included a flight from London to Florida, then Florida to Toronto, plus a bunch of Uber rides in Florida.
The business category is where I really spent my money in June (without it my travel/living expenses were only $1,529). My annual managed hosting bill came in (always a shocker, but worth every penny), and my new employee gobbled up the rest.
Accommodation $106
Transportation $767
Food&Drink $124
Groceries $291
Phone&Internet $30
Business $1,805
Tours/Activities $26
Personal $138
Medical $42
Gifts $5
JULY (Toronto, Canada)
$2,281
Knowing that I planned to spend the summer in Toronto, and continuing on my healing journey, I wanted to have my own place, so I sublet an apartment for most of July and part of August. This, in addition to some pretty hefty food bills (both groceries and eating out) as well as continued salary expenses, accounted for most of July's expenditures.
Accommodation $723
Transportation $71
Food&Drink $317
Groceries $420
Phone&Internet $76
Business $487
Tours/Activities $34
Personal $153


AUGUST (Toronto, Canada)
$1,630
August on the surface was pretty low-key. I continued to hang out in Toronto, and went to a friend's cottage north of the city for one glorious week.
But behind the scenes, August was a game-changing month; one where I decided I would be setting up my next home base in Toronto. I serendipitously found the perfect apartment for the right price in an ideal location, with a move-in date of September 1st. It happened incredibly quickly! So, while all other expenses are pretty ordinary, the $200 insurance cost is my annual renter's insurance premium.
Accommodation $255
Transportation $80
Food&Drink $222
Groceries $145
Phone&Internet $108
Business $509
Personal $32
Medical $20
Gifts $44
Insurance $214


SEPTEMBER (Toronto, Canada)
$4,214
September is the bell-ringer for most expensive month of the year! It stands to reason, with accommodation expenses soaring due to setting up and furnishing my new apartment largely from scratch. In fact, all things considered I did quite well! Between friends who were downsizing and sites like Freecycle, I got a lot of great pieces of furniture and housewares for free.
Regardless, setting up a place always costs, which is why in 2006, I set aside and invested the money I made when I originally sold everything I owned to travel, instead of adding it to my travel fund; I knew eventually that money would come in handy, and it did.
See also: How to Manage Your Money: The Ultimate Guide to Financial Planning for Travelers
Accommodation $2,521
Transportation $15
Food&Drink $243
Groceries $340
Phone&Internet $43
Business $634
Tours/Activities $72
Personal $70
Medical $136
Gifts $142


OCTOBER (Toronto, Canada)
$3,409
I continued to "nest" in October and to make my delightful Toronto apartment truly mine. Expenses this month were higher in the Personal category due to buying some accoutrements for the new place as well as some gear for upcoming travels.
And in the Business category (in addition to regular business expenses including employee salary), I paid an annual fee for my newsletter service, and I bought a ticket to a conference in June 2019.
Accommodation $826
Transportation $43
Food&Drink $314
Groceries $235
Phone&Internet $43
Business $1,285
Tours/Activities $30
Personal $395
Medical $88
Gifts $44
Banking $106


NOVEMBER (San Diego, Desert Hot Springs, LA, Palmdale – California)
$2,884
Much as I adored my little pad in Toronto, circumstances (including the encroaching winter weather) dictated that it was time for me to hit the road again. In this and future months, you will see that the inherent cost to sustain my apartment (rent, hydro, internet) continues whether or not I am there – which in turn increases my cost of living and traveling. It's a worthwhile expense however, as the apartment has provided me with a level of grounding and stability that I needed after the last few years of frenetic nomadic travel. And, as you'll see in my income report, maintaining this home base is 100% financially sustainable; for me, financial sustainability is the real bottom line.
So, for November, the Accommodation category not only includes the rent and hydro for my Toronto apartment, but also a few hotel stays here and there between staying with friends all over California. Transportation includes a flight from Toronto to California and buses around the state.
Because I was in "tourist mode" throughout much of my Californian adventures, my Tours/Activities expenses were also pretty high, including a mini-road trip to Desert Hot Springs and Joshua Tree, and a (delightful, but expensive) day at Universal Studios.
The insurance expense was actually refreshing for me; after years of spending about $1,400/year on expat insurance (international medical insurance), I'm off the hook! My return to Canada and commitment to spend half of every year there (cumulatively) means I am back on the provincial healthcare system! If you're not Canadian (or are scratching your head), this means I now qualify for regular ol' travel insurance. So for $315, I got a policy with World Nomads to cover me for the next five months on the road! While 2018 may have seen many increases in expenses (like Business and Accommodation), this was a welcome reduction.
See also: The Complete and Easy Guide to Insurance for Travelers
Accommodation $959
Transportation $273
Food&Drink $312
Groceries $114
Phone&Internet $43
Business $387
Tours/Activities $341
Personal $10
Medical $14
Gifts $117
Insurance $315


DECEMBER (Hollywood FL, USA)
$2,287
December was a pretty sedentary month, spent with an old friend in a familiar setting. I continued to rest, work, and enjoy the warm weather. None of my expenses were particularly remarkable; I picked up some odds and ends in the Personal category, in preparation to spend the first quarter of 2019 in Guatemala.
Accommodation $767
Transportation $190
Food&Drink $167
Groceries $219
Phone&Internet $43
Business $530
Personal $283
Medical $43
Banking $45


2018 Summary Notes
The reactions I get to these annual cost-of-full-time travel posts are often opposed. One camp will say "OMG $27,611 is so much money! That's not budget-friendly at all!", and another camp will wonder how on earth I covered so much territory for so little money. It's all about frame of reference.
But on the whole, and in comparison to other years, 2018 is neither high or low. Despite setting up a home base in a very expensive city (Toronto), I've had more expensive years (2014, 2013, and 2012 which ranged from $28k-$44k). Accommodation itself also hasn't been the highest it has ever been; I beat it in 2014 with both an active year of travel (and relatively little free accommodation), and setting up a home base in Peru in the last quarter of that year.
Business expenses, however, totalled over $6,300; that's 50% higher than in 2017 and even more than most other years. I expect in 2019 my business expenses will be even higher yet. This is because I've really upped the ante and gotten serious about investing in my online business. You'll read more about what that means in my annual income report for 2018, coming soon.
In past years, I have observed that there seems to be a "sweet spot" around $24,000, which seems to have been a reasonable amount of money to spend on my full-time travel lifestyle without sacrificing anything, and including all (non-travel) incidentals. So, while 2018's expenses are certainly higher than that sweet spot, much of the increase came in the form of setting up an apartment and hiring employees for my online business. All in all, I'm pleased with my expenses, which, as you'll see from my upcoming annual income report, have been financially sustainable – which is the whole point of publishing these reports for you!


Previous Full-Time Travel Expense Reports: