Since 2010, I've annually published my full-time travel expenses; an uncensored breakdown of all my expenses for the year, demonstrating that the travel lifestyle is much more achievable than most people think.
This post was originally published in 2017. It has since been updated for accuracy of links and content.
Click here to see all of my Annual Income and Expense Summaries!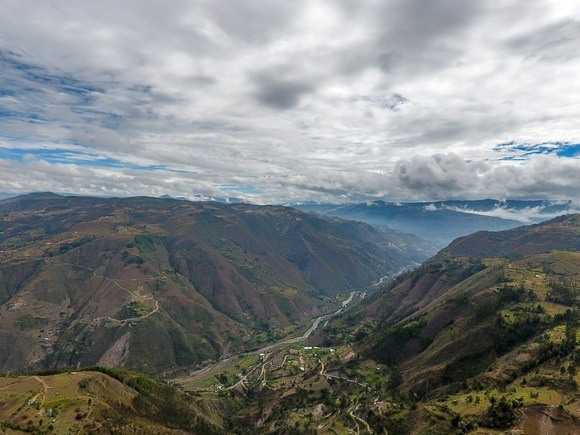 2016 was an odd year for me on many levels. Luckily it was more than sustainable financially, due partly to the fact that I didn't move around too much. The pace of travel that I kept this year (although boring for some) is very comfortable for me, and ultimately sustainable (financially and otherwise).


What I Did in 2016
Here's a basic summary of where I was in 2016: (See Also: 5 Countries and 30,000 miles: This Was 2016)
2 months in Peru
1 month in Canada and Ireland
2.5 months in Peru
1.5 months in Florida
1 month in Canada
3 months in Ecuador
1 month in Florida
Full-Time Travel Expenses for 2016: $23,216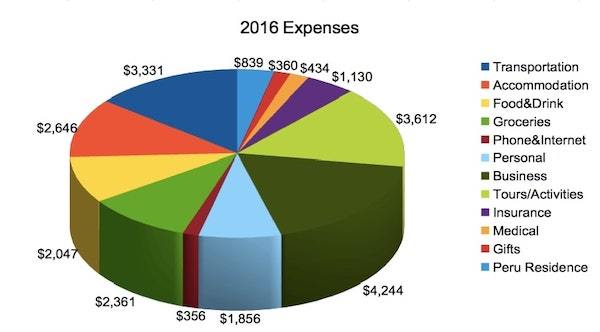 Monthly Breakdown
All amounts have been converted to US Dollars for ease of comparison.
JANUARY (Peru)
$1,068
January was a quiet month in Peru. Thus my expenses were very low and nothing was off the radar.
Transportation $6
Accommodation $514
Food&Drink $111
Groceries $135
Phone&Internet $52
Personal $14
Business $87
Tours/Activities $80
Medical $57
Gifts $12


FEBRUARY (Peru)
$2,126
Although February was also relatively quiet in Peru, I was neck-deep in the process of applying for residency in Peru (with the help of my teacher), which accounted for the "Peru Residence" category expenses along with the transportation expenses involved in making a special trip from Cusco to Lima. Almost half the month's expenses! Sheesh.
Transportation $193
Accommodation $503
Food&Drink $120
Groceries $165
Phone&Internet $51
Personal $154
Business $159
Tours/Activities $11
Medical $85
Gifts $8
Peru Residence $677


MARCH (Canada, Ireland)
$3,644
March was much more active for me, and also the most expensive month of the year; I traveled to Canada to pick up my mum and take her on a trip to Ireland (I actually won a trip to Ireland!). While in Canada I also bought a new laptop, hence the large business expense. And of course, before I left Peru I managed to spend a couple of hundred more on my residency efforts.
Transportation $264
Accommodation $524
Food&Drink $138
Groceries $143
Phone&Internet $74
Personal $535
Business $1,664
Medical $56
Gifts $84
Peru Residence $162


APRIL (Peru)
$1,774
I'm a wee bit bitter about all the money (and time, and effort) I spent in applying for Peruvian residency, since it was all for naught as soon as I returned to Peru in April. I didn't do much in April other than feel sorry for myself, with the silver lining that I didn't spend too much money. The transportation expense was my flight back to Peru from Canada.
Transportation $564
Accommodation $515
Food&Drink $288
Groceries $107
Phone&Internet $63
Personal $60
Business $65
Tours/Activities $77
Gifts $35


MAY (Peru)
$875
May was my cheapest month of the year, as I continued to hole up and feel sorry for myself. My accommodation expense is lower because once I moved out of my place I mostly stayed with friends and house-sat until I left Peru in June.
Transportation $11
Accommodation $200
Food&Drink $108
Groceries $176
Phone&Internet $12
Business $116
Tours/Activities $163
Medical $89


JUNE (Peru, USA)
$1,450
Considering June's expenses include a $600+ flight from Peru to Florida at the end of the month, I didn't spend much. My accommodation was a whopping $18 (for laundry and cleaning service) while staying with friends. Everything else was business as usual, with an extra massage or two in the Medical category.
Transportation $645
Accommodation $18
Food&Drink $130
Groceries $271
Business $106
Tours/Activities $166
Medical $104
Gifts $10


JULY (USA)
$1,409
Staying with a generous friend in Florida, I had zero accommodation expenses for July.
The transportation expense is kind of bogus, but was money spent (or lost): early in the year I bought flights to the jungle in Peru (from Cusco), but I never ended up using them, nor could I receive a refund. The flights were supposed to be for July travel, so they went into the budget anyway.
Transportation $223
Food&Drink $112
Groceries $286
Personal $481
Business $234
Medical $43
Gifts $30


AUGUST (USA, Canada)
$1,472
In August I spent almost the same amount as in July, except this time I got on the flight I booked (to Canada)! Again in Canada I was staying with family and friends and didn't have to worry about accommodation.
Transportation $311
Accommodation $15
Food&Drink $393
Groceries $212
Phone&Internet $22
Personal $139
Business $105
Tours/Activities $195
Gifts $80


SEPTEMBER (Ecuador)
$2,527
Take out my annual expat insurance premiums ($1,130), and September was a pretty low-cost month as well, especially considering the transportation expense from Canada to Ecuador. I also had some inflated business expenses in September since I hired somebody to do some web projects, and also had to pay the annual dues for some web services I use.
Transportation $423
Accommodation $126
Food&Drink $187
Groceries $184
Phone&Internet $15
Business $359
Tours/Activities $103
Insurance $1,130


OCTOBER (Ecuador)
$2,209
I had some extra business expenses this month; mostly in the form of the annual premium for my Aweber account (which I use for newsletters).
And when my house-sitting gig ended in mid-October, I spent the rest of the month (and then some) at a retreat centre, which accounts for the tours/activities expense (which also included accommodation and food).
Transportation $28
Accommodation $151
Food&Drink $191
Groceries $61
Personal $22
Business $284
Tours/Activities $1,472


NOVEMBER (Ecuador, USA)
$3,056
November was the second most expensive month of the year for three key reasons:
I did another retreat at Gaia Sagrada (tours/activities)
I flew to Florida towards the end of the month (transportation)
I bought a new smartphone (business)
I also bought a few extra things for my business including a microphone and some gear for my new vlog, which rounds out my business expenses.
Transportation $419
Accommodation $80
Food&Drink $66
Groceries $150
Phone&Internet $37
Personal $113
Business $910
Tours/Activities $1,275
Gifts $6


DECEMBER (USA)
$1,606
I spent most of December with my friend in Florida, with about a week in California visiting friends in San Diego and Los Angeles. Thanks to these lovely people, accommodation was gratis for the month. This allowed me to spend extra money on a few personal and business items, gifts, and lots of nice food, and still feel like it was a cheap month.
Transportation $244
Food&Drink $203
Groceries $471
Phone&Internet $30
Personal $338
Business $155
Tours/Activities $70
Gifts $95


Summary Notes
I don't have much to say about 2016 from the perspective of full-time travel expenses. A few thousand dollars were lost in my Peruvian residency efforts and the loss of use of some flight tickets. But it's way better than the many thousands I lost to life circumstances in 2013!
In looking at my full-time travel expenses from years' past, it seems I'm finding a sweet spot around $24,000; it's not anywhere near what I used to spend to live in Canada, but enough to be comfortable and in style (around the world). And you'll see from my income report (to be published next month) that I could have spent more money had I chosen, but there wasn't anything I wanted or needed to spend more money on!
I don't have any idea what 2017 will hold for me monetarily. I don't think I'll be moving around too much, but I may have some extra expenses in Ecuador living at a retreat centre and doing plant medicine ceremonies. No matter. By tracking my expenses as I go, I always have a finger on the pulse of my spending and can make adjustments as needed.
For previous annual reviews of my full-time travel expenses, check these posts out:
2015 ($25,000)
2014 ($28,000)
2013 ($44,000)
2012 ($28,000)
2011 ($18,000)
2010 ($17,000)