Every year (just in time for Christmas shopping), I curate a list of travel gear/gadgets/services that will appeal to travel-enthusiasts. Here is my list of best travel gifts for 2017; the best of the best of everything I've seen or tried out this year, from packing tools to multi-functional dresses, smartphone trackers, fun books, and Sim card services.
Disclosure

Throughout the year, I'm regularly contacted by travel gear and service providers who want to offer me their product in exchange for a review.

I say no more often than yes.

But occasionally, I see something that could be valuable for travelers like myself – and by extension, you – and I do say yes. This article is comprised of a selection of these items; travel gear and services that I've had a chance to use throughout the year, and am happy to introduce to you here. In most cases, I've been given a discount or free sample (and I've used a few affiliate links). In a few cases, I've shelled out my own shekels to own them. In all cases, you can expect my 100% honest review.

Without further ado, check out my list of the best travel gifts for 2017.

2023 Note: This post has been updated for accuracy of links and content.


eSIM (Global Data)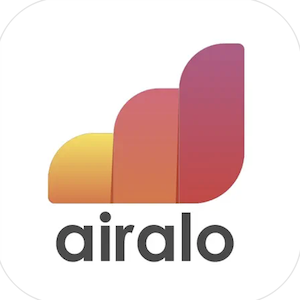 These days, living and traveling without some sort of data plan on your phone is unthinkable. To be honest, the first time I ever had data was in 2016. Prior to that I never knew the "joys" of such constant connectivity. Late to the game (and reluctant to be so connected) as I am, I must admit that it's really handy on the go for maps, WhatsApp (which is a primary way people stay in touch in many countries), Uber, and more.
I use a few different data eSIM cards, depending on where I'm going and what my connectivity needs are. But I always have a global data plan with Airalo, either as my main plan or as a backup. They have the best global data rates hands-down: 20gb of data with a 365 day expiry date means no matter where you are in the world, you are connected. Gold!
You don't want to use your home phone/data plan abroad due to ridiculous roaming charges, so you get a data eSIM. A few clicks/swipes on your phone to switch data carriers to Airalo and you've got access to data abroad without using your home phone plan.
2023 Update: Since 2017 I have been using Global Data all the time – at home and abroad. I have a VOIP app called Fongo (for Canadians only; residents of other countries could use Hushed), which gives me a Canadian phone number that I can be reached on anywhere in the world as long as I have WiFi or Data.
I use global data to ensure I have data.
Thus, the only thing I pay for in terms of telecommunications is data, and all my data needs – regardless of where I am in the world, 365 days a year – are under $200/year.
Check out this article to learn more about eSIMs and find the best international data eSIM for your needs!
See also: How to Use Your Cell Phone Abroad


EXPANDABLE PACKING CUBES
I love packing tools. Like, a lot. I wrote a whole post about them here. In fact, I need to be careful not to have too many packing tools in my luggage, since past a certain point they actually take up more room than they save. For example, I used to have standard packing cubes, and I liked them a lot from an organizational point of view, but given the sturdy/rigid material they were made of, they had to go when I downsized everything I owned to carry-on luggage. Now that I'm back to checked luggage, I realized I missed having packing cubes – which have come a long way in the last few years.
My compressible / expandable packing cubes of choice are made by Knack Bags; a company that also makes some pretty slick expandable backpacks that I review here. I like Knack Bags packing cubes because they're sturdy which means they hold their form and compress clothes more effectively than other ultralight packing cubes. Tradeoff: they're just a hair heavier/bulkier.
Want more packing cube goodness? Here is a deep dive into the top packing cubes on the market, plus tips for using packing cubes effectively.


SPACESAVER COMPRESSION SACS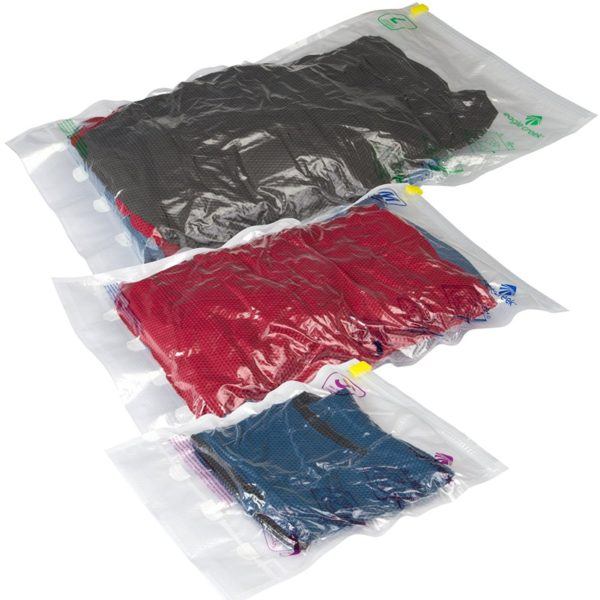 I went back to checked luggage from my (glorious) carry-on days, because not only do I now tend to travel through three solid seasons, but I also have a few "shamanic" knick-knacks that I can't bear to part with. So in order to fit everything into my current luggage, I bought these compression sacs for my cool-weather clothing.
They're like giant zip-loc bags with one-way vents. Fill the bag, zip it shut, then roll it to get the air out. Works a charm for things like sweaters and jackets that take up a lot of luggage space but can squish down dramatically with the help of these sacs.

Available at REI and Amazon.


Learn about my favourite packing cubes, spacesaver bags, and other amazing packing saviours in my article about Best Packing Tools and Tips!

Do you have a habit of misplacing stuff? Or are you worried about possible theft on the road? Then Chipolo might be for you.
Chipolo is a simple smart Bluetooth device that you attach to stuff you don't want to lose. It's compatible with Android and iOS devices, and connects your belongings to the Chipolo app on your phone. Open the app at any time to see where your Chipolo is on the map. From your phone you can also ring the Chipolo so it makes a noise (oh yeah! My purse is under that heap of clothes!), and if you've misplaced your phone, you can ring it by pressing the Chipolo.
Unfortunately, one of the two Chipolos I was sent was defective, but they immediately offered to send me a replacement anywhere in the world, so I can attest to their good customer service. When I showed it to a friend, she cringed and said something about privacy issues, and how these kinds of trackers are the ultimate invasion thereof – but I'm not so sure. I think a smartphone in and of itself makes you pretty damn trackable.
It's available in two versions: the Plus and the Classic. The Classic has a replaceable battery (which lasts about six months), and the Plus is a bit sturdier without a battery to replace, but it has a limited life span; it's good for a year, at which point you can send it back to Chipolo in exchange for a new (discounted) Plus. They also recently released the Chipolo Card; a super-thin card that fits perfectly in your wallet or passport holder.
I tend to have a pretty keen eye on my stuff, but I must say I rest a bit easier with my Chipolo.


I really enjoyed reading this book! It's a travel memoir written by Anna Mitchell, a 130kg woman who quit her job to hike and bicycle (on a recumbent trike) some really (like, epically) long distances in Australia.
In the course of the book, she fights the perception that she can't do it, and breaks the "soft chains" (as she refers to them) that make it easy not to push beyond comfort zones and do something amazing. She's also the first person to admit her shortcomings, and writes with humility and a charming self-deprecating humour, despite her amazing accomplishments.
This is one of those books….you know the kind. The sort of book that I thought about even when I wasn't reading it. The sort of book that I wanted to get back to as soon as possible. I enjoyed it from cover to cover, and I hope you do too. It's light, fast, fun, and underhandedly inspirational.
And, the book has garnered lots of attention; among other honours it won a bronze medal for Best First Book at the 21st Annual Independent Publisher Book Awards 2017.
For a 25% discount, use the code HOBO25!


Want Some More Gift Ideas?
These may be the best travel gifts for 2017 that I've discovered, but most of the items below are also still part of my travel entourage. Check out these other travel gear profiles for more ideas of what to get the budding traveler in your life:
The Ultimate Packing List for Full-Time Travel
My Search for the Perfect Travel Sandal
Best Luggage for Long-Term Travel: Backpacks vs Rolling Luggage