Back in March 2020, countries around the world called for their citizens to return home in the face of a pandemic that would change life as we knew it. But what if you had no actual home to return to? For some digital nomads, returning to their home country was prohibitive, impractical, or unsafe. This was one of many complications digital nomads around the world have dealt with throughout the pandemic. This article will discuss how 8 digital nomads have survived COVID-19, how their online businesses have prospered or suffered, and what life has been like for them.
You Might Also Be Interested In:
Remote Work: Tips & Tricks
How to Become a Digital Nomad
Filing Taxes as a Digital Nomad
Virtual Mailboxes: How to Get Mail While You Travel
I decided to write this article out of voyeuristic interest. Two years ago I got a home base in Toronto Canada after 12 years of being a digital nomad (in the purest sense of being proverbially homeless). I was spending the winter in Crete when the pandemic got its legs, and seeing the writing on the wall, I elected to return home ahead of schedule, shortly before Canada officially urged its citizens to do so and the first wave of lockdowns began.
I had never intended to get so much consistent use out of my apartment; it was meant as a base for lots of travel, and has instead now been the longest place I've stayed in one go in the last 15 years! But I must say I was immensely grateful that I had a place to call home where I could lock down in comfort.
If I didn't have this place, returning to Canada would have been infinitely more complicated and expensive; so much so that I might not have come back at all.
While revelling in my home base (despite feeling a wee bit "stuck"), I've wondered how my digital nomad friends and colleagues without home bases have managed, dealing with closed borders, visas, business challenges, and more. Whether for reasons of practicality, finance, necessity, or simple preference, some digital nomads have continued to stay abroad.
Here's a fascinating look at how 8 digital nomads have managed their lives and incomes throughout the pandemic.


A Note About Travel Shaming.
As you read the following detailed descriptions of how these digital nomads managed, you'll see everybody handled the pandemic differently. Some stayed put, and others bounced around. You may be inclined to judge some of them for the decisions they made.
Acting on these judgements is called Travel Shaming, and it has become a problem, especially with a universally heightened use of social media, where people can hide behind their screens while flinging hurtful remarks and often unfounded criticisms at others.
So while reading this article, I'd like to encourage you to be empathetic and compassionate. What would you do if you had no home and perhaps a decreased income limited your options?


DARIECE AND NICK: Stayed in Portugal, then to Mexico
Dariece and Nick have been traveling since 2008, and are the Canadians behind Goats On The Road; a website dedicated to teaching people how to make money online, both at home and on the road, so they can lead a freer lifestyle. They're experts in saving money, finance management, building an online business, and of course…travel.
Where were you when the pandemic began, and where have you been since?
We had been based on the small Caribbean island of Grenada and decided that in January we were going to take off on a European adventure! But, we were only able to get as far as Paris, Barcelona, Rome, and Lisbon before our plans were cut short due to the pandemic.
All of the countries near Portugal were shutting their borders and we found ourselves in Lisbon with not much of a choice but to stay put. We thought we may be there for a month at the most, but we stayed in Portugal for almost seven months!
It was almost two and a half months before shops and restaurants opened back up in Lisbon (with limited seating and hours), and as soon as they did, we went to a few of them to support the small businesses.
With restrictions lifted by the government, we went on a 10-day campervan trip around northern Portugal. Hiring a campervan is probably the best way to get around safely and we had everything we needed with us — the campervan was our transportation, bedroom, bathroom and restaurant. We enjoyed that trip while being out in nature and being able to safely distance ourselves from others.
During the summer months, we rented a car and made our way south to the Algarve region while staying in a few private Airbnbs along the way. We moved around slowly while working on our websites along the way.
We knew we weren't able to stay in Portugal forever. As Canadians, we are only allowed 90 days in the Schengen Zone, and we had reached that shortly after lockdown started. Luckily, there were some automatic visa extensions allowed due to these unforeseen circumstances.
However, we didn't hear back from immigration as to whether or not there would be another extension granted, so we decided it was best to leave rather than staying illegally in the country. It was a stressful decision trying to figure out where to go during these times. Which countries were open? Which countries could we go to without a visa? Which airlines had the best chance of actually taking off, rather than just cancelling our flight? What documentation did we need to provide? Were we making the right choice?!
Eventually, we decided on Mexico, found a route, and flew more than 24 hours (with layovers) from Lisbon to Madrid, to Mexico City to Cancun — all while wearing a mask the entire time. We plan to live here in Playa del Carmen for at least six months.


Did you consider returning to Canada? If not, why not?
We didn't consider returning to Canada for a few reasons. For one, we felt it was a better idea to stay in Portugal rather than move countries and potentially spread the virus. For another, while we hold Canadian passports, we aren't Canadian residents so we have lots of factors to consider when going there — including not being insured for healthcare.
[Nora's Note: This is a very important consideration. International health insurance does not usually provide coverage while you are in your home country, and in Canada once you are absent for a certain amount of time you are no longer part of the provincial healthcare plan and can only re-qualify after having resided in the province for 3-6 months (depending on the province). This means if Dariece and Nick had returned to Canada and ended up in the hospital – for COVID or other reasons – during the re-qualification period, it could have been financially devastating.]
Since we haven't lived there for more than 10 years, it's somewhat of a foreign country for us at this point! We will return to Canada to visit our family when it is safe to do so.


What has it been like to travel and work as digital nomads during the pandemic?
Lisbon is known for being a digital nomad hotspot, so we had no issues there. Wifi was fast, coffee was fabulous and since we prefer to work from home vs. co-working spaces, the fact that they were closed didn't bother us.
When we were in our campervan, we took some time off from the computers. And, when we were in the Algarve, we had our usual routine of working in the morning in our apartments and beach or pool in the afternoon.
Playa del Carmen in Mexico is also a digital nomad destination. Here we have the amenities we need for living — fast wifi, comfortable accommodation options, food delivery services, grocery stores, places to exercise, and if we want, co-working spaces.
So, while we haven't been able to properly travel and work this year, we've been able to move around a bit while working on some projects.


How has business been?
We're so grateful for the fact that while we are travel bloggers, we also have a large remote work section on our website. When the travel traffic tanked, our articles about various jobs and ways to make money from home did well.
One major lesson we've learned from this year is that we need to diversify our income streams. We can't rely on one website for all of our earnings, even though it's diverse in terms of topics.
Just before lockdown, we purchased a destination based website which was all about travelling to Ireland. We completely redesigned it, revamped it, hired a team and produced lots of new content. That site did pretty well for a while (traffic and income were up) until the UK went into full lockdown and no one was travelling there — not even domestically.
In Lisbon, we built a new website from scratch which is all about fly fishing (Nick's passion!). We've hired a team and it's already doing really well in terms of traffic and income in just eight months.
Recently, we hired a team and started a music website — this one is still in the beginning stages. The goal is to have that up and running and earning an income within six months.
Finally, we're learning Facebook ads, beefing up our SEO online course, and are continuing to (hopefully) provide useful and inspirational content on Goats On The Road. The goal is to have another website up and running by next month.


What's the plan going forward?
We have no plan. This is the year of no plans! We'll stay in Mexico until our visa runs out and see what the state of the world is at that point.


GABRIEL MORRIS: Mexico, USA, Canada, Mexico, Europe, Turkey, and back to Mexico
Gabriel Traveler (Gabriel Morris) has been wandering around the world for three decades, visiting five continents and 70+ countries. He is author of "Following My Thumb", "Gabe's Guide to Budget Travel" and several other books available on Amazon.com. He posts videos regularly chronicling his adventures and provides practical travel info and tips for travelers. You can find him on Youtube at Gabriel Traveler.


Where were you when the pandemic began, and where have you been since?
I was in Mexico when the pandemic first started making headlines. It was the end of a seven-month trip to 23 countries, and then I flew to California in early February to visit family (I don't have a permanent home).
I was there for a month as the pandemic started getting serious, but it still wasn't clear how serious it was going to get, so I flew back to Mexico to relax and see what was going to happen. Just a few days after I arrived in Mexico, President Trump closed the borders to Europeans and I realized things were getting serious and happening quickly, and I should probably go somewhere that I was prepared to be for a while, possibly under lockdown conditions.
Mexico was kind of a gamble not knowing what was going to happen, so I decided to go to Vancouver, Canada instead. I was there for six weeks, mostly in quarantine, but since it appeared the world wasn't going to end yet and spring was coming, I flew back to California and went on a road trip for a couple weeks, then visited family again to watch what was happening and see if there was hope for a summer of traveling.
Mexico was one of the first countries that announced it was opening up to tourists in June. And Europe was announcing that it planned to open to tourism in July, though it wasn't clear yet if that would include Americans. So I flew to Cancun and planned to stay there for two weeks, then fly to Europe.
Unfortunately just a few days after I arrived in Mexico the Covid cases started spiking dramatically in the U.S. When Europe (specifically the EU and the Schengen Zone countries) published their list of countries that would be allowed to visit, the U.S. wasn't on the list.
But Serbia had opened up. So I flew from Mexico to Serbia and was in Belgrade for a week, during which time the government announced a lockdown due to a rise in Covid cases and there were protests in the streets.
Luckily Croatia had just announced they were opening up. So I flew to Croatia and spent seven weeks there. During that time things had calmed down in Serbia, so I went back to Serbia for a couple weeks, then to North Macedonia for two weeks and then flew to Turkey for six weeks. From there I flew to London and spent a week in quarantine trying to decide where to go next, and finally decided to come back to Mexico, my current whereabouts.


That's a lot of travel! Any challenges with border crossings and visas?
No problems with visas or border crossings. I made a point of going to places that were accepting U.S. citizens without the requirement for either a Covid test or quarantine.


What has it been like to travel and work as a digital nomad during the pandemic?
For the most part everything worked out great. The only real difference was masks being required to enter certain businesses, temperature checks in some places, an abundance of hand sanitizer and a lack of large social gatherings. But none of that really cramped my traveling style too much.


How has business been?
There was a massive drop in my Youtube income in March and through the spring. My Youtube revenue literally dropped by about 70%, due to not posting travel content because I wasn't traveling, as well as advertisers pulling out because of the shaky economy.
It stayed that way until I got back to traveling again in June, when fortunately things got a lot better, and I had my biggest paychecks ever from Youtube.


What's the plan going forward?
Great question that I'll be pondering, but I really have no idea. I'd like to get a real taste of winter somewhere, but the problem for now is all of the northern countries are closed to tourists. I'll be considering the options and in the meantime, enjoy Mexico.


MIKE & ANNE HOWARD: RVing in Eastern Europe and USA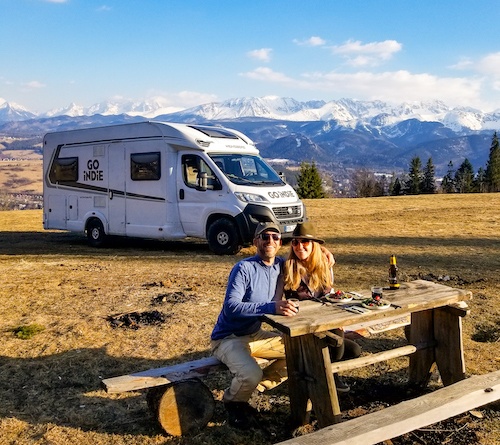 Mike and Anne Howard left on their honeymoon in January 2012 and never came home. They created HoneyTrek.com to chronicle their journey across all seven continents and help people mobilize their travel dreams. They are the authors of National Geographic's bestselling book on couples adventure travel, Ultimate Journeys for Two, and the first glamping book, Comfortably Wild. Follow their adventures @HoneyTrek.


Where were you when the pandemic began, and where have you been since?
In early March, before COVID-19 hit the global fan, we flew to Europe for two travel conferences and two months of exploring. On our way to the airport, one event got canceled and the second was called by the time we landed in Berlin.
While this was alarming, we take pride in our adaptability and positivity as travelers, so fear wasn't going to hold us back. We sparked up Plan B and an adventure we'd long been dreaming about…a camper trip around Eastern Europe! We rented a van from Indie Campers and plotted a journey through Poland, Czech Republic, Slovakia, Hungary, Slovenia, and Croatia.
The first week in Poland was blissful, retracing Mike's family roots, wandering medieval streets, and connecting with locals (before "social distancing" was a thing). In the Czech Republic, we heard whispers of the borders closing. We weighed our fate, "Do we cross into Slovakia or go back to Poland where we have a few friends and can live off pierogies?"


What about returning to the U.S.? Was that a consideration?
Some Americans were scrambling to return to the States, but for us, that meant $4,000 in flights, quarantining at our camper storage facility in Texas, and resurfacing in a place with even higher rates of Corona Virus. And while staying in Poland had many uncertainties with an entirely shutdown tourism sector (hotels, restaurants, tours, visitor centers, and not a single campground to get water or plug in our camper), we stayed for seven weeks and 3,200 miles of Polska off-grid road tripping.
When the time came to return our looong overdue camper, we made a break for the German border, dropped it off in Munich, and carried on to the Netherlands for another month until we could finally catch a flight to the U.S. (three cancellations later).
Considering our "primary residence" is a house on wheels, with everything we need to be self-sufficient and maintain social distancing, we were able to safely continue our travels. We decided to finish our great American road trip by exploring our four remaining states: Michigan, Wisconsin, Minnesota, and North Dakota. It was 3.5 years of road tripping in the making, but this fall we finally made it to our 50th state!
That said, we weren't willy-nilly about the places we explored. We made a point to stay away from cities and focus on the wilderness areas with lots of hiking, kayaking, and boondocking. While we miss the local interaction that normally inspires our travels, the pandemic made us find solace in nature.


Any travel/visa complications?
Crossing the closed border from Poland to Germany was nerve wracking. We got a special letter from our campervan company to explain our situation to the border authorities. Once we gave up our camper, we felt that much more vulnerable without our quarantine-mobile, but were able to buy a train ticket to Amsterdam since we finally had an onward plane ticket to our home country.
While we heard the Schengen Area was giving visa extensions to foreigners delayed for pandemic reasons, we didn't want to risk it and left Europe the day before our three-month tourist visa expired.


What has it been like to travel and work as digital nomads during the pandemic?
Running a business out of a 104-square-foot, solar-powered camper during a pandemic has certainly posed its challenges. Libraries and coffee shops were where we got a lot of our work done, but this year those resources were mostly off the table. Partly, because we are trying not to spend extended periods in public spaces and also because each business' hours and regulations are different everywhere you go–Google can't even keep up with the changes!


How has business been?
It's been a surprisingly good year for business, partly because two of our core travel specialties (glamping and RVing) are focused around the outdoors and inherently embrace social distancing. Our glamping book [linked to above] has been doing great and we've been able to partner with a number of tourism boards to promote RV travel in their states.
While there are still ups and downs, our nine years as digital nomads have taught us to be resilient and make the best of even the worst situations.


What's next for you?
We've long been dreaming of taking our North American road trip to mainland Mexico for a full winter (we took our RV to Baja last year and it was incredible!) but we're going to see what 2021 brings and play that move by ear.


AYNGELINA BROGAN: Returned to Family Home in Canada
Ayngelina is a fellow Canadian who has been in and out of the digital nomad lifestyle for over 10 years. She runs the culinary travel site Bacon is Magic, which shares how to find the best food around the world and how to make it at home. Get her advice on everything from the best Cuban food to tastiest drinks in Mexico. 


Where were you when the pandemic began, and where have you been since?
When it first started I was in Canada, getting ready to head back to Cuba, which I consider my current base. At the time they were comparing it to the flu so I didn't hesitate going. And while it was getting more serious around the world, Cuba didn't have any cases for quite a while. It wasn't until three Italian travelers entered that it was caught quickly and announced.
I still felt quite secure as the government of Cuba was very proactive at identifying cases, announcing the region and then sweeping through those areas to investigate if it had spread. They were very forthcoming about announcing how someone contracted it, if they had traveled from somewhere or been around someone who had it.
I planned to stay in Cuba. However, within a week things changed drastically around the world and Prime Minister Trudeau asked Canadians to come home to Nova Scotia. To be honest I made the decision for my Mother more than myself, to come home. I figured I would be back in Cuba in a couple of months so I could just use the time to work.
Obviously that did not happen although I did continue to work. Thankfully Nova Scotia was not impacted like the rest of Canada and once Coronavirus was under control we opened up an "Atlantic Bubble" within our four Atlantic Provinces where we could travel freely. However, non-essential workers from other affected provinces were not allowed to enter.


Were there complications?
I booked a flight March 19th from Havana to Halifax with a stopover in Toronto. There was only one small hiccup with Air Canada as they cancelled my flight from Toronto to Halifax. Normally they would have just booked me on the next flight but I think in the chaos it was just cancelled. I quickly called them and thankfully they rectified the issue.
I am also so fortunate to have decided to leave Cuba when I did. Some people thought they would wait it out. But the government decided that non-residents of Cuba could not stay. And those who remained would be moved to hotels to wait for flights. I agree with the move as tourists were the cause of the virus. However, I heard it was complete chaos to get flights out and quite expensive. I'm glad I left when I did.


How has business been?
When I came home I decided to have the mindset that it was a gift of time and I wanted to work on all of the things I never have time to do. I caught up on a lot of tidying my site, editing photos and getting organized.
I also decided I would finally learn to shoot and edit video and that opened doors for me this year. I approached our provincial tourism board to shoot a series of videos giving locals inspiration to take inexpensive day trips around the province. After shooting four videos I continued to work in Nova Scotia, but also went to Prince Edward Island and recently Saint John New Brunswick.
It was an incredible opportunity to learn a new skill (video) and travel domestically. Atlantic Canada is very active on Facebook so while I'm not seeing a lot of traction in YouTube, I'm getting great feedback on Facebook which keeps me going. It has also been my most fulfilling work as small businesses have contacted me to say people came in because they saw my video and thanking me for the help.


What's your plan going forward?
Over the years I have learned that sometimes it is better not to plan. Ideally I would love to go back to Cuba in March 2021, but no one can predict how a virus will spread and when we'll have a vaccine.
Although I do have a bit of jealousy when I see others in Mexico, I don't envy those who got the virus. And because this region of Canada is the safest in North America it is tough to leave.
I didn't think I'd spend a year back in my childhood bedroom, but I am grateful that I like my family and my mother is so supportive. I think the least I can do for her is to just wait and see.


MIKE AND OSHIN (and Baby Hank): Stayed in the Philippines
Mike is a Canadian and his partner Oshin is a Filipina. Together they make up Hobo with a Laptop, a digital nomad family blog about making money online through blogging and online work.


Where were you when the pandemic began, and where have you been since?
In December (2019) Oshin and I had an apartment in Palawan. A month or so later, we found out Oshin was pregnant. A couple weeks after that I saw the first signs of the pandemic begin to surface.
Our Palawan apartment isn't too small, but it's pretty bare bones. We only had life basics there, and we were ill prepared for a pandemic.
With Oshin being pregnant and knowing that getting her to Canada would be complicated, we decided to bunker down where we were. By the end of the first week of February I had successfully bought the appliances we needed to live there long-term, and stocked up a year's worth of food, just in case. We also cancelled our trip to Panglao, which cost us a couple grand in non-refundable expenses.
Today we're still in Palawan. Our son Hank was born on 9/11.
I also got fat. But of all places in the world I could be right now, I'm glad we chose Palawan.


What's the visa situation? Any other complications?
Oshin and I never got married on paper, so I still use tourist visas to live here. The government allows tourists to get a government-issued ID (called an ACR card) after a few back-to-back visas, so you don't need to do a visa run or border crossing to get new visas.
Logistics are difficult. As a far-flung island in the Philippines with businesses shutting down, it's harder to shop for essentials. We rely on Lazada and Shopee to get vitamins and baby needs. And shipping domestically takes as long or longer than international shipments.


What has life been like in the Philippines?
For a while they had military regional checkpoints limiting where we could go. To be honest, our lack of cases has ensured our lives are minimally affected by government overreach — so I don't mind being stuck in my apartment full of new appliances and enough food to live for a year or more. I get to eat out on rooftop patios right now, so I'm happy.
The Philippines also prohibited domestic flights, which I don't mind. A lot of Filipinos in Manila (where cases were flaring) took early pandemic flight discounts as a signal to travel in spite of the risks.


How has business been?
Last year, I had a minor stroke and I'd forget what I was writing midway through a sentence. Writing new content was impossible for at least 14 months. This year I spent 16 hours per day glued to my Android TV because of the pandemic and the gut-wrenching U.S. election.
So instead of focusing on new content, we've tweaked keywords in our existing content and added affiliate offers for new programs that fare well during a global shut down. We poured everything we could into a friend who writes and publishes guest posts on relevant websites on our behalf.
As a result our traffic went up (and down, and up, and down, and up) 5x, and our affiliate commissions went up 3x+ consistently. We make more money today with our blog(s) than I have ever made on all my blogs combined, ever, in my history of blogging. Even more than I made working a suit job in Canada in Liberty Village, Toronto.
This is because our focus changed. We pondered: "who still has money to burn when most people don't?" Niches like gourmet dog food, vegan nutrition, financial services, and luxury items that used to be a hard sell when things were good — have all sold in greater numbers than ever before during this pandemic.
We used this money to start an online community of current and aspiring remote workers/entrepreneurs called The Roaming Economy. It's designed to help members grow, become more profitable, and network with their peers.


What's the plan going forward?
Our plan is to immigrate to Canada in 2021. The passport and citizenship will help Oshin gain access to countries that Canadians have no trouble visiting. And I really want my mom and sister back home to meet my son.
Once in Canada we'll save money for a boat and we plan to sail around tropical places for a decade or two.


JARRYD AND ALESHA: Bought a Campervan in Australia
Alesha and Jarryd are the travel couple behind Australia's top adventure travel blog, NOMADasaurus and the new van life blog, Van Life Theory. They've been travelling the world non-stop together for over 12 years, and are now travelling Australia in a campervan. You can find them on YouTube and Instagram, as well as their van life Instagram account.


Where were you when the pandemic began, and where have you been since?
When COVID started to really show signs of becoming a global issue in January, we actually jumped on a plane to Japan for a project with the tourism board. At that stage nobody really knew what levels things would get to, and when we landed in Japan there were no signs of anything unusual, other than more people wearing masks than normal.
After three weeks there, Alesha flew home to Australia and I headed to Kyrgyzstan for our next campaign. In Australia, the only restrictions at the time were for people coming from China, so she experienced nothing strange landing home. In Kyrgyzstan COVID was the talk of the country, but it was still a bit of a joke. By the time my two-week project was finished, people weren't joking anymore about it and uncertainty was kicking in.
I landed back in Australia in the first week of March with no concerns, and the plan was to be at home for three weeks before jumping on a flight to California for the next job. In those three weeks, the entire world shut down, and our whole year of international travel was cancelled.
We were staying with family during the lockdown, and once the severity of the pandemic became clear and our government started indicating that Australians couldn't travel internationally for 12 months or longer, we decided to buy a campervan to focus on domestic travel. When our lockdowns eased on June 1st, we hit the road and have been travelling non-stop in New South Wales and Queensland ever since.


Any travel/visa complications?
Being back in Australia has meant we didn't have to worry about visas. But our state borders were shut, so we couldn't move freely within our own country. Alesha missed her sister's wedding in Western Australia because of the border closures, and we found ourselves more-or-less restricted to Queensland over the winter. But in all honesty, being 'stuck' in Queensland was probably the best thing we could have hoped for.


How has campervan life as digital nomads during the pandemic been?
Living out of a campervan has made it surprisingly easy for us to continue our work, but we have also been extremely fortunate. We crossed into Queensland in the narrow window that their borders were open and have since had no limitations to where we can travel in this state. Due to their own hard border closures, there have been almost no cases of COVID here, so our lives have felt almost normal besides the extra hand sanitizer and needing to sign in to restaurants and cafes.
While the entire world has descended into lockdowns and chaos, we've been immensely lucky to be pretty safe and secluded in our campervan in Australia.


How has business been?
Business has been a roller coaster. March was our biggest month for income ever, but then things tapered off quite suddenly in April. We had quite a few clients on retainers that unfortunately were forced to cancel contracts, and our website traffic and affiliate/advertising revenue dropped to the lowest levels we'd seen in years.
But we still managed to stay in the black month after month. Surprisingly we landed a couple of big contracts throughout the pandemic, both with old and new partners, and we pivoted our business strategy to reflect current markets. We focused less and less on the main travel website and social media accounts, and instead created a few new (non-travel niche) sites, building teams to manage them.
Our commercial photography and videography side of the business grew exponentially, and we're doing a lot more consulting, SEO management and content creation. By the end of 2020, we're forecasting to be back on track to pre-pandemic profit levels.


What's the plan going forward?
The plan for us is to keep travelling Australia in the van, most likely for the next 12 months, then wait to see if international borders open up. Once Australia does let us leave, we'll reevaluate our plans and see if it's safe and reasonable to start taking on overseas travel again.


DEREK EARL BARON: 'Stuck' in Bali, then to the USA then Mexico
Derek Earl Baron has 21 years of non-stop global travel under his belt, with over 120 countries visited. He left home (USA) in 1999 for a short 3 month trip to Asia that never came to an end. Derek is known for his personal, down-to-earth style of blogging and his popular small-group tour company, Wandering Earl Tours. They offer unique, locally-focused trips to some of the coolest off-the-beaten-path destinations around the world. Derek also rescued an adorable 5-day old kitten in Bali that he now takes with him wherever he goes.


Where were you when the pandemic began, and where have you been since?
I was in Valencia, Spain (I had residency in Spain at the time). In February, I was in India organizing two of my Wandering Earl Tours and then I returned to Spain. In late March, I flew to Bali and was there until mid-August. After that, I flew to the U.S. for two weeks and then settled in Playa del Carmen, Mexico, where I've been since.
Keep in mind that I was not doing any of the above traveling for fun. I went to Bali because my girlfriend was sick and stuck there. Then, Indonesia told foreigners they had to leave in August, so I left to travel to the U.S. to see family. Then I needed a place to stay longer-term so I moved to Mexico.


What was the travel/visa situation like?
I was 'stuck' in Bali as the island closed down two days after I arrived. There were no flights to/from the island and no way off. Luckily, Indonesia allowed foreigners to stay during the pandemic without needing a visa extension or having to do anything. So that was easy.
After that, I had no problems at all. When it was possible to leave Bali, I left. The U.S. asked no questions at all upon arrival. And Mexico asked no questions at all upon arrival either.
Travel was surprisingly easy. I haven't needed any tests (which is crazy to me) for any flight and for the countries I've been in during this pandemic, there were no issues at all.


How has business been?
While my tour business has been reduced to almost zero, I've spent my time planning for next year's tours and working on other projects that I had lined up. One of those new projects is RemoteClub.com which provides remote workers with vital information about life in various destinations around the world.
So, while the income part remained low overall, I am very happy with the progress I've made on these projects overall, which keeps me in good shape for the future.


What's the plan going forward?
I'll be based on Playa del Carmen, Mexico for the foreseeable future. I'll rethink the plan once proper travel is possible again.


BRYANNA & FAMILY: Traveled Back to the U.S. from Israel, then RV Life in the States
Bryanna and her husband sold everything, bought an RV and have been living, working and traveling full-time around North America with their 4 kids since 2014. At Crazy Family Adventure (as well as on Facebook, Instagram, and YouTube), they write about the best things to do with kids at the destinations they visit, road trips, RV-ing and family travel.


Where were you when the pandemic began, and where have you been since?
When the pandemic started we were in Israel. Our flight was supposed to leave on Saturday and we got a call on Thursday that the Saturday flight was cancelled and that we could either book a flight for Friday or Monday. Friday would mean we would lose a day of our trip but with everything that was going on we opted to get on that flight versus waiting a few extra days.
That night, the U.S. President announced they wouldn't be letting flights in from other countries. It also came out that starting on Saturday morning at 12:01am all flights would be directed to a few major airports in the U.S. and it would be quite a process to get back into the States.
So we were so glad we had selected the Friday flight and that we would be getting back to the U.S. before Saturday! It was definitely a stressful time waiting for our flight to take off, landing in Poland (where they boarded the plane to take everyone's temperature) and waiting for our connecting flight back to Miami, Florida.
We landed in Florida around 5pm on Friday and it was a quick process getting through customs at the airport. We were glad to be back especially after we saw all the lines and packs of people in the airports starting on Saturday.
Our next decision was where we would spend time quarantining. We live in our RV full time so we don't have a home base. We just have a home on wheels. We had friends who own vacation rentals in Destin, Florida. They invited us to stay with them in one of their houses as we quarantined for two weeks – since we had just been out of the country. We parked our RV in a lot in their neighborhood and it worked out great to be with friends in a nice big house!
Once things really started shutting down around the U.S. we rented a vacation home from our friends with my parents and sister's family who are also full-time RVers. We spent the next six weeks in an amazing vacation rental in Destin where we could walk to the beach (when it was opened). The house also had a pool and hot tub in the back! My sister has two kids who are best friends with our kids so it really was a great place to be "stuck" for the next six weeks.
Once the six weeks was up we headed to an RV park in northern Alabama for three weeks. We had a huge site and were right by a lake that the kids could swim in. All of these situations made it easy for us to quarantine and stay away from other people.
From there we traveled through Tennessee, Nashville, Kentucky, Wisconsin, South Dakota, Wyoming, Montana, Idaho, Utah, Arizona and are on our way to Texas.


What has it been like to travel and work as digital nomads during the pandemic?
To be honest it hasn't been that hard. More than anything it is frustrating since things are closed and we are still practicing social distancing and staying out of indoor places or overpopulated places as much as possible. Normally when we travel we would visit museums, breweries and restaurants. So it has definitely changed what we do when we visit locations.
We have always been an outdoor family that visits National Parks and goes out hiking so that hasn't changed much.
From a work perspective it has been the same. I have always worked from my computer in our RV so not much has changed with that.


How has business been?
It has been tough and we have had to slightly pivot. Our business Virtual Powerhouse does Pinterest support for small businesses (and other bloggers). We lost clients when everything started and have continued to as the impact has hit different niches at different times. On the other hand, accounts on homesteading and cooking have done well during the pandemic so that has been helpful.
Our travel blog income dropped substantially due to a major decrease in traffic since not as many people are traveling. Our page views have been down 50-80% year over year since the pandemic started. We are working on bringing that up as much as we can and in the meantime have pivoted to do more influencer type of work where companies pay us for producing content for them and their platforms. Or where we share about them on our social media platforms. This has definitely helped with replacing the income we lost from our blogs drop in page views.


What's the plan going forward?
Good question! At this point our plan is to continue to travel and look for places we can go where we can continue to practice social distancing and stay safe for ourselves and the people around us. RV Living and traveling is great for this! Having our home with us means we don't have to go into gas station bathrooms or restaurants but instead can just use our home on wheels. Once we reach a location we don't have to check into a room or anything. Instead we just hook up our rig and we are good to go!
During this time we have also boondocked a lot – this is staying for free on BLM (public land) without any hookups. This means we have literally been in places where we have no neighbors and no one staying around us for miles!


Are you a digital nomad? How did you survive the pandemic? Tell us in the comments below!