Nathan Zahrt and Vivian Vuong deliver sailboats and operate sail training passages aboard their yacht, Ultima. Nathan is a calm and deliberate sailor who enjoys instructing crew by letting them take the helm and learn hands-on. Vivian is a photographer and Chef but also enjoys running the boat as First Mate. You can find more info on their site, sailoceanpassages.com. Read on to learn more about their ocean-faring lifestyles and careers!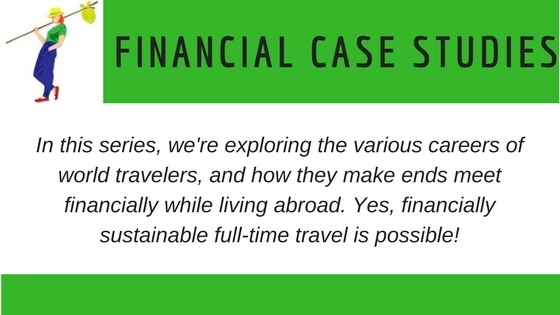 How long have you been living/working on the road, and where have you traveled to?
We officially moved onto our first sailboat in 2014, then spent the following years since working as contractors, freelancing, or even employed seasonally on yachts. There have been multiple times that we have not been paid during this time and have been "mile building" trips. Similar to how many flight hours a pilot needs before earning a license, a captain of boats needs to have sea time and days of experience logged, recorded, and signed off.
We have each sailed close to 30,000nm on various boats, power and sail from 37 ft to 148 ft. Those miles underway helped us launch directly into a professional journey as paid travelers, following the seasons for work.
For five straight years, we jumped from boat to boat, big and small, together and separately earning our badges and meeting people from all around the world. We have extensive experience sailing in the Caribbean and U.S. east coast and have plowed through some Med and Pacific sailing as well. We've worked in San Diego, lived on a 7 sq. mile island in St. Vincent & the Grenadines running a charter company, and most recently, started a sail training business operating between the U.S., Caribbean, and the Bahamas with plans to venture throughout the world. With our own boat, the oceans become our path to exploring and learning new culture.


Please describe what you do for income.
We learned various skills that have grown from our passions. Nathan has learned how to maintain, operate, and troubleshoot mechanical issues on all the vessels he's worked on. After earning his Captain's licenses, he is now paid to either deliver boats or train clients on sail training.
I help operate the passages and we both spend a lot of time corresponding with clients and making bookings. We are also freelance writers for magazines.
When we're not working on our own boat, we also pick up freelance jobs on yachts. I typically work as a Chef aboard yachts up to 150ft for a day trip and have worked up to a month serving a boat with either owners or guests aboard.
Another way I make money is by getting hired as a photographer for real estate, portrait, or commercial work. I charge per session and I have clients who also buy my travel photography as prints on metal or stretched canvas.
I also teach photography and drone webinars once or twice a year and make some money on each person that signs up. You can view my work at VivianVuong.com
I have also built or upgraded a few websites that have earned me from $500-$2,000 per project.


How many hours per week do you work on average?
Every week is different, especially during off seasons. But typically, we have our training passages booked about a week to ten days per month. If we have clients that week, we are working around the clock, taking turns sleeping and making sure everyone is safe, well fed, and happy.
We submit a paid article a month that would take a couple evenings to write and revise.
If we are in an area with busy private yachts looking for freelance workers, we will commit our full attention to that program for however long we are contracted. On a recent boat, I worked 16 hour days for 18 days straight. I'm not sure I'll do that again, but when there's work, we always try to make the best out of the opportunity.


How much money do you make?
For our training passage business, we pay ourselves $2,000 a month. The rest of the money we make from our clients is put back into the expense and upkeep of our boat and business.
For sailboat deliveries, we typically earn roughly $600/day for the two of us to take a boat from Point A to Point B. Most deliveries on average are about 5-10 days.
We've only just started freelance writing, but have received about $100 for an article. If there are high-res photos, that pays extra. When I am taking photos or doing media for clients, depending on the project or event, I make about $100-$200/hour.
As a Chef on private or charter yachts, I make anywhere from $300-$400/day plus tips if the guests are tippers. Some cultures don't tip so, you can't always count on receiving extra. On one occasion, I worked for 2 weeks on a 120ft charter yacht and earned a $5,000 tip! Every boat and program is different and freelance means that you're only going to work for a short amount of time. How often you get job offers is based on your skillset and availability.


Do you make enough money to support your lifestyle?
We don't live on land, so we don't have the expense of renting or paying a mortgage. Our boat is fully paid off but we spend $1,000/month or more maintaining or upgrading her. We are in our second year of owning our 39 year old boat and the upgrades are almost complete, so we hope to spend less once we have exited our "refit" stage. Depending on the work we are doing, we may have to pay for marina or mooring fees. We try to max out our Roth-IRA for retirement every year. We invest in a few mutual funds and ETFs. We have a savings account with variable earnings on interest depending on our balance.
See also: How to Manage Your Money: A Guide to Financial Planning for Travelers


What do you like most about your career and lifestyle?
I love that I can live in different places with my boat. I can stay for as long as I need or go as I please. If I don't like a certain anchorage or mooring, I can move the boat somewhere with a better view or easier access to shore. It's a fun way to live if you are the type of person who can easily acclimate to new environments and like to be on the move.


What are some of the challenges you have with this career and lifestyle?
One of the biggest challenges as a boat owner is the constant worry of being in a bad weather situation. From hurricanes to torrential downpours or even lightning storms, we are always watching weather patterns and making plans around the forecast. You get used to it but it can limit the time you spend in a certain area or even disregard your boat insurance if you are not in the area your policy requires you to be during hurricane season.


What is your vision for the future of your lifestyle on the road?
We have built a career that allows us to keep traveling and maintain that wandering lifestyle that we so dearly admire. We hope to be able to keep doing this for as long as we can. It's a big reason why we wanted to build a sailing career because most people we've met on sailboats wait till retirement to cruise. We did not want to wait decades to be able to sail. We just started our business this year but are on our sixth year living on the water. The only thing that we think would change our career dramatically would be having kids but even then, we would still want to raise a baby on our boat.


Any advice for the aspiring traveler about living and working on the road and managing finances?
If you're interested in sailing as a way to travel, know that there are ways to earn money by taking care, operating, and managing a boat. That education and experience helped us ultimately save money doing it on our own boat.
If you want to dive in headfirst with your own boat, try to do as much of the work yourself, because yard bills and hiring contractors can rack up a lot of cost. Know that the salty and wet environments boats have to be on are harsh and without the proper care and attention, it can get dreadfully expensive.
Managing finances should be taken seriously and giving yourself plenty of time to plan and budget will help you succeed in your cruising goals.


Is there anything else you'd like to add?
Learn as much as you can, when you can! Listen to the people who have successfully done what you're interested in doing or seek them out, they carry advice and knowledge that is invaluable to your experience.
Do the research and be safe but most importantly, do whatever makes you happy. At the end of the day, somebody else's dream can be your nightmare. What I find that works for me and my personality, is having a bunch of skills that are valuable to different types of clients, companies, and organizations around the world.
Don't put all your eggs in one basket! Be versatile in work online and hands-on, find something you're really passionate about and excel in it to the point where you're teaching others. Have an open mind and an open heart. Know that sometimes it may take a lot of volunteering or working for free before you can excel into a paid position but know when to say "no," and know your limits.
Don't let people take advantage of you and don't take people and their time for granted. Living a life without a solid work week with bi-weekly paychecks and benefits means you are constantly doing everything you can to stay afloat. Don't give up if you really want to make it work, there is always a way to earn enough.