Every year in November, I publish a gift guide filled to the brim with cool travel gear you can use at home and abroad, books, and services that I've had a chance to review over the course of the year. (You can find them all in my Travel Gear Archives). Thing is, I haven't had a chance to really "road-test" any of the items I received this year. (Because…COVID.)
So what a boon it is that the gadgets I review here are actually travel gear you can use at home and on the road! I've been using––and continue to use––each of the items below, some on a daily basis. Included below is also an awesome way to give back and keep travel alive in our minds and spirits.
Check it out. 
NOTE: If you haven't already figured it out, this article was originally published in 2020. I continue to tweak it to keep it up to date with relevant links etc.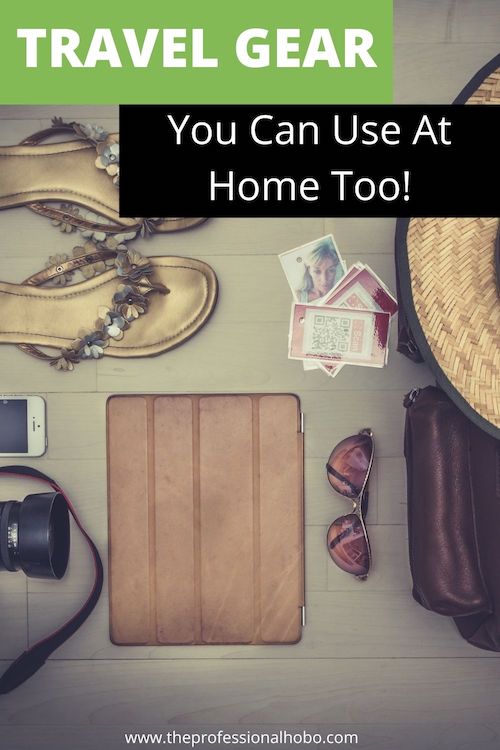 I received all the items below for free in exchange for a review. In some cases, the links provided are encoded to pay me with a small commission if you end up making a purchase. Thank you in advance for your support; 2020 has been an atrocious year for the travel industry, and every bit helps. 
TESALATE SAND-FREE BEACH TOWELS
Tesalate proclaims to have the world's leading beach towel, and for good reason: they are sand-free. It is the only towel of its kind, and allows you to leave the beach…at the beach.
They also happen to be pretty terrific travel towels. Their exclusive AbsorbLite™ fabric can absorb over one litre of water, and air-dries very quickly.
They've been featured in all the high-profile travel publications, and their towels have a rating of 4.9 based on 39,000 reviews from verified buyers. So when they contacted me to try out a towel, I had to find out what all the fuss was about.
For lack of a beach to test its sand-free properties, I jumped right in with my Tesalate towel and used it instead of my normal daily bath towel at home so I could put it through its paces. (Talk about travel gear you can use at home; it's actually better than my bath towel).
It's a full-sized towel, which many travel towels are not. Thus, it dried me off very quickly and efficiently. Microfiber travel towels are generally great lightweight absorbers, but not always the most efficient, requiring many passes over the skin to actually dry yourself. The Tesalate is as – if not more – efficient than a normal bath towel.
In comparison, my former travel towel was a lot smaller, which is great from an ultralight travel perspective, but I couldn't use it to dry my hair (turban-style), nor was it remotely up for the task of providing any sort of modesty if I were using a shared bathroom or if I had to make a dash from the bathroom to my room in a house with other people who might not want to see a streaker at 8am.
I've taken my Tesalate out for pool days, weekend trips, cottage excursions, and other watery events. Every single time I whip it out, it becomes a topic of conversation, from the colourful pattern (they offer a huge variety of patterns and colours) to the soft waffle material (which gets softer over time) and super-thin absorbent qualities.
Despite my extensive testing, I never got my Tesalate near a grain of sand, but I believe wholeheartedly that it would live up to its sand-free claim. Thus, simply put, if you are going on a trip that involves hitting the beach at any time, you must bring a Tesalate. Even if you're not hitting the beach, I'd recommend it.
Now. Here's the bad news. It ain't cheap. If I hadn't gotten mine for free and learned first-hand how awesome these towels are, I would have to think long and hard about buying one. But they offer free shipping around the world, no customs or duties will be charged, and you can return or exchange your towel (even if you have used it) with no questions asked; they'll even pay for the return shipping.
Next up, a double-edged sword. Even though it's lightweight for what it is, as a full-sized towel, the Tesalate is probably not going to be an option for carry-on travelers who have space and weight limitations. (One of the reasons why I actually prefer checked luggage these days). But if you have the space, it is a full-sized towel, which many adventure towels are not.
That said, Tesalate has just released their line of anti-bacterial workout towels which are the perfect size if what you want is an ultralight travel towel.
In my own life, I'll be using my Tesalate towel not only at the beach and the pool, but also the gym, yoga studio, and camping. Oh yeah, and also, when I travel.
Shop for your Tesalate Sand-Free Beach/ Travel Towel here. Get 10% off first-time purchases with the discount code THANKS10.


REV'POD™
One of the things I struggle most with when traveling is being comfy (or rather, not being comfy enough). Sometimes there's no comfy furniture for relaxing at my accommodation. Or the temperature is off. The bed sheets are scratchy. You know what I mean. When the comforts of home are lacking, the effects can trickle into our lives in subtle ways, from not sleeping well enough to altered mood, health, and beyond.
Enter: rev'pod™.
Honestly? When I first saw it online, I was dubious. But the more I thought about its applications, the more excited I became to try one out!
The rev'pod™ is your own personal cozy travel pod, created by a family of wanderlusting friends who were always looking for ways to travel more comfortably.
Taking a flight? Expect the airplane to be freezing or the person next to you to be reading a book they just can't put down. No worries, rev'pod™ has a built-in eye mask to keep that pesky reading light out, mittens for your frosty hands, and inner pockets to secure your travel essentials.
Consider yourself a germaphobe? (I kinda do, and that predates the pandemic). Detest dirty airplane seats or read about how airplane blankets get passed around unwashed? Don't worry: with anti-bacterial properties, rev'pod™ protects you and your clothes.
The bottom can also be snapped up so you're free to walk around without having to take it off (perfect for going to the kitchen for munchies while lounging at home).
Since getting my rev'pod™, lounging at home is exactly how I've been using it (because, Covid). As such, I've adored it, and while on lockdown I spent more than a few days wearing just the rev'pod™ and nothing else! It's so soft, you're going to want to do it too. But it is primarily designed for travel, and most specifically for making long airplane rides more comfortable.
Here's my take on the rev'pod™ as a travel accessory:
It's a lot larger, thicker, and heavier than I'd imagined, although when stuffed into the hood it makes a good pillow.
It weighs 2 pounds, but it won't count towards your carry-on weight because it folds into the hood and has a pass-thru strap so you can slide it on to your luggage handle as you would a travel pillow. If you are traveling with a carry-on backpack and not a wheeled case however, you'll have to find another way to strap it to your backpack if you don't have space inside for it. (And as I said, it's pretty bulky).
Depending on the clothing you're wearing underneath, it could be finicky to get on and off, especially since the arms and wrists fit pretty tight.
The tag directs you to dry it flat, but I have it on good authority from the founder that you can tumble dry it on low. The directions simply refer to the optimal method for the fabric, but nothing bad will happen if you dry it. This is good, because I suspect it would take a long time to air-dry flat, and it's a bit unwieldy.
In fact, tumble drying can be instrumental in the initial phase of blue fuzzies getting everywhere. Because of the exclusive fabric blend of micro-modal and supima cotton, it is ultra-soft, but it sheds excessively when it's new. It took me three washes for the shedding to abate. 
On the whole, I think rev'pod™ would make for a cozy flight experience and is perfect for Netflix marathons. But ultralight or adventure travelers need not apply. There won't be enough uses to warrant valuable space in your travel entourage.
(See also: The Ultimate Packing List for Full-Time and Long-Term Travel).
It's made in the USA with MicroModal® and Supima Cotton. This means it's ultra soft, durable, has anti-bacterial properties, feels luxurious, yet it's also eco-friendly, ethical and sustainable. Plus, they plant a tree for every pod sold, helping to offset their carbon footprint.
Check out the rev'pod™ here.


PACSAFE CONVERTIBLE BACKPACK/PURSE
I received a couple of Pacsafe items this year, but I want to highlight the best of the best here. I'm something of a Pacsafe poster-child; I've been using Pacsafe gear for over 10 years. I started off with their Venturesafe daypack (which is still in great condition despite over a decade of abuse), then I got their anti-theft rolling carryon (tragically discontinued for now) with which I traveled for two years full-time with carry-on luggage only, among other travel adventures. (At the moment I'm playing with this hardshell spinner expandable carry-on luggage by Level8).
I bought both of the above with my own money, so it's safe to say I love Pacsafe. So I was thrilled when they reached out to me to partner up this year. They sent me the Vibe 100 Hip Pack which is great for a hip pack, but personally is a bit too small to be my everyday bag (especially with my zero waste kit) and too big to be a throw-a-few-things-in-and-go kind of gal. For somebody else it might be perfect; for me? Well, maybe I'm still traumatized by the 80s.
But the item I've used every day since I got it, is the Pacsafe Citysafe Anti-Theft Convertible Backpack. It ticks a lot of boxes; it's a sleek purse, as well as a cool little backpack. The zippers and hardware are stylish, classy, and packed with pragmatic anti-theft features. Mine is black so it matches everything, but Pacsafe offers this in a variety of colours, including their ECONYL material made from recycled plastic bottles (which I totally would have gotten but they only just came out with it).
I'm like the Goldilocks of purses and travel bags; most have too many or too few pockets for me. This one gets it just right. And the flexibility to change the size (5.5L – 8L) and style (purse to backpack) within seconds? WIN. When it comes to long-term travel, the more multi-functional an item is, the more justified it is a part of my packing list. This bag goes from casual sightseeing with the backpack by day, to dressing up in the evening.
All this says nothing of the anti-theft features of the bag, which are extensive, and include:
Water-resistant slash-proof material and straps
TurnNLock security hooks
Zipper locks, tabs, and clips
RFID-blocking inside pockets
Puncture resistant zippers
Before you think I've gone round the bend and totally drunk the Pacsafe-koolaid, here are a few things I'm not thrilled about with it. First of all, the front and back pocket zippers are clunky and don't zip smoothly. This is because they're puncture resistant and have very large plasticky teeth. Most of the time properly zipping and unzipping these pockets requires two hands; one for the zipper and the other for leverage.
Speaking of two hands, the disadvantage of a convertible backpack with a strap that converts from single purse strap to backpack straps is that the top anchor point for the backpack straps isn't fixed (the strap loops through a doo-hickey at the top). This means when holding the backpack by one strap, as you would do putting it on and taking it off, the strap slides all the way through. Imagine wearing it as a backpack then taking one arm out to swing the backpack around in front of you and get something from it; the bag drops down a foot as soon as it is sitting on just one shoulder, making it awkward to fetch something from it. It's not the end of the world but it takes some getting used to.
But them's the breaks with a convertible backpack, and these are relatively small concessions to have a multi-functional attractive anti-theft bag.
Shop for your Pacsafe Citysafe Anti-Theft Convertible Backpack at Pacsafe or Amazon.

Want to see all my Pacsafe gear in action? Check out this video:

OTHER COOL TRAVEL GEAR I REVIEWED THIS YEAR
In addition to the above travel gear you can use at home, there are two other items that I received and tested out (as best I could) in 2020, but that aren't actually useful unless you're traveling. Perhaps you'll want to stock up, or get these for the traveler in your life who is planning their next adventure.

STANDARD LUGGAGE CARRY-ON BACKPACK (WITH NIFTY ADD-ONS)
I review a lotta luggage, as evidenced here:
The Standard Luggage Carry-On Backpack falls gracefully into the latter category; it's an expandable carry-on backpack that has a whole host of cool add-ons (like packing cubes that convert into daypacks and hanging travel wardrobes, floating laptop sleeves, and more) that add a level of flexibility to allow you to travel with this bag and nothing else (should you so choose).
I review this bag in great detail in this article, so I won't reiterate its delightfulness to you.
Instead, I'll whet your appetite with this video I made about it.
Check out the Standard Luggage Carryon Backpack here.