Every time I visit Europe, I feel like a kid in a candy shop. There's so much to see and do within a relatively small geographical footprint. I could hop on a train in any direction from just about anywhere in Europe, and within a few hours I'd be in a different country with its own unique language, culture, food, and people.
This post was originally published in 2012. It has since been updated for accuracy of links and content.


But I'm seeing this through my Canadian eyes; where you can spend a week solid on a train and still not leave the country. Where the only overland travel reprise from Canadian soil is the US (which, arguably, isn't all that different culturally or linguistically, as much as I and many other Canadians generally like to disagree).
Here in Europe, people seem to have a different view of geography.
For example, here's a conversation I had about the dating game with a friend from Holland:
Me: I once dated somebody in Canada who lived 500kms away. We would drive the 5+ hours to see each other on weekends.

Her: (shocked silence)

Me: Yeah, it was a little rough, but we managed.

Her: I just broke up with a guy because he lived too far away and neither of us could be bothered with the distance.

Me: Oh really? How far apart were you?

Her: A 40-minute drive.

Me: (shocked silence)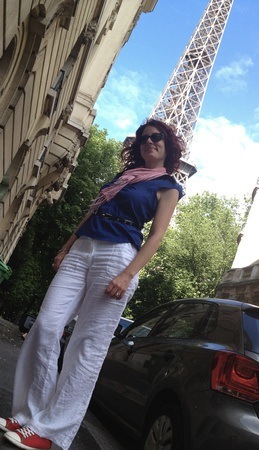 More recently, I mentioned to the homeowners I'm house-sitting for here in Switzerland that I might hop on a train to visit Paris to see a friend for a couple of days.
Again, my comment was met with raised eyebrows and confused blinking eyes. It seemed almost ludicrous to them that I'd go all that way for such a short time.
(Good thing I didn't tell them I was also considering hopping on a plane to London for a couple of days as well, as they'd surely have written me off as bonkers. But even my Canadian blood figured that was just a wee bit too far out of the way for such a short time).
Two other Swiss friends cited the Glacier Express (an iconic train ride in Switzerland) as something they've always wanted to do. "Ah well, maybe before I die," one of them said casually. Why haven't either of them done it already, if it has been on their wish list for so long? I mean, it IS in your backyard, isn't it?
Maybe not so much, depending on where you're from and your geography frame of reference.


The Effects of Extreme Travel
I took distance and geography to extremes last year during the Ultimate Train Challenge, when I covered over 25,000kms across over 10 countries by train in just 30 days.
Contrast this to the 16,000kms I covered by train in a similar time frame the year prior – except all in one country (Australia).
In both cases, these travel missions were much more about the journey than the destinations. And in both cases, I collapsed afterwards from travel fatigue so pronounced that I needed weeks to recover.
But the stimulus – and recovery time required – from the Ultimate Train Challenge was significantly higher, due in part to flying through so many different countries and cultures in such a short time.

Fast Travel, Slow Travel
When I was planning a solo trip through Europe a few years ago, again I had stars in my eyes. I had about five months to play with, and after living in the large and geographically isolated country of Australia for over a year (including surviving the traumatic Victorian Bush Fires), I had become stir crazy for a change of scenery.
I had visions of blanketing Europe with "all that time" I had, but quickly realized that satisfying a tick list of desired destinations wasn't enriching, nor was five months a particularly long time frame.
That trip was my first realization that I preferred slow travel; with a preference to see fewer places in favour of immersion and getting an inkling of what daily life involves in the places I visit.
But old habits die hard.
Years on, with all sorts of slow and fast (and extreme) travel experiences under my belt, my Canadian blood got all a-tingle when I decided to spend this summer in Switzerland.
Over two months! That's so much time! I'll be able to see and do so much!
Ha. Not so much.
Despite a quick trip to Paris, I've stuck relatively "close to home" here in Switzerland, rarely venturing more than a few hundred kilometres from Zurich.


Living Somewhere vs. Traveling There
Now that I'm here "living" in Switzerland (even if only for a summer), and not traveling through it on a vacation or mad train challenge, I too, am starting to see world geography a little differently.
Yes, a couple of hours of travel in just about any direction could see me crossing a border between countries, cultures, and language.
But to what end?
What about the country I'm in right now? Where the language is still gobbledygook to me and where something as simple as a trip to the supermarket still fascinates me?
I chatted with an Irish fellow once about how he got started on his traveling lifestyle:
"Well, I spent the first 10 years traveling through Ireland, which – considering the size of the country – most people don't understand."
But now that I've spent some time in Europe, I think I'm beginning to understand – despite my own Canadian roots.
You can spend a lifetime exploring your own backyard; whether or not it's close to somebody else's backyard is irrelevant – unless, of course, you're convinced that the grass is greener over there.