"Make sure you eat lots of okonomiyaki!" was the advice of a friend of mine when she learned I was enroute to Tokyo for a summer of house-sitting.
"Um….sure!" I said, temporarily having forgotten about the sheer existence of this little gem of Japanese cuisine.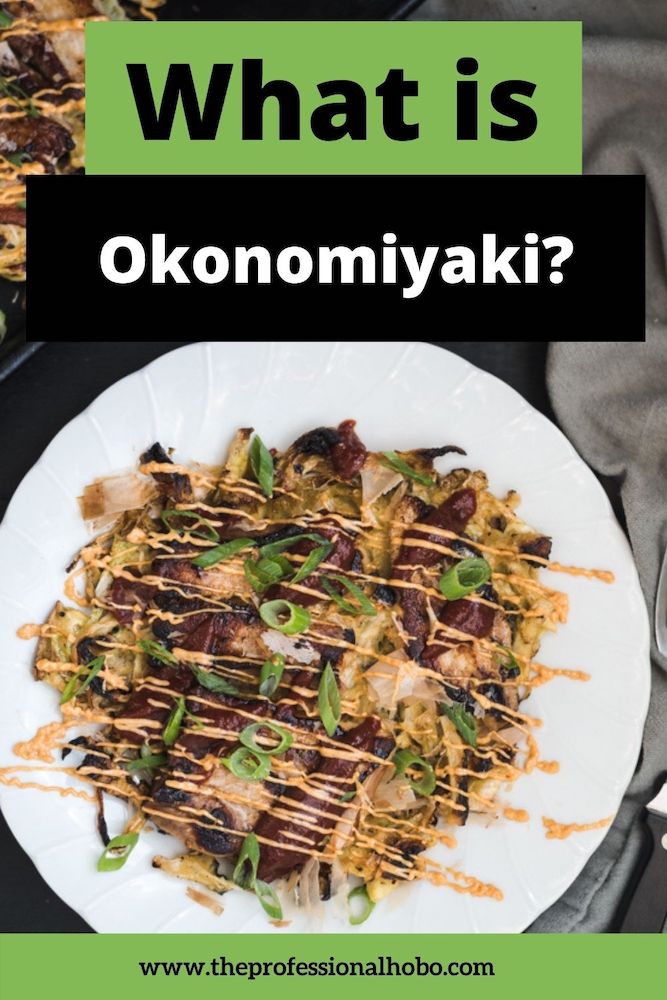 This post was originally published in 2017. It has since been updated for accuracy of links and content.


When I arrived to my house-sitting gig, the homeowners were gracious enough to leave me with maps, guidebooks, and a few recommendations. Among their recommendations was an okonomiyaki restaurant they said I simply must try. Although they didn't mark it out on one of the many maps they left for me, they did leave me with a business card.
So when I met up with my friend Tim of Spirited Travelpreneur (who I originally met in Ecuador), I suggested we eat at this restaurant.
Finding the place wasn't nearly as easy as you might think. My navigational skills are normally top-notch, but the business card was in Japanese, and given that many streets in Japan don't actually have names, googling the address was far from an exact science. Thus when I googled the address it showed me a location quite a few blocks from where the restaurant was actually located, which started us on our wild goose chase.
So, it took us a very (very) long time to find the restaurant. While we were aimlessly wandering, I turned on the camera and chatted with Tim about some of the culinary experiences he's had in Japan.
We chatted about the thing Tim has eaten the most since arriving in Japan (hint: there are 21,000 of these restaurants in Tokyo alone).
We also discussed wagyu beef in Japan, and how I happen to know that this Japanese food isn't actually Japanese.
Then we went on a tangent about coffee, and why Vietnamese coffee is the best ever (even better than Colombian coffee in my opinion).
When we finally did find the okonomiyaki restaurant, we were rewarded with a delightful experience of watching our server prepare it in front of us on the hot plate that was our table.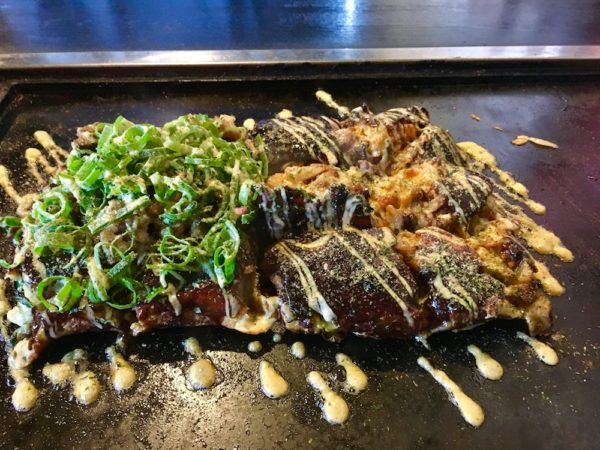 Searching for Okonomiyaki
Check out this video of our wandering chats, as well as the preparation of a most delightful lunch.
Can't see this video? Click here to watch it on YouTube.


Okonomiyaki Information
Since the video actually has very little to do with okonomiyaki itself, here is some more information about this very traditional Japanese dish:
It is known in English as Japanese pancakes or Japanese pizza. In reality, okonomiyaki bears little resemblance to either pancakes or pizza, but is tough to describe any other way. Literally translated, okonomiyaki means "how you like" and "grilled". The "how you like" refers to the variety of toppings and ingredients you can have in/on your okonomiyaki, which is grilled on a hot plate.
Some restaurants prepare the okonomiyaki for you (at your table if you go to a place that has hot plate tables, as we did), and other restaurants simply bring you all the ingredients for you to grill it yourself (which, depending on how much sake you imbibe in the process, can make for an interesting culinary experience).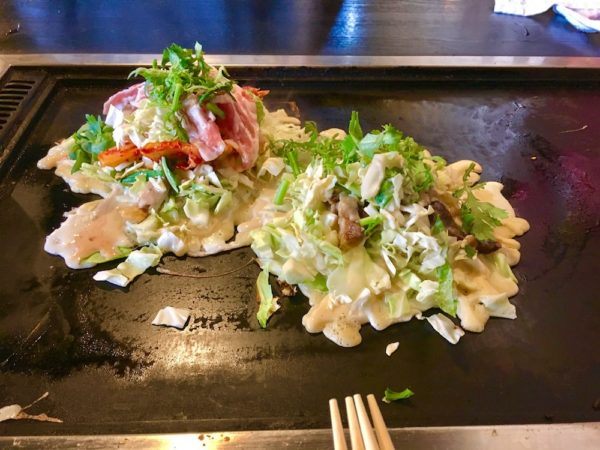 Okonomiyaki originated in Osaka, and was later adapted in Hiroshima. So depending on where you go, you can get Osaka okonomiyaki or Hiroshimayaki. Okonomiyaki restaurants can be found all over Japan, and I believe most serve the dish Osaka-style.
The restaurant we ate at is called Nanban Tei, which has three locations in Tokyo; the one we visited is located about a two-minute walk from Higashi-Koganei train station, where we ironically started our search an hour prior to actually finding the place.
They make an (uncharacteristic) square okonomiyaki, and cook it in front of you at your hot-plate-table.
Despite the long search for this restaurant (hint: it's right under the train tracks), the search was well worth it, and if you visit Japan, I highly recommend a traditional okonomiyaki experience at a restaurant where they cook it in front of you.


Want more Tokyo Adventures? You'll want to check out:
Tokyo's Robot Restaurant: The Greatest Show Ever
16 Random Observations About Tokyo, and Survival Tips