Jenna Rose Robbins is a ghostwriter and editor who has ghostwritten more than 12 books, including two New York Times bestsellers. Her memoir Faithful and Devoted: Confessions of a Music Addict was an Amazon number-one bestseller in two categories. After graduating from the University of Michigan, Jenna went on to receive her Master's of Professional Writing from the University of Southern California. When she's not getting eyestrain at her computer, Jenna can generally be found trying to avoid emergency rooms around the world. Find out more about her ghostwriting career and travel lifestyle here!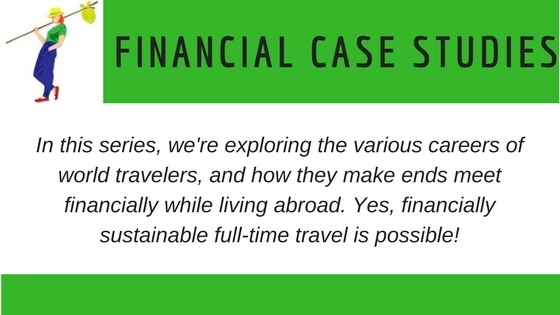 This post was originally published in 2017. It has since been updated for accuracy of links and content.


How long have you been living/working on the road, and where have you traveled to?
For roughly five years. For the first year, I still used LA as my home base, but I would take time off to travel, such as on a ship that went to ten countries, to Sri Lanka to teach English to Buddhist monks, etc. Later that year, I landed a gig on the same ship managing their blog and social media accounts. Then someone I met on the ship invited me to France to help her family edit a book her mother had written. I packed thinking I was going for two to three months. That was 2014, and I haven't been home since.
Since I left my corporate job, I've been to: Jamaica, Panama, Ecuador, Peru, the Bahamas, Guatemala, Nicaragua, Mexico, France, Spain, Germany, Switzerland, Denmark, Sweden, Belgium, the Netherlands, Croatia, Montenegro, Italy, Poland, Greece, Sri Lanka, Thailand, Singapore, and Cambodia. I've been based mainly in Berlin, with long stints in Spain (I'm currently in the Canaries), France, and Sri Lanka.


Please describe what you do for income.
I believe switching gears often keeps your brain limber, so my services include a variety of left-brain and right-brain activities. I consider myself a writer first and foremost. In addition to ghostwriting, co-authoring, and just finishing my own book, I freelance here and there. On the flip side, there's web consulting, which includes project-managing websites, SEO, and some light coding. The two types of work actually complement each other quite well, and I find that many of my clients use me for various types of projects.


How many hours per week do you work on average?
"Work" is relative. There's the time I spend on my own projects, such as my books, and then there's what I do for my clients. Both are work, but I try to keep the paid (client) work (like ghostwriting) to about 10-15 hours per week. This gives me ample time to market my current book and work on my next one, which will be a YA novel. I spend an additional 10-15 hours on my own projects.


How much money do you make?
When I first left my job as director of marketing for FIJI Water, I really sold myself short and charged $75/hour. It was only after I had too many clients that I raised my rates by nearly 25%, then another 50%. I had fewer clients, but I worked fewer hours and made more money. Plus, I found that the clients I had were easier and more pleasant to work with. My rates now start at $175/hour, depending on the work, but I offer large discounts to those who sign longer retainers, which ensures I have steady work for the foreseeable future. Because most clients choose long-term retainers, I end up getting about $125/hour. But I've never had to advertise and I've landed almost all of my clients via word of mouth, although a few trickle in from my website.
Now that my book is out, I'll be getting some royalties from that, but those will be minimal. It's hard to say how much because the book has only been out a few weeks, so I haven't received any royalties yet.
I also own properties back in Los Angeles. I just about break even on them, and the losses offset my freelancing and ghostwriting, so it brings down my overall taxable income. In the meantime, someone's paying my mortgages for me.


Do you make enough money to support your lifestyle?
Definitely. I could even work more, but I choose not to at the moment. I've always wanted to be a published writer, so I'm focusing on that. My ghostwriting clients are just helping me pay the daily bills. I do make sure I put some money in savings every month as a backup.


What do you like most about your career and lifestyle?
The flexibility. I can work just about anywhere, as long as there's Wi-Fi, although I found that some time zones aren't as conducive to client calls as others. Europe seems to be the sweet spot for that, since I'm a night owl. Most mornings, I can wake up and decide if I feel like working or not. I appreciate having that freedom.


What are some of the challenges you have with this career and lifestyle?
Taxes! Both the U.S. and Germany claim I have to pay them, but there's a treaty between the two that says I can only be taxed by one. So I'm trying to get through all the red tape and get this figured out. I also find that I spend an inordinate amount of time just planning. Last month, I spent three days scheduling a trip to Asia and then to the Canaries. I had to book eight flights, six hotels, and two AirBnBs, not to mention finding an apartment back in Berlin for after it was all done. All of that was a small project in itself. I'm seriously contemplating getting a virtual assistant.


What is your vision for the future of your lifestyle on the road?
I don't see the actual ghostwriting career changing any time soon, but I am getting a little weary of all the German bureaucracy, so I'm going to head back to the States for a long stay. I'll still be traveling though, mostly as part of a book tour but also to check off the final states I've yet to visit. I also realized that I have a ton of friends around the country whom I haven't seen in years, so I'm going to spend a few days with each of them as I make my way around the lower 48. After that, I'm not sure. I've got a list of possibilities, including coming back to Europe (although not Germany) to finish my to-visit list, holing up in South America or the Caribbean, or maybe trying out Hawaii, since I have a book idea I need to research there.


Any advice for the aspiring traveler about living and working on the road and managing finances?
I know this is going to sound like an infomercial, but having the Charles Schwab card has saved me hundreds of dollars in ATM fees. I also rely heavily on Mint.com for tracking my finances (although they only handle U.S. accounts right now, so I've had to figure out workarounds for my German account). Believe it or not, Foursquare has helped me considerably with my taxes and finance tracking. Since I do a lot of travel writing, I can look at my check-in history to see what's tax-deductible, for example.


Is there anything else you'd like to add?
I'd always wanted to live abroad and never tried it because I thought it would be too difficult. I'd heard horror stories about trying to get visas and the high cost of living in places like Europe. Then I got here and discovered that it was far easier than I'd expected. Now I'm kicking myself for not doing it sooner.