In this no holds barred interview, Kach Umandap (formerly Kach Howe) of Two Monkeys Travel discusses visiting every country in the world on a Philippines passport, her unique travel money strategies, and why she now calls Montenegro home and is helping others get Montenegro residency.
Other Amazing Interviews to Check Out:
Helping Women Learn Coding and Work Online, Julia Taylor, GeekPack
The Challenges of Full-Time Travel on a Sailboat, as a Couple, with Ryan & Sophie Sailing
Mental Health as a Digital Nomad, and Virtual Assistant Ethics, with Hannah Dixon
Jump right into my Awesome Interview Series videos on YouTube here – and please give it a thumbs up, leave comments and subscribe!
Meet Kach Umandap, Two Monkeys Travel
Kach is from Laguna, Philippines. In 2013 after working in Kuwait and Iraq for a few years, Kach quit her 9-5 job and headed off backpacking SE Asia. In late 2014, having embraced a nomadic lifestyle, she began travel blogging on a full-time basis with Two Monkeys Travel.
Then after four years of adventure traveling followed by two years of sailing the Caribbean (which she writes about here), she moved and bought a stone house villa in Montenegro in 2019 to start a new expat life with her cats.
Aside from writing about her adventures, Kach has been blogging about traveling around the world based on her experience of visiting 146 countries. She aims to travel to every country in the world using only her Philippines passport (and Philippines passport travel is no easy task, but she makes it work in very creative ways).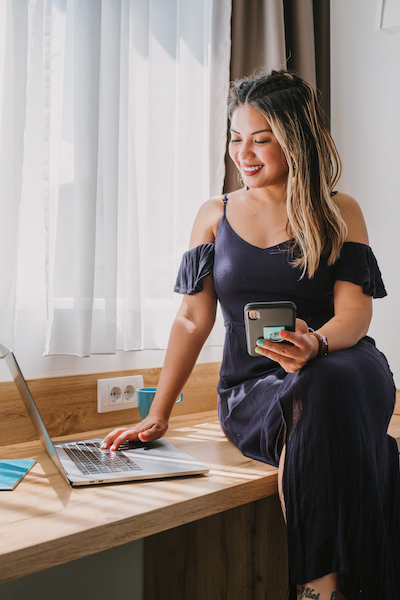 We talk Philippines passport travel, messy breakups, and lifestyle changes here.
In this refreshingly honest interview, we discuss:
How growing up in the Philippines influenced her career ambitions
What she learned from going to the wet market with her grandmother at 4am as a child
The challenges of traveling the world with a Philippines passport, and how to get around them
What happens when Kach is held by immigration (and how she ultimately ends up getting immigration officers as followers!)
Her ethos and tips for traveling with money (including why she's never had a credit card!)
Why she loves Montenegro and has pivoted her lifestyle and business because of it
Lessons from separating from her husband who she traveled and ran a business with
What she learned from hitting rock bottom
Click here to watch this amazingly candid chat! Please remember to like and subscribe to the show so other people like you can find content like this.
Kach has been featured on my site before, in this Financial Case Study (from when she and her ex-husband were still together) which showcases the various ways she has made money over the years (which includes yoga, massage, teaching English, and more).
We also discuss the following tips, strategies, and aspects of the digital nomad lifestyle:
Travel with Frequent Flyer Miles
Travel Security, and keeping your stuff (and digital identity) safe
Various strategies for Traveling With Money (including cash, cards, and more)
Wise (formerly Transferwise) and why we both adore it
Love on the road, and what happens when your life and business are all wrapped up in one person