During Barbara's studies at University she learned about the digital nomad lifestyle and went to her first DNX a few months later. Only three weeks after this inspiring conference for digital nomads, she left Germany for a trip around the world, which was the first step into a new life. Since then she has been traveling to 40 countries working on the road and enjoying the freedom of being location independent. She writes about her experiences on her travel blog for digital nomads called Barbaralicious. Learn more about her lifestyle and career as a translator and copywriter below!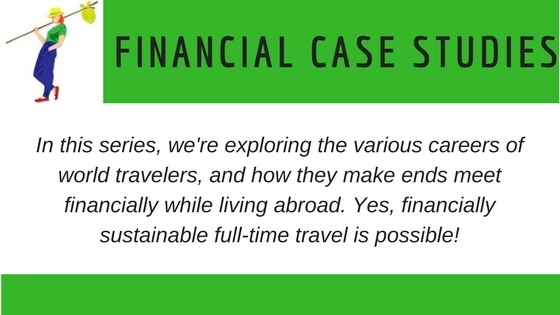 This post was originally published in 2017. It has since been updated for accuracy of links and content. 


How long have you been living/working on the road, and where have you traveled to?
I started my nomad journey on November 5th of 2014. I began with a trip around the world (Latin America, North America, Oceania and Asia) to see if I really like traveling and working on the road. After that I just moved on because I loved it. I traveled Europe in summer and went back to Latin America in winter. After two years putting the focus on Latin America and Europe, I decided that it's time to explore Asia again, where I am now.


Please describe what you do for income.
I'm a freelance translator and copywriter, I published 10 ebooks (two of which have been published as paperbacks, too) and I earn money through collaborations with my blog Barbaralicious. As well, I created an online course for students of languages or translator studies on how to become a freelance translator.


How many hours per week do you work on average?
I work around 100 hours per week. Sometimes a bit less, but it happens as well that I work more, for example when I have many collaborations or events to attend, because I still have freelance projects and my blog, which I both don't want to pause in those occasions.


How much money do you make?
Unfortunately, my income varies a lot.
With freelancing projects, sometimes I make 2K Euro in a month, sometimes I make nothing at all. In 2016, I made 12K by freelancing so 1K per month.
It's similar with my books: On good months, I make 200 Euro, in bad months just 30 Euro. My online translator course wasn't too much in my center of attention, but I want to change that now and make money with it.


Do you make enough money to support your lifestyle?
My income alone wouldn't be enough to support myself. Nevertheless, I always find solutions to not have to ask others for help: At the moment, I have a house sitting gig for one month, for example, which means that I have a big apartment with a pool for myself and don't pay a penny. I have to feed a cat though. But that's fine for me. Other solutions can be collaborations. Very often I don't pay for accommodation because I will promote the place. I go on press trips where everything is paid or tours that include some nights in a hotel. In the first four months of 2017, I paid for a total of two weeks; the rest was covered by my collaboration partners.


What do you like most about your career and lifestyle?
I love the freedom and independence. I'm choosing where I go and when I go.


What are some of the challenges you have with this career and lifestyle?
One of the greatest challenges for me is that most people don't understand the lifestyle. Very often, I hear: "You can't live like this!" or "You are always on vacation!" No matter how hard I try to explain the digital nomad lifestyle, some people will never get what it's about. It took my family almost 1.5 years to understand it and I'm not sure if they really do now or if they just say it so we don't fight anymore.


What is your vision for the future of your lifestyle on the road?
I will probably be nomadic in a certain way for the rest of my life. I don't think that I will ever be able to settle down again. I would like to have several bases though making my life multi-locational and move from there. At the moment, I'm more roaming around without any base at all, although I still have a room at my parents' place. It doesn't feel like "my home" though and I would like to have something like it. So perhaps a condo in Chiang Mai and a room in Bali would do!


Any advice for the aspiring traveler about living and working on the road and managing finances?
If I could go back in time, I would probably tell myself not to leave with so little savings. It takes time to be financially independent and it makes things so much easier when you don't need to worry about money all the time. (Nora's note: Amen to that! I too, built up my location independent career on the road, and it was difficult. See also: Before You Quit Your Day Job…)